Shutdown Drags On With No End In Sight As Trump Refuses To Relent
After twenty-five days, there's no end in sight to the Federal Government shutdown. You can thank the President for that.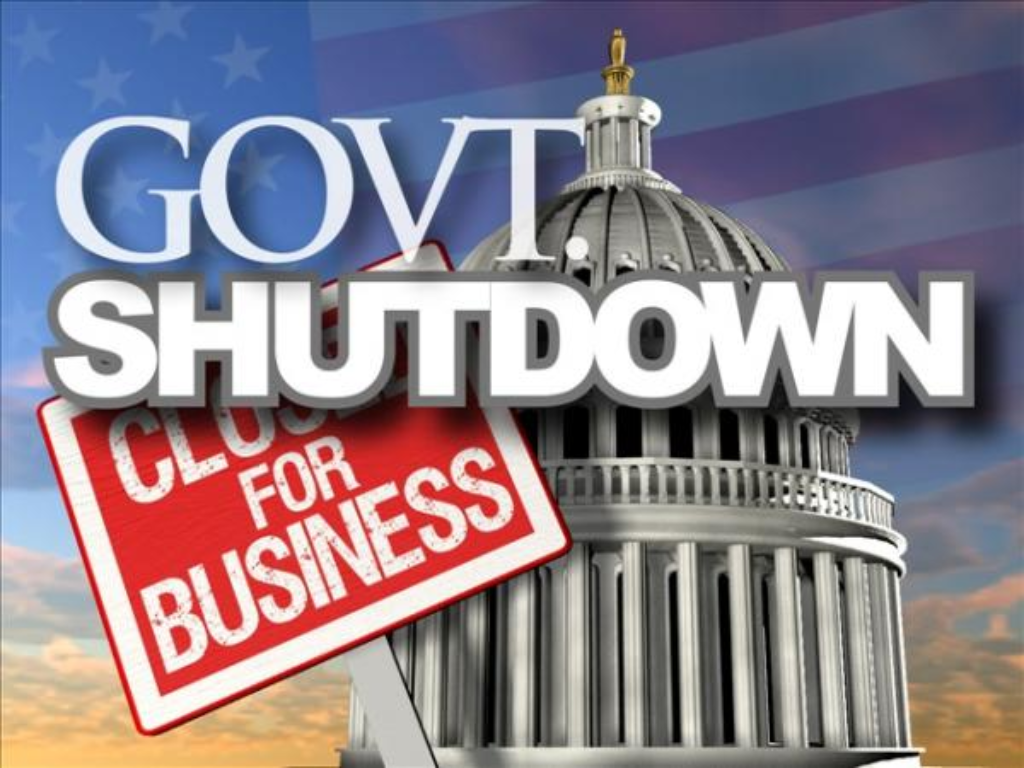 With the government shutdown in its twenty-fifth day, there seems to be little prospect of a deal of any kind, especially after the President rejected a proposal put forward by one of his most loyal supporters in the Senate:
WASHINGTON — President Trump said on Monday that he has rejected a proposal by Senator Lindsey Graham of South Carolina to temporarily reopen the government in an effort to jump-start talks with Democratic lawmakers on funding a border wall.

"I did reject it," Mr. Trump said of the proposal, speaking to reporters as he boarded Marine One outside of the White House, en route to delivering a speech to a farm convention in New Orleans.

In an appearance on Fox News Sunday, Mr. Graham, a close ally of the president, pitched Mr. Trump on a plan for the president to agree to a vote by Congress to reopen the government for about three weeks "before he pulls the plug on the legislative option." If there was no progress made during that time, Mr. Graham said, the president could then declare a national emergency as a way to obtain funding for a border wall without congressional action.

But Mr. Trump said that he did not want to extend the impasse over funding for the wall. It was not clear, however, what Mr. Trump saw as an alternative. "I'm not looking to call a national emergency," he said on Monday. "This is so simple you shouldn't have to."

Mr. Trump, advisers said, has refused to allow his acting chief of staff, Mick Mulvaney, or anyone else negotiating on his behalf to compromise on his demand for $5.7 billion in border wall funding. That has led to awkward moments in front of congressional leaders.

In a meeting at the White House with lawmakers from both parties on Jan. 4, Mr. Trump castigated Mr. Mulvaney for proposing a compromise figure between Mr. Trump's desired $5.7 billion for a wall and the Democrats' offer of $1.3 billion for border security, as a way to end the shutdown.

Using an expletive, the president blamed his acting chief of staff for messing up the negotiations. The salty exchange was first reported by Axios.

Mr. Trump emerged on the South Lawn on Monday after spending a snowy weekend without leaving the White House grounds. It was a rare occurrence for a president who typically spends weekend afternoons during winter on his golf course in Palm Beach.

But Mr. Trump's physical presence in the capital has become one of the ways he has tried to demonstrate his willingness to negotiate with Democrats on funding the wall, even as he has staked out an intractable position on the issue. It is a point of pride he has highlighted on Twitter and in interviews, as he has become concerned about the perception that he is being outmaneuvered by Speaker Nancy Pelosi, a veteran negotiator who even Mr. Trump has praised in the past.

"I haven't left the White House in months," Mr. Trump told Jeanine Pirro, the Fox News host who is also a personal friend of the president's, in a phone-in interview on her show Saturday night. In fact, Mr. Trump traveled to the Texas border earlier in the week.
Trump's rejection of any kind of compromise, though, is clearly exactly what seems to be driving the shutdown further, guaranteeing it will head even further into record territory:
President Trump's dismissals of his own party's calls for compromise and his seeming indifference to shuttered federal agencies left the snowbound capital paralyzed Monday, with lawmakers in both parties scrambling to jump-start talks but increasingly uncertain about Trump's interest in ending the longest government shutdown in history.

"I did reject it," Trump told reporters, when asked about a suggestion by Sen. Lindsey O. Graham (R-S.C.) to temporarily reopen the government while continuing negotiations over money for a wall along the U.S.-Mexico border. "I'm not interested."

Trump's unyielding stance and lack of an evident plan to broker an end to the 24-day impasse comes at a fragile moment for his presidency, following a weekend at the White House during which he lashed out at critics large and small on Twitter and faced deeper scrutiny of his relationship with Russian leaders.

The standstill also underscored the dysfunction that has gripped Washington since divided government began this month. Overtures to Trump's core voters have dominated the White House's strategy as Democrats have looked on in confusion, after the last round of talks between Trump and congressional leaders collapsed last week when Trump walked out.

"This is a crisis of Trump's creation," Sen. Tammy Baldwin (D-Wis.) said as she returned to the Capitol on Monday. "I hope my colleagues think about all of the people living paycheck to paycheck."

The political cost of the shutdown is mounting as more than 800,000 federal workers miss their paychecks and as a new nonpartisan poll shows that nearly 2 out of 3 American voters support reopening the government and do not back Trump's hard-line demand of $5.7 billion for a portion of the border wall.

Worries were on the rise Monday. Sen. Dan Sullivan (R-Alaska), for example, said he is concerned about the operation of fisheries in his state and is "focused on minimizing the impact of the shutdown" — a message that was echoed by other GOP senators as they returned to Washington.

The acrimony between Trump and congressional leaders prompted a bipartisan group of rank-and-file senators — including Sens. Joe Manchin III (D-W.Va.) and Cory Gardner (R-Colo.) — to meet late Monday afternoon in fresh pursuit of an agreement.

But allies of Senate Majority Leader Mitch McConnell (R-Ky.) were skeptical about the group's chances of crafting a deal that could win the president's support and pass the GOP-controlled Senate. And they said McConnell does not yet feel pressure to break from Trump's position, despite the growing cracks in Republican ranks, particularly among more centrist lawmakers.

"He's right where he has always been," Sen. John Cornyn (R-Tex.) said as he left a private lunch Monday with McConnell. "As soon as the president tells him there is something he'd be willing to sign, he'll bring it to the floor. But the president's signature isn't a given on anything, and the leader isn't going to go through with some futile act on something in the meantime ."

"Maybe this is all one big political game," McConnell said of the Democrats' position Monday in his floor remarks, which revealed no signs of progress in the standoff. "What's happening here is that federal workers are paying for this far-left ideological crusade."

A group led by Graham worked last week to stitch together a bipartisan immigration deal that would trade wall funding for protections for unauthorized immigrants brought to the United States as children. But the group disbanded after Vice President Pence announced that Trump wasn't interested in such a deal.
All of this leads, as The New York Times notes, to the all-important question of how long the President can keep the GOP together, especially in the Senate:
On Day 20 of the partial government shutdown last week, a small band of federal workers, shivering in 25-degree weather, staged a rally to send what their organizer, Eric Engle, said was a message to Senator Shelley Moore Capito: "We need to end this shutdown. If it takes overriding the president, that's what it takes."

But here in the heart of Trump country, that message is decidedly muffled, even in Parkersburg, where the federal government is one of the two largest employers. So strong is support for President Trump, who remains dug in on his demand for $5.7 billion to build a border wall, that even some furloughed workers insist Ms. Capito must stick with him.

"We need the wall," Jessica Lemasters, 29, an accountant on furlough from the Treasury Department, said over lunch at the Corner Cafe, a few blocks from the rally. "I don't like being furloughed, but it happens."

Those conflicting sentiments help explain why Senate Republicans like Ms. Capito remain in lock step with Mr. Trump, even as the longest government shutdown ever enters its fourth week and 800,000 federal workers miss their paychecks. The 24th day of the shutdown slipped by with no progress toward a resolution, and while polls show that a majority of Americans blame Mr. Trump and Republicans and do not support a border wall, Republicans are reading a different line in the polling: Support for the wall is growing and hardening among Republican voters.

(…)

Early last week, Ms. Capito, a freshman up for re-election next year, seemed to be wavering when she suggested she might be able to "live with" negotiating border security after reopening the government — the Democrats' position.

But after Mr. Trump addressed the nation from the Oval Office and traveled to the border, she walked back those remarks, telling a local television station, "I think President Trump is going to stand strong, and I'm going to stand strong with him."

So far, only three Senate Republicans — Cory Gardner of Colorado, Susan Collins of Maine and Lisa Murkowski of Alaska — have decisively broken with Mr. Trump and called for the government to reopen without a border wall deal. Mr. Gardner and Ms. Collins are up for re-election in Democratic-leaning states; Ms. Murkowski was re-elected in 2016.

Others are expressing their unease with caution. Senator Joni Ernst of Iowa has put distance, if only a tiny bit, between herself and Mr. Trump by saying that while she strongly supports a wall, it does not need to cover the entire southern border. Senator Martha McSally of Arizona has asked that her pay be withheld until the shutdown is over. Senator Thom Tillis of North Carolina has called for Republicans to strike a deal that included "long-term security" for the young immigrants known as Dreamers who were brought to the country illegally as children. All will face voters in 2020.

"The question for Republicans up in 2020 is how long can they let this go on," said Jennifer Duffy, who analyzes Senate races for the nonpartisan Cook Political Report. "The more uncomfortable they get, the closer they get to breaking with Trump. But they have to watch the base."
As I've noted several times already, this is all starting to sound like a broken record. The President is saying that he will refuse to agree to any spending bill that does not include the full $5.7 billion he wants for his border wall. House and Senate Democrats are saying that this is a non-starter while they do appear to be willing to allocate at least some funding for border security and, at the very least, that they would be willing to continue negotiating over the border wall/border security issue provided that the President and Republicans agree to reopen those part of the government not impacted by the border wall debate, an option the President has rejected. Republicans in the House and Senate, meanwhile, seem to be standing aside and doing nothing, with most remaining loyal to the President mostly out of fear of the Republican base, being called out by Trump on his Twitter feed or in one of his campaign rally speeches, or attacked by Rush Limbaugh, Ann Coulter, or the Fox News Channel gang.
At this point, it's hard to say when this is all going to break. Clearly, the polls are indicating that the American public doesn't want the shutdown to continue, doesn't want the border wall, and blames the President for the shutdown. Those numbers are only increasing as time goes on, but the President doesn't seem to care, in no small part because he only seems to care about what his base thinks and those same polls show that Republicans continue to strongly support the President and the wall. The only thing that could change the current situation is if the shutdown hits a crisis point, either politically or otherwise, that forces the parties to resolve this. During the 2013 Obamacare Shutdown, that crisis came as the United States approached the debt ceiling and threatened to default on debt payments and other obligations, but there's no prospect of such a deadline in the immediate future. Perhaps it will come as the reports about the impact of the shutdown on Federal employees continue to spread, or when we hit then next deadline to pay Federal employees only to see some 800,000 of them get a paycheck for $0.00 again. Until that moment comes, though, the shutdown and the damage, both financial and political, will continue to mount.