Trump Threatens Government Shutdown Over Border Wall Funding
Once again, President Trump is threatening a shutdown over the border wall that Mexico was supposed to pay for.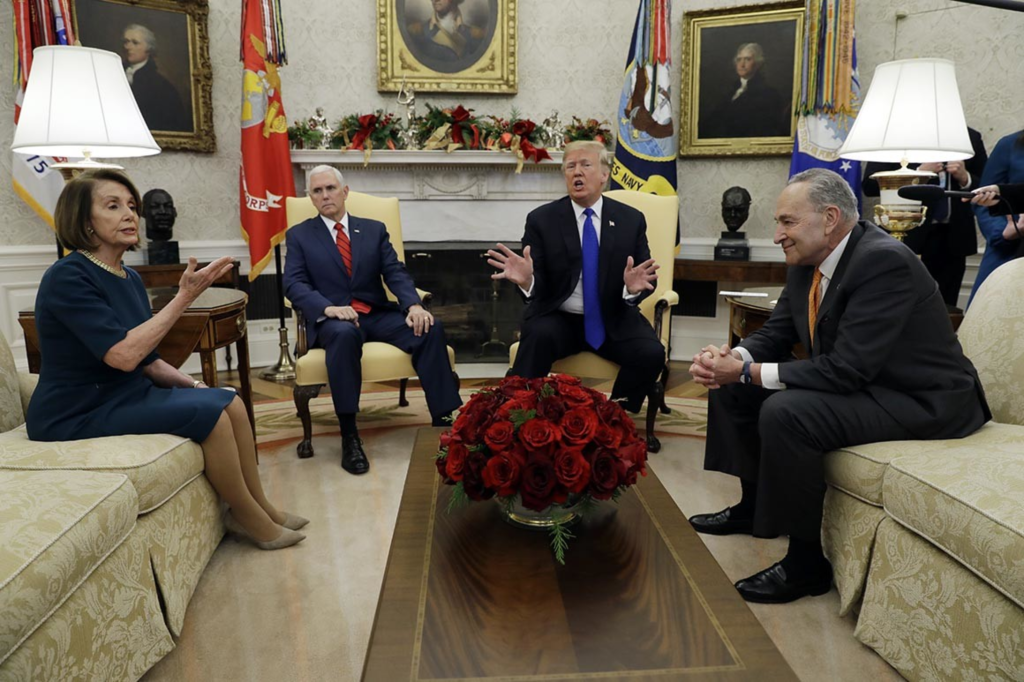 In an often bizarre performance before the White House press corps and the nation, President Trump told Democratic leaders Nancy Pelosi and Chuck Schumer that he will shut the government down if he doesn't get funding for his border wall:
WASHINGTON — President Trump on Tuesday vowed to block full funding for the government if Democrats refuse his demand for a border wall, saying he was "proud to shut down the government for border security" — an extraordinarily statement that came during a televised altercation with Democratic congressional leaders.

"If we don't have border security, we'll shut down the government — this country needs border security," Mr. Trump declared in the Oval Office, engaging in a testy back-and forth with Senator Chuck Schumer of New York and Representative Nancy Pelosi of California.

"I will take the mantle. I will be the one the shut it down. I'm not going to blame you for it," Mr. Trump added, insisting on a public airing of hostilities even as the Democrats repeatedly asked him to keep their negotiating disputes private.

"It's not bad, Nancy; it's called transparency," Mr. Trump snapped after one such interjection by Ms. Pelosi, who appeared to trigger the president's temper when she raised the prospect of a "Trump shutdown" over what she characterized as an ineffective and wasteful wall.

"The American people recognize that we must keep the government open, that a shutdown is not worth anything, and that we should not have a Trump shutdown," Ms. Pelosi said.

"A what?" Mr. Trump shot back.

The unusual display in the Oval Office raised fresh questions about how and whether Mr. Trump and lawmakers can reach agreement by a Dec. 21 deadline to keep much of the government open, appearing to harden diametrically opposed positions on the president's signature issue. It also showcased the interplay of two politicians playing to very different bases: Mr. Trump appealing to his core anti-immigration supporters and Ms. Pelosi to the young liberal lawmakers she needs to keep in her camp ahead of next month's speaker election.

Outside the West Wing after the meeting Mr. Schumer said Mr. Trump had thrown a "temper tantrum" over the wall, saying: "The president made clear that he wants a shutdown."

In a statement shortly afterward, Mr. Schumer and Ms. Pelosi said it was up to Mr. Trump to avert the disaster he had promised, by embracing their proposals to essentially postpone the dispute for another year, either by passing the six noncontroversial budget measures that are outstanding and extending Homeland Security funding for one year at current levels, or passing one-year extensions for all seven remaining spending bills.

"We gave the president two options that would keep the government open," they said in a statement. "It's his choice to accept one of those options or shut the government down."

Mr. Trump had begun the day appearing to soften his stance somewhat on the wall. In a series of morning tweets, he falsely stated that substantial sections of the "Great Wall" on the southwestern border that he has long championed have already been completed, and he suggested that his administration could continue construction whether Democrats fund it or not.

That would be illegal, but it suggested that he was looking for a way to keep the government funded past Dec. 21, even if Democrats balk at wall funding.

The meeting — the first time in more than a year that the duo the president likes to call "Chuck and Nancy" traveled to the White House to negotiate with Mr. Trump — was the first test of the new power dynamics among the three as Democrats prepare to take control of the House, and as Republicans scramble to accomplish as much as they can in the waning days of their dominance on Capitol Hill.

It quickly grew personal for Mr. Trump, who aides say respects what he sees as Ms. Pelosi's strength as a negotiator and toughness in the political trenches, but who sought on Tuesday to publicly undercut her position by raising questions about her job security.

"Nancy's in a situation where it's not easy for her to talk right now," Mr. Trump said, appearing to allude to Ms. Pelosi's struggle to garner the votes to be elected speaker under a new Democratic majority, where she is maneuvering within a caucus divided between hard-left progressives and more centrist lawmakers.

"Please don't characterize the strength that I bring to this meeting as the leader of the House Democrats who just won a big victory," Ms. Pelosi shot back.

Mr. Trump's approach to Mr. Schumer was initially friendly, but it soon turned sour.

"The wall, that'll be the one that will be the easiest of all," Mr. Trump said with a smile when he raised the issue for the first time as reporters looked on. "What do you think Chuck — maybe not?"

"It is called funding the government, Mr. President," a stern-faced Mr. Schumer said, going on to point out that Mr. Trump had made false statements about the effectiveness of the wall and how much of it had been built.

"You don't want to shutdown the government, Chuck," Mr. Trump later told his fellow New Yorker, referring to a brief shutdown in January when Democrats insisted that protections for undocumented immigrants brought to the United States as children must be part of any funding measure. "The last time that you did, you got killed."
This isn't the first time that the President has threatened a government shutdown over funding for a border wall that, according to his original campaign promises, Mexico was supposed to pay for.
This isn't the first time that the President has threatened a government shutdown over his immigration policy, and if it happened it would not be the first time during his Presidency that the government shutdown over immigration-related issues. About a year ago at this time, as Congress was headed back to Washington to deal with passing a spending measure before the then-current Fiscal Year expired, the President threatened to force a government shutdown if the spending bill didn't include funding for his border wall. While he ultimately did not pull the trigger on that threat, it remained hanging out there and would play a significant role in events earlier this year that ultimately did lead to a brief government shutdown.
That occurred early in the year, of course, when the Senate tried to put together an agreement that would both deal with outstanding budget issues and resolve the issues surrounding the beneficiaries of President Obama's Deferred Action For Childhood Arrivals (DACA) program. They were prompted to take this course of action largely thanks to a bipartisan meeting with Members of Congress and the Senate in which he essentially told them to go back and come up with a proposal to fix the DACA issue and stated that he would sign whatever they came up with. Within a matter of days, Senators Lindsey Graham and Dick Durbin had come up with just such a proposal that appeared to have broad bipartisan support. When they went to the White House to present that plan to the President, though, they found their proposal being rebuffed. This is the same meeting at which the President made his now infamous comments about immigrants from "shithole" countries. It was at that point, that things in the Senate started going downhill and led to the shutdown that ended after a weekend. Prior to the shutdown, the President had met with Senate Minority Leader Chuck Schumer and came away thinking he had a deal that would have included both protection for DACA beneficiaries and some funding the for the border wall. Within hours after the meeting, though, the White House had rescinded the deal, and that led to the aforementioned shutdown. As Senate Majority Leader Chuck Schumer put it over the weekend, negotiating with this President is like negotiating with Jello. Even when he makes a clear and unequivocal statement on what he might accept in legislation, it's become inevitable that the White House or Trump himself will walk it back. After the shutdown was over, as Congress sought to put together a budget deal, Trump again threatened a shutdown in February, but those threats were ultimately ignored. The President's threats of a shutdown were renewed over the summer, and then again after the election as Congress returned to Washington to deal with the budget and other lame duck issues.
In reality, there seems to be little support in either party for a confrontation or shut down over the border wall. Even before they left Washington to campaign for re-election. Republicans and Democrats had largely agreed to the spending levels for the next fiscal year. The wall has been the only significant unresolved issue, although Democrats have been attempting to use it as a bargaining chip to be used to get things that they want, such as legislation that would protect the investigation of Special Counsel Robert Mueller and removal of the citizenship question from the 2020 Census questionnaire. With respect to the wall itself, Democrats had largely conceded spending roughly $1.6 billion on the project, well below the $5 billion demand that the President has set and far below the $20-25 billion, if not more, that complete construction of any so-called border wall has been estimated to cost. As a result, the parties are far apart with respect to this one issue and the only question appears to be how far the two sides are willing to push their position in the negotiations that are likely to take place over the next month if the government is to remain funded through the end of the Fiscal Year in September.
Additionally, there appears to be little public support for the border wall and certainly not enough to indicate that a government shutdown over the issue would inure to the benefit of Trump and the Republicans. For example, polling has clearly indicated that the American public is largely opposed to the Republican Party's current orthodoxy on immigration. Throw into that mix the significant public opposition to the Trump Administration's zero tolerance and family separation policies, both of which continue to be a source of problems on the southern border, and it seems as though it would be hard to underestimate the damage that a shutdown, especially a prolonged one, would do to the GOP on the eve of the midterms. Additionally, recent polling from National Public Radio and Morning Consult has shown that the public opposes shutting the government down over border wall funding. Despite all of this, the President continues to fight this battle convinced that this is a winning issue for him. That may be true when it comes to his base, but it's most certainly not true with the American public as a whole. Because of this, I'm still tempted to think that Republicans in the House and Senate will find a way to make a deal that falls short of what the President wants, even if it means overriding a Presidential veto on the budget bill. If they don't then they're going to find themselves looking at a shutdown over Christmas that will clearly end up benefiting Democrats.
In any case, here's the full video of Trump's bizarre Oval Office performance today: