Trump Threatens Government Shutdown Over Border Wall Mexico Is Supposed To Pay For
Donald Trump is threatening to shut the government down if Congress doesn't pay for the wall that Mexico was supposed to pay for.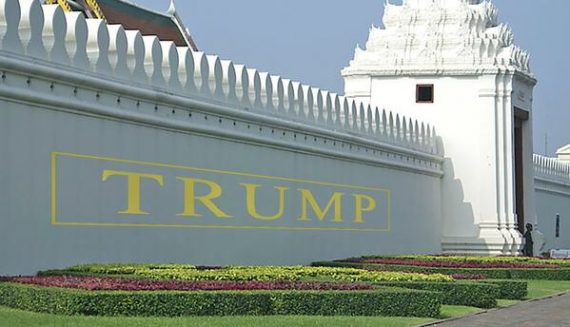 During his speech last night in Arizona, President Trump threatened to cause a government shutdown unless Congress funds the border wall he promised during his campaign would be paid for by Mexico:
WASHINGTON — President Trump issued an extraordinary challenge to his own party late Tuesday, threatening to shut down the government in a matter of weeks if Congress did not fund a wall on the southern border that was a signature promise of his campaign for the White House.

Mr. Trump followed up on that threat on Wednesday by going after a key Republican senator on Twitter who has been skeptical of building a border wall between the United States and Mexico. Senator Jeff Flake of Arizona is also one of two Republican senators up for re-election next year in a swing state, and the president has put his finger on the scale toward a primary challenger, Kelli Ward.

On Tuesday night, he told a rowdy crowd in Phoenix, "If we have to close down our government, we're building that wall."

"We're going to have our wall," he added. "The American people voted for immigration control. We're going to get that wall."

Tuesday's admonition sharpened a suggestion that Mr. Trump made early this year, in the wake of a budget agreement he grudgingly accepted even though it omitted money for the wall, that the United States needed "a good 'shutdown'" this fall to force a partisan confrontation over federal spending. His campaign promise stressed that Mexico would pay for the border barrier, but that part of the promise seems to have dropped away.

Hard-line conservative nationalists such as Stephen K. Bannon, the chief strategist ousted from the White House last week, have counseled the president to take a hard line on wall funding to buck up his political base after the embarrassing defeat of legislation to repeal the Affordable Care Act.

But the president's Tuesday-night salvo introduced fresh and potentially explosive irritant into his relationship with congressional Republicans, whose backing he badly needs in the coming weeks.

The president wants to push through a tax overhaul by year's end, which would require Republicans to approve a budget to trigger special procedures — known as reconciliation — that would allow the package to pass the Senate with only 51 votes, instead of the 60 required to bring most legislation to an up-or-down vote.

A budget resolution is always difficult, but it will probably become entangled in another divisive issue, the debt ceiling: The Treasury Department has estimated that the government will reach its borrowing limit sometime in October, at which point Congress will have to vote to increase the debt limit to avoid a default.

Most pressing, the government will run out of money on Oct. 1 unless Congress acts to approve new government spending bills. It would probably the first time a government shut down while under complete control of one party. But in that conflict, the president may have handed Senate Democrats the whip. They can now filibuster any spending bill that contains wall funding, forcing Republicans to strip out the money and challenge Mr. Trump to veto it.

On Wednesday, Democrats quickly signaled they were willing to do just that.

"If the president pursues this path, against the wishes of both Republicans and Democrats, as well as the majority of the American people, he will be heading toward a government shutdown which nobody will like and which won't accomplish anything," said Senator Chuck Schumer, Democrat of New York and the minority leader.

Representative Nita M. Lowey of New York, the senior Democrat on the Appropriations Committee, called the president's threat "the polar opposite of leadership," and said government money should instead be spent on health care, education and job creation, among other pressing needs.

"If the president follows through on his threat to shut down the government, he and his enablers should be held fully accountable," Ms. Lowey said.
Jennifer Rubin at The Washington Post calls Trump's shutdown threat his 'silliest threat yet':
A shutdown over a popular issue would be one thing, but an overwhelming majority of voters tell pollsters they do not want a wall. In January, voters in a Post-ABC poll disapproved of the wall by 60 percent to 37 percent; Pew Research found in February that they disapproved by 62 percent to 35 percent. As for Quinnipiac, "Five polls conducted over the past months show that an increasing number of voters oppose building a wall, and that support for a wall has been waning. In November, 55 percent were opposed, while 42 percent were in support. By March and April, 64 percent said they were opposed, while 33 percent said they were in favor."

When the issue of the wall came up earlier this year, not a single border-state lawmaker supported the idea. The Wall Street Journal reported, "Not a single member of Congress who represents the territory on the southwest border said they support President Donald Trump's request for $1.4 billion to begin construction of his promised wall, according to a Wall Street Journal survey."
It's worth noting that the popularity of a particular issue hasn't necessarily been a controlling factor in whether or not a shutdown occurs. During the last shutdown in 2013, for example, Republicans were seeking to stop the funding of the Affordable Care Act as a last-ditch effort to stop it from being implemented at the beginning of the next Fiscal Year. While polling at the time did show that public opinion regarding the PPACA was largely negative, that same polling also showed that the public largely disfavored the idea of shutting down the government over implementation of the law. Indeed, history has shown that the public reacts negatively any time there's been a government shutdown regardless of the issue that one political party or the other may use to justify the shutdown. In this case, though,
That being said, Rubin is correct that it is particularly stupid to try to force a government shutdown over an issue that polling shows the public generally doesn't support. Additionally, Trump's threat is likely an empty one given the fact that he is unlikely to find much support even among Republicans in the House or the Senate for the idea of making border wall funding a hill to die on when it comes to passing a budget for the new Fiscal Year. While a budget with border wall funding would most likely easily pass the House, its chances in the Senate are far from clear. For a variety of reasons, such a budget package would require 60 votes to invoke cloture rather than qualifying for consideration under the Senate's reconciliation rules, meaning that Republicans would have to both stay united in support of such a budget and find eight Democrats willing to vote in favor of a cloture motion to allow the budget to both open debate and to close debate and proceed to a final floor vote. As indicated above, that seems unlikely to happen. The natural response to this, of course, would be for the parties to negotiate and revise the budget to that it can get the sixty votes necessary to pass. Since a budget without border funding would likely pass the House easily, Trump's only response at that point would be to veto the entire budget if it didn't include border wall funding. At this point, the shutdown would be entirely a Republican problem and would be one caused entirely by the President of the United States over an issue that most Americans outside of Trump's base don't particularly care about. Moreover, given Trump's deteriorating relationship with Senate Majority Leader Mitch McConnell and his equally rocky relationship with House SPeaker Paul Ryan, the odds that Congressional and Senate Republicans would be inclined to help the President in this rather foolish endeavor, especially given the fact many of those same Republicans were around for the last shutdown and remember the negative impact it had on the party, at least in the short term.
The ironic thing about this, of course, is that Donald Trump spent the entire Presidential campaign promising that the wall would be built and that Mexico would pay for it. In response, Mexican government officials such as current President Enrique Peña Nieto and former President Vincente Fox have made it clear that the Mexican government would never agree to pay for the wall, and polling in that country has indicated that any indication that this would happen would likely lead to significant political blowback for any office holder that allowed it. This was further confirmed in a phone call between Trump and Nieto just days after Trump took office in which the two men reportedly got into something of a heated argument over the funding of the wall during which Nieto insisted that his country will never pay for the wall and that the option most often discussed by Trump, imposing taxes on Mexican goods imported into the United States, would violate the North American Free Trade Agreement and result in Mexico imposing retaliatory tariffs on the United States and seeking rulings against the U.S. from the World Trade Organization. Now, President Trump is saying that he wants the American taxpayer to pay for the wall, and threatening to shut down the government over an issue that nobody outside the Trump base even cares about.
All of this could be a bluff by Trump, of course, but that seems unlikely. While he hasn't shown much interest in legislative matters so far in his Presidency, border wall funding is more than just a legislative matter, it's a matter that was central to his campaign for the White House and one that polling continues to show is at least important to his base. Because of that, it could very well be the case that Trump will risk a shutdown over this ridiculous wall of his even though it is a fight that he clearly can't win.