Trump Placing Tariffs On All Trade With Mexico
Last night, President Trump announced a new round of tariffs against Mexico for reasons that have nothing to do with trade itself.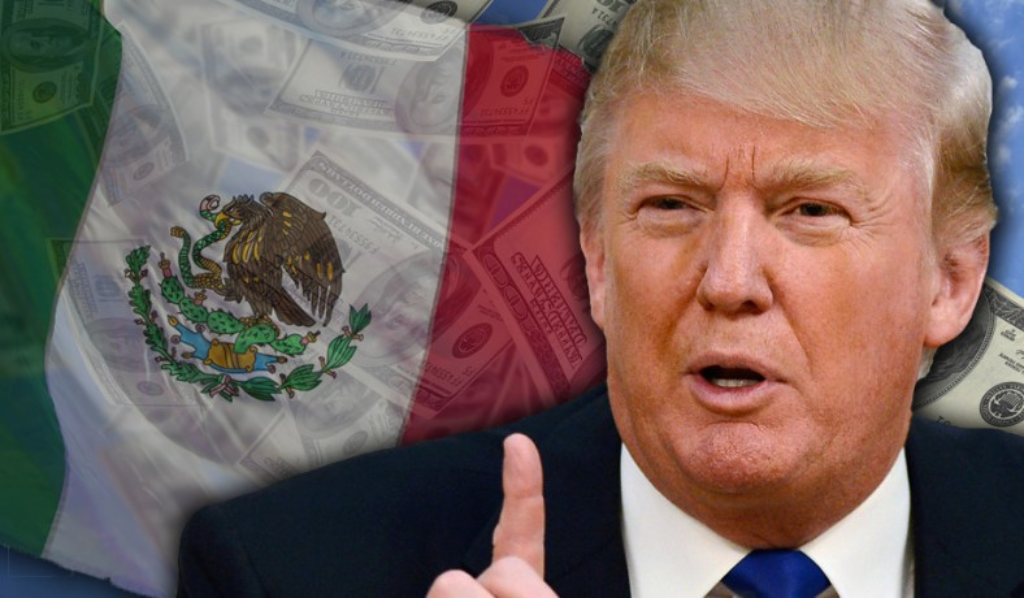 As he headed off to address the graduating class at the Air Force Academy yesterday morning, President Trump said that he'd have a 'major announcement' on immigration in the near future. That announcement apparently came late yesterday with what can only be described as one of the most foolish ideas ever conceived:
WASHINGTON — President Trump said Thursday that he would impose a 5 percent tariff on all imported goods from Mexico beginning June 10, a tax that would "gradually increase" until the flow of undocumented immigrants across the border stopped.


The announcement, which Mr. Trump made on his Twitter feed, said the tariffs would be in place "until such time as illegal migrants coming through Mexico, and into our Country, STOP."

In a presidential statement that followed, he said that tariffs would be raised to 10 percent on July 1 "if the crisis persists," and then by an additional 5 percent each month for three months. They would remain at 25 percent until Mexico acted, he said.

An across-the-board tariff on all Mexican goods would exact a serious toll on American consumers and corporations, and is likely to generate significant opposition among businesses. Rufus Yerxa, the president of the National Foreign Trade Council, which represents the nation's largest exporters, called the move "a colossal blunder."


The president's threat escalated his immigration fight with Mexico and is a significant move against an American ally that essentially dared the Mexican government to risk economic catastrophe on both sides of the border if it did not capitulate to the demands of the United States president.


But while Mr. Trump has made cracking down on illegal immigration a priority, his announcement on Thursday could derail another of his chief goals: Revising the North American Free Trade Agreement with Canada and Mexico.


Markets reacted quickly. The Mexican peso weakened against the American dollar, while shares of Japanese automakers fell because many of them have manufacturing facilities in Mexico. Futures that track American stocks suggested Wall Street would open lower on Friday.


Previous administrations have tried to pressure the Mexican government to do more to stem the flow of migrants and to combat drugs and other crime. But no president has used the kind of blunt-force threat that Mr. Trump wielded on Thursday night against a neighbor and an ally as critical to the American economy as Mexico.

Mexico is Washington's largest trading partner, sending across the border items like tomatoes, cars and rugs. Mexico sent the United States $346.5 billion of goods last year — meaning that a 5 percent tariff on those products would amount to a tax increase of more than $17 billion.


Most of the costs would then be passed on to businesses and consumers.
Mexico's deputy foreign minister for North America, Jesús Seade, said at a hastily arranged news conference on Thursday that Mr. Trump's announced tariffs would be "disastrous" and suggested Mexico could retaliate against American products. But in a letter to Mr. Trump posted online, President Andrés Manuel López Obrador of Mexico said he did not want a "confrontation" with his American counterpart and insisted on the need for dialogue.


Mr. Trump's frustration over the rising number of illegal border crossings has steadily risen since January, when Democrats refused to grant him billions of dollars to build his long-promised wall along the southwestern border. Since then, he has consistently framed immigration as a national security crisis and tried different tactics to punish the countries he blames for the flow of migrants.


He has moved to cut off all foreign aid to countries like Guatemala, Honduras and El Salvador, and threatened to completely seal off the border with Mexico, a move that numerous officials told him would violate American law and international treaties.

(…)

Administration officials on Thursday portrayed the president's move as a matter of national security, suggesting it would take priority over other goals.


"The situation is both a humanitarian and a border security crisis that has become a national emergency," Kevin McAleenan, the acting secretary of homeland security, said in a conference call with reporters after the announcement, echoing the messaging that Mr. Trump has used relentlessly for the past several months.


White House officials were vague about what actions by Mexico would satisfy Mr. Trump enough to postpone or cancel the tariffs. Mr. McAleenan said the Mexicans needed to do three things: increase security at the border with Guatemala, crack down on criminal gangs that help migrants and help the United States more with asylum seekers.


"We are going to judge success here by the number of people crossing the border and that number needs to come down substantially," said Mick Mulvaney, the acting White House chief of staff. He added that the administration would judge Mexico's actions on a "day-to-day, week-to-week basis."


Mr. Mulvaney said administration officials had consulted with leadership in both chambers of Congress before announcing the tariffs, saying that they had "talked to Republicans more than we did Democrats."


He later joked that the actual number of Democrats the administration had briefed was "zero."
Here's the President's tweet announcing the new policy:
The White House also released a statement that, if anything, was less coherent than the President's tweet:
As everyone knows, the United States of America has been invaded by hundreds of thousands of people coming through Mexico and entering our country illegally. This sustained influx of illegal aliens has profound consequences on every aspect of our national life—overwhelming our schools, overcrowding our hospitals, draining our welfare system, and causing untold amounts of crime. Gang members, smugglers, human traffickers, and illegal drugs and narcotics of all kinds are pouring across the Southern Border and directly into our communities. Thousands of innocent lives are taken every year as a result of this lawless chaos. It must end NOW!

Mexico's passive cooperation in allowing this mass incursion constitutes an emergency and extraordinary threat to the national security and economy of the United States. Mexico has very strong immigration laws and could easily halt the illegal flow of migrants, including by returning them to their home countries. Additionally, Mexico could quickly and easily stop illegal aliens from coming through its southern border with Guatemala.

(…)

If Mexico fails to act, Tariffs will remain at the high level, and companies located in Mexico may start moving back to the United States to make their products and goods. Companies that relocate to the United States will not pay the Tariffs or be affected in any way.


Over the years, Mexico has made massive amounts of money in its dealings with the United States, and this includes the tremendous number of jobs leaving our country.


Should Mexico choose not to cooperate on reducing unlawful migration, the sustained imposition of Tariffs will produce a massive return of jobs back to American cities and towns. Remember, our great country has been the "piggy bank" from which everybody wants only to TAKE. The difference is that now we are firmly and forcefully standing up for America's interests.


We have confidence that Mexico can and will act swiftly to help the United States stop this long-term, dangerous, and deeply unfair problem. The United States has been very good to Mexico for many years. We are now asking that Mexico immediately do its fair share to stop the use of its territory as a conduit for illegal immigration into our country.
The scope of these tariffs and the damage that they are likely to do to the American economy cannot be understated. Just recently, Mexico became our biggest trading partner, surpassing China by a slight margin in terms of volume of trade last year. Before that, it was our second largest trading partner. Thanks largely to economic and industrial modernization in Mexico, the basis for that trade has become more complex in recent years. For example, much as is the case with Canada, it has become quite common for companies such as General Motors and Nissan to build the cars sold in the American market in both countries, with many of the parts used in cars built in the United States including parts made in Mexico and vice versa. Furthermore, imports from Mexico include cars, machinery, fuel, medical devices, and other goods. Mexico is also our largest foreign supplier of agricultural products such as cucumbers, grapes, and avocados. Our neighbor to the south is also a major supplier of beer to the United States. Increased tariffs on everything that comes across the border from Mexico is going to mean higher prices for all of these products and for products that they are used in.
Furthermore, imports from Mexico include cars, machinery, fuel, medical devices, and other goods. Mexico is also our largest foreign supplier of agricultural products such as cucumbers, grapes, and avocados. Our neighbor to the south is also a major supplier of beer to the United States. Increased tariffs on everything that comes across the border from Mexico is going to mean higher prices for all of these products and for products that they are used in.
This isn't the first time that President Trump has used trade to lash out at one of America's closest allies and biggest trading partners, of course. Around this same time last year, for example, the President revoked the exemption from the steel and aluminum tariffs that had been announced back in March that applied to American allies in Europe as well as Canada and Mexico. In doing so, Trump claimed that he was taking this action for "national security" reasons. Objectively speaking, of course, the idea that these allies are a national security threat to the United States, or that we could not rely on them as a source for aluminum and steel in the event of a national emergency or military threat is absurd. Needless to say, this didn't go over very well with our allies in Europe and elsewhere. Canada's Foreign Minister called the new tariffs "absurd," for example, and European Union officials announced retaliatory tariffs against American goods. It appeared that this particular dispute appeared as if it was resolved later in the year when the President announced success in the negotiation of the so-called U.S.-Mexico-Canada Agreement (USMCA) which is essentially an updated version of the North American Free Trade Agreement (NAFTA), an agreement that the President has spoken out against for years. With the announcement of these new tariffs, though, it appears as if Trump is creating a new showdown with a neighbor and close ally and, potentially, calling into question the future of the agreement he had negotiated with Mexico and Canada.
Philip Klein at the Washington Examiner calls Trump's new trade policy "reckless and mindbogglingly stupid:"
First, in the most direct way, raising tariffs on Mexico will mean a tax increase of up to 25% on American families and businesses purchasing any products from Mexico, one of the U.S.' leading trade partners. In 2018, Americans imported $346.5 billion in goods from Mexico, so on that basis it would amount to a nearly $87 billion tax increase. It also will punish industries that will be affected by inevitable retaliatory tariffs.

Secondly, this threat comes as the Trump administration was jump-starting the approval process for the United States-Mexico-Canada Agreement that Trump previously touted as a major trade victory, but that has yet to be officially ratified. This will surely disrupt that process.

Thirdly, the whole justification for the previous administration's tariffs has been that they were all part of a broader strategy to negotiate better trade deals. Yet in this case, Trump is trying to lump trade in with cracking down on illegal immigration, which is a separate issue even if it could be argued there is a relationship between the two.

Fourthly, it's difficult to see how this would facilitate containing illegal Mexican immigration. The surest way that Mexico has to reducing the desire of Mexicans to leave for America is to improve the Mexican economy, which would be immensely more difficult in the midst of a trade war with the U.S.

Fifthly, it's unclear what the metric will be for determining whether "the Illegal Immigration problem is remedied." Does that mean no illegal immigration from Mexico? A reduction by a certain percentage? I suppose we'll have to leave that to the White House staffers tasked with translating Trump's insane tweets into official policy language.
And David Fickling at Bloomberg calls the idea "borderline crazy:"
Clearly, any such move on tariffs would rip apart the complex web of manufacturing supply chains that crisscross the Mexican border, many of which are as beneficial to U.S. jobs as Mexican ones. Fully 36% of the value-added in Mexican exports comes from foreign countries, much of that from America. The country is the second-biggest foreign buyer of U.S. goods, with $265 billion in imports. From the circular trade in car parts to the crude that Gulf Coast refineries import from Mexico and send back in the form of gasoline and diesel, there's an entire cross-border economy that would be devastated by these moves.

More importantly, though, the sudden and unexpected announcement of tariffs rising as high as 25% deals hard-to-reverse damage to America's image as a reliable partner. Until a few hours ago, you could be forgiven for thinking that trade relations in North America were in a pretty good place. The Section 232 tariffs on Mexican metal imposed last year were lifted just two weeks ago. The U.S.-Mexico-Canada Agreement that President Donald Trump intended to replace the North American Free Trade Agreement has been signed, though it's unlikely ever to pass Congress and into law.


Rather than provide consistent policy which allows foreign governments and businesses across the world to calibrate their decisions to the prevailing environment, this whipsaw diplomacy weakens America's ties with its alliesand causes capital to hunker down and wait for more predictable times. Forecast new orders in March fell to their lowest level since 2012, in a survey of U.S. businesses by the Federal Reserve Bank of Philadelphia. Capital-spending plans have fallen sharply from their peaks when President Trump took office, despite robust corporate profits.



Klein and Fickling are, of course absolutely correct in their assessment of this latest announcement from the President. As a general rule, tariffs are a bad idea because, contrary to what the President apparently believes, they end up being paid by American consumers and businesses and hurting the American economy. If those tariffs are targeted to specific industries, of course, it's possible that some American-based companies will benefit from reduced competition and the possibility that they can benefit from the fact that their foreign competitors will have to increase prices, but it is inevitably true that the damage the tariffs will due to consumer's, businesses, and the economy as a whole will far outweigh any "good" that the tariffs might accomplish.
These tariffs, though, aren't even being imposed for economic reasons, they are being imposed for entirely unrelated reasons that have nothing to do with our trade with Mexico. Instead, they are being imposed over a largely fictional concern over a "surge" of migrants at the U.S.-Mexican border, most of them from Central America where they are fleeing poverty, gang violence, and government crackdowns. This is a supposed "crisis" that the President has used in the past, such as in the run-up to the 2018 midterm elections, the during the budget negotiations that led to a five-week-long government shutdown in December and January, and as a justification for a "national emergency" at the southern border. The reality of this "crisis," of course is that this supposed flood of migrants consists mostly of women, children, and families fleeing conditions not dissimilar from what has led previous groups of immigrants to seek refuge in the United States. More importantly, imposing tariffs that in the end will hurt the United States more than Mexico seems like an insane way to deal with a situation that, in the end, can only be dealt with on the ground in Central America.
Even leaving all of this aside, as Klein notes, it's hard to see exactly how these tariffs are going to do anything with regard to cross-border crossings that start in Central America. As we have seen for the past several years, this flow of migrants is typically so large that there's next to nothing Mexican authorities can do about it. Additionally, there are international treaties governing the treatment of refugees that constrain nations from taking certain actions against people asserting asylum claims and both the United States and Mexico are signatories to those agreements. Furthermore, it is entirely unclear from either the President's tweet or the White House statement exactly how the United States, or more specifically Trump himself and his increasingly quixotic and irrational moods, is going to measure how effective Mexico is being at stemming the flow of migrants. Finally, if you want to curtail immigration across the southern border it is obvious that the worst possible policy to pursue is one that, in the end, will weaken the economy of the nation on the other side of that border. A weaker national economy in Mexico will likely lead to an increase in people trying to cross the border for jobs and better economic opportunity.
Given the fact that these tariffs won't start going into effect, it's possible that we may be able to avert this disaster, but it's hard to see exactly how. If this "trade dispute" with Mexico was about economic issues then its possible that the two nations could reach some sort of accord that would satisfy Trump's concerns. In this case, though, we're dealing with tariffs that are being imposed for entirely non-economic reasons and, more importantly, for reasons that are hard to measure when it comes to effectiveness. Let's say, for example, that Mexico makes some sort of pledge over the next ten days regarding how it treats these migrants. Will that be enough to convince Trump not to impose the tariffs? How will we measure if that pledge is being upheld? And how do we know that this President, who is known primarily for agreeing to something at one point only to change his mind days or even hours later, will live up to any agreement Mexico puts before him?