Trump Remains Defiant As Post-Debate Controversy Continues
Donald Trump isn't backing down from his post-debate meltdown, now the only question is what the polls will tell us when they come out.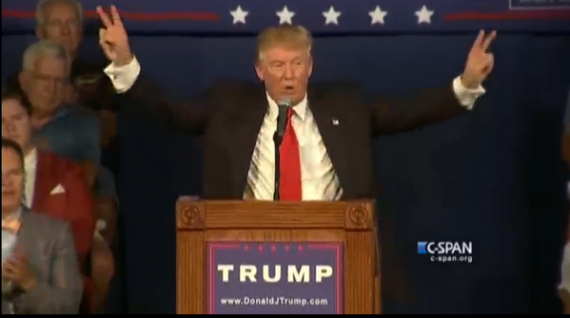 Not surprisingly, Donald Trump did not back down in the latest controversy over something he said about a person who was critical of him during his Sunday morning appearances today, but the real test will be when the first round of polls come out:
A defiant Donald J. Trump suggested on Sunday that he had been singled out for attacks by the hosts of Thursday's Republican presidential debate and again threatened a third-party White House bid if he was not treated "reasonably fairly" by party leaders.

In a rapid-fire series of phone interviews with four Sunday television news programs, Mr. Trump defended his record on women's issues, arguing that his real estate company had been among the first to put women in charge of major construction projects and that he had "always had a great relationship to the women." He criticized the Fox News anchors who were moderators in the debate, saying that no other candidate had been subjected to similarly tough questioning.

And he struck back at critics of his remarks about Megyn Kelly, one of the moderators, saying that his appraisal of Ms. Kelly's motives for questioning him sharply during the debate — that she had "blood coming out of her wherever" — was being deliberately misconstrued by his rivals as a reference to menstruation in an effort to dampen his surge in popularity with Republican voters. He had made similar remarks, he told more than one interviewer, about Chris Wallace, one of the other moderators.

"I was going to say nose and or ears, because that's a very common statement," Mr. Trump said on CNN's "State of the Union," before launching into a recitation of his résumé. "I went to the Wharton School of Finance. I was an excellent student. I'm a smart person. I built a tremendous company," he said, adding: "You think I'd make a stupid statement like that?"

Mr. Trump's counterattack came amid escalating criticism from other Republicans, who demanded that Mr. Trump apologize to Ms. Kelly and openly fretted that his rhetoric could alienate women voters at a time when the party was under pressure to broaden its appeal.

He was barred on Saturday from a conference of conservative activists in Atlanta, where his rivals, including Jeb Bush, disparaged Mr. Trump as divisive and not presidential. Other candidates, such as Carly Fiorina and Senator Lindsey Graham of South Carolina, attacked Mr. Trump in statements or on Twitter. On Sunday, Mr. Trump dismissed them as irrelevant opportunists. "I would say it too if I was at 1 percent, or 2 percent, or zero percent," Mr. Trump told Jake Tapper on CNN.
Trump's statements on ABC's This Week, Meet The Press, and Face The Nation were basically the same as those he made on CNN earlier the morning. Each time, he denied that he was making any disparaging remarks about Megyn Kelly, while continuing to make disparaging remarks about Megyn Kelly, and engaged in the same substance-free recitation of his alleged accomplishments in the business world and his promise to "Make America Great Again" that we've seen for the past month and a half. As has been his typical practice, Trump once again phoned in to four television programs rather than appearance live, via a satellite hookup, or via a pre-taped in-studio interview as is the case with nearly all of the other candidates for President and, indeed, pretty much any politician that appears on any of these others in anything other than "Breaking News" context where there isn't enough time to get in front of a camera. The only times that Trump as actually appeared on camera for interviews have been taped interviews conducted at Trump Tower, mostly by CNN reporters such as Anderson Cooper and Dana Bash. It's actually a fairly bizarre arrangement, and if it weren't for the fact that Trump's presence on these shows obviously brings in viewers no matter what format it's in, I have to wonder if the news organizations would even agree to the setup to begin with.
The other point about today's Trump appearances, of course, is that they were decidedly lacking in substance of any kind. Whereas candidates such as John Kasich, Marco Rubio, and Carly Fiorina were asked substantive questions about policy, in addition to the inevitable Donald Trump questions, the interviews of Trump were completely substance-free and revolved entirely around the things Trump had said about Megyn Kelly as well as Trump's own well-documented ability to hijack an interview with his stream-of-consciousness rants. To no small degree, of course, one has to put some of the blame for this on the reporters who chose to ask Trump these types of questions rather than trying to get int substance notwithstanding the fact that he's never done that before. At the same time, though, it strikes me that the outrageousness and bombast are all part of a conscious strategy on Trump's part where he ends up creating controversy by saying something, then he gets interviewed and the interview ends up focusing on the outrage rather than the complete vacuousness of Trump's campaign Given the fact that these interviews are usually short, no more than ten minutes in most cases, it's then becomes very easy for Trump to continue his spiel without facing hard questions. The fact that he's doing over the phone rather than in person makes it even easier. In other words, Trump is manipulating the political media just as much as he used to manipulate the New York "celebrity" media back in the 1980s.
As I said yesterday, the real test of all of this will come when the post-debate polls start getting released. At that point, we'll start to lean not only which other candidates may have helped our hurt themselves in the two debates held last week, but what the events that night and since then will do to Trump's level of support in the polls. As things stand right now, Trump stands at the top of the RealClearPolitics poll average at 24.3%, with Jeb Bush far behind in second at 12.5%, and Scott Walker in third at 9.5%. In The Huffington Post's Pollster average, which includes several polls that RCP does not, Trump's average is up at 25.5%, with Jeb Bush at 12.7% and Scott Walker at 11.0%. Over the next several weeks, the thing to keep an eye on will be both Trump's numbers and of those of other candidates. In particular, it will be worthwhile to keep an eye on John Kasich and Carly Fiorina, both of whom hope to get post-debate boost that puts them in a higher ranking in an already crowded field. Additionally, it will be worth watching candidates like Jeb Bush, Scott, Walker, and Rand Paul to see if there support starts to slip after what some have characterized as lackluster debate performances. In the end, though, it's Trump's numbers that will matter the most, especially since it is unlikely that other candidates will rise significantly if his numbers hold steady. If the media firestorm is any indication, then we could be at the beginning of the end of the Trump bubble, but we won't know for sure until the numbers come out.