Is The Donald Trump Implosion About To Begin?
The fallout from Donald Trump's debate performance, and his comments afterward, continues, and it's leading some to wonder if we may finally be at the end of this ridiculous charade.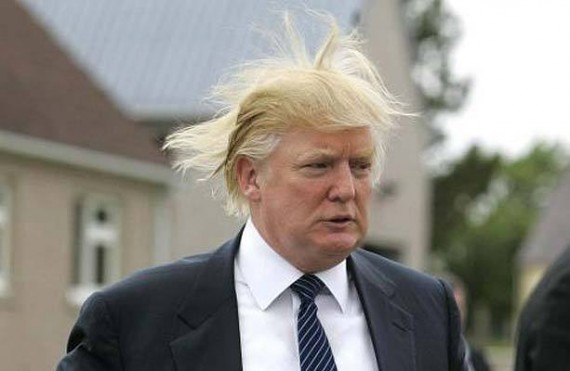 In the wake of his debate performance, two days of comments about Megyn Kelly, and getting uninvited from this weekend's conservative gathering in Atlanta, Donald Trump has parted ways with the man that many believe has been a big influence on how Trump's campaign has been conducted so far, and it's leading to speculation about whether or not Trump's seemingly inevitable downfall is about to begin:
Donald Trump's campaign says they have fired Roger Stone, the self-described political "hit man" who has long advised Trump. Stone, however, told msnbc he was not terminated and instead resigned over Trump's behavior.

Trump announced Stone's departure in an interview with The Washington Post's Robert Costa, although he suggested Stone may deny his version of events. Stone caused a stir this week after he called Republican strategist Ana Navarro, who is Hispanic, and commentator Roland Martin, who is African American, "quota hires" on Twitter.

According to a purported letter of resignation provided by Stone, he left the campaign on Saturday because Trump derailed his message of "restoring national pride and bringing jobs back to America" with his constant public feuds.

"Unfortunately, the current controversies involving personalities and provocative media fights have reached such a high volume that it has distracted attention from your platform and overwhelmed your core message," Stone wrote. "With this current direction of the candidacy, I no longer can remain involved in your campaign."

Trump's campaign accused Stone of exploiting the campaign for personal gain.

"Mr. Trump fired Roger Stone last night," a spokeperson said in a statement. "We have a tremendously successful campaign and Roger wanted to use the campaign for his own personal publicity. He has had a number of articles about him recently and Mr. Trump wants to keep the focus of the campaign on how to Make America Great Again."
Politico has more, including news of Stone's comments on Twitter about what happened:
Donald Trump made the surprising announcement Saturday afternoon that he was firing his top adviser, Roger Stone, but hours before the political consultant's friends told POLITICO that he was actually quitting.

"Sorry @realDonaldTrump didn't fire me- I fired Trump. Diasagree with diversion to food fight with @megynkelly away core issue messages," Stone, referencing Trump's battle with a moderator of Fox's Republican debate Thursday, said just before 3 p.m. on Twitter.

Earlier in the day, Stone's friends told POLITICO that he sent an email to Trump announcing his decision to leave the campaign. More than an hour later, Trump told a Washington Post reporter he fired Stone. The news coincidentally hit Twitter about 15 minutes after Stone told a Fox News TV show that he couldn't appear Saturday because he was no longer affiliated with the campaign, friends say.

"I can't believe Roger got out-Trumped, that he got out-Stoned," one of Stone's friends said. "Roger's mistake was trusting Donald and not establishing a clear record that he was resigning first."

Regardless of who resigned or was fired first, the campaign shakeup was the first sign that Trump's election effort was seriously damaged from within after his Thursday night debate performance and his subsequent comments in which he attacked one of the Fox debate moderators, Megyn Kelly.

Hours before Stone was planning to quit, conservative Erick Erickson disinvited Trump from his RedState gathering on Saturday because of Trump's increasingly misogynistic attacks on Kelly.

Stone would not comment to POLITICO, but his friends shared a copy of the email he sent Trump in which he expressed gratitude concerning their longtime relationship, which dates back to the 1980s.

"I was proud to have played a role in the launch of your presidential campaign. Your message of 'Make America Great Again' harkened back to the Reagan era. Restoring national pride and bringing jobs back to America – your initial and still underlying message – is a solid conservative message. In fact, it catapulted you instantly into a commanding lead in the race," Stone's email said.

"Unfortunately, the current controversies involving personalities and provocative media fights have reached such a high volume that it has distracted attention from your platform and overwhelmed your core message," Stone wrote. "With this current direction of the candidacy, I no longer can remain involved in your campaign."

Though longtime friends, Stone and Trump have clashed before – in part because the two men share such similar combustible personalities. Both men are from New York; Stone lives in Fort Lauderdale now and Trump owns the Mar-a-Lago mansion to the north in Palm Beach. A longtime Republican operative, Stone became a libertarian. Trump has flirted with leaving the GOP as well.

The two clashed after Stone – known universally in political circles as a Nixon-era "dirty trickster" – helped bring down Trump friend and New York Gov. Eliot Spitzer in a prostitution scandal. But soon Stone and Trump were back and working together.
Roger Stone Jr., of course, has a long history in American politics that goes back to his times as a Young Republican working for the Nixon campaign and continues well into the current day. More recently, Stone has made a name for himself in ways such as writing a book in which he essentially claims that Lyndon Johnson was behind President Kennedy's assassination and he's also been rumored to have connections to Matt Drudge, Andrew Breitbart, and other conservative bomb throwers that have come and gone over the years. In many respects, this first month and a half of the Donald Trump campaign has many of the earmarks of a classic Stone campaign in its bombast and appeals to controversy and populism, but to a large degree much of that was a function of Trump himself so it's unclear just what impact, if any, his withdrawal from the campaign will actually have going forward. We'll get some preview of that tomorrow when Trump appears on four of the five Sunday morning talk shows (right now, he is not scheduled to appear on Fox News Sunday, but that could change). No doubt, this latest incident will be among the first topics discussed.
Leaving aside the issues about Roger Stone himself, though, what has happened here seems to be indicative of what is going on inside the Trump campaign. Just over the past week, the campaign has had to fire two advisers when it was discovered that both of them had a long history of making racist and other inflammatory statements on social media. In both cases, the campaign tried to spin the event by downplaying the relationship that they actually had with the individuals involved. In one case, though, the person fired was someone who had worked for Trump on the business side for quite some time, and in the other case the person fired was someone who had been brought on to run the Trump campaign in Arizona. Those two men were minor functionaries, though. Stone was one of Trump's closest advisers and arguably the only one with any real campaign experience, and the break seems to have happened because of what happened on Thursday night and the Trump has acted since then:
The next morning, Stone had to fight Trump's handlers to meet with him for 15 minutes, prompting the following exchange that both of Stone's friends tell POLITICO happened:

Stone: "Donald, stop with the Megyn Kelly shit. It's fucking crazy. It's killing us."

Trump: "What do you mean? I won the debate. People loved it."

Stone: "You didn't win the debate."

Trump: "Yes I did. Look at the polling. Look at Drudge."

Stone: "The Drudge Report poll isn't a scientific poll. You won't give me the money to pay for a scientific poll. And you're off-message."

Trump: "There are other polls."

Stone: "Those are bullshit polls, Donald. They're not scientific polls. We need to run a professional campaign and talk about what people really care about."

Trump: "We're winning."

After the meeting, Trump did the opposite of what Stone had recommended by going on CNN and trashing Kelly. "You could see there was blood coming out of her eyes, blood coming out of her — wherever," Trump said, a comment perceived by many to be a reference to a woman's menstrual cycle. Trump's campaign later denied that interpretation, but by then Stone was consulting his friends about quitting.

"He is losing his grip on reality," Stone told them. "He has these yes-men around him. And now he's living in a parallel world."
If this is an accurate representation of what is going on inside Trump's world right now, then it's safe to say that everything those of us who have been laughing at this man for the past month and half believed is not true, but that it's actually even worse than that. There have been some other indications of what's been going inside Trump Tower in recent days that paint a similar picture. Gabriel Sherman in New York magazine, for example, paints a picture of a campaign that is basically being run out of Trump's business offices in Manhattan with his campaign manger Corey Lewandowski attempting to fend off any efforts form other to take control away from him while Trump's daughter Ivanka tries to intervene to get her father to dial back on thinks like his anti-Mexican comments at the start of the campaign.
Similar reports of campaign discord have appear elsewhere in the media, and all of them paint a picture very similar to the exchange between Stone and Trump quoted above. Here we have a man who apparently wants to run for President without actually running for President. By all accounts, he has very little in way of on-the-ground campaign staff in states like Iowa, New Hampshire, and South Carolina. His campaign has rebuffed efforts from state and local GOP officials to coordinate campaign events as is ordinarily the practice. His campaign website contains no "Issues" section, and he has never set forth any policy proposals in event the broadest detail. Everything that comes out of his mouth is either an insult, a comment on how horrible the condition of the United States is, or some vague comment about how he will "Make America Great Again," a campaign slogan he stole from the 1980 campaign of Ronald Reagan. Despite all of this, he has ridden his bloviating to the top of the polls. The question now is whether he has finally gone to far. We won't know that for sure until new polling starts coming out some time next week, but just based on my observations of the rantings of his supporters in various forums, one does get the impression that the end may be near for this bizarre little phenomenon.
If it's not, and if Trump actually rises in the polls after all of this, well then that just says something very bad about a very large segment of our country.
Update: The Washington Post's Robert Costa has a copy of Stone's letter to Trump:
Roger Stone's letter to @realDonaldTrump pic.twitter.com/0DKpZQHbLW

— Robert Costa (@costareports) August 8, 2015