Roger Stone Indicted In Russia Probe
Roger Stone, who worked with the Trump campaign in an official and unofficial capacity throughout the campaign, has been indicted by Special Counsel Robert Mueller.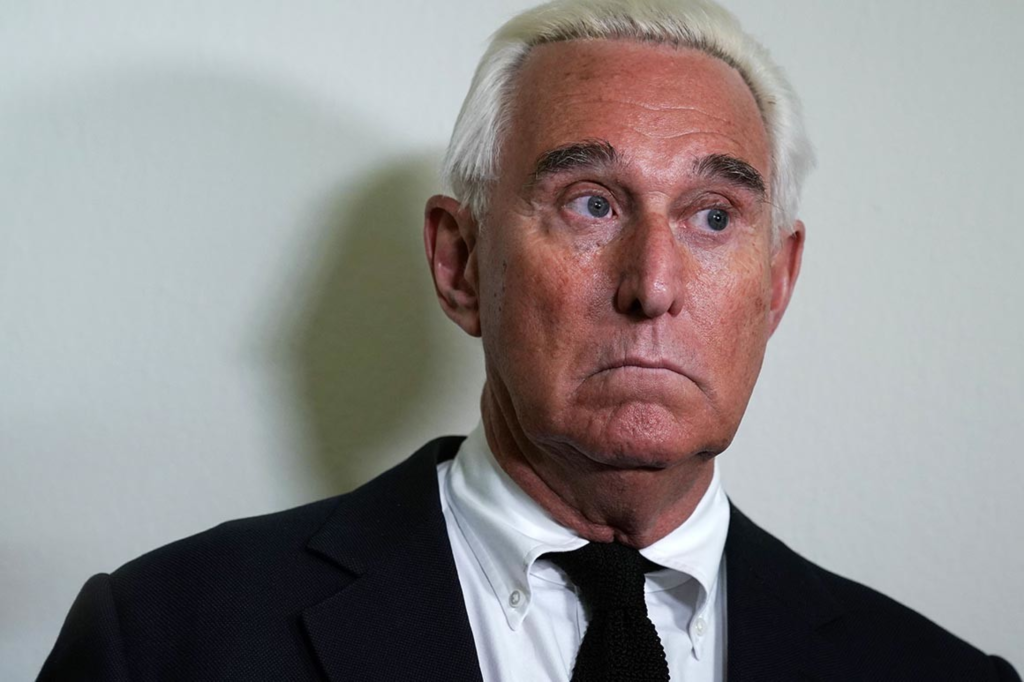 Roger Stone, who worked with President Trump's in a formal and informal capacity from its beginning, has been indicted on charges including witness tampering and other charges as part of Special Counsel Robert Mueller's ongoing investigation into Russian interference in the 2016 campaign and possible collusion between Trump campaign officials and Russia:
WASHINGTON — Roger J. Stone Jr., a longtime informal adviser to President Trump who has spent decades plying the dark arts of scandal-mongering and dirty tricks to help influence American political campaigns, was arrested early Friday after an indictment was unsealed in the special counsel investigation.

Mr. Stone was charged with seven counts, including obstruction of an official proceeding, making false statements and witness tampering, according to the special counsel's office.

The indictment is the first public move in months by the special counsel, Robert S. Mueller III, who is investigating Russia's interference in the 2016 election and possible coordination with Trump associates.

Mr. Stone and his lawyer could not immediately be reached for comment.

Mr. Stone, a self-described dirty trickster who has spent decades plying the dark arts of scandal-mongering and dirty tricks to help influence American political campaigns, has long maintained that he had no connection to Russia's attempts to disrupt the 2016 presidential election. He sometimes seemed to taunt American law enforcement agencies, daring them to find hard evidence to link him to the Russian meddling campaign.

According to the indictment, Trump campaign officials contacted Mr. Stone during the summer of 2016 about future releases from WikiLeaks, suggesting that Mr. Trump's campaign knew about the stolen emails before they were released.

His brash behavior made him less of a subject of news media scrutiny than other current and former aides to President Trump — like the character in a whodunit whom readers immediately dismiss as too obvious to have committed the crime.

But the special counsel's investigators spent months encircling Mr. Stone, renewing scrutiny about his role during the 2016 presidential race. Investigators interviewed former Trump campaign advisers and several of his associates about Mr. Stone's fund-raising during the campaign and his contacts with WikiLeaks.
More from The Washington Post:
Roger J. Stone Jr., a longtime informal adviser to President Trump, was arrested by the FBI on Friday on charges he lied and tried to tamper with a witness to hide the details of his efforts to learn about releases of Democrats' hacked emails during the 2016 campaign.

Stone was charged with seven counts, including one count of obstruction of an official proceeding, five counts of false statements and one count of witness tampering.

With Stone's indictment, Mueller has struck deep inside Trump's inner circle, charging a long-standing friend of the president. The court filing charges Stone sought to gather information about hacked emails at the direction of a senior Trump campaign official.

The indictment centers on Stone's efforts to find out when potentially damaging releases of internal Hillary Clinton campaign emails would be released by Julian Assange, the leader of the antisecrecy group WikiLeaks. U.S. officials say Russian intelligence agents hacked Democrats and their email accounts and then shared them with WikiLeaks, which publicized them during the final months of the 2016 election.

People familiar with the case said Organization 1 is WikiLeaks. The indictment does not identify the senior Trump campaign official, nor does it say who directed the senior campaign official to contact Stone. The indictment also does not accuse Stone of conspiring with Assange or Russian officials.

After the election, according to the indictment, Stone tried to cover up what he'd done by lying about it to Congress and attempting to convince another witness, identified only as "Person 2," to refuse to talk to the House Intelligence Committee. People close to the case said Person 2 is New York comedian Randy Credico.

As Credico prepared for possible testimony before the House Intelligence Committee, Stone repeatedly pressured him not to reveal anything that would suggest Stone had misled the committee in his earlier denials, according to the indictment. In December 2017, authorities charge, Stone used a reference to one of the "Godfather" movies to try to keep Credico quiet.

"Stone told Person 2 that Person 2 should do a 'Frank Pentangeli' before (the committee) in order to avoid contradicting Stone's testimony," the indictment charges, adding: "Frank Pentangeli is a character in the film The Godfather: Part II, which both Stone and Person 2 had discussed, who testifies before a congressional committee and in that testimony claims not to know critical information that he does in fact know."

In the film, the Pentangeli character publicly declares "I don't know nothin' about that," when asked at a congressional hearing about his career in the Mafia.

Stone, 66, who has been friends with Trump for three decades, served briefly as a formal adviser to his presidential campaign in 2015 and then remained in contact with him and top advisers through the election.

The GOP operative has been a key focus of the special counsel for months as Mueller has investigated whether anyone in Trump's orbit conspired with Russia to interfere in the 2016 presidential campaign.

Stone did not immediately respond to requests for comment.

(…)

During the White House race, Stone publicly cheered on the group WikiLeaks as it released hacked emails that embarrassed Democratic nominee Hillary Clinton. Stone also claimed before the election that he was in contact with WikiLeaks founder Julian Assange whom he called "my hero."

In July, a grand jury indicted 12 Russian military officers on charges that they orchestrated the hacks and distributed pilfered documents to WikiLeaks and other sites.

After the election, Stone acknowledged exchanging what he characterized as benign messages with Guccifer 2.0, a Twitter persona that U.S. intelligence officials say was a front operated by the Russian military officers.

But Stone has repeatedly denied any contact with Russia or WikiLeaks. He has said he had no advance knowledge of what material WikiLeaks held, adding that predictions he made about the group's plans were based on Assange's public comments and tips from associates.

The investigation "has devolved into gotcha word games, perjury traps and trumped-up process crimes," Stone told The Washington Post late last year. "I think people can see through the political motivations behind this."

He added: "Where is the evidence of Russian collusion or WikiLeaks collaboration?"

In sworn testimony to the House Intelligence Committee last year, Stone also denied any contact with WikiLeaks or knowledge of its plans, saying he did not intend to imply that he had communicated with Assange directly.

In a closed-door meeting late last year, the committee voted to turn over a copy of Stone's testimony to Mueller, who requested the document.

WikiLeaks and Assange have also said they never communicated with Stone, who the group said "was trolling to attract attention to himself," according to a tweet late last year by WikiLeaks's legal campaign.

During the campaign, Stone privately told associates that he was in contact with Assange and that WikiLeaks had material that would be damaging to Clinton. In an October 2016 email to Trump's then-chief campaign strategist Stephen K. Bannon, Stone implied he had information about the group's plans.

In recent months, the longtime GOP operative has offered conflicting accounts of who provided him with tips about WikiLeaks's plans — first identifying Credico as his source and then acknowledging he also received information from conservative writer Jerome Corsi and through an email forwarded to him from then-Fox News correspondent James Rosen.
Stone was arrested in a pre-dawn raid on his home, which is significantly different from how previous defendants have been treated and an indication that the investigators may have feared that Stone would seek to destroy evidence if he knew an indictment was coming:
"FBI. Open the door."

Watch exclusive CNN footage of the FBI arresting longtime Trump associate Roger Stone. Stone has been indicted by a grand jury on charges brought by special counsel Robert Mueller. https://t.co/ZQCuuxLHAG pic.twitter.com/moQwNndB91

— CNN Politics (@CNNPolitics) January 25, 2019
Stone is the fifth person close to Trump who has been charged in the ongoing investigation or investigations related to it. The other three, of course, include George Papadopoulos, who served as a foreign policy adviser to the Trump campaign, Paul Manafort and Richard Gates, who worked on the Trump campaign during that part of the campaign falling before, during, and after the 2016 Republican National Convention, and longtime Trump lawyer and "fixer" Michael Cohen. In each of these cases, the indictments came in connection with matters not related to the campaign or the Russia investigation, and in Cohen's case the indictment was handed down in connection with a separate investigation in the Southern District of New York that includes an investigation of Cohen's involvement in an effort to pay off women who had been involved in affairs with Trump in an effort to stave off embarrassing and potentially explosive revelations about Trump in the final weeks of the 2016 campaign. At one point or another, all three of these men eventually ended up cooperating with the Mueller campaign, although Mueller is now seeking to revoke Manafort's plea agreement due to the fact that he was repeatedly lying to Mueller's investigators even after entering into the plea agreement.
The Stone indictment, most notably, does not focus on activities that occurred during the campaign. Instead, it alleges that Stone lied in numerous instances, including in connection with testimony before the House Intelligence Committee and that he engaged in witness tampering and obstruction of justice in connection with the testimony of other before the committee and other forums. Despite the fact that the charges are not directly related to what happened during the campaign, the indictment goes into significant detail regarding Stone's contacts with the Trump campaign and with an entity described as "Organization 1," which is quite obviously Wikileaks. Stone has previously denied any connection between himself and Wikileaks or the leaks of documents from the Democratic National Committee and Clinton campaign adviser John Podesta. Based on the Mueller allegations in the indictment, it seems clear that there is sufficient evidence to show that Stone was working as an intermediary between the Trump campaign and persons associated with Wikileaks. There also seems to be significant evidence that the source who provided Wikileaks with information pertaining to the campaign had at least some sort of connection to Russian officials or to persons who were running the cyberwarfare angle of the Russian interference campaign, This is perhaps the most direct evidence yet of a connection between the Trump campaign and outside groups that may or may not have ties to Russia. While it doesn't directly prove the existence of such links, it certainly goes a long way toward establishing such a link.
As noted, Stone will be brought before Judge in Fort Lauderdale, where he was arrested, later this morning. This will be a brief procedural hearing during which Stone will be asked if he understands the charges against him and whether he has counsel. The issue of bail may also come up, but it's likely that, at least for now, he will be released on his own recognizance. This hearing will also begin the process of transferring Stone's case from the Fort Lauderdale to the District of Columbia, where the charges are pending. This will begin the process against Stone and, during this time, it's worth remembering that Stone is innocent until proven guilty beyond a reasonable doubt. At the same time, though this is certainly a major development in the Russia investigation and brings the case yet close to the President, who ought to be fairly concerned this morning.
Here's the indictment:
U.S. v. Roger Stone Indictment by on Scribd