Federal Government Inadvertently Reveals Sealed Indictment Against Julian Assange
A filing in an unrelated case has apparently revealed the existence of a sealed indictment against Wikileaks founder Julian Assange.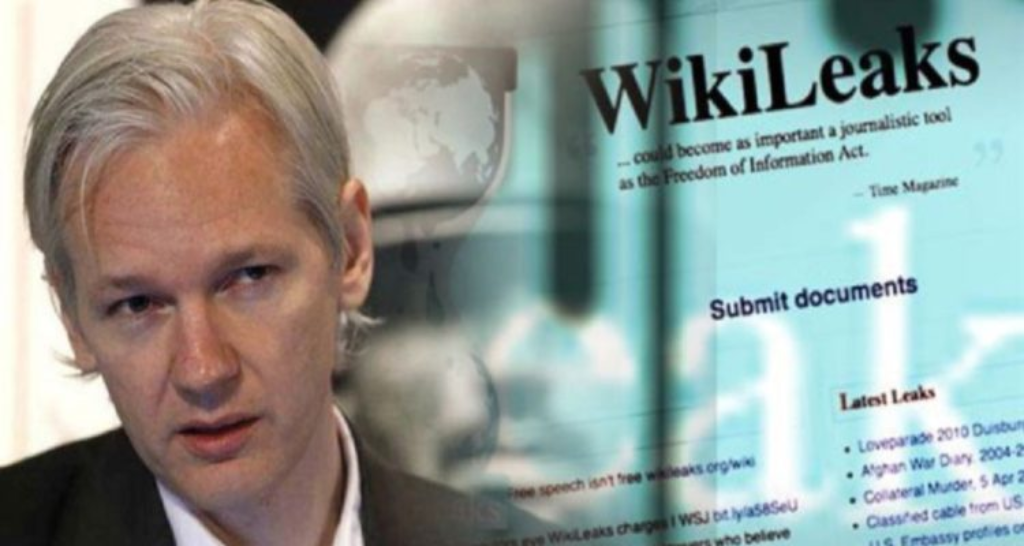 An apparently inadvertent error by a U.S. Attorney's Office in an apparently unrelated case reveals that there may be a sealed indictment of Wikileaks founder Julian Assange pending in a U.S. District Court in Virginia:
WASHINGTON — The Justice Department has prepared an indictment against the WikiLeaks founder, Julian Assange, marking a drastic escalation of the government's yearslong battle with him and his anti-secrecy group.

It was not clear if prosecutors have filed charges against Mr. Assange. The indictment came to light late Thursday through an unrelated court filing in which prosecutors inadvertently mentioned charges against him.

"The court filing was made in error," said Joshua Stueve, a spokesman for the United States attorney's office for the Eastern District of Virginia. "That was not the intended name for this filing."

Mr. Assange has lived for years in the Ecuadorean Embassy in London and would have to be arrested and extradited if he were to face charges in federal court, altogether a multistep diplomatic and legal process.

The disclosure came as the special counsel, Robert S. Mueller III, is investigating links between President Trump's associates and Russia's 2016 election interference. WikiLeaks published thousands of emails that year from Democrats during the presidential race that were stolen by Russian intelligence officers. The hackings were a major part of Moscow's campaign of disruption.

Though the possible charges against Mr. Assange remained a mystery on Thursday, an indictment centering on the publication of information of public interest — even if it was obtained from Russian government hackers — would create a precedent with profound implications for press freedoms.

Mr. Assange has been in prosecutors' sights for years because of WikiLeaks's publication of thousands of secret government documents. Mr. Assange and his upstart website rose to prominence when Chelsea Manning, a low-ranking Army intelligence analyst, handed over thousands of classified Pentagon and State Department documents to WikiLeaks, which began publishing them in 2010.

Barry Pollack, an American lawyer representing Mr. Assange, denounced the apparent development.

"The news that criminal charges have apparently been filed against Mr. Assange is even more troubling than the haphazard manner in which that information has been revealed," Mr. Pollack wrote in an email. "The government bringing criminal charges against someone for publishing truthful information is a dangerous path for a democracy to take."

Seamus Hughes, a terrorism expert at George Washington University who closely tracks court cases, uncovered the filing and posted it on Twitter.

A Justice Department spokesman declined to say on Thursday what led to the inadvertent disclosure. It was made in a recently unsealed filing in an apparently unrelated sex-crimes case charging a man named Seitu Sulayman Kokayi with coercing and enticing an underage person to engage in unlawful sexual activity. Mr. Kokayi was charged in early August, and on Aug. 22, prosecutors filed a three-page document laying out boilerplate arguments for why his case at that time needed to remain sealed.

While the filing started out referencing Mr. Kokayi, federal prosecutors abruptly switched on its second page to discussing the fact that someone named "Assange" had been secretly indicted, and went on to make clear that this person was the subject of significant publicity, lived abroad and would need to be extradited — suggesting that prosecutors had inadvertently pasted text from a similar court filing into the wrong document and then filed it.

"Another procedure short of sealing will not adequately protect the needs of law enforcement at this time because, due to the sophistication of the defendant and the publicity surrounding the case, no other procedure is likely to keep confidential the fact that Assange has been charged," prosecutors wrote.

While the filing started out referencing Mr. Kokayi, federal prosecutors abruptly switched on its second page to discussing the fact that someone named "Assange" had been secretly indicted, and went on to make clear that this person was the subject of significant publicity, lived abroad and would need to be extradited — suggesting that prosecutors had inadvertently pasted text from a similar court filing into the wrong document and then filed it.

They added, "The complaint, supporting affidavit, and arrest warrant, as well as this motion and the proposed order, would need to remain sealed until Assange is arrested in connection with the charges in the criminal complaint and can therefore no longer evade or avoid arrest and extradition in this matter."

The Justice Department has been studying whether or how to charge Mr. Assange or WikiLeaks with some kind of criminal offense since the site began publishing its trove of secret military and diplomatic documents. Prosecutors, for example, toyed with the idea of charging Mr. Assange as a conspirator in Ms. Manning's crime of unauthorized disclosure of secrets related to national defense. And it eventually became public that a grand jury in the Eastern District of Virginia was investigating people with links to WikiLeaks.

But even as the Obama administration brought criminal charges in an unprecedented number of leak-related cases, it apparently held back from charging Mr. Assange. Members of the Obama legal policy team from that era have said that they did not want to establish a precedent that could chill investigative reporting about national security matters by treating it as a crime.

Their dilemma came down to a question they found no clear answer to: Is there any legal difference between what WikiLeaks was doing, at least in that era, from what traditional news media organizations, like The New York Times, do in soliciting and publishing information they obtain that the government wants to keep secret?

And such organizations, including The Times, have published many news articles based on documents that WikiLeaks published starting in 2010, including tranches of logs of significant combat events in the wars in Afghanistan and Iraq and diplomatic cables leaked by Ms. Manning, and the Democratic emails in the 2016 election that were hacked by Russia.

The debate over whether to charge Mr. Assange continued under the Trump administration, according to a former government official involved in the discussions, about whether Mr. Assange qualified as a journalist.
The Washington Post has more, as does The Wall Street Journal, which appears to be the news organization that broke the story:
The Justice Department is preparing to prosecute WikiLeaks founder Julian Assange and is increasingly optimistic it will be able to get him into a U.S. courtroom, according to people in Washington familiar with the matter.

Over the past year, U.S. prosecutors have discussed several types of charges they could potentially bring against Mr. Assange, the people said. Mr. Assange has lived in the Ecuadorean embassy in London since receiving political asylum from the South American country in 2012.

The people familiar with the case wouldn't describe whether discussions were under way with the U.K. or Ecuador about Mr. Assange, but said they were encouraged by recent developments.

Ecuador's relationship with Mr. Assange has deteriorated sharply since last year's election of President Lenin Moreno, who has described him as a "stone in our shoe" and said his continued presence at the embassy is unsustainable.

An indictment from special counsel Robert Mueller that portrayed WikiLeaks as a tool of Russian intelligence for releasing thousands of hacked Democratic emails during the 2016 presidential campaign has made it more difficult for Mr. Assange to mount a defense as a journalist. Public opinion of Mr. Assange in the U.S. has dropped since the campaign.

Prosecutors have considered publicly indicting Mr. Assange to try to trigger his removal from the embassy, the people said, because a detailed explanation of the evidence against Mr. Assange could give Ecuadorean authorities a reason to turn him over.

The exact charges Justice Department might pursue remain unclear, but they may involve the Espionage Act, which criminalizes the disclosure of national defense-related information.

In an interview last week, the head of the Justice Department's national security division, John Demers, declined to comment on the possibility of prosecuting Mr. Assange, saying, "On that, I'll just say, 'we'll see.'"

Ecuador has been looking to improve relations with the U.S., hosting Vice President Mike Pence in 2018 amid interest in increasing trade.

Ecuador's Foreign Relations Ministry declined to comment. Earlier this month, Foreign Relations Minister José Valencia told a radio station the government hadn't received an extradition request for Mr. Assange.

Mr. Assange has clashed with his Ecuadorean hosts in recent months over internet access, visitors, his cat and other issues. Last month, he sued Ecuador over the conditions of his confinement. At a hearing last month, at which a judge rejected Mr. Assange's claims, Mr. Assange said he expected to be forced out of the embassy soon.

A lawyer for Mr. Assange, Barry Pollack, said he hadn't heard a prosecution was in the works.

"We have heard nothing from authorities suggesting that a criminal case against Mr. Assange is imminent," Mr. Pollack said. "Prosecuting someone for publishing truthful information would set a terrible and dangerous precedent."

The U.S. hasn't publicly commented on whether it has made, or plans to make, any extradition request. Any request from the U.S. would likely go to British authorities, who have an outstanding arrest warrant for Mr. Assange related to a Swedish sexual assault case. Sweden has since dropped the probe, but the arrest warrant stands.

Any extradition and prosecution would involve multiple sensitive negotiations within the U.S. government and with other countries.

The Justice Department has investigated Mr. Assange for years, beginning in 2010 after disclosures by WikiLeaks of thousands of classified Afghan War reports and other material, for which former Army intelligence analyst Chelsea Manning was found guilty at a court-martial.

Under the Obama administration, then-Attorney General Eric Holder drew a distinction between WikiLeaks and news organizations, saying WikiLeaks didn't deserve the same First Amendment protections. Investigators, however, were unable to uncover evidence that Mr. Assange had induced Ms. Manning to leak the documents and didn't bring a prosecution.

President Trump has sent conflicting messages about Mr. Assange, saying "I love WikiLeaks" during the 2016 campaign and praising the group after its disclosures of the hacked Democratic National Committee emails.

Longtime Trump adviser Roger Stone told an associate earlier this year he was working to get Mr. Assange a blanket pardon from Mr. Trump, according to text messages reviewed by The Wall Street Journal. He wrote editorials and publicly advocated for such a pardon, though he told the Journal that he had never discussed his efforts with the president.

Secretary of State Mike Pompeo, however, said last year when he was CIA director that WikiLeaks is akin to a foreign "hostile intelligence service" and an adversary of the U.S. Then-Attorney General Jeff Sessions said Mr. Assange's arrest was a "priority."

The Trump Justice Department has considered several potential cases against Mr. Assange, including prosecuting him in connection with the cables Ms. Manning provided and his more recent involvement in the DNC disclosures. Prosecutors have also considered tying Mr. Assange to foreign intelligence services, people familiar with the discussions said.
It does not appear that the inadvertent filing referencing a sealed indictment against Assange was filed in any matter dealing with the ongoing investigation into Russian interference in the 2016 Presidential election. Wikileaks played a prominent role in that interference campaign due to the fact that it posted many of the emails that had been retrieved from the servers belonging to the Democratic National Committee and the email provider for Anthony Podesta, a close Clinton adviser both before and during the Presidential campaign. In that regard, it has never been proven that Wikileaks itself was involved in actually conducting any of the hacking that uncovered the emails in question or that it was aware of the source(s) that obtained those emails. Instead, it appears that the filing in which Assange is referenced comes from documents filed with the court in a case completely unrelated to the Russia investigation currently being handled by the United States Attorneys Office for the Eastern District of Virginia and that the reference to Assange comes from boilerplate language regarding arguments in favor of sealing cases in general. This suggests that the person or persons who drafted the document may have copied and pasted the language from an Assange-related filing and failed to change the name in the filing. When that case was unsealed last week, it included the document referencing Assange in the now-public filing.
It's also not clear what matter or matters any sealed indictment against Assange may cover. As noted above, the Wikileaks founder has been in the crosshairs of American law enforcement and intelligence agencies since at least 2010, and both his name and Wikileaks have come up in connection with other matters in subsequent years. The scrutiny began, of course, with the case involving Chelsea Manning who, when she was an Army Officer named Bradley Manning, leaked thousands of pages of diplomatic cables and other documents to Wikileaks that she had stolen from government computers while serving in Iraq. Later, Assange and his organization played a role in the publication of thousands of pages of documents that former National Security Agency contractor Edward Snowden had stolen from NSA computers before escaping to Hong Kong and, eventually, Russia. Finally, of course, there is Wikileaks' involvement in the Russian interference campaign during the 2016 campaign. In all three of these matters, though, it appears that Wikileaks sole involvement was to post documents that they had received from others, a fact that could make any prosecution of Assange individually or Wikileaks as an organization difficult.
In the meantime, Assange himself has been dealing with legal issues unrelated to charges that might be pending in the United States, but which complicate any efforts to extradite him for prosecution in the United States. Since late 2010, Assange has fought to delay extradition from the United Kingdom to Sweden to face questioning in connection with a sexual assault claim against him that Assange vehemently denies. After exhausting his appeals in the U.K., Assange sought and was granted asylum in the Ecuadorean Embassy in London, where he has remained for the past six years. In recent years, though, tensions between Assange and his Ecuadorean have reportedly reached the boiling point several times, with many of the complaints revolving around Assange's personal habits and those of his guests, and, as noted above, his apparent inability to clean up after his cat. This, along with the fact that the current government in Ecuador has proven more willing to improve its relationships with the United States and the rest of the world, has led to speculation that Assange's days at the embassy may be numbered and that the Ecuadoreans may be willing to turn him over to the Brits, Swedes, or United States rather than continue to deal with an "asylum" that has now lasted six years and shows no signs of ending by Assange's choosing.
Assuming that these reports of Assange's indictment are accurate, the question of what the legal grounds for such an indictment might be isn't entirely clear. The law most commonly cited in connection with any potential charges is the Espionage Act of 1917 which has been used on numerous occasions to prosecute people who have revealed classified information even when that information was in the public interesting. In the case of Assange and Wikileaks, though, one of the main problems that prosecutors could face is the fact that it has typically been difficult to prove direct collaboration between Assange and his organization and any of the individuals or entities from whom it has received information. Instead, it has appeared that Wikileaks has published information that it received from third parties such as Manning, Snowden, or the hackers who obtained the DNC and Podesta emails without any direct collaboration with those individuals. In that respect, as I've noted previously, there really wasn't any substantive difference between the role of Wikileaks and the role of The New York Times and The Washington Post in The Pentagon Papers case. While the Federal Government showed no hesitation in suing both newspapers in civil court at the time in an effort to bar publication, which the government ultimately lost in a landmark Supreme Court ruling, even during the Nixon Administration there was apparently never any serious consideration of going after these on a criminal basis, nor should there have been.
In this regard, Floyd Abrams, the attorney that represented the Times in the Pentagon Papers case, made an interesting argument in a column in 2011 arguing that the ongoing Wikileaks story is not at all like the case he was involved in 40 years ago:
In 1971, Daniel Ellsberg decided to make available to the New York Times (and then to other newspapers) 43 volumes of the Pentagon Papers, the top- secret study prepared for the Department of Defense examining how and why the United States had become embroiled in the Vietnam conflict. But he made another critical decision as well. That was to keep confidential the remaining four volumes of the study describing the diplomatic efforts of the United States to resolve the war.

Not at all coincidentally, those were the volumes that the government most feared would be disclosed. In a secret brief filed with the Supreme Court, the U.S. government described the diplomatic volumes as including information about negotiations secretly conducted on its behalf by foreign nations including Canada, Poland, Italy and Norway. Included as well, according to the government, were "derogatory comments about the perfidiousness of specific persons involved, and statements which might be offensive to nations or governments."

The diplomatic volumes were not published, even in part, for another dozen years. Mr. Ellsberg later explained his decision to keep them secret, according to Sanford Ungar's 1972 book "The Papers & The Papers," by saying, "I didn't want to get in the way of the diplomacy."

(…)

WikiLeaks is different. It revels in the revelation of "secrets" simply because they are secret. It assaults the very notion of diplomacy that is not presented live on C-Span. It has sometimes served the public by its revelations but it also offers, at considerable potential price, a vast amount of material that discloses no abuses of power at all.

The recent release of a torrent of State Department documents is typical. Some, containing unflattering appraisals by American diplomats of foreign leaders of France, Germany, Italy, Libya and elsewhere, contain the very sort of diplomacy-destructive materials that Mr. Ellsberg withheld. Others—the revelation that Syria continued selling missiles to Hezbollah after explicitly promising America it would not do so, for example—provide a revealing glimpse of a world that few ever see. Taken as a whole, however, a leak of this elephantine magnitude, which appears to demonstrate no misconduct by the U.S., is difficult to defend on any basis other than WikiLeaks' general disdain for any secrecy at all.

Mr. Ellsberg understood that some government documents should remain secret, at least for some period of time. Mr. Assange views the very notion of government secrecy as totalitarian in nature. He has referred to his site as "an uncensorable system for untraceable document leaking and analysis."
As Abrams goes on to point out, the Wikileaks site is really nothing more than a huge receptacle for documents that it has obtained, either legally or surreptitiously, which purport to uncover the "secrets" that Assange and his disciples believe should not exist. They offer no analysis of the information, they don't try to place the information in any kind of historical or contemporary context, and they make little to no effort to hide identifying information that could cause harm to others. For those reasons, it's hard to equate them with what we traditionally know as journalism.
Even if we accept the argument that Abrams makes, though, that doesn't mean that a prosecution of Assange and/or Wikileaks would be an easy one. Assuming that there is indeed no real evidence that either Assange or anyone else at Wikileaks was directly involved in the purloining of classified data or the hacking of private email servers during the 2016 Presidential campaign, then prosecution could prove to be difficult There is, perhaps, much about Wikileaks that can be criticized to the extent that they have a view about the availability of information that isn't entirely realistic in a modern world where certain matters do need to remain secret for reasons of national security. At the same time, though, it's also true that making information secret has, far too often, been a means for governments to cover up matters that are potentially embarrassing if not downright illegal. Additionally, it's often a means for a government to withhold from the public information that they arguably have a right to know. For example, it's unlikely that we would have debated the issue of the proper limits of government surveillance if Edward Snowden had not leaked documents from the National Security Agency to Glenn Greenwald, a journalist who has seen himself come under some of the same criticism that Assange has in the months since The Guardian began publishing articles based on the information provided by Snowden. Given that prosecuting Assange would mean creating precedents that could potentially lead to prosecuting journalists doing their jobs as Greenwald did in the Snowden case. Yes, Assange may be a creepy-seeming guy and Wikileaks doesn't really follow traditional rules of journalism in discerning what information should and shouldn't be made public, but the potential costs of turning the massive resources of the Federal criminal justice system loose on a free press are far greater than the cost of not pursuing a case against one man that, in the end, may not be winnable.