Former Trump Campaign Manager Paul Manafort Indicted
The first shoes drop in the Mueller investigation.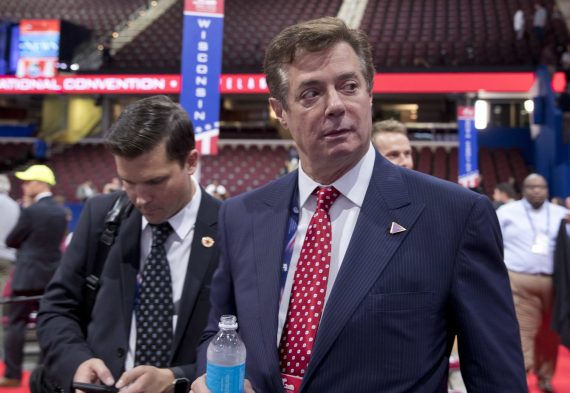 Paul Manafort, a long-time Washington insider who served as Donald Trump's campaign manager until August 2016 and managed the 2016 Republican National Convention as part of those duties, has been indicted along with a top associate by Russia special counsel Robert Mueller:
WASHINGTON — Paul Manafort and his former business associate were indicted on Monday on money laundering, tax and foreign lobbying charges, a significant escalation in a special counsel investigation that has cast a shadow over President Trump's first year in office.

Mr. Manafort, the president's former campaign chairman, and his longtime associate Rick Gates, surrendered to the FBI on Monday. The special counsel, Robert S. Mueller III, said Mr. Manafort laundered more than $18 million to buy properties and services.

"Manafort used his hidden overseas wealth to enjoy a lavish lifestyle in the United States without paying taxes on that income," the indictment reads.

Mr. Gates is accused of transferring more than $3 million from offshore accounts. The two are also charged with making false statements.

"As part of the scheme, Manafort and Gates repeatedly provided false information to financial bookkeepers, tax accountants and legal counsel, among others," the indictment read.

Mr. Gates is a longtime protégé and junior partner of Mr. Manafort. His name appears on documents linked to companies that Mr. Manafort's firm set up in Cyprus to receive payments from politicians and businesspeople in Eastern Europe, records reviewed by The New York Times show.

Mr. Manafort has expected charges since this summer, when F.B.I. agents raided his home and prosecutors warned him that they planned to indict him. That warning raised speculation that Mr. Manafort might try to cut a deal to avoid prosecution.

Mr. Trump's lawyer, Ty Cobb, said there were no concerns that Mr. Manafort would offer damaging information about the president in exchange for a deal.

Some close to Mr. Manafort, including his former business partner Roger J. Stone Jr., have said he had nothing to offer that would help prosecutors build a case against Mr. Trump.

"He's not going to lie," Mr. Stone said in September.

Mr. Manafort, a veteran Republican strategist, joined the Trump campaign in March 2016 to help keep delegates from breaking with Mr. Trump in favor of establishment Republican candidates. Mr. Trump soon promoted him to chairman and chief strategist, a job that gave him control over day-to-day operations of the campaign.

But Mr. Trump fired Mr. Manafort just months later, after reports that he received more than $12 million in undisclosed payments from Viktor F. Yanukovych, the former Ukrainian president and a pro-Russia politician. Mr. Manafort spent years as a political consultant for Mr. Yanukovych.
More from The Washington Post:
Former Trump campaign chairman Paul Manafort and his longtime business partner Rick Gates have been charged in a 12-count indictment with conspiracy against the United States, conspiracy to launder money and making false statements.

It marked the first criminal allegations to come from Special Counsel Robert S. Mueller III's investigation into possible coordination between the Trump campaign and Russia to influence the 2016 election.

Gates did not respond to a request for comment, nor did Jason Maloni, a spokesman for Manafort. Manafort was spotted walking into the FBI's Washington Field Office Monday morning.

Washington — especially those in political and media circles — had been anxiously anticipating the charges since CNN reported Friday night that a grand jury had approved the first charges in Mueller's investigation. That report was soon matched by others, including Reuters and the Wall Street Journal, though affiliates of many involved said they were in the dark as to what was about to come. About a dozen reporters staked out the entrance to the federal courthouse in downtown D.C. Monday morning, waiting for any glimpse of prosecutors or possible defendants.

pokespeople for Mueller and the Justice Department declined to comment over the weekend. A Justice Department spokeswoman declined to comment Monday, and a spokesman for the special counsel's office did not return messages seeking comment.

According to the indictment, Manafort and Gates arranged to hire two Washington-based lobbying firms to work on behalf of their Ukrainian clients, arranging meetings with U.S. officials and boosting their public image in the United States. Prosecutors say, however, that Manafort and Gates arranged for a Brussels-based nonprofit to nominally hire the companies to hide the fact that their work was for Ukrainian government officials and would otherwise require registration under the Foreign Agents Registration Act.

In fact, prosecutors allege, Manafort was communicating directly with then-Ukrainian President Viktor Yanukovych about the effort, promising in 2012 to provide him weekly updates about the effort.

To further obscure Ukrainian involvement in the lobbying effort, prosecutors say payments to the Washington firms were routed through obscure offshore companies. Prosecutors say that when the Department of Justice approached Manafort and Gates in 2016 and 2017 about whether they should have registered as foreign agents for the work, they responded with false and misleading letters, indicating they had not directed the lobbying effort and asserting they did not hold records reflecting their work, even though later searches showed they did, according to the indictment.]

Manafort and Gates also were accused of willfully and intentionally trying to hide monies kept in foreign bank accounts — Manafort from 2011 to 2014 and Gates from 2012 to 2014 . And Manafort was accused of filing fraudulent tax returns — stating on tax forms he filed from 2008 to 2014 that he controlled no foreign bank accounts.
The fact that Manafort and one of his top associates are the first indictments to come out of the Mueller investigation is not entirely surprising. As I noted over the weekend when it was revealed that there will be indictments issued by one of the Grand Juries convened by Robert Mueller, this is a man who has been in the crosshairs of the investigation even before Mueller was brought into it in May of this year. In addition to managing Trump's campaign through the final steps of the nomination process, Manafort had a long history as a Capitol Hill lobbyist and political consultant that eventually branched out from representing domestic clients and turned toward providing similar services for international corporations and foreign governments. Among those foreign governments was the former pro-Russia leadership of Ukraine and the government of Turkey. As we learned, though, there were several discrepancies in the disclosures that Manafort filed pursuant to Federal law as well as allegations that he hid income from some of these activities and did not properly report them on his income tax returns. It is those apparent violations of tax laws that are the focus of today's indictment.
As noted, these charges are not related directly to the Russia investigation or even the Trump campaign, although it is worth noting that it appears from the indictment that Manafort was continuing to engage in the money laundering scheme that is the subject matter of the main focus of the charges even as he was serving as Trump's campaign manager. Instead, this appears to be something that was uncovered during the course of Mueller's investigation and thus falls within the scope of his investigation. The indictment does specifically allege, however, that Manafort was essentially secretly working for pro-Russian interests and that he had a number of contacts with such people for years. This is significant both in the context of the main focus of Mueller's investigation and because, as The Wall Street Journal noted several months ago, much of Manafort's overseas work, including that not the subject of today's indictment was primarily for the benefit of a Russian oligarch with close ties to Vladimir Putin. Additionally, it appears that Manafot has been the focus of a Federal investigation for at least a year, which means that he was under Federal investigation while serving as Trump's campaign manager. It's unclear at this point whether he was aware of the investigation at this time, but if he was it will be interesting to find out, as I believe we eventually will, whether or not he disclosed this fact to anyone associated with the Trump campaign. If he did and they hired him anyway, that would be a shocking development , to say the least, but hardly a surprising one given the amateurish nature of the Trump campaign both before and Manafort was involved with it and afterward.
The process going forward is fairly straightforward. Manafort surrendered himself at the FBI Field Office in Washington, D.C. this morning and will appear before a Federal Magistrate Judge at some point later today. At that hearing, Manafort will be informed of the charges against him and there will be at least some initial consideration of bail. Given that this is a white-collar crime and that Manafort and his attorney had obviously been informed of the charges ahead of time, it's likely that he will be released on his own recognizance or that a low amount of bail will be set and also condition on certain other conditions such as an agreement that he will stay in the Washington, D.C. area and surrender his passport. It's not common for a plea of any kind to be entered at this hearing, although it's possible that this might occur if the parties had reached some kind of agreement prior to the indictment being made public. In any case, today's hearing will be brief and future proceedings will be some time down the road.
As I noted over the weekend, at least part of what is likely going on here is that Mueller is using these charges in an effort to "flip" Manafort and his associate Rick Gates, who was visiting the White House as recently as June according to reports. Given Manafort's connections to the Trump campaign it's certainly possible that he has knowledge that Mueller would find of interest in connection with the main focus of the investigation. In that regard it is worth noting that Manafort was one of the three people present along with Donald Trump Jr. and Jared Kushner who met with a Russian lawyer with ties to the Putin government on the promise that she had some kind of information regarding Hillary Clinton. In reality, she apparently had no such information and instead used the meeting to discuss other issues such as the Obama Administration's sanctions against Russia that were imposed in the wake of the annexation of Crimea and at other points in recent years. Manafort could have information about that meeting, and about other matters that may touch upon any contact that the Trump campaign may have had with Russian officials or citizens.
Where this goes next is anyone's guess. The Manafort indictment could prove to be significant, or it could prove to be a side issue for Mueller that just happened to come up during the course of his investigation. In any case, while the Trump Administration may try to spin this is an indication that there is no evidence of the campaign's possible collusion with Russia regarding the 2016 campaign that clearly isn't the case. The Mueller investigation continues, as evidenced by the fact that recent reports indicate that his investigators have recently begun interviewing White House officials. In other words, to borrow the words of Winston Churchill after the Britsh victory at the Second Battle of El-Alamein, this isn't the end, it isn't even the beginning of the end. It is the end of the beginning. After only five months, we've seen the first indictments out of Mueller's investigation, but they are unlikely to be the last.
Update: In addition to the Manafort and Gates indictment, charges have also been filed against George Papadapoulos, who was a low-level foreign policy adviser to the Trump campaign. The charges relate to lies to F.B.I. investigators about contacts with Russian officials while he was working with the Trump campaign. Papadapoulos has pled guilty.
Here's the indictment:
Paul Manafort Indictment by Doug Mataconis on Scribd