Paul Manafort Pleads Guilty, Will Cooperate With Mueller
Another day, another plea agreement in the Mueller investigation. This one could prove to be problematic for the President.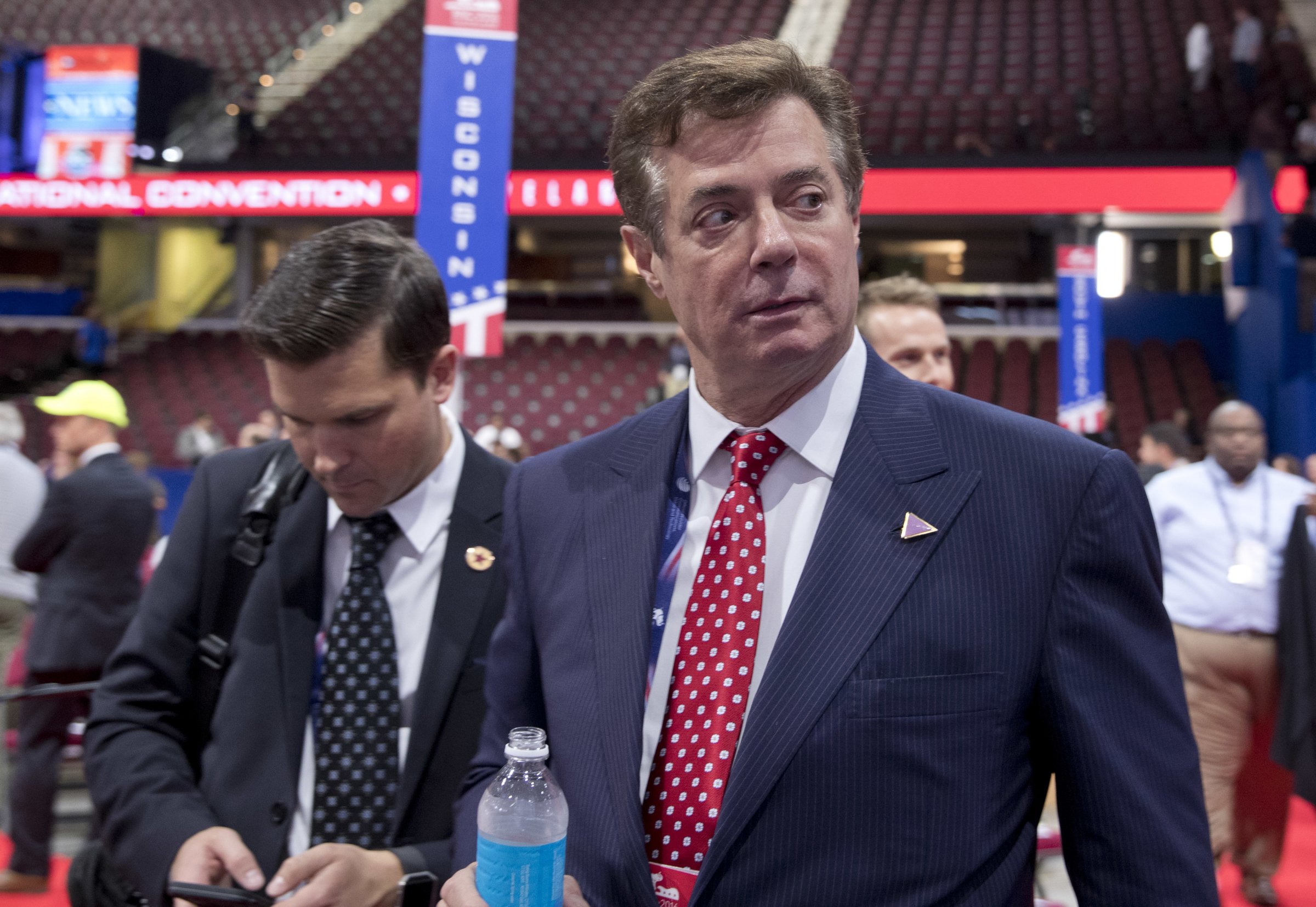 Paul Manafort, Donald Trump's former campaign chairman, has plead guilty to a number of charges and admitted guilt to a number of others in connection with the charges pending against him in Federal Courts in Virginia and Washington, D.C. and is apparently agreeing to cooperate with the investigation of Special Counsel Robert Mueller into Russian interference in the 2016 Presidential campaign and the Trump campaign:
WASHINGTON — Paul Manafort, President Trump's former campaign chairman, agreed on Friday to cooperate with the special counsel, Robert S. Mueller III, as part of a deal in which he pleaded guilty to reduced charges.

Appearing in United States District Court in Washington, Mr. Manafort entered guilty pleas on two charges. Andrew Weissmann, the lead prosecutor, told Judge Amy Berman Jackson that there was a cooperation agreement with Mr. Manafort.

It was not immediately clear what information he might be providing to prosecutors or how the plea agreement might affect Mr. Mueller's investigation into Russian interference in the 2016 election and related questions about possible collusion by the Trump campaign and obstruction of justice by Mr. Trump.

The president's personal lawyer, Rudolph W. Giuliani, quickly sought to distance Mr. Trump from the development.

"Once again an investigation has concluded with a plea having nothing to do with President Trump or the Trump campaign," he said in a statement. "The reason: the president did nothing wrong and Paul Manafort will tell the truth."

As part of the deal, the government will seize four of Mr. Manafort's homes as well as the money in a number of bank accounts, the documents say.

In documents filed with the United States District Court in Washington, prosecutors from Mr. Mueller's office charged Mr. Manafort with one count of conspiracy and one count of conspiracy to obstruct justice. Mr. Manafort pleaded guilty to those charges.

The prosecutors dropped five other charges encompassing money laundering and violations of a lobbying disclosure law.

Mr. Manafort was convicted last month on bank and tax fraud charges after a trial in federal court in Alexandria, Va. He was scheduled to face a second trial on seven separate but related charges in Washington starting next week. The charges stem from work he did as a political consultant in Ukraine.

The plea deal is another unsettling development for Mr. Trump. For months, Mr. Trump has praised Mr. Manafort for fighting the charges. In private discussions with his lawyers, Mr. Trump has raised the possibility of pardoning Mr. Manafort.
More from The Washington Post:
President Trump's former campaign chairman Paul Manafort is pleading guilty Friday to two criminal charges under terms of a plea deal that includes his cooperation as a potential witness for special counsel Robert S. Mueller III.

The decision by Manafort to provide evidence in exchange for leniency on sentencing is a stunning development in the long-running probe into whether any Trump associates may have conspired with Russia to influence the 2016 election.

Manafort's defenders have long insisted that he would not cooperate with Mueller, and didn't know any incriminating information against the president.

Prosecutor Andrew Weissmann said at the beginning of Friday's plea hearing that Manafort has agreed to cooperate with investigators.

Speaking at the hearing before U.S. District Court judge Amy Berman Jackson, Weissmann said the 17-page plea document included the terms of Manafort's expected cooperation.

Weissmann gave a detailed, 40-minute description of the criminal conduct in the Manafort case.

"I believe it's fair to say that's probably the longest and most detailed summary that ever preceded this question, but is what the prosecutor said a true and accurate description of what you did in this case," Jackson asked Manafort.

"I did. It is," Manafort, said, resting both hands on the lectern before him and flanked by his attorney, Richard Westling.

The deal will short-circuit Manafort's trial scheduled for later this month.

(…)

A criminal information — a legal document filed by prosecutors to detail the criminal conduct to be admitted by the defendant — was filed in advance of the plea. The document shows Manafort intends to plead guilty to two crimes of the seven he faced at trial: conspiring to defraud the United States and conspiring to obstruct justice.

The document indicates he will admit to funneling millions of dollars in payments into offshore accounts to conceal his income from the Internal Revenue Service. "Manafort cheated the United States out of over $15 million in taxes," the document states.

The filing also offers new details about the various ways in which Manafort sought to surreptitiously lobby the U.S. government and influence American public opinion toward Ukraine.

In 2012, Manafort set out to help his client, Ukrainian president Viktor Yanukovych, by tarnishing the reputation of Yanukovych's political rival, Yulia Tymoshenko, according to the document.

"Manafort stated that '[m]y goal is to plant some stink on Tymo'," according to the document. At the time he made that statement, he was trying to get U.S. news outlets to print stories that Tymoshenko had paid for the murder of a Ukrainian official, according to the criminal information

The document also says Manafort "orchestrated a scheme to have, as he wrote in a contemporaneous communication, '[O]bama jews' put pressure on the administration to disavow Tymoshenko and support Yanukovych," the document said.

Manafort set out to spread stories in the U.S. that a senior American Cabinet official "was supporting anti-Semitism because the official supported Tymoshenko," according to the document. "At one point, Manafort wrote to an associate, "I have someone pushing it on the NY Post. Bada bing bada boom." The document does not identify the then-Cabinet official and it wasn't immediately clear if any such story was published.

As part of his deal, the government plans to seize four properties, including a nearly $2 million house in Arlington, Virginia, owned by one of Manafort's daughters. The deal also calls for forfeiture of four financial accounts and a life insurance policy.
It was just two days ago, of course, that news outlets were reporting that Manafort was looking to negotiate a plea deal with Mueller and his prosecutors in order to both avoid a trial in the District of Columbia and deal with the charges still facing him in Virginia, including those on which the jury was unable to reach a verdict last month. As I noted at the time, assuming such a deal could be reached the only significant question was whether or not it would include an agreement to cooperate with Mueller in his underlying investigation of Russian interference and the Trump campaign. In the past, Manafort has said through spokespersons and other means that he would never cooperate with Mueller against Trump or any other party, but obviously those considerations have been pushed to the side in light of his conviction last month and the fact that, if convicted of the charges pending in Washington, D.C., he potentially faced a sentence which, when combined with his likely sentence in the Virginia case, would have meant that he would spend the rest of his life in prison. This agreement, on the other hand, appears to include an agreement that would cap his total time in prison at ten years assuming good behavior while in custody and satisfactory combination with the investigation. It is no doubt the case that this, combined with the fact that the mounting legal bills from his defense team were close to becoming overwhelming, is what led Manafort to change his mind.
This plea deal is the end result of a long process during which Mueller was clearly hoping to get the former political operative to talk about what he might know about the subject matter of the Special Counsel's investigation. First, Manafort's former close aide Rick Gates flipped and became a cooperating witness against Manafort, a move that ultimately led to him testifying against his former boss in the Virginia trial. After that, Mueller clearly engaged in a strategy that was in at least some sense designed to tighten the screws on Manafort and force him to the negotiating table. These moves included filing new charges against Manafort and a former pro-Russian Ukrainian business partner, and successfully moving to have Manafort's bail revoked after evidence came to light that Manafort had been improperly contacting potential trial witnesses and potentially seeking to influence their testimony. As the Virginia trial approached, and even while it was going on, there was some reporting that Manafort's legal team and the Special Counsel's office were engaged in plea negotiations of some kind. It was never clear how serious these previous reports of plea negotiations were, but obvious the negotiations that have been taking place over the past week or so were far more serious.
From Mueller's point of view, it was always unclear exactly what he would have gained with a plea deal that did not include a cooperation agreement. As with the Virginia trial, the evidence against Manafort in the Washington case appears to have been solid enough that only a recalcitrant juror would have been able to stop a conviction in the end. With the cooperation agreement, though, Mueller gains a valuable asset that seems guaranteed to keep his investigation going for quite some time. To some extent, the information that Manafort will be able to offer is limited by the fact that Manafort was only affiliated with the Trump campaign for a short period of time and that his involvement ceased prior to the crucial final months of the campaign before Election Day. Despite that, the period during which Manafort was part of the campaign include a time that appears to be of particular interest to Mueller and his investigators. Principally, this includes the time period prior to the Republican National Convention when the Trump campaign was openly looking for damaging information about Hillary Clinton. It was during this time, of course, that the now famous June 2016 meeting took place. Manafort was one of three top-level Trump campaign officials to meet with Russian lawyer named Natalia Veselnitskaya who has ties to the Russian government. The other two participants from the campaign, of course, were Donald Trump Jr. and Jared Kushner, and the meeting had initially been pitched as a meeting about "dirt" regarding Clinton and her campaign. Additionally, Manafort's ties to pro-Russian Ukrainians and Russian oligarchs could provide further insight into connections between Trump, his business interests, and his campaign, and Russia. Where all that information might lead is unclear, but it seems clear that Paul Manafort is someone that Robert Mueller would be very interested in talking to in great detail.
The full terms of the cooperation agreement between Manafort and the government have yet to be released, but given the generous terms of the plea, it seems likely that it includes full cooperation with Mueller to the extent that his testimony or information that he might provide would be necessary. In that regard, it is worth noting that NPR is reporting that Manafort's cooperation "does not include matters involving the Trump campaign." If that's true, though, then it's unclear what kind of information, and about whom, Manafort may be able to provide Mueller with that would be relevant to the scope of his investigation. It's possible, for example, that Manafort may have information about the Russian side of the investigation due to his contacts with pro-Russian interests in Ukraine, or it could mean that he has information regarding people not officially connected to the campaign, such as his former business partner Roger Stone. Notwithstanding the NPR report, it's worth noting that Manafort's plea agreement, which I have embedded below, states that he "shall cooperate fully, truthfully, completely, and forthrightly with the Government…in any and all matters as to which the Government deems the cooperation relevant." This strongly suggests that there is no limitation on the cooperation that Manafort must provide to the Mueller team or any other Justice Department investigation.
In any case, this latest plea is just the latest sign of success on the part of Mueller team and certainly poses potential future problems for the President and his personal legal team. It's also worth noting that Manafort is the fourth person close to Trump to plead guilty and that the Justice Department is getting closer toward what could be some huge indictments in the future. The first person to plead guilty, of course, was George Papadopoulos, a former foreign policy adviser to the Trump campaign who also was apparently the source of the information that caused the F.B.I. to investigate Russian election interference and the Trump campaign's potential involvement in that area. Earlier this week, Papadopoulos was sentenced to 14 days in jail and fined in connection with his guilty plea. Not long after Papadopoulos's plea, Mueller obtained a guilty plea from Rick Gates, Manafort's former right-hand man who worked alongside him on the Trump campaign and continued in that position even after Manafort had left the campaign. This is what led to Gates being the star witness at Manafort's Virginia trial last month. In December, Mueller obtained a guilty plea and agreement to cooperate from Michael Flynn, the retired Lt. General who was part of Trump's campaign and became his first National Security Adviser. Finally, the U.S. Attorney for the Southern District of New York obtained a guilty plea  thifrom Michael Cohen. That plea agreement apparently did not include a cooperation agreement, although there has been some suggestion that one has been reached but that it remains under seal. In any case, so far four people who were close to Trump's inner circle during the campaign have plead guilty. At the very least that puts the lie to the President's claim that the Mueller investigation is a "witch hunt."
Here's the Superseding Criminal Information filed this morning by Mueller's office:
US v Manafort Criminal Info… by on Scribd
Here's the Plea Agreement:
Manafort Plea Agreement by on Scribd
And here's the Statement of Offense:
Manafort Statement of Offense by on Scribd