Mueller Catalogs The Lies That Led Him To Rip Up Manafort's Plea Deal
Lies and possible evidence of obstruction of justice make up the bulk of Robert Mueller's new case against former Trump campaign director Paul Manafort.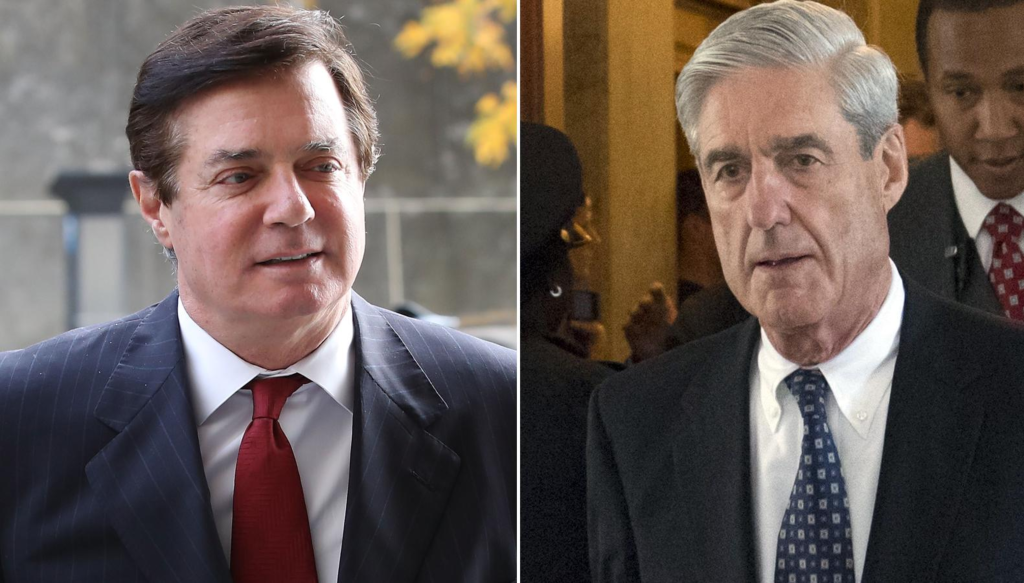 Just over a week ago, the office of Special Counsel Robert Mueller alleged that Paul Manafort, who had previously served as campaign adviser and campaign director for President Trump during the Presidential campaign, lied to his investigators after entering into a plea and cooperation agreement and that, as a result, his plea agreement should be revoked. Later yesterday, the Special Counsel's office filed a memorandum detailing the lies and the extent to which Manafort appears to have been playing both sides of the street even while purporting to cooperate with prosecutors:
WASHINGTON — Paul Manafort, President Trump's former campaign chairman, lied to federal investigators about his contacts with Trump administration officials and his interactions with a Russian linked to Moscow's intelligence services, the special counsel's office said on Friday.

He also lied about a $125,000 payment made through a political action committee to cover a debt he owed, prosecutors working for the special counsel, Robert S. Mueller III, said in a partly redacted court filing explaining why they withdrew last week from a plea agreement they had reached with Mr. Manafort in September.

They also claimed he misled investigators pursuing a case unrelated to Mr. Mueller's investigation of Russia's interference in the 2016 presidential race and whether the Trump campaign conspired with the Kremlin's operations.

"Manafort told multiple discernible lies — these were not instances of mere memory lapses," the prosecutors wrote in a memo to Judge Amy Berman Jackson of United States District Court for the District of Columbia.

The filing is a new example of Mr. Mueller's low tolerance for misstatements. Including Mr. Manafort, Mr. Mueller's team has accused five former aides to Mr. Trump of lying to them.

When he agreed to plead guilty to two conspiracy charges and cooperate with prosecutors in September, Mr. Manafort, 69, had hoped that prosecutors would help him convince two federal judges that he merited a lighter punishment for his crimes. He faces at least 10 years in prison as a result of two prosecutions for charges ranging from bank fraud to conspiracy to obstruct justice and is expected to be sentenced early next year.

Though he had told prosecutors earlier that he had "no direct or indirect communications" with any Trump administration official while they were in government, Mr. Manafort had in fact kept in touch with a senior official through February 2018, prosecutors said. And three months later, in May, he authorized someone else to speak with a Trump appointee on his behalf, they wrote.

They also detailed additional contacts with administration officials, citing a search of his documents. They did not identify the officials or detail the reasons for the contacts.

Mr. Mueller's team has left open the possibility that it could file new charges of lying against Mr. Manafort. His lawyers say he believes he was honest during his interviews with the special counsel's office.

The new documents were signed by Andrew Weissmann, a prosecutor known for his no-holds-barred approach who has become a favorite target of President Trump's. "He wrongly destroyed people's lives," Mr. Trump declared of Mr. Weissmann earlier Friday on Twitter

The filing capped a busy week for Mr. Mueller's team. His office also filed a recommendation on Friday for the sentencing of Michael D. Cohen, Mr. Trump's former lawyer, alongside a scathing attack from prosecutors in Manhattan who rejected Mr. Cohen's request to avoid a prison term and accused him of using his power and influence "for deceptive ends."

The prosecutors sought about four years in prison for Mr. Cohen when he is sentenced next week for lying to Congress about the extent of Mr. Trump's business dealings in Moscow, as well as for campaign finance violations and other charges.

Convicted by a Northern Virginia jury in August of eight counts of financial fraud, Mr. Manafort agreed to a plea deal on the verge on a second trial. He met with the special counsel's office at least a dozen times before they declared that he had violated the plea agreement.

Prosecutors have previously accused the Russian they say Mr. Manafort was in touch with, Konstantin V. Kilimnik, of ties to Russian intelligence. A Russian Army-trained linguist, Mr. Kilimnik served as Mr. Manafort's right-hand man in Ukraine for more than a decade, working on behalf of the country's Russia-aligned former president, Viktor F. Yanukovych, his party and the oligarchs behind it.
More from The Washington Post:
Special counsel Robert S. Mueller III said Friday that Paul Manafort, President Trump's former campaign chairman, told "multiple dis­cern­ible lies" during interviews with prosecutors, including about his contacts with an employee who is alleged to have ties to Russian intelligence.

In a document filed in federal court Friday, Mueller also said Manafort lied about his contacts with Trump administration officials after Trump took office. Manafort had told investigators that he had had no direct or indirect contact with White House officials since Trump's inauguration, but Manafort had been in touch with officials as recently as the spring, according to the filing.

Manafort told a colleague in February — four months after he was indicted — that he was in contact with a senior administration official through that time. And in a text message, he authorized another person to speak with a White House official on May 26.

The text message came two days after Trump received significant publicity for issuing a posthumous pardon to boxer Jack Johnson. Trump has publicly mulled the possibility of pardoning Manafort, which legal experts have said could be influencing Manafort to withhold his full assistance from Mueller.

Key points in the document filed Friday were redacted from public view, making it difficult to gain a full picture of what Manafort was asked in hours of interviews with investigators since September.

As the campaign's former chairman and a top campaign aide from March to August 2016, Manafort could have been a key firsthand witness for Mueller as the special counsel explores contacts between Trump associates and Russians. But the document illustrates how fully Manafort's plea deal has unraveled.

Manafort was convicted of tax and bank fraud charges in Virginia in August. He pleaded guilty in September to additional charges, including conspiring to defraud the United States by hiding years of income and failing to disclose lobbying work for a pro-Russian political party and politician in Ukraine.

That plea helped him avoid a second trial in Washington and offered the former Republican operative the hope of some lenience in sentencing — provided he cooperated with prosecutors and provided truthful testimony.

Prosecutors from Mueller's team informed the judge last week, however, that they believed Manafort had breached the agreement by lying to them repeatedly. Manafort's lawyers have said that Manafort did not believe he lied or violated the deal.

In the new filing, prosecutors offered to lay out at a future hearing additional documentary evidence to explain how they know Manafort is lying. For now, they explained that Manafort had lied "in numerous ways," conduct they said should be held against him when he is sentenced in March.

The prosecutors said Manafort has met with special counsel investigators 12 times. At four of those meetings, prosecutors from outside the special counsel's office attended — a sign that he was questioned in connection with investigations separate from Mueller's probe. He also testified twice before Mueller's grand jury.

Prosecutors said Friday that Manafort had told numerous lies in five different aspects of the investigation, including about his contacts with Konstantin Kilimnik, a Russian employee of Manafort's political consulting firm who prosecutors have said has Russian intelligence ties.

Manafort met twice during the campaign with Kilimnik, including in August 2016 in New York City. Kilimnik has told The Washington Post that the two discussed the presidential campaign at the New York meeting.

Much of a section of the filing dealing with Kilimnik was redacted, but prosecutors indicated that they have obtained electronic records, travel documents and other evidence that demonstrate Manafort "lied repeatedly" about his interactions with the Russian aide.

(…)

The special counsel also accused Manafort of lying about a $125,000 wire transfer. It is unclear how that transaction relates to the conspiracies detailed in Manafort's plea agreement, but prosecutors said Manafort lied repeatedly about details of the transaction.

In addition, Manafort has been interviewed in connection with an investigation separate from the one being conducted by the special counsel's office, according to the court filing. Prosecutors said he has lied in connection with that case as well.

Manafort, 69, who is in jail in Alexandria, is one of five former Trump campaign aides who have pleaded guilty to crimes as part of the special counsel investigation. Trump has distanced himself from his onetime campaign chairman, stressing that Manafort worked for him for only a few months.
Unlike the Cohen Sentencing Memoranda that were also released yesterday by both Mueller's office and the U.S. Attorney's Office in Manhattan, the Mueller document does not directly implicate the President or anyone around him in any of the lies that Manafort apparently told during the time that he was supposed to be cooperating with the Mueller investigation. One element of the filing that is of interest, though, is the allegation that Manafort had remained in contact with an unidentified individual in the Trump Administration at least as recently as February 2018, and that there is a possibility that this contact may have continued well beyond that time and included direct contact with Trump's legal team even after Manafort entered into his plea agreement with Mueller. While part of this period covers the time during which Manafort apparently had a joint defense agreement with Trump's legal team pursuant to which the two teams of lawyers agreed to share information and legal strategies. After Mueller's legal team announced that it was seeking to void Manafort's plea agreement, there were reports that Manafort or those around him had been talking to people inside the White House. Quite obviously, it would be interesting to know who those people are, what was discussed, and whether or not this could be evidence of an ongoing effort to either spy on the Mueller investigation or obstruct justice (or both). In any case, based on the allegations in the pleading are serious enough that they warrant further investigation.
Lawfare has more on the significance of the Manafort filing:
The government's submission in the Manafort case is a simpler matter, expanding on the special counsel's previous allegations that Manafort made false statements to investigators after entering into a formal plea agreement. On multiple occasions during his meetings with the special counsel's office, the document states, Manafort lied about his interactions with Konstantin Kilimnik, a Ukrainian-Russian citizen whom some reports have linked to Russian military intelligence and whom the special counsel charged alongside Manafort with witness tampering. The special counsel also writes that Manafort lied regarding a wire transfer and, separately, regarding information pertaining to another ongoing Justice Department investigation—about which the document provides no information other than that it is taking place in a jurisdiction other than the District of Columbia.

Finally, as with the Cohen filings, the government's submission in the Manafort case sheds new light on Manafort's communications with Trump administration officials. Manafort claimed after signing the plea agreement that he had "no direct or indirect communications with anyone in the Administration," but according to Mueller, this was yet another misrepresentation of the facts. The government alleges that in a text message exchange in May of 2018, Manafort gave another individual permission to speak with "an Administration official" on Manafort's behalf. And a "Manafort colleague" claims that Manafort was in communication with a "senior Administration official" up until Feb. of 2018—notably, the month that the special counsel's office indicted Manafort for a second time in the Eastern District of Virginia.
As I said, the Manafort submission isn't quite as explosive for the Administration as the Cohen filings are, but it does raise serious questions about the efforts of the President and those around him to undermine the Russia investigation and obstruct justice. Where it all leads remains to be seen, but between the three filings released late yesterday, it is very clear that Mueller and the prosecutors in New York have a clear direction in which they are moving, and that path leads right to the door of the Oval Office.
Here's the Special Counsel's presentation in the Manafort case:
United States v. Manafort S… by on Scribd