Paul Manafort Dodges A Bullet On Sentencing
Paul Manafort walked into court yesterday facing the possibility of 20 years in prison. He came away with a much better outcome.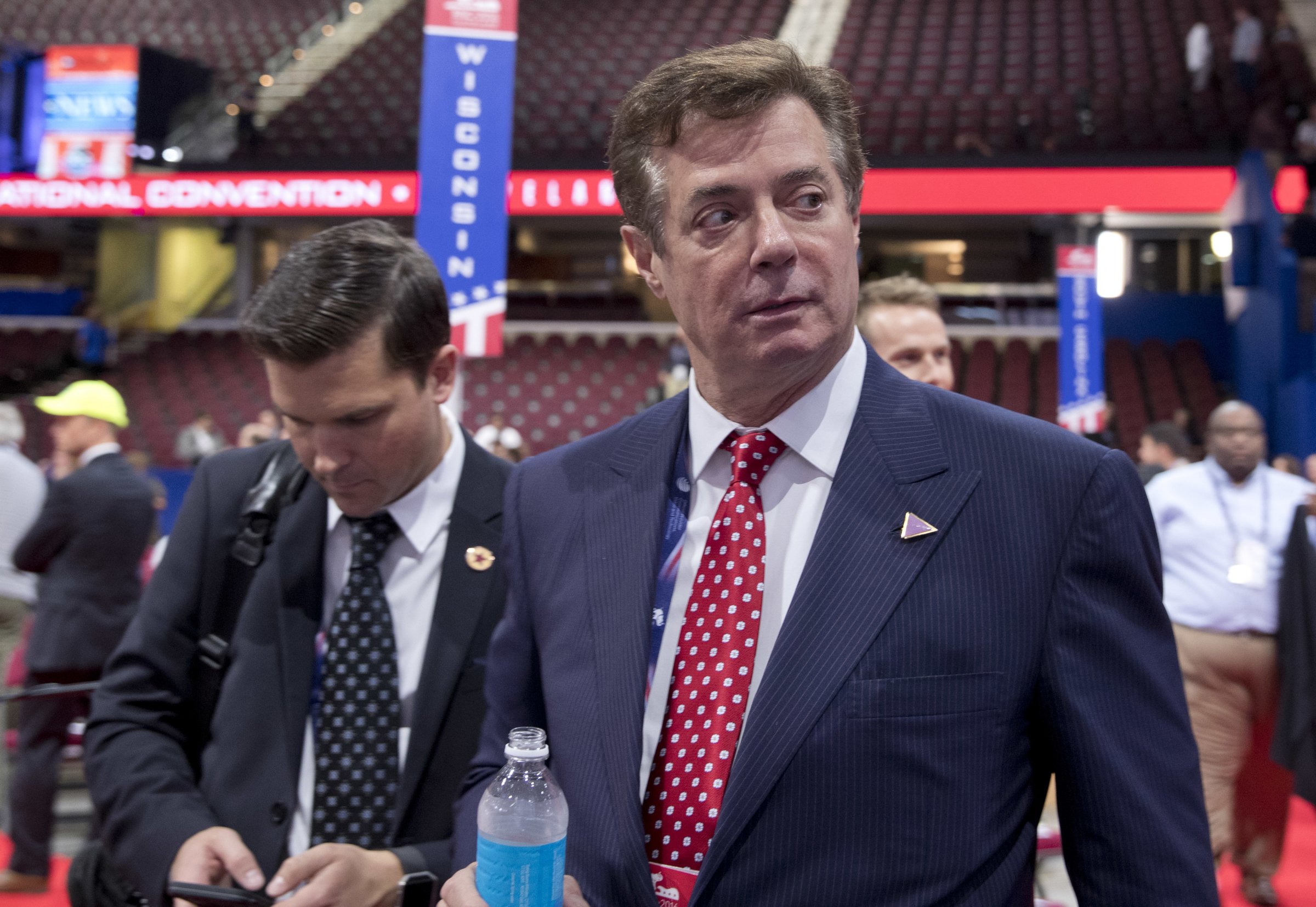 Heading into yesterday's late afternoon sentencing hearing in the U.S. District Court in Alexandria, Virginia, former Trump campaign manager and longtime political consultant Paul Manafort was facing the prospect of spending the next two decades in Federal prison, a sentence that given his age would have likely guaranteed that he would die in custody and never see the outside world again. By the time the day ended and Judge T.S. Ellis had handed down his sentence, though, it was obvious that Manafort had, at least for the moment, dodged a bullet:
Paul Manafort, the political consultant and Trump presidential campaign chairman whose lucrative work in Ukraine and ties to well-connected Russians made him a target of the special counsel, Robert S. Mueller III, was sentenced on Thursday to nearly four years in prison in the financial fraud case that left his grand lifestyle and power-broker reputation in ruins.

The sentence in the highest-profile criminal case mounted by the special counsel's office was far lighter than the 19- to 24-year prison term recommended under sentencing guidelines. Judge T. S. Ellis III of the United States District Court in Alexandria, Va., said that although Mr. Manafort's crimes were "very serious," following the guidelines would have resulted in an unduly harsh punishment.

A team of Mr. Mueller's prosecutors sat glum-faced as Judge Ellis delivered his decision. Mr. Manafort, who has gout and came to the hearing in a wheelchair with his foot heavily bandaged, had asked the judge for compassion. "To say I feel humiliated and ashamed would be a gross understatement," he said in a barely audible voice, reading from a prepared statement.

Of the half-dozen former Trump associates prosecuted by Mr. Mueller, Mr. Manafort garnered the harshest punishment yet in the case that came to a conclusion on Thursday — the first of two for which Mr. Manafort is being sentenced this month. While prosecutors sought no specific sentence, some legal experts said a prison term that amounts to one-fifth of the lightest punishment recommended had to disappoint them.

"It's atrociously low," said Barbara McQuade, a former United States attorney who teaches law at the University of Michigan and watched much of Mr. Manafort's trial over the summer. While "many judges do sentence leniently in white-collar cases," she said, "dropping all the way from 19 years to four years is absurd."

Mr. Manafort's allies had long believed that Mr. Manafort had a chance of leniency from Judge Ellis, a Reagan appointee who sparred repeatedly with the special counsel's team during the trial and has publicly voiced concerns that independent prosecutors have too much power. Minutes after the three-hour hearing started, Judge Ellis, unprompted, noted that Mr. Manafort was "not before this court for anything having to do with collusion with the Russian government to influence this election," the core of Mr. Mueller's inquiry.

Although Judge Ellis seemed swayed by the defense's arguments, Mr. Manafort may face a less sympathetic reception next week when he is sentenced in the District of Columbia on two conspiracy counts by Judge Amy Berman Jackson of the United States District Court. Those charges each carry a maximum of five years. Kevin Downing, one of Mr. Manafort's lawyers, asked Judge Ellis to order that Mr. Manafort serve both sentences simultaneously. But Judge Ellis said that was up to Judge Jackson.

For nearly two years, prosecutors pursued Mr. Manafort on two tracks, charging him with more than two dozen felonies, including obstruction of justice, bank fraud and violations of lobbying laws. They ultimately won Mr. Manafort's pledge to cooperate after he was convicted of eight felonies in the Northern Virginia case and faced a second trial in Washington.

But although he met with the special counsel's office for a total of about 50 hours, prosecutors said on Thursday that Mr. Manafort provided little information of value for their inquiry into how Russian operatives interfered in the 2016 presidential race and whether any Trump associates conspired with them.

Most of what Mr. Manafort told the office of the special counsel "we already knew or was already in documents," Greg D. Andres, the lead prosecutor in the case, said in court. "It certainly wasn't 50 hours of information that was useful."

The evidence in the case before Judge Ellis showed that Mr. Manafort hid millions of dollars of income in overseas accounts and lied to banks to obtain millions more in loans — a financial scheme that prosecutors said was rooted in greed and in Mr. Manafort's sense that he was above the law.

They described him as a hardened, remorseless criminal who never fully accepted responsibility for his offenses and who continued to lie to federal prosecutors even after he pleaded guilty to two conspiracy counts in a related case in Washington and agreed to cooperate with the special counsel's office last fall.

But defense lawyers cited Mr. Manafort's age, health problems and lack of a criminal record. He will turn 70 next month.

Judge Ellis said that Mr. Manafort "has lived an otherwise blameless life," and he cited other tax cases that had resulted in minimal prison time. "The government cannot sweep away the history of all these other sentences," he said.

The judge ordered Mr. Manafort to pay $25 million in restitution and a $50,000 fine. He also gave Mr. Manafort credit for the nine months he had already spent in jail, which could mean Mr. Manafort would be released in just over three years.
More from The Washington Post:
Paul Manafort, who once served as President Trump's campaign chairman, was sentenced to nearly four years in prison Thursday for cheating on his taxes and bank fraud — a far lesser sentence than the roughly 20 years he had faced under federal sentencing guidelines.

U.S. District Court Judge T.S. Ellis III called that guidelines calculation "excessive" and sentenced the longtime lobbyist instead to 47 months in prison.

Apparently aware that he might be criticized for not imposing a longer prison term, Ellis told a packed courtroom in Alexandria, Va. that anyone who didn't think the punishment was tough enough should "go and spend a day, a week in jail or in the federal penitentiary. He has to spend 47 months."

Wearing a green jail uniform that said "ALEXANDRIA INMATE" on the back, Manafort, 69, sat in a wheelchair for the entire hearing and did not visibly react when the sentence was read by the judge. At times while the judge spoke, Manafort closed his eyes.

Prosecutors have painted Manafort as an incorrigible cheat who must be made to understand the seriousness of his wrongdoing. Manafort contends he is mere collateral damage in special counsel Robert S. Mueller III's investigation into Russian involvement in the 2016 presidential election.

At a trial last year, Manafort was found guilty of hiding millions he made lobbying on behalf of Ukrainian politicians in overseas bank accounts, then falsifying his finances to get loans when his patrons lost power. Prosecutors highlighted his lavish lifestyle, saying his crimes were used to pay for high-end clothes and multiple properties.

Ellis said the sentence he imposed was more in line with others who had been convicted of similar crimes.

The judge noted that he must consider the entirety of Manafort's life when issuing a sentence, saying letters show Manafort has been "a good friend" and a "generous person" but that that "can't erase the criminal activity." Manafort's tax crimes, the judge said, were "a theft of money from everyone who pays taxes."

Ellis expressed some sympathy for the GOP consultant, who had worked on the presidential campaigns of Gerald Ford, Ronald Reagan and George H.W. Bush, becoming a Washington insider and high-flying consultant for hire.

"He's lived an otherwise blameless life," Ellis said. The judged noted Manafort has no past criminal history and "earned the admiration of a number of people" who wrote letters to the court.

Before the sentence was imposed, Manafort asked the judge to consider how much he has already suffered.

"The last two years have been the most difficult years for my family and I," Manafort said. "To say that I feel humiliated and ashamed would be a gross understatement."

Speaking from his chair, he asked for "compassion," adding, "I know it is my conduct that has brought me here."

The disgraced consultant thanked the judge for "the fairness of the trial you conducted."

Manafort said the "media frenzy" surrounding the case had taken a toll on him and that "my life is professionally and financially in shambles."

But, he added, he hopes "to turn the notoriety into a positive and show who I really am."

The worst pain, he said, "is the pain my family is feeling," adding that he had drawn strength from the "outpouring of support" he had received.

The judge later told Manafort: "I was surprised that I did not hear you express regret for engaging in wrong conduct." That did not affect his sentence, "but I hope you will reflect on it and that your regret will be that you did not comply with the law," Ellis said.

Manafort has already spent nine months in jail — meaning the sentence imposed Thursday could end in less than three years, with an additional reduction for good behavior. Manafort was also ordered to pay a fine of $50,000.

(…)

Sentencing guidelines in the Virginia case had called for Manafort to serve between 19½ and 24 years in prison, after a jury found him guilty of eight charges and deadlocked on 10 others.

Legal experts had generally expected Ellis to sentence somewhere below the guideline range, but some were surprised by how far he went.

"It's a low sentence," said Timothy Belevetz, a former prosecutor in the Eastern District of Virginia. "Four years is nothing to sneeze at, but I think it is a little surprising because it's such a big variance from the guidelines."

Robert Mintz, a former federal prosecutor now in private practice, said he expected such a sentence.

"Given the age and the health of this defendant, this is the kind of sentence that you can generally expect in a white-collar prosecution," Mintz said. "The sentencing guidelines and the request by the government for 19 to 24 years was something the judge was never going to seriously entertain, and I think what we saw here was a recognition that even this sentence could well be a life sentence for Mr. Manafort."

The first skirmish in the hearing came when Manafort's attorneys argued with federal prosecutors over those guidelines and whether Manafort deserved any credit for "acceptance of responsibility."

Manafort's attorneys noted he spent 50 hours in proffer sessions with the special counsel for his plea agreement in the D.C. case. But prosecutor Greg Andres said Manafort's purported cooperation was worthless — he either told prosecutors things they already knew, or told falsehoods.

"He did not provide valuable cooperation," Andres said. "He lied."

Manafort's lawyer Kevin Downing told a crowd of reporters outside the courthouse that his client "finally got the chance to speak."

"He accepted responsibility for his conduct," Downing said. "There is absolutely no evidence Paul Manafort worked in collusion with any government official from Russia."
While it isn't unusual for Federal Judges to deviate downward in sentencing from what the Federal Sentencing Guidelines in cases involving defendants with no prior criminal record, a downward deviation from a minimum of 20 years to what will effectively be roughly three years once Manafort is given credit for time served is somewhat unusual. This is especially true in a case such as this, where the Defendant took the case all the way to trial and a verdict as Manafort did and where there was clear and convincing evidence that Manafort had continued to commit crimes even after being convicted and, astoundingly, even after his bail was revoked and he pled guilty and began cooperating with the Mueller investigation. Given that, a Federal Judge would have seemingly been justified in throwing the book at Manafort, or at least not cutting him as huge a break as Judge Ellis did in this case.
On some level, though, it's not surprising that sentencing ended up being as relatively lenient as it turned out to be, both because of the history of this particular Judge and the manner in which he had acted throughout the case. Even outside of this case, Judge T.S. Ellis III, who has been on the bench since being appointed by President Reagan in 1987 and has been a Senior Judge in the Eastern District of Virginia since 2007, has long had a reputation for deviating downward from sentencing guidelines in white-collar cases involving Defendants with no prior criminal record. Additionally, as noted above, at several points during the pre-trial and trial phases of the Virginia case against Manafort Ellis expressed frustration with the prosecutors from Mueller's team, at one point remarking that it seemed as if they were simply "putting the screws" to Manafort in an effort to gain his cooperation in what Ellis referred to as "other matters," an obvious reference to the ongoing Russia investigation. Taking all this into account, it's not surprising that Ellis deviated from the sentencing guidelines although, as noted, the extent of the downward revision does seem to be unusual.
If Manafort received a break yesterday, though, things may not go nearly as well when he is sentenced next week by Judge Amy Berman Jackson in the D.C. criminal case against him:
Paul Manafort won leniency Thursday from a federal judge who sent him to prison for less than four years, but next week he'll be sentenced in a second case by a less forgiving judge who could add another 10 years to his term.

Manafort, 69, faced as long as 24 years in prison after jurors in Alexandria, Virginia, convicted him last year of hiding $55 million in offshore accounts, failing to pay $6 million in taxes, and defrauding banks. But U.S. District Judge T.S. Ellis III said Thursday that a quarter-century behind bars was too extreme, and sentenced Manafort to 47 months.

Next, Manafort will be sentenced on March 13 by U.S. District Judge Amy Berman Jackson in Washington, where he pleaded guilty to two conspiracy charges and pledged to cooperate with Special Counsel Robert Mueller's investigation into Russian interference in the 2016 election.

It was Jackson who sent Manafort, President Donald Trump's former campaign chairman, to jail on June 15 after prosecutors accused him of tampering with witnesses. She also ruled last month that he breached his plea deal by lying to prosecutors.

Gene Rossi, a former federal prosecutor, said Ellis may have assumed that Jackson will impose "significant additional time."

"That was in part why he went relatively easy on Paul Manafort," Rossi said. "Being sentenced to four years in prison is nothing to sneeze at if he's going to get additional time in D.C. At the end of the day, he'll serve about seven years in prison."

Jackson will punish Manafort for conspiring to secretly lobby the U.S. on behalf of a pro-Russian Ukrainian regime and for plotting with a Russian associate to tamper with witnesses.

(…)

In Washington, Jackson previously ruled that Manafort deliberately lied about his contacts with Kilimnik, calling it an "attempt to shield his Russian conspirator from liability" and saying it raised "legitimate questions about where his loyalties lie."

Prosecutors said that during the 2016 campaign, Manafort shared Trump polling data with Kilimnik, and they discussed a peace plan to resolve sanctions imposed on Russia after it annexed Ukraine. Mueller also appeared to examine whether Manafort and Kilimnik possibly were a back channel for communications between Russia and Trump, but neither man was accused of that.

Mueller also investigated whether Manafort sought a presidential pardon from Trump — a possibility that still exists.
In addition to the length of the sentence she may hand down, the biggest question with respect to Judge Berman's sentence will be whether she rules that the sentence will be served concurrently or consecutively. If Berman decides that the sentence should be served concurrently, then any sentence that Manafort receives in the D.C. case will be served at essentially the same time as his sentence in the Virginia case. This means that if he gets, to pick a number, six years in the D.C. case then he would get credit for the time served in the Virginia case toward his D.C. sentence and would essentially serve no more than the difference between the D.C. and Virginia sentences, assuming of course that the D.C. sentence is longer the Virginia sentence. If she decides that his sentence in the D.C. sentence should be served consecutively, then he would not begin serving his D.C. sentence until he had completed serving the Virginia sentence. This potentially means that he could spend a maximum of the next 14 years in Federal prison.
Based on the outcome of the Virginia trial, the nature of his crimes and extent of his criminal activity, the fact that he continued committing crimes after being charged in the Virginia and D.C. cases and even after entering into a plea agreement with the Special Counsel's Office, and the fact that he still wasn't expressing remorse at sentencing, I tend to agree that Judge Ellis's sentence here is inappropriately lenient. One can make a valid argument that a minimum of nearly 20 years for a Defendant in Manafort's position would have been overly excessive, but at the same time, it seems clear that he deserved more than just the relative slap on the wrist that he received here. This is a Defendant who deceived people, lied, hid assets, openly violated Federal law, and hid income to avoid taxes and did so to a degree that is utterly shocking. Given that, he should have been treated far more severely than he was. This is especially true given the fact that Defendants who commit crimes involving far less money often receive far less leniency. I suppose it pays to be able to afford a team of high-priced lawyers, eh?