Trump Says He'll Skip Fox News Debate
Donald Trump takes his war with Fox News Channel up a notch, saying he won't participate in Thursday's Republican Presidential Debate.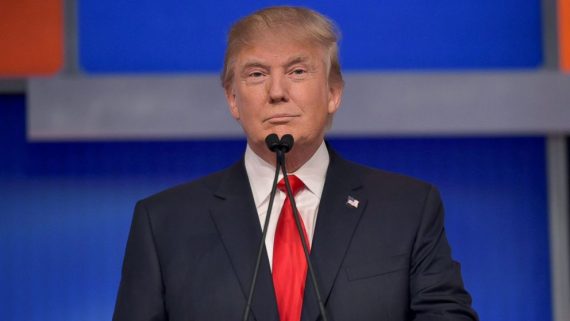 Donald Trump has been on an on again, off again feud virtually since Trump's Presidential campaign began. The fight began in earnest in the wake of the first Presidential debate after Trump attacked co-moderator Megyn Kelly in a rather crude fashion over what he claimed were "unfair" questions on Kelly's part. Trump's attack on Kelly expanded and led Trump to temporarily at least ban any appearances on Fox News programs on his part, although he has since rescinded that an and appeared on Fox News Sunday and other programs over the past several months. Now, Trump is once again at war with Fox News and Megyn Kelly, and it's happening just as the candidates get ready for the final pre-Iowa debate.
The latest controversy started last week when Trump started objecting to the fact that Kelly would be participating in the debate in much the same role as she had in the first debate. Fox News responded by essentially trolling Trump and saying that they would be standing behind Kelly notwithstanding Trump's barrage. Late yesterday, Trump took the dispute up a notch by saying he would not participate in the debate at all:
MARSHALLTOWN, Iowa — Donald J. Trump and Fox News, the candidate who has reordered the Republican presidential race and the cable network of choice for many of the party's voters, stared each other down on Tuesday over his demand that the news anchor Megyn Kelly be dumped from moderating Thursday's debate, the last before Monday's caucuses.

The network did not blink. So Mr. Trump walked.

Mr. Trump's announcement here that he would "probably," or would "most likely," or was "pretty close to" irrevocably planning to skip the debate — an aide put it more directly — created a gaping uncertainty at the center of the Republican nominating contest just as it was formally about to begin in Iowa.

It was the most intense confrontation yet between two mutually dependent but increasingly antagonistic powerhouses of media and politics. Mr. Trump, who has made the presidential race into a riveting television spectacle, was overtly exploiting the ratings leverage his candidacy has created to try to bend Fox News to his will.

"Let's see how much money Fox is going to make on the debate without me," he said at a news conference here.

Fox News said Mr. Trump's refusal to debate his rivals was "near unprecedented."

"This is rooted in one thing — Megyn Kelly, whom he has viciously attacked since August and has now spent four days demanding be removed from the debate stage," the network said in a statement.

On her program Tuesday night, Ms. Kelly observed that "what's interesting here is Trump is not used to not controlling things, as the chief executive of a large organization."

"But the truth is, he doesn't get to control the media," she added.

Mr. Trump's animus toward Ms. Kelly dates to August, in the first presidential primary debate, when she questioned him about his past comments denigrating women. Afterward, he suggested that Ms. Kelly had been angry at him, so much so that she had blood pouring out of her "wherever" — a remark many saw as a reference to menstruation.

In the months since, Mr. Trump has repeatedly criticized Ms. Kelly as a "third-rate" reporter. And as Thursday's debate approached, Mr. Trump began disparaging Ms. Kelly as if he were a prizefighter promoting a rematch. He called her dishonest, accused her of bias and a conflict of interest, and said flat-out that he did not like her.

On Monday, Fox News responded to Mr. Trump, tauntingly saying it was "surprised he's willing to show that much fear" about being questioned by Ms. Kelly. And on Tuesday, after the network's president, Roger Ailes, declared that Ms. Kelly would "absolutely be on the debate stage," the network issued yet another taunting statement, this one mocking two of Mr. Trump's go-to rhetorical crutches.

"We learned from a secret back channel," the statement said, "that the ayatollah and Putin both intend to treat Donald Trump unfairly when they meet with him if he becomes president — a nefarious source tells us that Trump has his own secret plan to replace the cabinet with his Twitter followers to see if he should even go to those meetings."

At that, Mr. Trump told Mr. Ailes and his network, effectively, to take a flying leap.

"With me, they're dealing with somebody that's a little bit different," he said of Fox. "They can't toy with me like they toy with everybody else. So let them have their debate, and let's see how they do with the ratings."

(…)

It was not the first time that Mr. Trump, who holds a wide lead in national polls and a slender one in Iowa, has threatened to sit out a debate. At one point he demanded that CNN donate $5 million to aid wounded veterans in return for his participation. His logic then was the same as now: The ratings stem from his presence. But CNN officials declined, essentially calling Mr. Trump's bluff, and he participated.

This time, though, his campaign manager, Corey Lewandowski, said there would be no backing down Instead of attending the debate, he said, Mr. Trump would hold a fund-raiser in Iowa for wounded war veterans.

Mr. Lewandowski did not respond to a message asking the chances that his boss would change his mind.
According to some reports, Trump's announcement that he would not or, depending on how you read his language, might not, participate in the debate set off a flurry of phone calls as various people affiliated with Fox News, including not just Roger Ailes but also Sean Hannity attempted to get in touch with Trump, his campaign manager, Trump's wife Melania, and his daughter Ivanka. Those efforts were apparently unsuccessful and New York Magazine National Affairs Editor Gabriel Sherman reported last night that Trump is saying that he will only deal directly with Rupert Murdoch, the Chairman of Fox News's parent company, on a "Chairman to Chairman" level. So far, Murdoch has refrained from getting directly involved in the Fox-Trump feud that has been brewing for the past six months, but as Sherman notes he has taken something more of a direct role in the news operations at FNC as Ailes has recovered from an illness earlier in 2015. There have also been reports in recent years that Murdoch has not been entirely thrilled with the direction that the news network has taken, but refrained from taking Ailes or anyone else to task given the fact that the network's rating continued to outperform its competitors and revenue continued to rise. Ailes is back at work full time now, but there has been some speculation that Murdoch continues to look over his shoulder, concerned about the future about what is essentially the prize jewel in his media crown. What impact all of that might have on Murdoch's involvement in this latest controversy is unclear.
Watching this whole dispute from a distance, it's hard not to think that this is all part of a media stunt on Trump's part designed to once again shape the media narrative as we head into the final days of campaigning before Iowa. Throughout this campaign, we've seen Trump jump on one issue or another that causes a media firestorm, sets the tone for what the media coverage for the ensuing week or more, and inevitably ends up benefiting Trump in the polls. Beyond benefiting Trump in the polls, though, these stunts have also arguably harmed Trump's opponents by making it harder for them to get their message out to voters and forcing them to spend at least some portion of whatever precious media time they do get responding to Trump's latest outrage. That's exactly what's happening here. The political coverage on CNN and MSNBC is all about Trump skipping the debate and what that means for the debate and the race. Meanwhile, Trump continues to control the narrative and remains at the top of the field heading into Iowa.
As far as this debate goes, it's hard to see Trump actually following through and skipping the debate at this late date. Notwithstanding the fact that he is leading in the polls, this is the only Republican debate in Iowa and, with just a few days left until the caucuses at this point this was meant to be an opportunity for Iowa voters to see the candidates go one on one up close and personal. Skipping the debate could be seen as some form slap in the face to Iowa voters. While Trump is in a position right now that coming in second in Iowa would not substantially harm Trump's campaign going forward, a win in Iowa would also put him in a position to run the table on the early primaries so one would think that Trump and Fox will find a way to work out their differences and Trump will figure out a way to spin this story yet again so appearing at the debate ends up being a victory for him notwithstanding the fact that his campaign is saying he definitely won't appear at the debate. Even if he doesn't appear, though, Trump's decision to skip the debate will likely end up working out in his favor since he would still lurk over the debate as the 800lb gorilla in the room. Combined with the fact that ratings for the debate would likely be lower without Trump, Trump's opponents could again find themselves losing out.