Donald Trump Unleashes Another Insult That His Supporters Most Likely Won't Care About
Donald Trump is back to hurling insults at his opponents, but it's unlikely his supporters are going to care.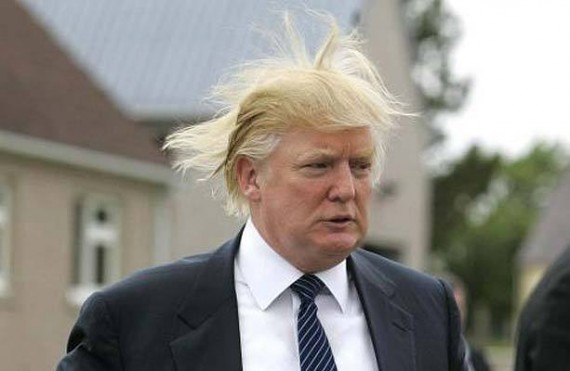 Donald Trump is once again under fire for making insulting comments about a woman, this time about one of his fellow candidates for the Republican nomination:
Donald J. Trump is not letting political correctness get in the way of saying what he really thinks about Carly Fiorina's looks.

The billionaire tycoon offered a free-wheeling critique of some of his rivals for the Republican presidential nomination in an interview with Rolling Stonemagazine. His impression of Ms. Fiorina's appearance was less than flattering.

"Look at that face!" he said at a conference table with his staff as Ms. Fiorina took a question about him on television. "Would anyone vote for that? Can you imagine that, the face of our next president?!"

Mr. Trump's has faced criticism over the years for saying sexist things about women, referring them as pigs or worse. That history was highlighted after his public feud with Fox News's Megyn Kelly, which culminated with him suggesting that the journalist had blood coming out of her eyes and "blood coming out of here wherever."

Mr. Trump seemed to realize that he was going to far in his assessment of Ms. Fiorina, but he opted not to restrain himself.

"I mean, she's a woman, and I'm not s'posedta say bad things, but really, folks, come on," he said, according to the report. "Are we serious?"
Responding to the controversy that erupted overnight after the interview was released, this morning Trump tried downplay his comments, claiming that he was talking about Fiorina's persona rather than her physical appearance: 
In an interview with FOX News on Thursday morning, Trump did not dispute the quote but said that he made the comment in a "jocular manner" and that he was referring to Fiorina's "persona."

"Probably I did say something like that about Carly," Trump said. "I'm talking about persona. I'm not talking about look."

(…)

Trump also implied Thursday morning that the media reaction to his comments about Fiorina betrays a double standard.

"When I get criticized constantly about my hair, nobody does a story about 'Oh isn't that terrible, they criticized Donald Trump's hair,'" he said.

Fiorina responded to the remarks on Kelly's FOX News show late Wednesday night.

"Maybe, just maybe, I'm getting under his skin a little bit because I am climbing in the polls," she said.
Inevitably, of course, there is speculation about whether or not this will hurt Trump's chances in the race and his standing in the polls. Given the fact that they will both on the stage together, it's likely that this issue will come up in some way at next week's CNN debate, much like Megyn Kelly brought up his previous derogatory comments about women and herself became the focus of Trump's ire after the debate. The argument this time seems to be that because he's attacking a women, and because he's attacking a fellow candidate, this is likely to be something that will turn off Republicans who have been giving him a pass so far. Ed Morrissey, for example, wonders if Trump's attacks on Fiorina will have a different impact on the race than his previous attacks:
Thus far, Trump has aimed his combative personality at the kind of establishment figures for which the grassroots already has considerable anger — GOP leadership, the donor class, CNN, and even well-known conservative media figures who may be surprised to find themselves lumped in with the "establishment." Fiorina is an outsider, not tied to the "establishment" as such in any way except through big business and finance, exactly as Trump himself is. If he starts aiming his middle-school antics at Fiorina, will the anti-establishment forces keep cheering, or start to wonder whether Trump's temperament is a bigger problem than they want to admit?
The point is well-taken, but I'm not sure that the people who have been rallying around Trump are going to be any more offended by an attack on Carly Fiorina than they were when Trump implied that Mexicans are rapists, when he attacked John McCain, or when he went after Megyn Kelly for daring to ask him a few tough questions. If the past two months have shown us anything, it is that the more outrageous and offensive Trump's attacks become, the better he seems to do in the polls. Today, a new CNN/ORC poll shows Trump leading the field nationally with 32% of the vote, Ben Carson far behind at 19%, and nobody else in double digits. In the polling average, Trump now leads the field at 29.8%, with Carson at 16,8%, and Jeb Bush at 8.3%. this is all from polling that has been taken in the wake of all of Trump's offensive, outrageous, over the top remarks. Given that history, there's simply no reason to believe that the people who are supporting him, a number that seems to be growing by the day, would be any more offended by his comments about Carly Fiorina.
The answer, of course, is that they aren't. Much to the chagrin of the Republican elite and political analysts who can see plain as day that putting Trump on the ticket would be an electoral disaster for the Republican Party, the base of the GOP seems to continue to be rallying around Trump notwithstanding the fact that he has absolutely no substance and that his campaign basically revolves around making vague promises about the future and insulting people. Perhaps it's a reflection of the reality television culture that Trump himself became such a big part of at one point, but more likely it's a reflection of what's happened to the Republican Party.  As I've said before, Donald Trump is succeeding in the polls right now in large part because he is saying things that a lot of Republicans agree with. Moreover, he is succeeding notwithstanding the fact that he is appealing to the worst aspects of American politics, a fact that has led many leading Republicans to wonder just how much he might damage the party going forward. This has led to talk about efforts to "stop Trump," along  with speculation about what it might be that Trump will do that will bring about his downfall. Perhaps that day will come, but it certainly doesn't seem likely to come any time in the near future. Donald Trump has tapped into the misguided populism of the Tea Party that the GOP itself used to ride to victory in 2010 and 2014. They like him precisely because he is insulting and vulgar and absurdly self-centered. Unless they start changing their minds about that, it's hard to see when the Trump "Bubble" is going to burst, and that no doubt has a lot of Republicans very concerned.