Donald Trump's Substance Free Campaign For President
Donald's Trump's campaign is the logical conclusion of more than a decade of emotion-drive, substance-free politics.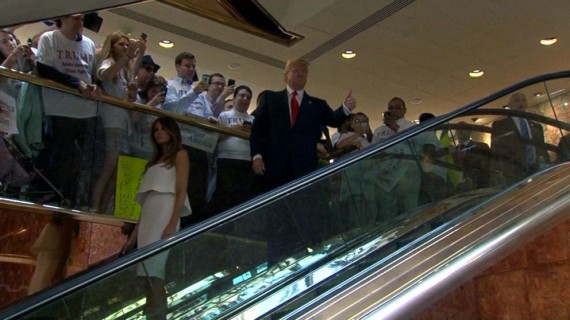 Over at Reason, Peter Suderman makes this observation about Donald Trump's campaign and the people who support him:
What Trump offers is a fantasy of governance without negotiation, of economic success without policy detail, of a president who does not particularly feel the need to act presidential. It's a fantasy of politics without politics, for people who just don't want to think about it too much. In this view, the fact that Trump has clearly put so little thought into it himself makes him seem sensible and relatable. All of which is to say that the mindlessness and stupidity of Trump's presidential campaign are not incidental to the candidate's recent success. On the contrary, they are key to his appeal.

All of this is, in some sense, an outgrowth of the Republican party's own mindlessless during the Obama era. The party has consistently refused to be clear about its domestic policy goals, and what it plausibly expects from government. And while it has not, as a general rule, fully embraced Trump levels of of vapidity, it has embraced figures like Trump, and allowed them to rise within the party.

This was clearly evident, albeit in a much milder form, in Mitt Romney's 2012 run as the GOP nominee, which was marked by its consistent lack of policy detail, and by Romney's unwillingness to provide clarity about his policy plans. Romney did, however, praise Trump's "extraordinary ability to understand how our economy works and to create jobs" as he accepted Trump's endorsement.

It's evident still, in the party's ongoing inability to unify around an Obamacare replacement, to reckon with the realities of immigration, to discuss in detail what cutting the federal budget would really entail. It is telling, I think, that a top priority for one of the major intellectual movements on the right is simply to encourage Republicans to engage with policy ideas, at all.

Trump's candidacy is what a refusal to engage with policy and its practical realities looks like when taken to an extreme. He is a mindless candidate for a party that for years has casually courted mindlessness, and is now faced with the worrying possibility that it might prevail.
Suderman bases much of his column off of a piece by Andy Kroll that appears in this weeks print edition of National Journal in which Kroll attempts to treat the Trump campaign seriously just as a political reporter would treat any other candidate for President, especially one that was running at the front of the pack after only a month and a half in the race. To that end, Kroll followed Trump on his trip to Laredo, Texas last month, attempted to contact his campaign regarding answers to basic policy questions, and spoke with Trump supporters at campaign appearances in an effort to figure out exactly why it was that they were supporting this guy for President. The entire piece is worth a reason, but as you imagine Kroll's efforts were largely unsuccessful. Trump didn't answer any substantive questions during his campaign visit to Laredo, his campaign never got back to Kroll with answers to any of his policy questions, and the responses from Trump supporters regarding why they were supporting him were as astoundingly mindless as the ones that a Bloomberg Politics focus group in New Hampshire gave last week.
None of this should come as a surprise, of course. As I noted last month just as the Trump bandwagon was picking up steam, it is eminently clear that neither Trump nor his supporters care one whit about policy matters or about answering the practical question of how Trump is going to "Make America Great Again," to borrow a campaign slogan that Donald Trump basically stole without attribution from Ronald Reagan's 1980 campaign for President. Trump's campaign is not about policy, though, it is about exploiting the infotainment industry that Cable and Internet "news" has became and feeding into to a cycle of resentment and fear that has been the building block of the Tea Party movement and the far right wing of the Republican for the better of a decade now. Honestly, I have no idea whether Trump actually believes the things he is saying or not, but it hardly matters because the people he is preaching to care less about sincerity than they do about hearing what they want hear. As long as he continues doing that, and unless and until prospective voters start changing their minds, there's no reason to believe this won't continue.
More importantly, there's not that much difference between Trump's platitude-rich, substance-deficient campaign and the rhetoric that we have seen over the years from such favorites of that wing of the GOP as Michele Bachmann, Herman Cain, Steve King, Ted Cruz, Ben Carson, and so many others. To a person, these are politicians who have relied far more on appeals to base emotions than reasoned arguments about policy, and the reason they've done it is because that is what their audience wants.  At its base, there is no difference between what we are seeing from Trump and his supporters and what we have seen from Republicans since President Obama took office. As Suderman notes, Mitt Romney's 2012 campaign was completely lacking in substance and the same was true of his major challengers for the Republican nomination that year. John McCain's campaign in 2008 was hardly better, of course, and his lack of substance was exemplified by his selection of a running mate to whom substance and depth seemed to be completely foreign concepts. In the years that followed, and especially after the GOP took control of the House, we have been subjected to one act of symbolism after another, from countless attempts to repeal Obamacare to endless Congressional investigations of "scandals" that never measured up to the rhetoric of those claiming they were evidence of nefarious dealings in the Obama Administration. It all accomplished very little, but it made the base happy, and that's all that seemed  The fact that the nation's most consummate showman since P.T. Barnum has now mimicked their style and ridden it to heights that few people would have thought logically possible before he entered the race. There's no guarantee it will last forever, of course, and it probably won't, but for the time being Donald Trump is succeeding largely because he is providing the very type of emotion-laden substance-free campaign that the fringe of the Republican Party has been asking for since Barack Obama took office.