Mitt Romney Denounces Donald Trump, But It's Likely To Amount To Much Ado About Nothing
Mitt Romney came out with a blistering speech denouncing Donald Trump, but it's unlikely to have much of an impact on the race.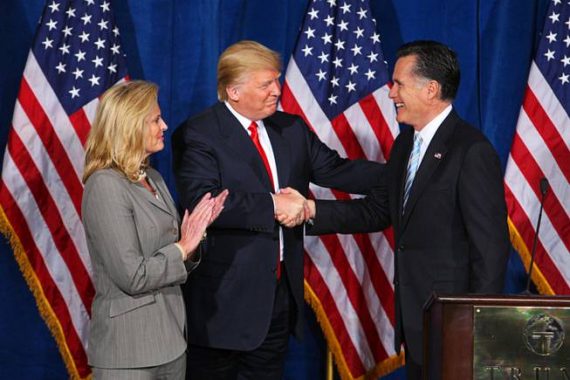 Joining the chorus of Republican and conservative insiders who have seemingly suddenly woken up and realized that Donald Trump is on track to become the Republican nominee for President, former Massachusetts Governor Mitt Romney took to a stage in Utah today to denounce Donald Trump and urge Republican voters to back candidates who could stop him from becoming the nominee, although he stopped show of actually endorsing anyone:
SALT LAKE CITY — Mitt Romney, the 2012 Republican presidential nominee, delivered a sweeping point-by-point indictment of Donald Trump on Thursday and implored Republicans to reject the businessman's candidacy in an election "that will have profound consequences for the Republican Party and more importantly, for the country."

"Donald Trump is a phony, a fraud," Romney told nearly 700 people at the University of Utah. "His promises are as worthless as a degree from Trump University. He's playing members of the American public for suckers: He gets a free ride to the White House, and all we get is a lousy hat."

Speaking in a stately college auditorium, there was little precedent for Romney's remarks: Never before in modern political history has the immediate past nominee of a party delivered an entire speech condemning the current front-runner. Sen. John McCain (R-Ariz.) – the party's 2008 nominee – later said he shared Romney's concerns.

Most boldly, Romney called for a scenario that likely would lead to a convention floor flight, recommending that voters cast ballots for Sen. Marco Rubio in his home state of Florida, for Gov. John Kasich in Ohio, and everywhere else, for the candidate best positioned to deny Trump a win.

From issues domestic and foreign to those of moral character and temperament, Romney called Trump ill-qualified to serve as president. His remarks to the university's Hinckley Institute of Politics called out Trump for his many failed businesses, including airlines, vodka and a mortgage company. He raised concerns about Trump's sexual exploits, his three marriages and his taunts toward the disabled, Mexican immigrants and female journalists and politicians.

"But you say, 'Wait, wait, wait, isn't he a huge business success? Doesn't he know what he's talking about?' " Romney said. "No, he isn't. And no, he doesn't."

The 18-minute address was unlike anything other GOP presidential candidates have delivered. It served as a public airing of concerns Romney has shared in brief spurts on social media or privately to friends and supporters. The speech came at a critical juncture for the Republican Party, with Trump's seemingly unstoppable march to the nomination setting off panic this week among party leaders fearful that the New Yorker's ascendance could cost them the general election, spoil the chances for down-ballot candidates and irreparably tarnish the party's brand.

(…)

Romney briefly considered running again before announcing early last year that he would take a pass. His speech in Utah, where he has a home, neither launched a fresh campaign nor served as an endorsement of any candidate.

"Instead, I'd like to offer my perspective on the nominating process in my party," he said.

Dozens of national media outlets descended on the college campus to hear from the former presidential contender. The speech garnered national television coverage, with cable news channels devoting hours to the governor's remarks. Even local television stations preempted regular programming to broadcast the words of a famous resident who led the city's 2002 Olympic organization.

"In 1964, days before the presidential election, Ronald Reagan went on national television and challenged America that it was a 'Time for Choosing,' " Romney said. "He saw two paths for America, one that embraced conservative principles dedicated to lifting people out of poverty and helping create opportunity for all, and the other, an oppressive government that would lead America down a darker, less-free path.

"I'm no Ronald Reagan and this is a different moment, but I believe with my heart and soul that we face another time for choosing," he said.

He faulted Trump for offering "very few specific economic plans" and said that "what little he has said is enough to know that he would be very bad for American workers and for American families."

On national security, Romney said that Trump's "bombast is already alarming our allies and fueling the enmity of our enemies."

"The only serious policy proposals that deal with a broad range of national challenges that we confront today come from Ted Cruz, Marco Rubio and John Kasich," Romney said, referencing the other remaining GOP candidates.

"I know that some people want this race to be over," he added. "They look at history and say a trend like Mr. Trump's isn't going to be stopped. Perhaps. But the rules of political history have pretty much all been shredded during this campaign."

Romney urged Cruz, Kasich and Rubio to "find some common ground" and help the party "nominate a person who could win the general election and who will represent the values and policies of conservatism."

Throughout the speech Romney repeatedly dismissed Trump's personal behavior: "Think of Donald Trump's personal qualities. The bullying. The greed. The showing off. The misogyny. The absurd third-grade theatrics."

"Watch, by the way, how he responds to my speech today," he added. "Will he talk about our policy differences? Or will he attack me with every imaginable low-blow insult?"

On Thursday Trump recalled that Romney "begged me, and I mean begged me, for my endorsement four years ago." He added later in an MSNBC interview that Romney "failed in his campaign, it was a horribly run campaign. Republicans didn't even go out to vote."

Later, on Twitter, Trump asked: "Why did Mitt Romney BEG me for my endorsement four years ago?"

Sure enough, Romney never mentioned in his speech that he had eagerly sought and received Trump's endorsement in 2012. Ultimately, Romney traveled to Trump's lavish Las Vegas hotel to hold a news conference and accept his support.

"Being in Donald Trump's magnificent hotel and having his endorsement is a delight," Romney said the day of the endorsement.

Aides said at the time that Romney embraced Trump, however reluctantly, to keep him in the fold and from bolting the party. Trump emerged as a vocal Romney surrogate, recording more than 30 "robocalls" and doing more than 50 radio interviews in states that held early primaries. Trump and his wife, Melania, also hosted a lavish 63rd birthday party for Ann Romney that doubled as a campaign fundraiser. More than 400 supporters paid at least $1,000 to attend the event at Trump Tower in New York.

But on Thursday, Romney left no doubt about Trump: "He has neither the temperament nor the judgment to be president. And his personal qualities mean that America would ceases to be a shining city on a hill."
You can read the transcript of Romney's speech, or watch the video:
As the article notes, the speech is certainly unprecedented in that I cannot remember the last time that a potential nominee for any political party's nomination for President was so openly attacked by a previous nominee who is not himself a candidate for office at the time. Romney left little doubt about how he felt about Trump, his rhetoric, his behavior, and his policy positions and the words he used to denounce him were stronger, and delivered more forcefully, than anything we've heard from any of the men who are actually running for President this year at any point during the campaign. Moreover, the vehemence with which Romney attacked Trump was arguably stronger than anything we heard from him during the course of either the 2008 or 2012 campaign, whether it was directed at his primary opponents in those races or against President Obama four years ago. Perhaps the freedom of not being a candidate for office makes Romney feel that he has the liberty to be less concerned about being confrontational and less concerned about putting his message across in a way that may offend some people, or perhaps he does really feel as passionate about the Trump candidacy as he sounded in the speech. Whatever the reason, part of the takeaway from the speech has to be that one wonders how the 2012 campaign might have been different if the Mitt Romney we saw today had shown up.
Leaving all that aside though, I have to agree with Paul Waldman that it seems unlikely that Romney's speech will amount to much of anything:
[T]here may be some Republican voters who don't support Trump at the moment for whom Romney's speech would be persuasive. But what the party needs right now isn't to keep more voters from rallying to Trump's side, it's to persuade Trump's current voters to abandon him. If they can't do that, judging by polls showing Trump ahead in multiple states that will be voting in the next few weeks, Trump will wind up as the nominee.

And Romney didn't tell Trump's voters anything they didn't already know. They know he's bombastic, they know he insults people, they know he advocates war crimes, they know he makes scapegoats out of foreigners and immigrants. And guess what: not only do they not care, those things are exactly why they like him. Or at worst, they're willing to look beyond what may make them a little uncomfortable, because they think Trump is a winner and voting for him is a way to give the finger to the Republican establishment.

So while Mitt Romney's heart may have been in the right place, he probably just did Donald Trump a favor, by reminding his supporters of why they should stick with him.
Waldman is largely spot on here. Stopping Trump at this point, assuming that it's even possible, would need to involve more than trying to unite a rag tag group of candidate supporters to vote strategically in primary states in such a way that Trump falls short of the majority of delegates he would need to win the nomination on the first ballot. This is especially true given the fact that there's already plenty of evidence that at least some portion of the voters currently supporting candidates like Ben Carson, John Kasich, Marco Rubio, and Ted Cruz would be okay with backing Trump if their candidate were not in the race. What would be required is an effort that involves dissuading Trump's supporter from backing him, and that just doesn't seem like it's going to happen. Over the past seven months, Trump's core group of supporters have stayed with him through a series of controversies such as his comments about Mexicans, John McCain, Megyn Kelly, Carly Fiorina, Ben Carson, a disabled New York Times reporter, and Muslims. Not only has Trump not seen his support fall appreciably through all of this, but in nearly every case his position in the polls has actually increased in the wake of each attack. Additionally, the fact that he was won ten of the first fifteen contests of the 2016 cycle and placed first or second in all but one of them suggests that stopping Trump is not going to be nearly as easy as some Republicans and conservatives seem to think it is going to be.
The other fact that would seem to blunt the force of Romney's words is that they're coming from, well, Mitt Romney. While Romney spent much of the 2008 campaign as the hero of the conservative wing of the Republican Party, by 2012 he was seen as the candidate of the "establishment" wing of the party and a nominee that conservatives accepted reluctantly after it was clear that none of the other options could possibly win enough delegates to get the nomination. Since losing the election to President Obama, Romney was largely forgotten and dismissed in Republican and conservative circles, with most conservatives citing him a yet another example of a "moderate" nominee who failed to win the General Election who wasn't conservative enough. When suggestions arose that he might enter the 2016 race for the Republican nomination, the right largely dismissed him as a candidate faster than they dismissed Jeb Bush. Given all of that, I have to wonder what impact a speech from Mitt Romney is really going to have, especially one in which he didn't even bother to put whatever political weight he still has inside the GOP behind a specific candidate.
Romney's speech comes at the same time that Republican and conservative insiders are renewing their effort to try to stop Trump from winning the nomination notwithstanding the setback it suffered on Super Tuesday. Most recently, a group of Republican foreign policy gurus released a letter attacking Trump and saying that he would endanger American national security if elected President, another group of conservatives warned that Trump would irreparably damage the Republican Party's efforts to reach out to minority groups, and the number of Republican officials and office holders who say they will never vote for Donald Trump even if he is the Republican nominee. And, of course, they are crafting the very contested convention scenario that seems to be the only way to stop Trump at this point, and one that is highly unlikely to succeed.
Romney's speech might have had a more powerful impact had he made it four or six months ago, or if he made it as part of the endorsement of a specific candidate. As it stands, though, it's likely to prove to have been too little, too late, just like the rest of the efforts of a clearly panicked Republican establishment.
Update In a tweet sent after his speech, Romney addressed the endorsement from Trump that the photo at the top of this page shows Romney accepting on February 2, 2012:
If Trump had said 4 years ago the things he says today about the KKK, Muslims, Mexicans, disabled, I would NOT have accepted his endorsement

— Mitt Romney (@MittRomney) March 3, 2016
My response is all I have to say about that:
Four years ago, he was saying the President was born in Kenya. You accepted his endorsement anyway. https://t.co/AUwrBPS8ls

— Doug Mataconis (@dmataconis) March 3, 2016
Photo: Mitt and Ann Romney in Las Vegas after Donald Trump endorsed Romney for President, February 2, 2012