Before Taking Office, Mitt Romney Takes On Trump
Before even taking office, Mitt Romney is taking on the President. It's a good sign, but we'll see what it leads to.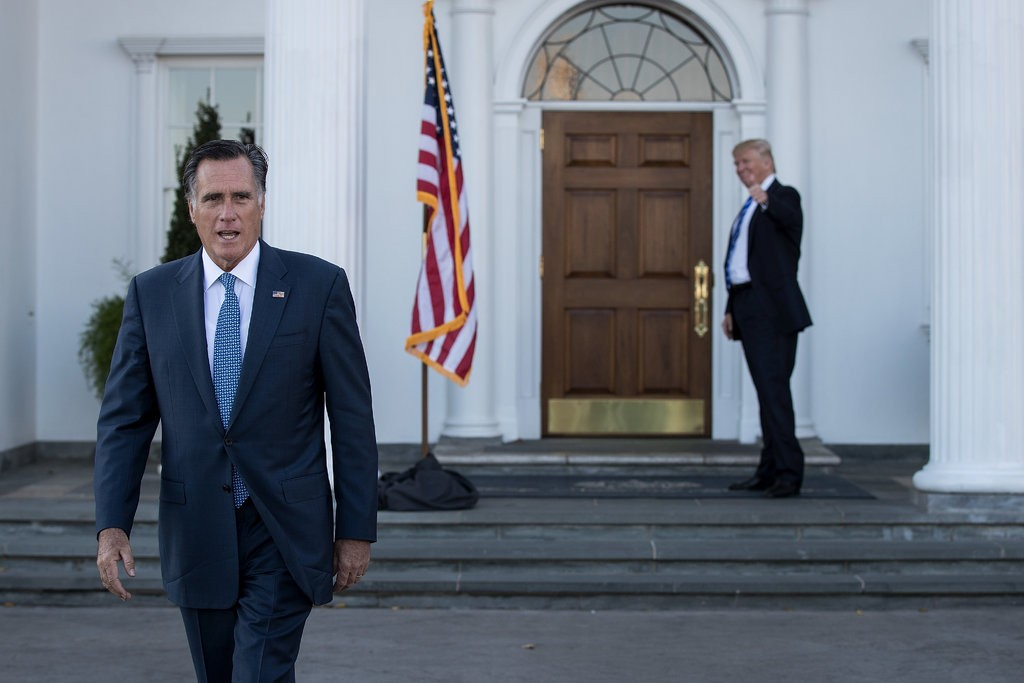 Senator-Elect Mitt Romney, who will be sworn in by Vice-President Pence Thursday afternoon, came out swinging against the President in a possible sign of the role he sees himself taking in the Republican Party going forward:
Mitt Romney, the incoming senator from Utah and former Republican presidential nominee, revived his rivalry with President Trump on Tuesday with an op-ed essay in The Washington Post in which he said Mr. Trump "has not risen to the mantle of the office."

Days before joining a Republican-controlled Senate, and as the 2020 presidential race begins to take form, Mr. Romney issued a pointed critique of the president's character.

"With the nation so divided, resentful and angry, presidential leadership in qualities of character is indispensable," he wrote ahead of his swearing-in on Thursday. "And it is in this province where the incumbent's shortfall has been most glaring."

The timing and tone of the piece set off widespread speculation online, with some suggesting that Mr. Romney aimed to position himself as "the new Jeff Flake," the departing Republican senator from Arizona who publicly tangled with Mr. Trump.

Or, others asked, was Mr. Romney, a two-time presidential hopeful, signaling he might try to challenge the president in the 2020 Republican primary election?

Brad Parscale, the campaign manager for Mr. Trump's 2020 re-election bid, quickly fired back at Mr. Romney, saying in a tweet Tuesday night that Mr. Trump had "saved" the country while the senator-elect could not.

"Jealousy is a drink best served warm and Romney just proved it," he said. "So sad."

Mr. Romney and Mr. Trump have long had a complicated political relationship.

Mr. Trump has called Mr. Romney "irrelevant" and once bragged that he was a more successful businessman. "I mean, my net worth is many, many, many times Mitt Romney," he said in 2011.

When Mr. Trump was running for president in 2016, Mr. Romney called him a "phony" and a "fraud." In 2017 he excoriated the president after the deadly white supremacist rally in Charlottesville, Va., for causing "racists to rejoice" and "minorities to weep."

But Mr. Trump backed Mr. Romney's 2012 run for president, an endorsement that the nominee said meant a "great deal."

The two tried to play nice during an awkward dinner together in late 2016, when it was thought Mr. Romney could be a candidate for secretary of state in the Trump administration. Last year, Mr. Trump supported Mr. Romney's campaign to become Utah's junior senator — and Mr. Romney thanked him for the endorsement.

Mr. Romney's criticism at the outset of the new session of Congress was a blunt message to Mr. Trump that one of his most outspoken Republican critics from the 2016 campaign would soon have a high-profile platform in Washington.

And while Mr. Romney has largely refrained from the sort of blistering attacks he made against Mr. Trump two years ago, the broadside in The Post suggested that Utah's soon-to-be senator might be open to a third presidential campaign.

Indeed, parts of the essay sounded like the makings of a primary challenge against Mr. Trump from Mr. Romney.
Not surprisingly the President has responded via Twitter:
President Trump fired back at incoming Sen. Mitt Romney (R-Utah) on Wednesday, urging him to be a "TEAM player" hours after the publication of a scathing op-ed in which Romney said Trump has not risen to the job.

"Would much prefer that Mitt focus on Border Security and so many other things where he can be helpful," Trump said in a tweet. "I won big, and he didn't. He should be happy for all Republicans. Be a TEAM player & WIN!"

Trump also questioned whether Romney, who lost the 2012 presidential election, would now seek to play a similar role as the retiring Sen. Jeff Flake (R-Ariz.), among the few GOP lawmakers who have frequently criticized Trump's actions.

"Question will be, is he a Flake?" Trump said of Romney. "I hope not."\

https://twitter.com/realDonaldTrump/status/1080447092882112512
Trump's comments followed the publication of an op-ed penned by Romney in advance of his swearing-in Thursday as Utah's junior senator.
The Trump presidency made a deep descent in December. The departures of Defense Secretary Jim Mattis and White House Chief of Staff John F. Kelly, the appointment of senior persons of lesser experience, the abandonment of allies who fight beside us, and the president's thoughtless claim that America has long been a "sucker" in world affairs all defined his presidency down.

It is well known that Donald Trump was not my choice for the Republican presidential nomination. After he became the nominee, I hoped his campaign would refrain from resentment and name-calling. It did not. When he won the election, I hoped he would rise to the occasion. His early appointments of Rex Tillerson, Jeff Sessions, Nikki Haley, Gary Cohn, H.R. McMaster, Kelly and Mattis were encouraging. But, on balance, his conduct over the past two years, particularly his actions this month, is evidence that the president has not risen to the mantle of the office.

It is not that all of the president's policies have been misguided. He was right to align U.S. corporate taxes with those of global competitors, to strip out excessive regulations, to crack down on China's unfair trade practices, to reform criminal justice and to appoint conservative judges. These are policies mainstream Republicans have promoted for years. But policies and appointments are only a part of a presidency.

To a great degree, a presidency shapes the public character of the nation. A president should unite us and inspire us to follow "our better angels." A president should demonstrate the essential qualities of honesty and integrity, and elevate the national discourse with comity and mutual respect. As a nation, we have been blessed with presidents who have called on the greatness of the American spirit. With the nation so divided, resentful and angry, presidential leadership in qualities of character is indispensable. And it is in this province where the incumbent's shortfall has been most glaring.

The world is also watching. America has long been looked to for leadership. Our economic and military strength was part of that, of course, but our enduring commitment to principled conduct in foreign relations, and to the rights of all people to freedom and equal justice, was even more esteemed. Trump's words and actions have caused dismay around the world. In a 2016 Pew Research Center poll, 84 percent of people in Germany, Britain, France, Canada and Sweden believed the American president would "do the right thing in world affairs." One year later, that number had fallen to 16 percent.
Over the first two years of Donald Trump's Presidency, there was virtually no criticism of the President from any corner of the Republican Party, whether it concerned the President's rhetoric, his personal behavior and his attacks on everything from the news media to real and perceived political adversaries and, of course, the Mueller investigation. Other than people such as John McCain, Jeff Flake, and Bob Corker, all of whom in some sense had nothing to lose, there has been virtually no criticism of this President from any Republican on Capitol Hill notwithstanding the fact that reporters continually report that, off the record, many of these same Republicans are rolling their eyes and increasingly uncomfortable with the direction the President has been heading. For most of these Republicans, of course, the reason for their silence is the fact that they worry more about potential primary challenges from the right and attacks from the President than they do about what the President is doing to the country, something which for which they will be judged at some point in the future.
In any case, even though he will become a junior Senator tomorrow, Romney finds himself in much the same position that McCain, Flake, and Corker were last year and thus probably feels more free in speaking out against Trump when he deems it necessary. While President Trump won Utah in 2016, he did so by the smallest vote margin since Bob Dole in 1996 and, for the first time since George H.W. Bush in 1992, failed to get above 50% of the vote even though he won the state. Romney, on the other hand, won the state by overwhelming margins both in the Republican primaries in 2008 and 2012 and in the 2012 General Election. Last November, he overwhelmingly won the Republican Primary and the General Election based mostly on his own personal popularity in the state rather than any assistance from the President. Additionally, Romney enters the Senate at what is essentially the end of his political career rather than the beginning. He doesn't need this job, and he doesn't need the support of the President or the Trumpian wing of the Republican Party, which is not particularly strong in Utah. Romney has his own base in Utah, he doesn't have to worry about re-election until 2024, and is essentially free to decide for himself if he's going to run for re-election at that point or not. Neither the President nor the Senate Leadership has much leverage over him, and that's what makes his position somewhat unique, and certainly unique among the incoming class of new Senators.
Romney goes on to speak somewhat about how he expects to conduct himself in Trump's Washington and Trump's Republican Party:
I look forward to working on these priorities with Senate Majority Leader Mitch McConnell (R-Ky.) and other senators.

Furthermore, I will act as I would with any president, in or out of my party: I will support policies that I believe are in the best interest of the country and my state, and oppose those that are not. I do not intend to comment on every tweet or fault. But I will speak out against significant statements or actions that are divisive, racist, sexist, anti-immigrant, dishonest or destructive to democratic institutions.

I remain optimistic about our future. In an innovation age, Americans excel. More importantly, noble instincts live in the hearts of Americans. The people of this great land will eschew the politics of anger and fear if they are summoned to the responsibility by leaders in homes, in churches, in schools, in businesses, in government — who raise our sights and respect the dignity of every child of God — the ideal that is the essence of America.

mney's votes will be conventionally Republican. He is, after all, a Republican elected from a Republican state. If you're expecting him to vote with the Democrats on key issues, you're not being realistic.
What Romney seems to be saying here is that nobody should expect him to oppose every initiative that the President and the Republican Party advance, nor should they expect him to block every measure that the President supports until he extracts a price in return. For one thing, his power in that regard will be somewhat more limited in that regard than it was for former Senators McCain, Corker, and Flake due to the fact that the Republican majority will be somewhat larger going forward. Before the midterms, the 51-49 majority that the GOP had after Doug Jones defeated Roy Moore in Alabama meant that even a single Senator speaking out or threatening to vote against a Presidential initiative or nominee could mean its defeat. Now, the GOP has a somewhat stronger 53-47 majority that means that Senator Majority Leader McConnell can afford to lose as many as three Republican votes and still be assured of passage of whatever he seeks to get passed.
For the most part, I expect Romney will vote as a conservative Republican from a conservative state. Expecting otherwise, which seems to be at the base of some of the skepticism and criticism that I am seeing from some quarters on social media, is to fail to understand reality. To that extent, those who seem to expect that the only acceptable opposition to Trump is to vote like a Democrat is essentially discounting the possibility of a Republican who can both speak out against the President and vote consistent with their own principles. Utah didn't elect a Democrat, they elected an ostensibly conservative Republican, and that's what I expect Romney will be, though. At the same time, though, this Op-Ed seems to suggest that he also has the potential to be the kind of Republican that other members of his party can rally behind in opposition to the antics of an increasingly unhinged President. The importance of that cannot be understated.
This is just an opening shot, of course, and we don't really know what kind of Senator Romney will be or how critical of the President he will actually become. For some, of course, whatever Romney won't be good enough because he's still likely to vote the same as his fellow Republicans. To that, I would just add two thoughts. First, for the past two years, if not longer, pundits and Democrats alike have complained that Republicans don't speak out against the President's un-Presidential actions, statements. Now when one does, they are inevitably likely to say that it's not good enough. Utah is a conservative Republican state that elected a conservative, Republican Senator. People expecting him to vote like a Democrat are not being realistic. Second, as I noted, Romney is a conservative elected to represent a conservative state. Expecting him to vote against that position because of Trump is to expect the completely unrealistic.
It's possible, of course, that Romney will end up being a disappointment. He could end up just being a rubber-stamp for the GOP like his fellow Republican Senators. On the other hand, this Op-Ed could be a signal that he will become something of a rallying point for Republicans who have been reluctant to speak, and when necessary or appropriate act, against the President and his behavior. Given the fact that so many of the President's critics have spent the better part of the past two years looking for just that kind of Republican it seems short-sighted and unrealistic to now turn around and say it's not good enough. So welcome (back?) to the #NeverTrumpers Senator, let's see what becomes of it.