Mitt Romney Falls Short At Utah GOP Convention, Forced Into Primary
Mitt Romney stumbled in his bid to become Utah's next Senator but he's still likely to win the nomination anyway.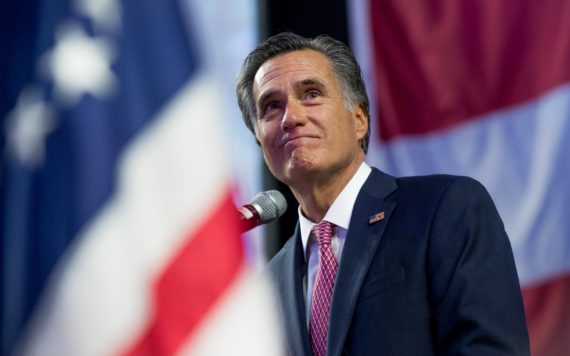 Thanks to a quirk in the nomination process for Utah's Republican primary, Mitt Romney has been forced into a primary with a much less known state legislator in his bid to replace Orrin Hatch in the U.S. Senate:
Mitt Romney, the 2012 Republican presidential nominee now seeking a Senate seat from Utah, was dealt a setback Saturday after his party's delegates denied him their nomination, forcing him into a June 26 primary.

Romney, whose bid for the seat was endorsed by President Trump and retiring Sen. Orrin G. Hatch (R-Utah), came in second place after a lengthy and contentious party convention in Utah's West Valley City. Mark Kennedy, a three-term state representative with no national profile, edged out Romney with 50.18 of the delegate vote; the former Massachusetts governor won 49.12 percent.

The result secured ballot slots for both Romney and Kennedy in Utah's first Republican primary for a Senate seat since 2010. It was nonetheless an unwelcome surprise for Romney, who had entered the race Feb. 16 with plenty of fanfare and national support.

According to FEC reports, Romney had raised $1.68 million for the campaign; Kennedy had raised just over $289,000. But Kennedy had depicted himself as a bona fide Utahn, and portrayed Romney as an interloper.

"We need a candidate who's actually lived, worked and raised a family in the state of Utah," Kennedy said last month as he entered the race.

Until winning the presidency, Trump had not shown much strength with Republicans in Utah. In 2016, he ran in third place out of three remaining candidates in the state's presidential caucuses, winning just 14 percent of the vote. Republicans briefly fretted that Trump would lose the state's electoral votes in the fall, as Evan McMullin, a member of the LDS church, gained steam as an independent candidate. In the end, Trump won just 45.1 percent of Utah's presidential vote, good enough for victory, but less than any Republican presidential candidate had won in the state since 1992.

During that campaign, Romney became one of Trump's most prominent Republican critics. In March 2016, Romney delivered a lengthy condemnation of Trump in Salt Lake City, urging Republican voters to back whichever candidate could stop Trump in their states' primaries.

"Donald Trump is a phony, a fraud," Romney said. "His promises are as worthless as a degree from Trump University. He's playing the members of the American public for suckers. He gets a free ride to the White House and all we get is a lousy hat."

(…)

But on Saturday, in an interview with CNN's Maeve Reston, Romney evaded a question about whether he would return the favor and endorse Trump for 2020.

"As a person of political experience, if I endorse someone, I'll want to know what's in it for Utah and what help would he provide for us on key priorities in Utah," he said.
More from The Salt Lake City Tribune:
After 11 hours of political elbowing and shoving at the Utah Republican Convention — held appropriately at a hockey arena — delegates forced Mitt Romney into a primary election against state Rep. Mike Kennedy in the U.S. Senate race.

In fact, Kennedy — a doctor and lawyer — finished in first place at the convention with 51 percent of the vote to Romney's 49 percent. The former GOP presidential nominee fell far short of the 60 percent needed to clinch the nomination outright.

(…)

Romney blamed his second-place finish — out of a dozen Republicans seeking the seat of retiring seven-term Sen. Orrin Hatch — on delegates' dislike of candidates like him who hedge their convention bids by also gathering signatures to ensure at least a place on the primary ballot.
Romney collected more than 28,000 signatures and was the only Senate candidate to do so.

Conservatives have for several years fought in court and in the Legislature to overturn the state law allowing signature gathering, seeing it as weakening the power of the convention and its delegates.

"I know there were many people who were not enthusiastic about someone gathering signatures," Romney said. But, pursuing the nomination through the convention and signature gathering "was right for me. I'm glad I did it that way."

Kennedy, after the convention, said he expected it to go to a primary. "We're happy about it."

Romney and Kennedy emerged as the only two survivors from 12 candidates after two rounds of balloting. Kennedy may have gathered some support between votes by voluntarily helping to sweep up confetti on the convention floor — to great applause by his supporters. Detractors, though, saw it as a stunt and GOP Chairman Rob Anderson suggested over the public address system that the work be left to the Maverik Center employees paid for the job.

Amid much reference to David vs. Goliath, Romney joked, "First, none of us is David. David was anointed of God. And secondly, I'm not Goliath. Washington, D.C., is the Goliath" — which he vowed to battle.

Kennedy, who had handed out "stress stones" to delegates, dubbed them the true Davids and claimed for himself the role of the stone that they could use to bring down the giant of the Washington establishment.

The state lawmaker certainly was the underdog by the traditional measure of name recognition and campaign funding. Romney reported spending $526,516 of the $1 million he transferred from his leftover presidential account. Kennedy reported an outlay of $31,500.

"I'm tired," Kennedy told delegates before the last vote. "You know what I'm really tired of? I'm tired of business as usual in Washington, D.C. If you want things to change, you need to vote for change."

Meanwhile, Romney told delegates, "You know me well and you know the things I stand for. … I'm going to get things done for Utah."

Romney volunteers tried to sway some last-minute voters during the hourslong convention by tossing water bottles and Twinkies to tired delegates sitting in the arena.
Utah's Republican Party has a somewhat unique, and some would say archaic, process for choosing party nominees. Instead of having either just a primary or just a convention, the state has what is essentially a two-step process. The first step is a convention attended by delegates selected at caucuses at the local level earlier in the year. Ultimately, there are about 4,000 delegates chosen to attend the state conventions that are held in April of an election year. If a candidate, whether it be for Senate, a Congressional seat, or state legislative seats, obtains the votes of 60% of the delegates eligible to vote for them then there will be no primary and the winning candidate automatically becomes the nominee. Since the U.S. Senate race is a statewide race, all of the delegates in attendance are eligible to vote on that nomination, for Congressional and other elections delegates vote based on which district they are representing. In any case, if no candidate is able to obtain the 60% needed after either the initial ballot or a runoff held immediately afterward, then the top two candidates are forced into a primary. That's what happened in the Senate race yesterday, and the primary will be held on June 26th.
In Romney's case, the reason for the loss at the convention seems from a distance to be two-fold. First of all, as noted above the convention draws from a much smaller pool of people that are likely to vote in the primary and those delegates tend to be far more ideological than the state's Republican electorate as a whole. Many of these delegates are people who either view Romney as something of a carpetbagger or resent the fact that, unlikely Kennedy, he was collecting signatures to appear on the June 26th primary ballot at the same time that he was soliciting the support of convention delegates, something which many interpreted as a slap in the fact to the delegates and the convention process. Additionally, notwithstanding the fact that he has toned down his rhetoric somewhat, Romney's previous denunciations of President Trump during the Presidential election seem as though they were a factor among that segment of the Utah GOP that supports the President. Because of this, it's likely that many of the delegates saw their convention as a way to push back at Romney and to send the message that he wasn't going to get the nomination in a cakewalk as many had expected.
Jazz Shaw at Hot Air puts the factors behind Romney's stumble this way, and I largely agree:
[Utah's] current system gives a lot of power to party insiders who can gather at their state convention and make decisions outside the influence of the party members around the state. If one candidate can secure the support of 60% of these local party officials they can land the nomination without ever having to face an actual primary vote. But candidates can also choose to gather signatures (as is done in most states) and get on the ballot that way. Romney elected to hedge his bets and do both, actively courting the support of the local officials around Utah but also gathering the required signatures.

This apparently angered many of the state party insiders who would rather retain control of the nominating process and not leave it to the whims of the unwashed masses. Plus, there was always going to be competition for that seat and some of the native Utah Republicans are trying to paint Romney as an unauthentic carpetbagger from Massachusettes. But in the end, it still sounds like Romney's popularity hasn't faded much and he should easily win the June primary and, almost surely, the Senate seat.
This isn't the first time that we've seen this happen in Utah. Eight years ago, incumbent Senator Bob Bennett failed to even qualify for the primary for a sixth term, coming in third in a race in which Senator Mike Lee ultimately ended up winning the primary several months later. As in many states, it's typically the case that the delegates who attend conventions are not necessarily reflective of the electorate as a whole, or of a majority of Utah Republicans. As David Drucker noted on Twitter this morning, Utah Governor Gary Hebert, who was running for re-election, fell even shorter than Romney did at the state convention in 2016, getting just 45% of the vote compared to his challengers 55%. Months later in the primary, Hebert defeated that same challenger with more than 70% of the vote.  It seems likely that this is what will happen in Romney's case.
Notwithstanding this admittedly embarrassing setback, it seems fairly clear that Romney is likely still going to win the Republican nomination for Senate rather easily in the June primary. Other than retiring Senator Orrin Hatch and perhaps Governor Hebert, Romney remains probably the most popular Republican in Utah. This is perhaps most clearly indicated by the 2012 Presidential race in which he won the state by nearly half a million votes, the largest margin of any Republican or Democratic candidate since Utah became a state. Previously, Romney had won the state in the Republican primary by an even larger margin in no small part because his opponents that year didn't even bother to mount much of a campaign against him there. The same thing happened in the Utah primary in 2008, which Romney won with 93% of the vote.  In 2008, Romney won the Republican primary by more than 250,000 votes. Furthermore, a poll taken last September indicated that Romney would win rather easily in a General Election against virtually any conceivable Democratic opponent. Given all that, it seems clear that Romney would easily win in November. Taking all of this together, and adding in the fact that Romney has already managed to vastly out-fundraise his Republican challenger, I would expect Romney to win easily on June 26th.