Mitt Romney Announces He's Running For Senate
To the surprise of nobody, Mitt Romney entered the race to succeed Orrin Hatch in the Senate. He'll probably win.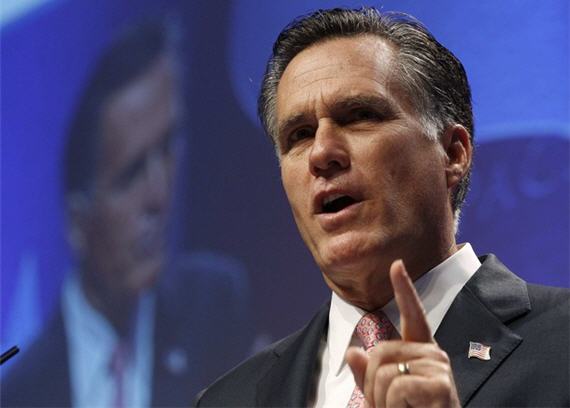 To the surprise of absolutely nobody at this point, Mitt Romney announced via social media this morning that he is running for the Senate seat currently occupied by Orrin Hatch, who is retiring at the end of his current term:
Mitt Romney on Friday announced his long-expected Senate bid in his adopted state of Utah with a low-key rollout intended to duck roiling Republican divisions and avoid signaling that he will play the role of foil to President Trump.

"Utah's economic and political success is a model for our nation," Romney said in a written announcement distributed Friday morning. "I am ready to fight for this great state and advocate for solutions that improve the lives of Utahns."

In his announcement, including a video, Romney touted his leadership of the 2002 Olympic Games in Salt Lake City, his tenure as Massachusetts governor, his degree from Brigham Young University and his 24 grandchildren. He made no mention of Trump.

That strategy, however, sets up a potentially fraught campaign path for the party's former presidential nominee as he tries to remake himself in Utah. In a Republican Party now dominated by Trump, most mainstream GOP leaders have struggled to stay neutral amid the president's controversies.

Still, Romney will try.

"This is not a Trump protest candidacy," former Romney spokesman Ryan Williams said.

Romney is likely to face plenty of questions from reporters — and from within his own party — about his views on Trump and his past statements criticizing the president.

In an early sign of the challenge, Utah Republican Party Chairman Rob Anderson sharply criticized the two-time presidential contender on Wednesday as a political interloper who is disconnected from the state and a potential headache for Trump.

"Mitt Romney doesn't live here, his kids weren't born here, he doesn't shop here," Anderson said in an interview with the Salt Lake Tribune. He compared Romney with Hillary Clinton, who grew up in Illinois but successfully ran for a Senate seat in New York in 2000 as a high-profile newcomer.

If Romney's soft launch is any indication — a social media push in which the former Massachusetts governor reintroduced himself to Utah voters by video — he is not seeking out those questions as he begins his campaign.

The video, produced by veteran Romney advisers and running over two minutes in length, recalled Romney's role in the Olympics and put an emphasis on "Utah values."

A Friday speech in Provo, Utah, at a GOP fundraiser, is also scheduled. His remarks there will steer clear of Trump and focus on how Congress could learn from the conservative state, several people close to Romney said.

Romney's careful Utah debut, planned for months by his family and longtime aides, cannot paper over the reality of his return to politics: Many Republicans nationally are desperate for him to be a champion for the party's traditional beliefs and a counterbalance to the president on issues including morality and Russian election interference.

(…)

f elected, Romney associates said he would operate in the Senate as an independent-minded lawmaker but would resist being labeled as a reliable Trump critic in the model of retiring Sen. Jeff Flake (R-Ariz.), who regularly speaks out against the president.

More often, these associates privately compare Romney to Sen. Bob Corker (R-Tenn.), who is reconsidering his retirement plans and leads the Senate Foreign Relations Committee. Corker has fiercely criticized Trump and recoiled at Trump's behavior, but he also has at times seemed torn about his leanings and worked with Trump on the party's big agenda items.

"Mitt Romney is not running for Senate merely to be a critic of Trump. I don't think he'd do this just to poke Trump in the eye. The call to service matters to Romney regardless of who's in the White House," said GOP operative Rick Wilson, who opposes Trump. "There are broader conservative movement questions that will fall to him naturally, but that's not the motivation."

Foreign policy is one area where Romney could clash with Trump and join the ranks of Sen. John McCain (R-Ariz.), who has been ill, as one of the party's more hawkish leaders on that front. While Trump considered Romney during the presidential transition as a possible secretary of state, Romney is far more hostile toward Russia and supportive of international institutions.

"The governor believes America cannot be withdrawn on the world stage," Williams said. "He is much more of a hard-liner when it comes to dealing with a thug like Vladimir Putin," the Russian president.
Here's the announcement posted shortly before 9:00 am Eastern time on Twitter:
I am running for United States Senate to serve the people of Utah and bring Utah's values to Washington. pic.twitter.com/TDkas6gD2p

— Mitt Romney (@MittRomney) February 16, 2018
As I said, this announcement doesn't really come as a surprise. Romney had hinted at an announcement that was originally scheduled to come yesterday which everyone assumed would be the commencement of a long-anticipated campaign. That announcement was postponed, though, due to the Parkland, Florida shooting. Prior to that, the status of Utah's Senate seat had been up in the air for most of the past year. Hatch, who currently serves as President Pro Tempore of the Senate, thus making in third in line for the Presidency behind the Vice-President and Speaker of the House, had said when he ran for re-election in 2012 that he would not run again in 2018. He appeared to waiver on that decision through much of 2016 and 2017, though but had made it well-known in Utah political circles that he would be more likely to retire if Mitt Romney agreed to enter the race to succeed him. For his part, Romney was mostly quiet about his thoughts on the matter, waiting instead to see what Hatch would do. However, it was reported several times that Romney was spending a considerable amount of time talking to friends, family, and supporters about a run and all indications were that he would enter the race if Hatch decided to retire. Behind the scenes, meanwhile, President Trump was lobbying Harch heavily to run for re-election, which many saw as a sign that Trump was concerned about the impact that having a critic such as Romney in the Senate So, when Senator Hatch announced shortly after the new year that he would not be running for another term, attention immediately turned to the former Massachusetts Governor and 2012 Republican nominee for President.
As things stand right now, Romney seems like a near shoe-in to become the next Senator from Utah. Other than Hatch, Romney is the most popular Republican in Utah. This is perhaps most clearly indicated by the 2012 Presidential race in which he won the state by nearly half a million votes, the largest margin of any Republican or Democratic candidate since Utah became a state. Previously, Romney had won the state in the Republican primary by an even larger margin in no small part because his opponents that year didn't even bother to mount much of a campaign against him there. The same thing happened in the Utah primary in 2008, which Romney won with 93% of the vote.  In 2008, Romney won the Republican primary by more than 250,000 votes. Furthermore, a poll taken last September indicated that Romney would win rather easily in a General Election against virtually any conceivable Democratic opponent. Given all that, it seems clear that Romney would easily win in November.
If he does win, of course, Romney will receive a lot of national attention not only because he was previously a candidate for President, but also because of his public opposition to the rhetoric of President Trump. He demonstrated this most prominently, of course,  back in March 2016 with a speech during which he openly attacked Trump in a manner that none of Trump's Republican opponents ever even tried to equal. He's continued to be a prominent Trump critic via his Twitter account, which he has used to speak out against Trump regarding his remarks after the violence in Charlottesville, Virginia and his comments last month where he referred to so-called "shithole countries." The prospect of an equally critical Senator Romney in the Senate is reportedly one of the reasons that the President was urging Hatch to reconsider his decision to retire. Assuming Romney does win,  he could find himself quickly in a position of significant influence, with some reports indicating he could become the next head of the National Republican Senatorial Committee, the fundraising arm of the Senate GOP Caucus dedicated to fundraising and spending on behalf of Republican Senate candidates. The main reason for that, of course, would be to take advantage of Romney's fundraising prowess and the fundraising network of supporters that he has access to dating all the way back to his campaign for Massachusetts Governor.
It's always possible, of course, that Romney could stumble and lose the primary or the General Election, but the odds of that happening seem to be exceedingly low. So, barring the unexpected, you're likely looking at the next Senator from Utah.