Mitt Romney Drops A Big Hint About Senate Bid
He's tan. He's rested. He's ready. And, yes, he's running.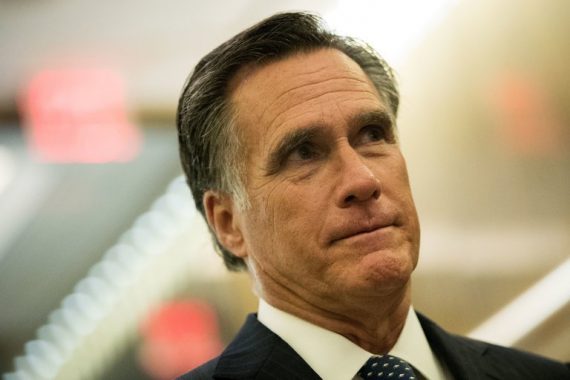 Early last month, Utah Senator Orrin Hatch, who has been serving in the Senate since 1977 and has been President Pro Tempore of that body, and thus third in line of succession for the Presidency, announced that he would not be running for another term, thus ending a year of speculation about the future of his political career. Almost immediately after that happened, attention immediately turned to former Massachusetts Governor and 2012 Republican nominee for President Mitt Romney, who has been seen as a potential successor to Hatch for some time now. Initially, Hatch had promised that he would not seek another term in 2018 when he ran for re-election in 2012, but he appeared to pull back on that pledge at various times that year, and it was reported that President Trump was urging him to stand for re-election notwithstanding his previous pledge. For his part, Hatch had made it known that he was more likely to retire if Mitt Romney agreed to enter the race to succeed him. For his part, Romney was mostly quiet about his thoughts on the matter, waiting instead to see what Hatch would do. At the same time, it was widely reported that Romney was spending the better part of the year talking to friends, family, and supporters about a potential run and all indications were that he would enter the race if Hatch decided to step aside.
After Hatch's announcement, Romney took several small steps that seemed to be indicative of a run for office in the making, including quietly changing the location listed on his Twitter profile page from Massachusetts to Utah, where he has a home and where several of his children and other relatives live. On Thursday, though, Romney dropped his biggest hint yet, with a Tweet hinting at an "announcement" on February 15th:
Looking forward to making an announcement on February 15th about the Utah Senate race. https://t.co/OLXWZWREEK

— Mitt Romney (@MittRomney) February 1, 2018
Clicking on the link takes you to a barebones website that currently consists of just an opportunity to sign up for a mailing list and an invitation to "Join Team Mitt." This seems to be a clear indication that Romney is running and that he'll be entering the race in just under two weeks, most than enough time to meet all the required filing deadlines and begin fundraising for both the primary and the General Election. As of yet, nothing of consequence has been filed with either the Federal Election Commission or with the office of the Lt. Governor of Utah, which handles the regulation and supervision of elections in the state, but there's more than enough time for that and it's likely that those documents would be filed when Romney makes his announcement. So far, the only candidates who have filed with the second office regarding their intention to run for Hatch's seat, and all of them appear to be relative unknowns. In any case, it's unlikely that Romney would be teasing an announcement on February 15th if he were announcing that he's not running after all. This seems to be a clear indication of an event on that day that will likely receive widespread statewide and, due to Romney's prominence in the GOP even after 2012, nationwide media coverage.
If he does run, it's unlikely Romney will face anything other than token opposition in the Republican Primary. Other than Hatch, Romney seems to be the most popular Republican in Utah, something clearly demonstrated by the results of the 2012 Presidential election. In that race, he won the state by nearly half a million votes, the largest margin of any Republican or Democratic candidate since Utah became a state, and he had previously won the state in the Republican primary by an even larger margin in no small part because his opponents that year didn't even bother to mount much of a campaign against him there. The same thing happened in the Utah primary in 2008, which Romney won with 93% of the vote. Furthermore, a poll taken last September indicated that Romney would win rather easily in a General Election against virtually any conceivable Democratic opponent. Given all that, it seems clear that Romney would easily win in November. If he does run, of course, Romney will receive a lot of national attention not only because he was previously a candidate for President, but also because of his public opposition to the rhetoric of President Trump. He demonstrated this most prominently, of course,  back in March 2016 with a speech during which he openly attacked Trump in a manner that none of Trump's Republican opponents ever even tried to equal. He's continued to be a prominent Trump critic via his Twitter account, which he has used to speak out against Trump regarding his remarks after the violence in Charlottesville, Virginia and his comments last month where he referred to so-called "shithole countries." The prospect of an equally critical Senator Romney in the Senate is reportedly one of the reasons that the President was urging Hatch to reconsider his decision to retire.
Assuming he does run and win, The Atlantic is reporting that Romney is already being considered for a leadership position:
Mitt Romney hasn't even officially announced his candidacy for U.S. Senate, yet Republican leadership is already seeing stars.

According to a Republican donor with direct knowledge, Senate GOP leaders have expressed an early interest in having Romney succeed Colorado Senator Cory Gardner as chairman of the National Republican Senatorial Committee. The role involves leading the Senate GOP's fundraising arm and helping recruit and vet prospective GOP candidates for the upper chamber. A Republican source close to Romney confirmed that the idea of the Utah Republican taking over the NRSC has generated chatter in recent weeks.

On Thursday afternoon, Gardner placed a call to a GOP donor, and said that he and Senate leadership "liked Romney" for the NRSC post. "It made perfect sense to me," said the source, who requested anonymity to share details of the private conversation. "He's got the stature and a virtually unmatched fundraising base to draw upon. And he's running because he wants a national platform to help the party anyway."

According to two Republicans close to Romney, who requested anonymity to describe private conversations, McConnell assured the former presidential nominee last year that if he ran for Senate he would have more influence than the typical junior Senator. "I was not on any Gardner calls yesterday and am therefore unaware of any conversations he may have had," said a spokesperson for McConnell.

Some Romney boosters have speculated that he might take a formal leadership position in the chamber, while others have mused that he could use the Senate seat as a platform for a 2020 presidential bid. But one source close to Romney said the idea of his taking over the NRSC has gained traction in recent weeks among donors and allies. "It's definitely out there, there's no question about that," the source close to Romney said, adding, "My guess is McConnell's pushing it because it would be good for the party and good for fundraising."
Installing a newly-elected Senator in such a prominent leadership position would admittedly be highly unusual, but there is some logic in Romney taking over the spot. The NRSC is the primary fundraising arm of the GOP for Senate candidates, and there is nobody in the party who has access to the kind of fundraising sources that Romney does. Putting him at the head of that body would be a big boost for fundraising for the 2020 and 2022 campaigns, and perhaps longer depending how long Romney ends up serving as a Senator. The only factor that would appear to stand in the way of such a move would be Romney's criticisms of President Trump over the past two years. As noted above, it seems quite obvious that Trump was lobbying Hatch to stay in the Senate in no small part to avoid the prospect of a Trump critic like Romney in the Senate is not one he looked forward to. The prospect of Romney not only in the Senate, but also in a leadership role may be a step too far for the President, although it's unclear if Mitch McConnell and the other Senate leaders would let that stop them from giving Romney such a prominent boost.
In any case, it seems clear that Romney is running, and that he'll win. What happens after that will be interesting to watch.