Orrin Hatch Announces Retirement, Opening The Door For Mitt Romney
After forty years in the Senate, Orrin Hatch announced that he will not seek re-election this year, thus opening the door for Mitt Romney to succeed him.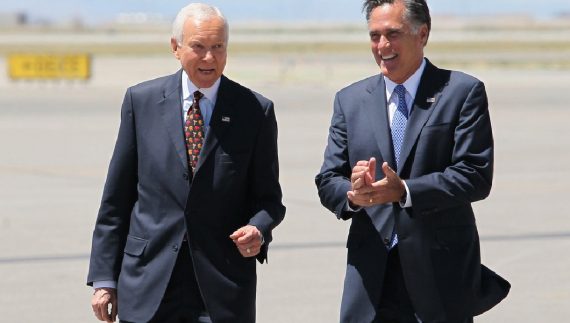 Orrin Hatch, who has represented Utah in the Senate since 1977 and currently serves as President Pro Tempore of the Senate, a position that puts him third in the line of succession to the Presidency, announced on Tuesday that he will be retiring at the end of his current term, opening up a Senate seat in a reliably Republican state:
Senator Orrin G. Hatch of Utah, the longest-serving Senate Republican, announced on Tuesday he will retire at the end of the year, rebuffing the pleas of President Trump to seek an eighth term and paving the way for Mitt Romney to run for the seat.

Mr. Hatch made his decision public on Tuesday afternoon via a video announcement, according to two Republican officials briefed on the plans.

"When the president visited Utah last month, he said I was a fighter. I've always been a fighter. I was an amateur boxer in my youth, and I brought that fighting spirit with me to Washington," he said. "But every good fighter knows when to hang up the gloves. And for me, that time is soon approaching."

Mr. Hatch, 83, was under heavy pressure from Mr. Trump to seek re-election and block Mr. Romney, who has been harshly critical of the president. But Mr. Hatch, who emerged as one of the president's most avid loyalists in the Senate, decided to retire after discussing the matter with his family over the holidays. The veteran senator was also facing harsh poll numbers in Utah, where 75 percent of voters indicated in a survey last fall that they did not want him to run again.

Mr. Hatch's decision comes just weeks after Mr. Trump signed a sweeping tax overhaul into law, a measure that the senator helped write as chairman of the Finance Committee. The bill represented something of a capstone to Mr. Hatch's four decades in Congress and Senator Mitch McConnell of Kentucky, the majority leader, even deemed it as such last month in what was seen as a subtle effort to usher his colleague to the exits.

"It would be difficult to defeat Mitt Romney if he were running here," said David Hansen, a longtime Utah Republican strategist and chairman of Mr. Hatch's political organization.

But Mr. Hatch had privately told Mr. Romney he was not sure he was ready to leave a seat he has held since 1977 and White House officials did all they could to nudge him into another campaign. Last month, Mr. Trump flew with Mr. Hatch on Air Force One to Utah for a day of events that was aimed entirely at lobbying the senator to run again.

(…)

The president has had Mr. Romney on his mind. Over golf earlier this year, Mr. Trump asked Senator Lindsey Graham, Republican of South Carolina, what he thought of the former Republican nominee. (Mr. Graham said he praised Mr. Romney and predicted he would be a solid senator.)

Mr. Romney repeatedly assailed the president during the 2016 campaign, calling Mr. Trump "a fraud," and Mr. Trump returned the favor, stating that Mr. Romney "choked like a dog" in the 2012 race. The two had something of a rapprochement after the election when Mr. Romney was briefly considered as secretary of state, but White House advisers are uneasy about having such a well-known critic in the Senate.

But as the president prodded Mr. Hatch to stay, voices in his home state were urging him to go. On Christmas Day, The Salt Lake Tribune named the senator "Utahn of the Year," but not for flattering reasons.

"It would be good for Utah if Hatch, having finally caught the Great White Whale of tax reform, were to call it a career. If he doesn't, the voters should end it for him," the editorial concluded.
More from The Salt Lake Tribune:
After 40 years in the Senate, Utah's Orrin Hatch said Tuesday he plans to retire at the end of the year and not seek re-election, ending breathless speculation on whether the powerful senator would try for an eighth term.

Hatch, who has $4.7 million in his campaign account and a fundraiser scheduled this weekend, said he has been honored to serve and that he's a fighter — but that the time has come.

"Every good fighter knows when to hang up the gloves," the senator said in a video released by his office. "For me, that time is soon approaching. That's why after much prayer and discussion with family and friends, I've decided to retire at the end of this term."

(…)

Polls have shown that three-quarters of Utahns wanted Hatch, 83, to retire, though the senator had said he was listening to pressure from President Donald Trump, fellow senators and other Utah leaders in weighing another term. He said Monday that was not to be.

"Although I will miss serving you in the Senate, I look forward to spending more time with my family, especially my sweet wife, Elaine, whose unwavering love and support made all of this possible," Hatch said.

The senator had said recently his wife had urged him not to run again.

Hatch, who began serving in office in 1977, had promised his 2012 bid for office would be his last, though he backtracked later, saying he may need to seek another term because of his position as chairman of the Senate Finance Committee and as the eldest Republican, the Senate president pro tem, third in line for the presidency.
For his part, Romney has posted messages on both his Twitter and Facebook pages:
I join the people of Utah in thanking my friend, Senator Orrin Hatch for his more than forty years of service to our great state and nation. Read my full statement: https://t.co/YwjUpjez5y

— Mitt Romney (@MittRomney) January 2, 2018
This announcement doesn't come entirely as a surprise, of course. For much of last year, Capitol Hill and Utah itself was rife with speculation over whether Hatch would run for re-election or not. Initially, the signals that were coming from the Senator and those close to him indicated that he was inclined to retire, but that he was more likely to do so if Mitt Romney agreed to enter the race to succeed him. For his part, Romney made it known that he would only consider running for the seat if Hatch decided to retire. The speculation about Hatch's retirement began to fade, though, as the year went on and reports surfaced that President Trump himself was lobbying Hatch to reconsider his apparent inclination to leave the Senate at the end of this year and run for re-election notwithstanding his previous promise. Had he done so, it's unlikely that Hatch would have faced any serious opposition in a Republican primary and that he would be re-elected easily in a General Election. Indeed, it has been several election cycles since Democrats in the state put up anything other than token opposition to Senator Hatch, and the candidate they did nominate typically received only minimal assistance from outside the state given the fact that any such investment would have been a waste in a race where a Democratic candidate had essentially no hope
As for Romney, Hatch's announcement means that the attention now turns to him and that the race to succeed Hatch will essentially be on hold until Romney makes his intentions clear. If he does decide to run, it's unlikely that Romney would face anything but token opposition in the Republican primary. Outside of Hatch, Romney is probably the most popular Republican in Utah, a fact demonstrated by the results of the 2012 Presidential election, where he won the state by nearly half a million votes, the largest margin of any Republican or Democratic candidate since Utah became a state. Additionally, a poll taken last September indicated that Romney would win rather easily in a General Election against virtually any conceivable Democratic opponent. If Romney does run, of course, then there will be much attention paid to the fact that he is known to be a long-standing critic of President Trump's, something he demonstrated quite well back in March 2016 with a speech during which he openly attacked Trump in a manner that none of Trump's Republican opponents ever even tried to equal. The prospect of an equally critical Senator Romney in the Senate is reportedly one of the reasons that the President was urging Hatch to reconsider his decision to retire.
Romney will likely wait at least a few weeks before making any formal announcement, but all indications are that he's likely to decide in favor of running. If that's the case and he does indeed win, then things in Washington could be quite amusing to watch.