Former Presidential Candidates Emerging As Candidates For Senate In 2018
Several former candidates for President are emerging as potential candidates for Senate.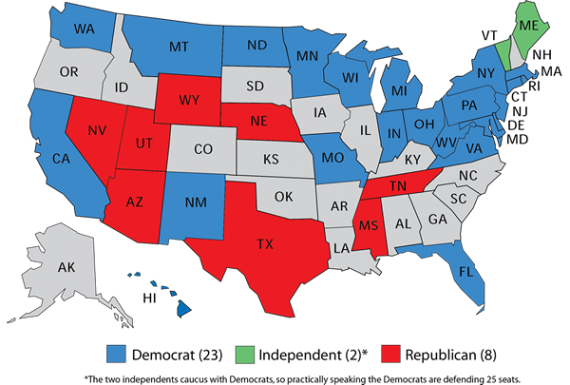 The GOP's slate of Senate candidates in 2018 could include several former candidates for President:
A handful of former presidential candidates are testing the waters for 2018 Senate races.

Carly Fiorina, who ran for president in 2016, earlier this week expressed interest in challenging Virginia Sen. Tim Kaine, the former Democratic vice presidential nominee.

And in Utah, the GOP field could be lush with ex-presidential candidates if GOP Sen. Orrin Hatch retires. Jon Huntsman, a 2012 GOP candidate, could run for the seat, as could 2016 independent candidate Evan McMullin. Even Mitt Romney, the GOP's 2012 nominee, hasn't ruled anything out.

Former presidential candidates have a huge advantage coming into a Senate race, having already created a national profile and a fundraising network. Utah's Senate race appears ripe for opportunity, even though Hatch, the longest-serving GOP senator in history, has kept his cards close to his chest about whether he'll retire at the end of his term in 2018.

Hatch is considering running for an eighth term, even though he previously said in 2012 that he'd retire in 2018. Potential Senate contenders have said their candidacy would be contingent on his decision, but Utah political observers expect a contested primary regardless.

"Utah's going to have an exciting primary race in 2018 for the Senate, I'm very confident, no matter what," said Damon Cann, a political science professor at Utah State University.

"Whether Sen. Hatch is in or out, there are candidates who are scoping out opportunity, and for a number of them, I think they will run whether Hatch stays in or out of race."

Huntsman, who ended his 2012 presidential bid after coming in third place in New Hampshire's primary, is considering a Senate bid. The former Utah governor and former ambassador to China is seen as a formidable opponent whose gubernatorial tenure was viewed favorably in the state.

While he has said in interviews said that his decision would be partially based off Hatch's decision, observers speculate that he'll mount a bid in any circumstance.

A poll from late January found that nearly 80 percent of Utah voters believe Hatch shouldn't run for another term. The survey, which was conducted for a Utah paper owned by the Huntsman family, also found Hatch trailing the former governor.

McMullin is viewed as another top contender in the state. His presidential candidacy emerged from the "Never Trump" movement, and he pitched himself as the alternative for voters who couldn't bring themselves to support Trump or Hillary Clinton.

(…)

But any hopes for McMullin or Huntsman would likely be dashed if Romney were to get in the race, as he would almost certainly be the front-runner.

Ryan Williams, a former aide to Romney's presidential campaign, said while he hasn't spoken to Romney directly about a Senate bid, he'd be surprised if he jumped into the race.

"I would at this point be extremely surprised if the governor ran for Senate, but it's something he won't rule out because of his strong desire to explore all opportunities in public service," Williams said.

The former Massachusetts governor has close ties in Utah and has frequently touted his time as CEO of the 2002 Salt Lake City Olympic Committee.

While he appears less likely to run, others in the state look to his son, Josh Romney, as a possible Senate candidate or potentially running for governor in 2020.

"He is the Romney to watch for the Senate election rather than Mitt," Cann said.

Rep. Jason Chaffetz (R-Utah), chairman of the powerful House Oversight Committee, is also floated as a potential contender.
While I am admittedly not well-versed in Utah politics, it strikes me that most of these named candidates would decline to run if Hatch were to decide to run for another term after all.
Chaffetz in particular is a Hatch protege who is in a secure House seat and Committee Chairmanship that gives him a decent shot at being part of party leadership in the near future if he stays in the House. Unless Hatch decides not to run, it's difficult to see him giving all of that up for a run at the Senate that could prove to be unsuccessful, especially given that it would most likely be considered a personal betrayal of a man who is among the most popular politicians in Utah.
McMullin is harder to read and he may view taking on Hatch as the same kind of name-building challenge that running for President turned out to be. As it turned out, McMullin's largely quixotic Presidential bid was actually better managed than I anticipated and he has spent the time since the election attempting to become the center of whatever is left of the anti-Trump movement among Republicans and conservatives. While a Senate run, either with or without Hatch in the race, would be a long shot it would likely garner more media time that could translate well into a future political career, including a possible Pat Buchanan-like challenge from the right to Trump in the GOP primaries in 2020.
It's also hard to tell what Huntsman might do if Hatch stays in the race. In an open field, the former Governor and Ambassador to China would likely be among the frontrunners for the Republican nomination and victory in November, but it's hard to tell whether voters would be willing to turn against Hatch in a primary battle even if the opposing candidate is a popular former Governor.
And then, finally, there are the Romneys. In all honesty, it seems unlikely that Mitt Romney would decide to run either with or without Hatch in the race. He'll turn 71 years old in March 2018 and, while Romney appears to be as physically fit and younger than his years as he was when he ran for President, it also seems as though he is enjoying what amounts to a retirement and his role as a Republican elder statesman. So, rather than running himself, it's likely that Mitt would be more interested in playing a role in deciding who the nominee will be in 2018, especially if Hatch decides not to run. Romney's son Josh, on the other hand, is a different matter. He's been mentioned as a potential candidate for Senate for several years now and a Hatch retirement would be the perfect opportunity for him, especially since he'd likely have immediate access to his fathers network of advisers, boosters, donors, and fundraisers.
As for Virginia, things are more complicated:
In Virginia, meanwhile, Fiorina told a local radio station that she is "certainly looking" at challenging Kaine. The former Hewlett-Packard CEO memorably feuded with Trump during the 2016 GOP primary and ended her bid after the New Hampshire primary. She joined Sen. Ted Cruz's (R-Texas) would-be presidential ticket and only backed Trump's bid less than two months out from the November election.

While the race is still early and the field has yet to take shape, there are a few other Republican names being floated for the Virginia race. GOP Rep. Barbara Comstock, who recently won reelection to her swingy Northern Virginia seat, is considered a top contender.

"Without knowing what the full field looks like, [Fiorina's] got a good shot," said a Virginia political operative. "She's a good campaigner."

Strategists point to her experience in the technology sector, which they say plays well in Northern Virginia. But they note that one roadblock Fiorina might face is reminding voters that she lives in the state. She has previously run for Senate in 2010 in California.

"After she ended her presidential campaign, she has been making rounds across the state and helping other candidates," the Virginia operative said. "She's getting her name out to the grassroots folks that would be helpful for her to propel her in the primary."

Conservative radio host Laura Ingraham is also mulling a run for the Senate seat after being considered for White House press secretary in Trump's administration. Rep. Dave Brat (R-Va.), who took himself out of the running for the Senate seat, praised Ingraham, according to the Washington Post.

Former Virginia Gov. Jim Gilmore, who also unsuccessfully ran for the 2016 GOP nomination, is considering a run as well.

While the race for Virginia's Senate seat is considered competitive, Kaine would likely go in with a slight advantage, given Clinton's victory in the state and his own foray into vice presidential politics.
Virginia is presently in the middle of its quadrennial race for Governor, Lt. Governor, and Attorney General, as well as the state legislature, so there's not really much attention being paid to the Senate race in 2018. Republicans are eager to compete in the race for the state's top three elected office, especially after being locked out from winning any of them in the 2013 election for the first time in quite awhile. As a result, there's a large field of candidates for the open Governor's spot and for Lt. Governor and Attorney General In addition to the names listed above, then, it's also possible that one or more of the candidates who comes out unsuccessful in their bid for the GOP nomination could decide to throw their hat in the ring. All of this would make it more difficult for a carpetbagger such as Fiorina to capture the nomination, especially given the fact that her 2010 bid for the Senate in California was an abject failure in a year in which the Republican Party flourished nationwide and that her White House run also pretty much ended with a dud. Nonetheless, given the fact that she was denied a position in the Trump White House, thanks no doubt to the campaign she ran when she was named as Ted Cruz's proposed running mate late in the race for the Republican nomination, even a quixotic run for the nomination in Virginia could be a way for her to make her appear to continue to be relevant to Republican voters nationwide.