Will Jon Huntsman Get A Second Look, Or Even A First, From Conservatives?
Jon Huntsman's campaign has never really gotten off the ground. Will conservatives start taking him more seriously?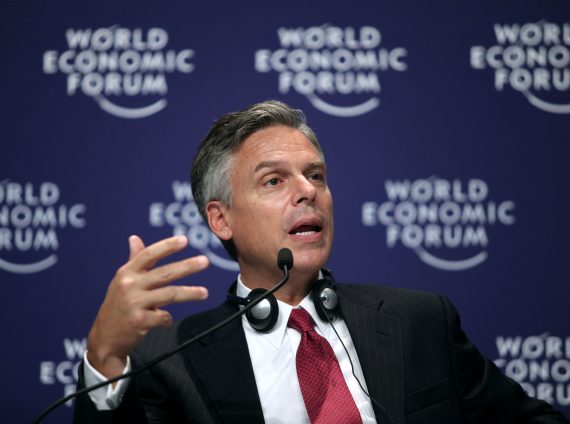 Over at PJ Media (the new name of Pajamas Media it would seem), Nichole Austin tells her fellow conservatives that they really ought to give the former Governor of Utah a look, because pretty much everything they think they know about him is wrong:
Despite scuttlebutt to the contrary, former Utah Governor Jon Huntsman is not a Democrat in disguise, but was in fact a relatively ambitious conservative governor.  And if he is "moderate," he is not appreciably more moderate than other leading candidates or party leaders. If one compares records honestly and looks at policy positions realistically, one will find that in many ways, Huntsman is more conservative than Mitt Romney — who will likely receive the Republican nomination. A surreal juxtaposition to be sure.

As governor of Utah, Huntsman ushered in a boldly transformed tax system. He flattened the tax code, doing away with many, though not all, deductions and credits, and changing six-brackets of progressive income tax rates into one low 5% rate. (Compare with Rick Perry's proposed 20% flat income tax and Herman Cain's emblematic 9%.)  According to PoliFact.com, this new system reduced taxes approximately 30% for the wealthiest residents, and due to remaining tax deductions "the effective tax rate [was] about 3 percent for Utah taxpayers earning $70,000 a year in 2008 and 4 percent for a household with $100,000 in taxable income[.]" He also eliminated the Child Tax Credit and Earned Income Tax Credit, a credit Reagan supported and which many Republicans today label "socialist."

Also according to PolitiFact, which simply crunched Bureau of Labor Statistics figures, Utah was fourth in the nation for job creation during the period immediately preceding and including the 2008-2009 recession, right behind Texas, which was third in the nation.

(…)

Of course, one other noteworthy item on Huntsman's resume is that he pursued free market-based health care reform in Utah. The system primarily involved a competitive private health care exchange, diversified consumer options, and electronic medical records. Gregg Girvan of the Heritage Foundation praised it as a "blueprint" for state health care reform. Furthermore, the state did not impose a health insurance mandate on private citizens, although early on, Huntsman seemed to have favored a mandate, as did former Minnesota Governor Tim Pawlenty. Both Mitt Romney and Newt Gingrich have endorsed insurance mandates of some kind and seem to think that they're necessary features of a workable health care reform model. On a related note, like most other candidates, Huntsman also said he would repeal Obamacare.
Austin also goes on to note that Huntsman has been consistently pro-life, that he has backed Paul Ryan's budget plan while other Republican candidates have distanced themselves from it, and that when he let office after eight years the Pew Center named Utah as the best managed state in the nation. He's put forward a tax plan that has been praised by conservatives economists and The Wall Street Journal. To all of this I would add that Huntsman has a resume that is, arguably, more well-rounded than any other candidate in the field. In addition to the political experience of a Rick Perry, he's got the business experience of Mitt Romney and Herman Cain, and he's got direct experience in foreign policy that none of the candidates have.
So why has Huntsman been so roundly rejected by conservatives who have so far spent the campaign season jumping from Sarah Palin to Donald Trump to Herman Cain to Michele Bachmann to Rick Perry, back to Herman Cain, and now to Newt Gingrich?
Part of it, no doubt, is simply the fact that Huntsman was somewhat of an unknown when he entered the race. The Governor of Utah, and even the United States Ambassador to China, isn't exactly a high profile media position. Additionally, unlike Perry, Hunstman was never associated with something like the Tea Party movement so he didn't get the media and activist attention associated with that. Moreover, Huntsman's campaign seemed to come out of nowhere. As his tenure in Beijing was winding down, the rumors of a Huntsman run for the Presidency started to leak out and a lot of people, myself included, said "who?" For a guy with the resume of what should be a first tier candidate, Huntsman started out, and basically still has, a third tier campaign that is basically going for broke in New Hampshire in the hope that a surprisingly strong showing there will lead to success elsewhere.  It's something of a miracle, in fact, that Huntsman has managed to perform well enough in the polls to get invited to the debates because he could just as easily be in the same boat as Gary Johnson and Buddy Roemer, both of whom have been effectively shut out of that venue by debate participating rules.
Huntsman's other problem among conservatives seems to be that they think he's some kind of liberal Republican to the left of Mitt Romney. Part of this seems to simply come from the fact that he accepted a job as U.S. Ambassador to China under President Obama. Huntsman has responded to that by saying that he was asked to serve his country by the President of the United States and he's always believed that's an offer you can't turn down. It's a perfectly reasonable response, actually. In accepting a position offered by a President of the opposing party, Hunstman was following in the footsteps of other American leaders, Republican and Democrat, who have done the same thing numerous times. After losing the 1940 election for example, Wendell Wilkie served as FDR's personal representatives on trips to Europe in 1941, and the USSR and China in 1942. We saw other examples of this after World War Two, but now it seems like serving in the Administration of Barack Obama, even just as an Ambassador, has somehow disqualified Huntsman in the minds of some conservatives.
Austin points to another complaint you hear from conservatives about Huntsman:
[A] truly perplexing complaint against Huntsman is that he is a "left-wing media darling." His favorable press in unusual precincts, such as Vogue and the New York Times (which recently speculated he has the best chance of beating Obama), is seen as evidence of his liberalness. Although this may be a "turn-off," it is a vacuous one. Only Huntsman's policies can be the true judge of his conservative bone fides; and the fact that liberal journalists and media staples are intrigued, and perhaps even like, Huntsman should be seen as an asset, not an albatross. To nominate a solid conservative whom liberals would actually consider voting for is something R epublicans should value in a candidate.
One can hardly blame Huntsman for accepting invitations to speak whenever he gets them considering the state of his campaign. I'm sure if the people over at Fox News Channel asked, he'd gladly appear there as well because, well, a campaign like his can use as much free publicity it can get. Yes, it's true that Huntsman needs to talk to Republican voters in order to do well in the race for Republican nomination, but one can do that in venues other than FNC and the Rush Limbaugh show. Especially in states like New Hampshire, independent voters are as important in a primary battle as committed Republicans are, and if Huntsman succeeds in getting their attention he might actually be on to something.
Of course, you cannot blame the fact that conservatives are largely ignoring Huntsman just on them. His campaign has made what I would consider several key mistakes along the way that have needlessly reinforced the perception that many on the right had about him. On several ocassions, for example, Huntsman openly criticized Republicans who disagree with him about climate change and evolution. Now, I personally happen to think that the current conservative positions on these issues are needlessly anti-science to an alarming degree, so I tended to agree with Huntsman when he said those things. When you're running for your party's nomination, though, it doesn't help you one bit to start criticizing the people who you want to vote for you that way. Just ask Rick Perry how well it went for him when he called people who opposed his support of in-state tuition for illegal immigrants "heartless." It was, many believe, the beginning of the end of what had been a stratospheric rise on his part that seemed to put the nomination his grasp at one time. Similarly, Huntsman could have stated that position differently, and he could refrain from restating it so often in media appearances. It doesn't do him any good.
If Huntsman is going to succeed, and it quite honestly isn't very likely given how little time is left, he will need to give Republicans a reason to vote for him. That means getting across the message that he has far more in common with them than the seem to think. That will require changing the misconceptions that conservatives have, while at the same time emphasizing that resume I noted above. Tonight's foreign policy debate might be one of those opportunities, because by all rights Huntsman ought to be able to wipe the floor with most of the people on the stage with him in South Carolina. Whether anyone will listen is another question, of course, but it's really the only shot he has.