Jeff Flake 2020? He Seems Open To The Idea.
It would be a rather quixotic effort, but Jeff Flake isn't ruling out challenging the President for the Republican nomination in 2020.
Doug Mataconis · Thursday, November 15, 2018 · 34 comments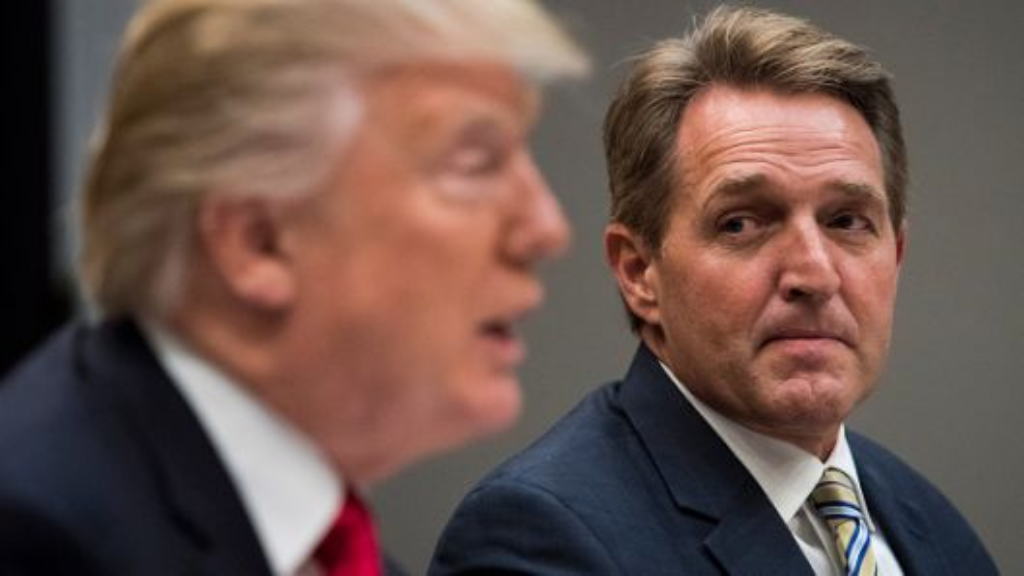 Retiring Arizona Senator Jeff Flake isn't ruling out the idea of running for the Republican nomination in 2020 against President Trump:
Jeff Flake said Friday that a Republican needs to challenge Donald Trump for the Republican presidential nomination in 2020. And it might be him.

Flake gave at least some credence to the widespread speculation that he might mount a quixotic primary campaign against Trump, given the retiring senator's public fretting about the state of the party. The Arizona GOP senator, who has visited New Hampshire recently, is decidedly keeping his name out there.
"I've not ruled it out. I've not ruled it in. Just, somebody needs to run on the Republican side," Flake said on Friday in a lengthy conversation with POLITICO and The Hill on Friday. Flake said both outgoing Ohio Gov. John Kasich and Nebraska GOP Sen. Ben Sasse could give Trump a credible challenge.

Flake insisted that Trump's popularity in the party is ruining the GOP's long-term viability and predicted only a brutal electoral loss could make that clear.

"I hope somebody does [run], just to remind Republicans what it means to be conservative and what it means to be decent. We've got to bring that back," Flake said. "You can whip up the base for a cycle or two but it wears thin. Anger and resentment are not a governing philosophy."

Flake was willing to rule one thing: A return to the Senate in the near future. There's an open Senate seat up for grabs in Arizona in 2020, but the first-term senator made clear it's not for him. "That's not in the cards, dude … but I'm not swearing off politics," he said.

Indeed, the soft-spoken but attention-seeking Republican is eyeing a brutal legislative battle with Trump before he retires, planning to push legislation to protect Special Counsel Robert Mueller. The odds are long: Majority Leader Mitch McConnell thinks the proposal is unnecessary even after Attorney General Jeff Sessions was pushed out. And it's easy enough for Republicans to shut down Flake's demands for a vote, unless he and his Democratic allies insist that his plan is included in spending legislation.

Still, Trump is taking notice, attacking Flake on Twitter Friday for pressing forward with the Mueller bill.

"Jeff Flake(y) doesn't want to protect the Non-Senate confirmed Special Counsel, he wants to protect his future after being unelectable in Arizona for the 'crime' of doing a terrible job! A weak and ineffective guy!" Trump said.

On Wednesday, the president also took credit for pushing Flake out of office. After releasing a book excoriating Trump, Flake announced last year he would not run for reelection.

So on the issue of his own political viability, Flake said Trump had a point.

"In a sense, he did. The price to win a Republican primary was to stand on a stage with the president over and over while he insults minorities and ridicules both Republicans and Democrats and Americans," Flake said. "I couldn't do that. So, in a sense, yeah. I'll give him credit."
More from The Hill:
Retiring GOP Sen. Jeff Flake (Ariz.) on Friday said he wouldn't rule out making a primary challenge to President Trump in 2020, emphasizing that someone in the party needs to run against him.

"I've not ruled it out. I've not ruled it in. Just, somebody needs to run," Flake told reporters on Friday.

Asked who else within the party should be in the "conversation" about a primary challenge to the president, Flake pointed to Ohio Gov. John Kasich and Sen. Ben Sasse(Neb.), a sometimes Trump critic within the GOP caucus who Flake described as a "strong candidate" if he decided to run.

"But I hope somebody does just remind people what it means to be conservative and what it means to be decent, we've got to bring that back," Flake said. "If we're going to be a relevant party in the future then we've got to be a decent party."

"This politics of grievance and anger and resentment, you know, you can whip up the base for a cycle or two but it wears thin," he added. "Anger and resentment are not a governing philosophy."

Flake is one of a handful of Republican officials who have earned speculation as a potential 2020 challenger to Trump. He's previously called for a member of the party to challenge the president and hasn't shutdown questions about a 2020 bid of his own.

While Republicans picked up seats in the Senate during Tuesday's midterm election, they also faced a revolt from female, suburban voters who they need if they want to regain a majority in the House and likely to hold onto the White House in 2020.

When asked if the party could flip back congressional seats without making changes, Flake responded: "No, we cant. I'm one who still holds to that autopsy that we did back in '12. …You can't fight demographics and you've got to appeal to a broader electorate."

Whether Trump can win reelection, Flake said, depends on if Republicans primary the president, as well as who Democrats nominate — a progressive or an individual more to the center of the party.
This isn't the first time that Flake's name has emerged as a potential challenger to the President for the Republican nomination in two years. Ever since Flake announced last year that he was not running for re-election, and later released a book that was sharply critical of the President on a number of grounds, many pundits have suggested that he was maneuvering himself into position for a challenge to Trump and a rallying point for those remaining Republicans who have remained in the party but who don't necessarily support the President, a number that could see itself increase in the wake of the losses that the party suffered in the just-concluded midterm elections. In his book, Flake was even more critical of the President than he has been in public, and this resulted in the President and many of his supporters unleashing a war of words on Flake that continued through the midterm elections. Flake also played a prominent role during the confirmation hearings for Justice Brett Kavanaugh when he joined with Senators Lisa Murkowski and Joe Manchin to force a delay in the final vote on the Senate floor to allow the F.B.I. to reopen Kavanaugh's investigation to include a look at the allegations made by Christine Blasey Ford and other women. That investigation, of course, was inconclusive and Flake ended up voting in favor of Kavanaugh on the Senate floor. Indeed, as many on the left have pointed out, notwithstanding his rhetoric Flake continued to vote with his party, and the President on the Senate floor, although given the fact that Flake still considers himself to be a conservative it's unclear what they expected him to do.
Realistically speaking, it's worth noting that primary challenges to incumbent Presidents have not exactly been successful in the modern era. The most recent such challenge that was in the least bit credible was in 1992 when Pat Buchanan challenged George H.W. Bush from the right, and before that the most notable have occurred in 1980 when Ted Kennedy challenged Jimmy Carter, in 1976 when Ronald Reagan challenged Gerald Ford, and in 1968 when Eugene McCarthy mounted a stronger-than-expected upstart campaign to challenge Lyndon Johnson over the Vietnam War. While that last challenge did result in LBJ eventually deciding not to run for re-election, it's fair to say that none of these challenges was successful in that none of them led to the primary challenger actually defeating the incumbent President's bid for renomination. Indeed, in the modern primary era, there has yet to be an election where this has been the case. Reagan came close in 1976, and Kennedy came out of his 1980 fight with Carter as the undisputed leader of the liberal wing of the Democratic Party, a role he continued to play throughout the Reagan Administration. But none of these challengers won, and the most that they have done is to weaken the incumbent and make it harder for them to win re-election.
At the same time, it's worth noting that while unseating an incumbent President is not an easy task, the extent to which an incumbent has faced a challenge from within his own party has seemed to play a significant role in what happens in the General Election. In the past fifty years, for example, incumbents have stood for re-election eight times and have lost that bid on only three occasions, Gerald Ford in 1976, Jimmy Carter in 1980 and George H.W. Bush in 1992. If you add Lyndon Johnson, who declined to stand for re-election after a narrower than expected victory over Senator Eugene McCarthy in the 1968 New Hampshire primary, then that makes it four times out of nine bids for re-election. Looking back to the beginning of the 20th Century, there was only one President defeated for re-election over a period lasting from 1900 to 1968, and that was Herbert Hoover who was standing for re-election during the height of the Great Depression. Clearly, the evidence suggests that odds of unseating an incumbent rather long at best. Perhaps Trump will be the exception that will prove the rule and become the first incumbent defeated in a re-election bid since 1992, or even the first incumbent defeated in the race for his party's nomination in the modern law, but even if his poll numbers stay where they are it's far too early to make any prognostications about that.
That being said, given the situation in the White House and the recent Republican losses at the ballot box, speculation about Flake or a candidate like him challenging the President in two years time is likely to increase over the coming months. In addition the retiring Arizona Senator, another potential challenger is outgoing Ohio Governor John Kasich, who was the last man standing against Trump in 2016 and who has been traveling to New Hampshire and other early primary states quite frequently in recent months. Like Flake, Kasich has been coy about his 2020 plans, but he clearly intends to remain a strong critic of the President once he leaves office and has positioned himself as a moderate conservative alternative to an increasingly unhinged President. In addition to Flake and Kasich, Nebraska Senator Ben Sasse, who has been a frequent and outspoken critic of the Presidents, has been mentioned as a potential challenger, although Sasse has downplayed those rumors. Finally, Tennessee Senator Bob Corker who, like Flake, is retiring at the end of the year, is not ruling out running for the Republican nomination in 2020. Whether all of this amounts to anything in two years time is another question.