Kavanaugh Confirmation Vote On Hold Pending Renewed F.B.I. Investigation
Surprise developments yesterday led to a pause in the confirmation process for Brett Kavanaugh. Where it goes from here is unclear.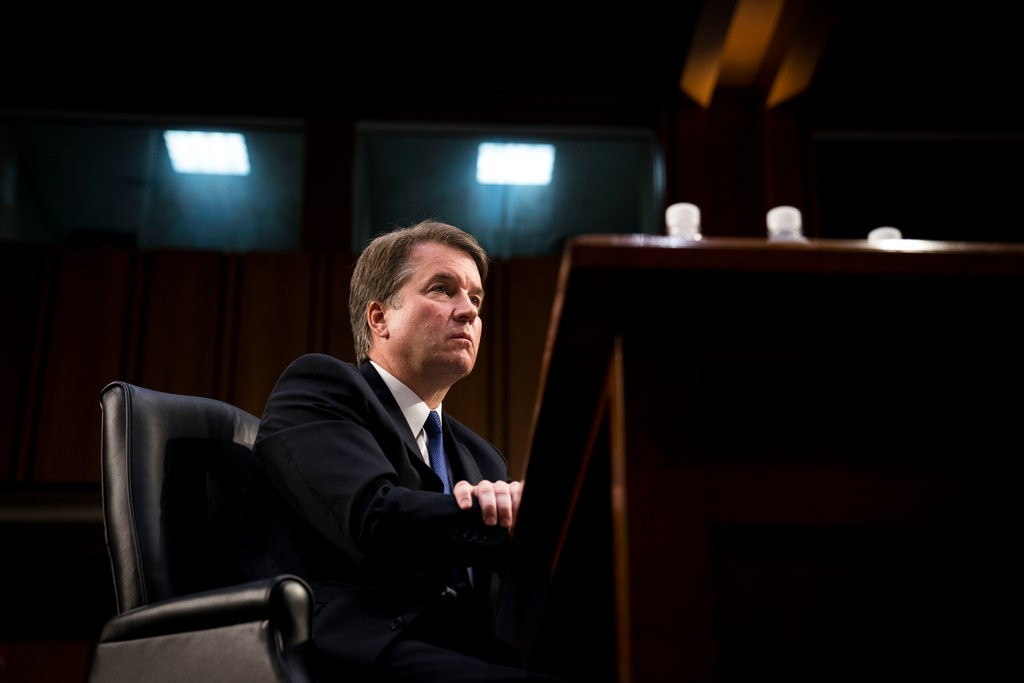 At the start of the day yesterday, Senate Republicans appeared intent on pushing forward with the confirmation of Judge Brett Kavanaugh to the Supreme Court notwithstanding the outstanding questions regarding his past behavior raised by the charges made by women such as Christine Blasey Ford, Debbie Ramirez, and Julie Swetnick. The Senate Judiciary Committee, which had concluded the hearing at which Dr. Blasey Ford and Kavanaugh both testified just hours earlier, convened early in the morning for what was supposed to be a smooth sail toward the Senate floor and, depending on what a handful of Republican Senators did, confirmation as early as next week. It seemed even more likely that this would happen when Senator Jeff Flake, who had been announced that he would vote in favor of the nomination both in the Committee and on the Senate floor. Then seemingly out of nowhere, Flake had an epiphany that led to a deal which has put the final floor vote on hold for at least week while the Federal Bureau of Investigation reopens its background investigation of Judge Kavanaugh:
President Trump on Friday ordered the FBI to reopen the investigation of Supreme Court nominee Brett M. Kavanaugh's background, a stunning turnaround in an emotional battle over sexual assault allegations that has shaken the Senate and reverberated across the country.

The dramatic developments capped an extraordinary day on Capitol Hill, which began with a sense of momentum for Kavanaugh but then sharply changed when one of Trump's fiercest Republican critics, Sen. Jeff Flake (Ariz.), who at first endorsed the nominee, emerged from a private meeting with Democrats to call for a renewed inquiry into misconduct allegations.

Flake's move puts in doubt the fate of Kavanaugh, who has in recent days drawn strong support from Trump and other top Republicans, but now faces another week of scrutiny and must watch as senators in both parties endure mounting pressure from their ­respective bases to either rally to his side or block his confirmation.

Conservatives have demanded that Republicans confirm Trump's second Supreme Court pick, a judge who could shift the high court to the right for a generation, or face political consequences in midterm elections in six weeks with the control of Congress at stake.

The delay once again thrusts the FBI, an increasing target of Trump's ire, into the center of a politically charged controversy.

Flake, who at one point Friday was confronted by two women who tearfully and angrily urged him to consider the pain of sexual assault survivors, was soon joined by Sens. Lisa Murkowski (R-Alaska) and Susan Collins (R-Maine), and hailed by Democrats for forcing a one-week delay in the nomination process to allow for the federal inquiry.

"There's lingering doubt out there among a lot of people that we haven't taken every measure that we should to make sure that these allegations are dealt with," Flake told reporters Friday after the Senate Judiciary Committee said it requested the White House call for an FBI probe. "That's what this effort is about."

The request for a supplemental FBI background check will almost certainly delay Kavanaugh's confirmation vote beyond Tuesday, the tentative date eyed by Senate GOP leaders. But Trump and Senate Majority Leader Mitch McConnell (R-Ky.) had no choice but to placate the small core of undecided senators whom Trump has little power to influence.

Late Friday, by voice vote, the Senate took an initial step to move ahead on the nomination. Barring no major revelations from the FBI, the Senate could vote on confirming Kavanaugh next weekend, days after the start of the high court's session.

The FBI has already cleared Kavanaugh through six background checks for his previous public-service jobs, a point the nominee underscored in a statement Friday while adding, "I've done everything they have requested and will continue to cooperate."
More from Politico:
Brett Kavanaugh's Supreme Court nomination cleared a key Senate hurdle Friday — before pausing for an FBI investigation into sexual assault allegation against him, forced by a dramatic maneuver from Sen. Jeff Flake (R-Ariz.).

Flake announced his support for President Donald Trump's high court pick Friday morning, only to say that he wouldn't "be comfortable" backing a final vote after a dramatic series of closed-door conversations with senators from both parties. The Senate formally took up Kavanaugh's nomination on Friday, but the judge's bid immediately thrown into limbo.

After announcing he was on board, Flake said hours later he wanted the FBI to take up to a week to investigate a sexual assault claim against the Supreme Court hopeful. The apparent reversal stunned the Capitol, and gave at least fleeting hope to liberals that Kavanaugh's confirmation is not a fait accompli.

"I think it would be proper to delay the floor vote for up to but not more than one week in order to let the FBI do an investigation, limited in time and scope," Flake told fellow members of the Judiciary Committee, which later voted to advance Kavanaugh's nomination to the full Senate.

Trump on Friday ordered the FBI to conduct a "supplemental" investigation into the Kavanaugh allegations. That inquiry will last no more than one week, Senate Majority Whip John Cornyn (R-Texas) said.

Even though the latest head-spinning twist in Kavanaugh's confirmation fight didn't stop the nomination from formally coming to the Senate floor, it's effectively not moving forward until next week. Flake's maneuver dropped a political land mine in the lap of Majority Leader Mitch McConnell (R-Ky.) and the White House, which now must keep Kavanaugh's nomination on an already narrow path to approval.

Cornyn said he felt "very positive" about Kavanaugh's prospects, but Sens. Susan Collins (R-Maine), Lisa Murkowski (R-Alaska), Heidi Heitkamp (D-N.D.) and Joe Manchin (D-W.Va.) — other undecided votes the judge needs for confirmation — all aligned Friday with Flake's push for an FBI probe.

"We asked the FBI to reopen [Kavanaugh's background check] and they will put a priority on this, obviously," Murkowski said Friday. "I'm certain that they will do it just as quickly as they can, and we will move forward from there."

Flake told fellow senators that "this country is being ripped apart here" before making his move, as national anger flares over Christine Blasey Ford's sexual assault allegation against Kavanaugh.

Kavanaugh, in a statement Friday, said he's done "everything" the Senate has asked of him and "will continue to cooperate." Ford's attorney, Debra Katz, said Ford welcomed the investigation, adding that "no artificial limits as to time or scope should be imposed on this investigation."
While Flake has been quiet about exactly why he changed his mind, one possibility is an encounter he had just before the Senate Judiciary Committee meeting began yesterday morning:
Sen. Jeff Flake was confronted at the US Capitol Friday morning by two women who say they are sexual assault survivors, an event that happened just hours before he called for a delay of the Senate vote on Supreme Court nominee Brett Kavanaugh.

The Arizona Republican, a key swing vote on the Senate Judiciary Committee, was stopped in a Senate office building elevator on his way to the panel's vote on whether to recommend Kavanaugh and excoriated by two women who wanted to know why he was voting yes.

Flake ended up voting with his Republican committee members to vote Kavanaugh's nomination favorably out of the committee to the Senate floor but seemed to have a change of heart. He voted for Kavanaugh on the condition that the Senate delay the floor vote by one week so the FBI could investigate the claim. It is unclear how his call for an FBI probe will change his backing of Kavanaugh.

Kavanaugh has been accused by Christine Blasey Ford of sexually assaulting her decades ago. Kavanaugh has vehemently denied the allegation.

The women who confronted Flake sharply criticized him moments after his initial statement of support was made public.

"What you are doing is allowing someone who actually violated a woman to sit on the Supreme Court. This is not tolerable. You have children in your family. Think about them. I have two children," one of the women, Ana Maria Archila, yelled at Flake. "I cannot imagine that for the next 50 years they will have to have someone in the Supreme Court who has been accused of violating a young girl. What are you doing, sir?"

"I was sexually assaulted and nobody believed me," the other woman, Maria Gallagher, told Flake. "I didn't tell anyone and you're telling all women that they don't matter, that they should just stay quiet because if they tell you what happened to them you are going to ignore them. That's what happened to me, and that's what you are telling all women in America, that they don't matter. They should just keep it to themselves because if they have told the truth you're just going to help that man to power anyway."

Flake was visibly uncomfortable. He quietly listened to the women and alternated between making eye contact with them and looking down at the ground.

Gallagher continued through tears, "Don't look away from me. Look at me and tell me that it doesn't matter what happened to me. That you will let people like that go into the highest court of the land and tell everyone what they can do with their bodies."

Flake did not address the two women's questions directly, but repeatedly said, "thank you" — including when he was asked by Archila if he thinks Kavanaugh is telling the truth.

When Archila insisted on an answer, Flake replied, "I have to go to the hearing."

She pressed him again — asking, "Do you think that he's telling the truth?" — to which Flake answered "thank you," again.
Here's video of the meeting, which was broadcast live on CNN and ended being repeated throughout the day:
Whatever the reason, Flake's change of heart and the fact that he quickly gained the support of Senators such as Lisa Murkowski and Joe Manchin is the reason why the Senate's proceedings regarding the Kavanaugh nomination are on hold for at least the next week. Without their votes, and most likely without the vote of Susan Collins who probably would have supported the move but was apparently at an event in Maine yesterday and thus unable to meet with Senate Majority Leader Mitch McConnell yesterday, Republicans would not have the support necessary to confirm Kavanaugh even with the tie-breaking vote of the Vice-President. As a result, both McConnell and the President were left with a choice. Either they agree to reopen the background check as requested with at least the possibility that after it's done they'll have enough votes to confirm, or they let the nomination die on the Senate floor. While it's clear from my Twitter feed and other sources that neither one of these outcomes is acceptable to the hardcore Republican base, it was clear by yesterday afternoon that agreeing to the Flake compromise was the most viable option available.
At the very least, this development gives critics of the manner in which this nomination was being railroaded through the Senate notwithstanding the mounting charges and questions that had arisen since Dr. Blasey Ford came forward in The Washington Post and set us down the course that led to yesterday. Throughout this time, Senate Democrats and others were demanding that the matter be put on hold until the F.B.I. could reopen the investigation and investigate the charges that have been leveled against Judge Kavanaugh regarding his character, his truthfulness, and his behavior. Initially I was skeptical of those calls because it didn't seem clear what the Bureau could find after all this time, but as the charges mounted and the time went on it seemed clear that this, along with giving Dr. Blasey Ford and the other women the opportunity to be heard, was the absolute least that could be done considering that we're talking about a lifetime appointment to the Supreme Court, the fact that Kavanaugh could sit on the Court for the next thirty years, and the fact that he would be replacing a Justice who had been the Court's center for the better part of the past two decades. In other words, my initial skepticism about an investigation was wrong, and I would note that the ironic thing about all of this is that an F.B.I. investigation could have been completed by now if it had been initiated soon after Dr. Blasey Ford came forward in the media.
One major question that this raises is what happens if it turns out that the investigators need more time to make their way though a proper investigation. Let's say, for example, that the F.B.I. comes back next Wednesday or Thursday and says that they need more time to track down the leads they've come up with in order to be able to prepare a proper supplemental background check. Will Flake and those supporting him then press for an extension of time to allow the Bureau to complete their work? What if additional credible charges come out in the next several days, or are revealed during the course of the investigation? How would the President, the Judge, and Mitch McConnell react to developments like this? Most observers seem to think that the Bureau can easily complete an investigation of these charges and prepare a complete report within a week, but that's by no means guaranteed. Given that, we could be revisiting this issue of a further delay in the vote before the end of next week. At that point, we're one week close to the elections and the pressure on the Senate to act from the GOP base will be even greater.
In any case, it's unclear exactly what will happen next, and much of it depends on the outcome of the Bureau's investigation. Given the nature of the charges, it's not at all likely that the investigation will be able to come up with a definitive answer to the question of exactly what happened in a house in Suburban Maryland in 1982, and it certainly isn't likely to come up with sufficient evidence to cause the hardcore backers of Judge Kavanaugh to abandon him. At the same time, though, it's possible that the investigation could uncover evidence that would tend to undercut Kavanaugh's, or Ford's, credibility in some respect and that could have an impact on the final vote. In the end, just as was the case yesterday morning, the fate of the nomination will largely rely on a handful of Senators — specifically Collins, Murkowski, Manchin, and Heidi Heitkamp — and we won't know which way they're leaning until the very end.