Third Woman Comes Forward With Allegations Against Brett Kavanaugh
Less than a day before a hearing before the Senate Judiciary Committee, a third woman has come forward with new allegations involving Judge Brett Kavanaugh.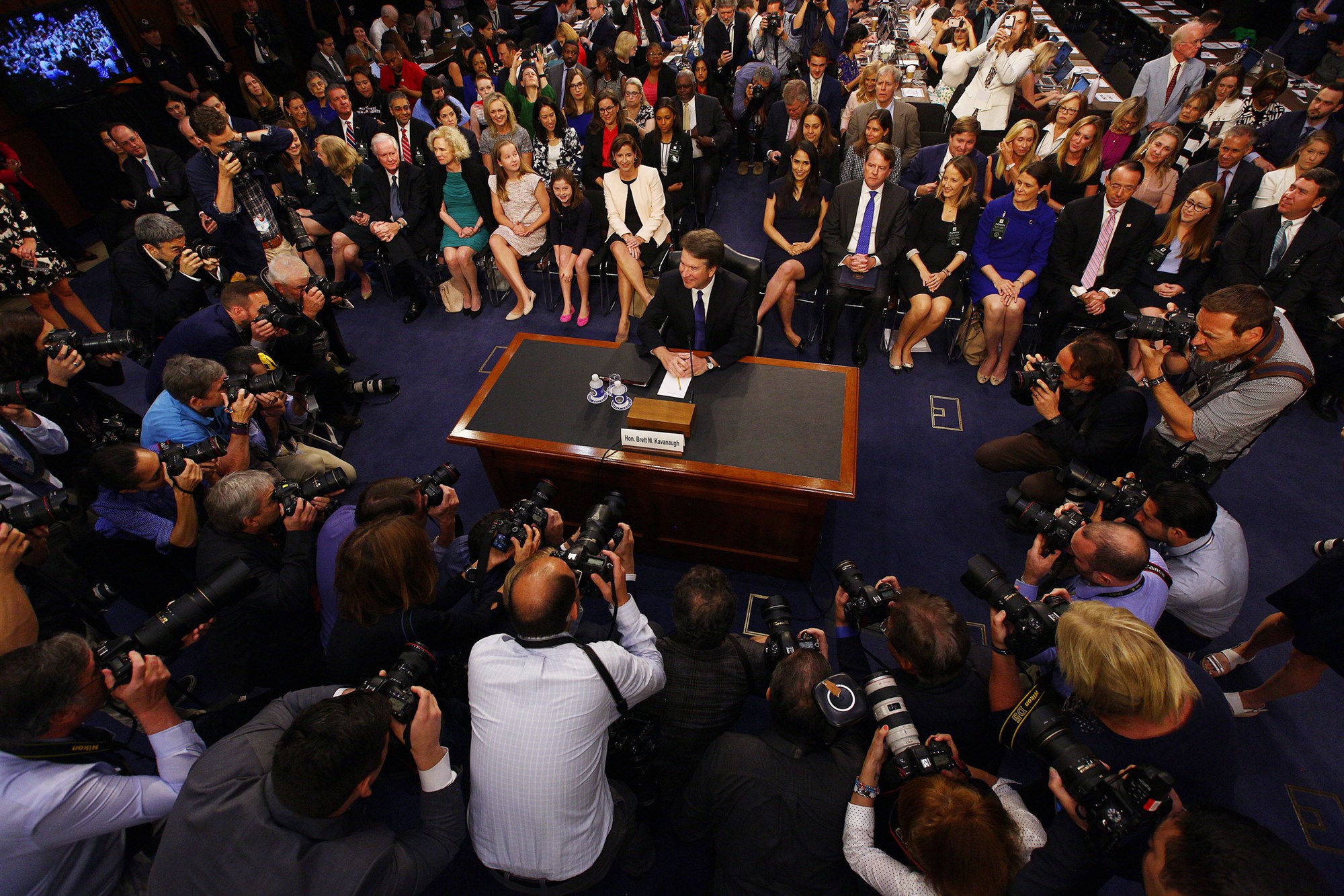 Less than twenty-four hours before a hearing at which we expect to hear from Dr. Christine Blasey Ford, who came forward ten days ago with allegations of sexual assault against Judge Brett Kavanaugh. a third woman has come forward with allegations against Kavanaugh that only seem likely to make an already complicated confirmation process even more complicated:
Judge Brett M. Kavanaugh was accused Wednesday by another woman of having engaged in sexual misconduct at parties while he was a student at Georgetown Preparatory School in the 1980s.

The allegation came from Julie Swetnick, 55, who like Judge Kavanaugh, 53, grew up in the Washington suburbs. In a statement posted on Twitter by her lawyer, Ms. Swetnick said she observed the Supreme Court nominee at parties where women were verbally abused, inappropriately touched and "gang raped."

She said she witnessed Judge Kavanaugh participating in some of the misconduct, including lining up outside a bedroom where "numerous boys" were "waiting for their 'turn' with a girl inside the room." Ms. Swetnick said she was raped at one of the parties, and she believed she had been drugged.

None of Ms. Swetnick's claims could be independently corroborated by The New York Times, and her lawyer, Michael Avenatti, declined to make her available for an interview.

The White House did not immediately respond to a request for comment. Judge Kavanaugh has repeatedly denied allegations that he behaved inappropriately toward women.

On Monday, the judge, with his wife at his side, denied on Fox News that he had ever assaulted anyone, saying he had always "treated women with dignity and respect."

Asked if he had participated in or was aware of any gang rape at a party he attended, he said: "That's totally false and outrageous. I've never done any such thing, known about any such thing."

Mr. Avenatti, who rose to fame after his representation of Stephanie Clifford, the adult film actress known as Stormy Daniels who took on Mr. Trump, had been using his Twitter account for days to promote what he said would be explosive allegations against Judge Kavanaugh.

And, immediately after Mr. Avenatti shared what he called a sworn affidavit from Ms. Swetnick, it drew immediate, blanket coverage across social media and cable news as another revelation to rock the confirmation process.

In a brief interview Mr. Avenatti said that he had corroborating witnesses who could back up Ms. Swetnick's accounts, but was not ready to present them as he waited to see if the Senate Judiciary Committee would launch a full investigation into her claims as he demanded, along with an F.B.I. inquiry.

Mr. Avenatti also said that he was waiting to hear back from the committee before making Ms. Swetnick available for interviews.

(…)

Ms. Swetnick's claims included Mark Judge, a classmate of Judge Kavanaugh. Mr. Judge, who has written about his alcohol-fueled years at Georgetown Prep, had denied the claim made by Dr. Blasey that he was in the room during an attempted assault by Judge Kavanaugh when they were teens. His lawyer did not immediately respond to request for comment on Ms. Swetnick's statement.

Ms. Swetnick grew up in Montgomery County, Md., graduating from Gaithersburg High School in 1980 before attending college at the University of Maryland, according to a resume for her posted online. Judge Kavanaugh graduated from Georgetown Prep in 1983.

In her statement, Ms. Swetnick wrote that she met Judge Kavanaugh and Mr. Judge in 1980 or 1981 when she was introduced to them at a house party in the Washington area. She saw them to be "extremely close friends" who were "consistently" together at social gatherings. She said she attended at least 10 house parties in the Washington area from 1981 to 1983, where the two were present. She said the parties were common, taking place almost every weekend during the school year.

She said she observed Judge Kavanaugh drinking "excessively" at many of the parties and engaging in "abusive and physically aggressive behavior toward girls, including pressing girls against him without their consent, "grinding' against girls, and attempting to remove or shift girls' clothing to expose private body parts."

"I also witnessed Brett Kavanaugh behave as a 'mean drunk' on many occasions at these parties," she wrote.

She said that Judge Kavanaugh, Mr. Judge and others would attempt to spike the punch at parties in an effort to intoxicate women, who would be targeted and taken advantage of.
Here are Michael Avenatti's tweets from earlier this afternoon:
Below is my correspondence to Mr. Davis of moments ago, together with a sworn declaration from my client. We demand an immediate FBI investigation into the allegations. Under no circumstances should Brett Kavanaugh be confirmed absent a full and complete investigation. pic.twitter.com/QHbHBbbfbE

— Michael Avenatti (@MichaelAvenatti) September 26, 2018
Here is a picture of my client Julie Swetnick. She is courageous, brave and honest. We ask that her privacy and that of her family be respected. pic.twitter.com/auuSeHm5s0

— Michael Avenatti (@MichaelAvenatti) September 26, 2018
This shows how incompetent the WH is. They must not have been paying attention the last 7 months. Guess their chief information sources are @FoxNews @TuckerCarlson and 4Chan. https://t.co/vG2RjgyjA4

— Michael Avenatti (@MichaelAvenatti) September 26, 2018
Judge Kavanaugh, meanwhile, has already responded to these new charges with a forceful denial:
Supreme Court nominee Brett Kavanaugh on Wednesday blasted new allegations of misconduct against him, calling them "ridiculous and from the Twilight Zone."

"I don't know who this is and this never happened," Kavanaugh said in a statement circulated by the White House.

Kavanaugh pushed back after a third woman came forward to accuse President Trump's Supreme Court pick of misconduct stemming from his time in school in the early 1980s.

A woman named Julie Swetnick came forward with a sworn declaration earlier Wednesday alleging that Kavanaugh was present for a "gang rape" of which she was a victim during a high school party in the 1980s.

Swetnick does not accuse Kavanaugh of attacking her but says in the declaration that he was present at a party where she was drugged with "Quaaludes or something similar" and attacked.
President Trump also responded to the charges on Twitter by attacking Avenatti, and of course Avenatti responded:
Avenatti is a third rate lawyer who is good at making false accusations, like he did on me and like he is now doing on Judge Brett Kavanaugh. He is just looking for attention and doesn't want people to look at his past record and relationships – a total low-life!

— Donald J. Trump (@realDonaldTrump) September 26, 2018
Trump pretends he is a tough guy. He is nothing of the kind. He grew up spoiled with a silver spoon in his mouth and a gold toilet under his butt. He was handed everything. That is why the majority of America & the UN laughs at him and calls him a con. But at least Putin is a fan

— Michael Avenatti (@MichaelAvenatti) September 26, 2018
It's important to point out that Swetnick does not specifically allege that either Kavanaugh or his friend Mark Judge committed any kind of violent act, although she does say they were present at a party during which she was apparently drugged and gang-raped by a group of men that she can't specifically identify. Thus her allegations against Kavanaugh are different from those that have been made by Christine Blasey Ford and Deborah Ramirez, both of whom have specifically accused Kavanaugh of having engaged in acts that arguably constitute sexual assault against them at different times and in different locations. What Swetnick does do, however, is alleging that Kavanaugh was often a participant in other sexual misconduct that she was a witness to several occasions on which Kavanaugh and Judge were both highly intoxicated and engaging in sexual activity involving other girls at parties that she was present, including incidents that appear to be similar to the drugged rape that she describes in the final paragraphs of her statement, which I've embedded below.
All of this comes, of course, on top of the allegations made ten years ago by Dr. Christine Blasey Ford and just a few days ago by Deborah Ramirez regarding sexually inappropriate and drunken behavior by a young Brett Kavanaugh. It also comes mere days after Kavanaugh himself appeared on Fox News Channel for an interview in which he denied having engaged in, participated in, or witnessed such activity. Taking all of these allegations together, it seems clear at this point that the only appropriate thing to do is to pause the proceedings, have the Federal Bureau of Investigation look into the charges made by all three of these women, and then vote. If that means keeping the seat open until after the midterms and dealing with it during the lame duck session, then so be it. This is a lifetime appointment to the Supreme Court, and it ought to be taken seriously. As I noted this morning, though, it seems clear that Republicans have no intention of doing that. Whether that remains the case in the face of tomorrow's hearing and these new allegations is unclear but it is clear that if they think they can get away with it none of this is going to stop them from confirming Kavanaugh as quickly as possible.
Here's the statement from Julie Swetnick:
Julie Swetnick Declaration by on Scribd