Republicans Intent On 'Plowing Right Through' Kavanuagh Nomination
Republicans have set a Judiciary Committee vote for less than a day after hearing from Christine Blasey Ford and Judge Brett Kavanaugh.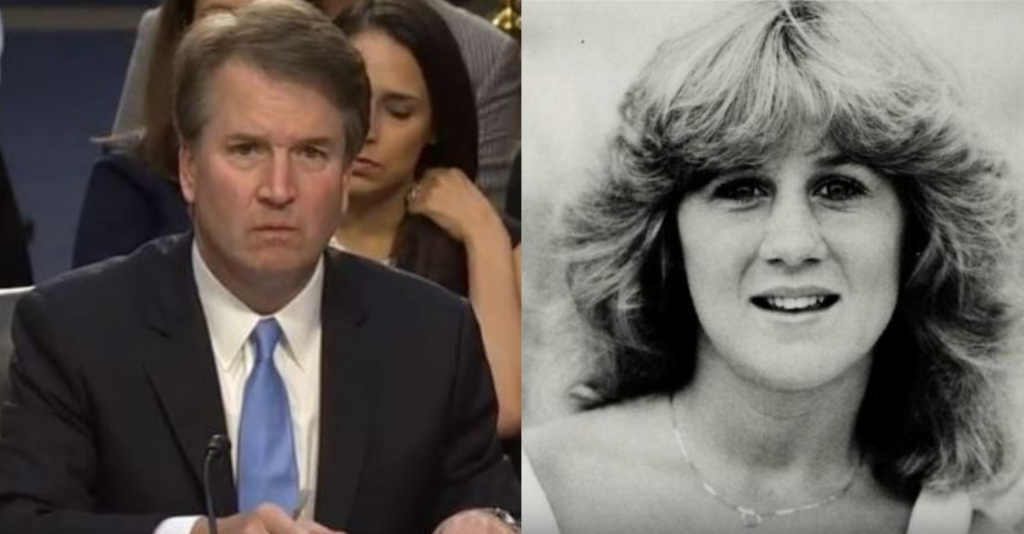 Even before hearing from Dr. Christine Blasey Ford regarding her charges that she was sexually assaulted by Judge Brett Kavanaugh at a party in the summer of 1982, the Senate Judiciary Committee has set a vote on Kavanaugh's nomination for less than twenty-four hours after Dr. Ford's testimony is expected to conclude:
The Senate Judiciary Committee will vote on Brett Kavanaugh's nomination to the Supreme Court on Friday morning, less than 24 hours after Kavanaugh and Christine Blasey Ford appear before the panel to discuss Ford's allegation that Kavanaugh sexually assaulted her more than 30 years ago.

According to committee rules, Judiciary must schedule a committee vote three days in advance. But the committee said the vote will proceed only if a "majority of the members" of the 21-member panel are ready to vote on Friday.\

Senate Majority Leader Mitch McConnell (R-Ky.) can bring Kavanaugh to the floor whether the nominee gets a favorable or unfavorable recommendation. Sen. Jeff Flake (R-Ariz.) is undecided on Kavanaugh's nomination and is the key swing vote on the panel; Flake has not voted in the Senate this week and has not commented on his current thinking about Kavanaugh.

"For Republicans to schedule a Friday vote on Brett Kavanaugh today, two days before Dr. Blasey Ford has had a chance to tell her story, is outrageous," Sen Dianne Feinstein (D-Calif.), the committee's ranking member, said Tuesday. "First Republicans demanded Dr. Blasey Ford testify immediately. Now Republicans don't even need to hear her before they move ahead with a vote."

Senate Republicans on Tuesday night announced they had hired Rachel Mitchell, on leave as a deputy county attorney in the Maricopa County Attorney's Office in Phoenix and the Division Chief of the Special Victims Division, as an attorney to use as a questioner at Thursday's high-stakes hearing on a sexual assault allegation against Kavanaugh. Earlier in the day, the GOP had declined to release her identity, with Judiciary Committee Chairman Chuck Grassley (R-Iowa) telling POLITICO that "we aren't announcing the name for her safety."

Asked whether Republicans have received any indication of threats to the attorney they're preparing to use, Grassley said: "I don't know, but I guess we're just being cautious."

The GOP's secrecy immediately came under fire from Senate Democrats, who mockingly pointed out that all 11 Republicans on the Judiciary Committee are men.

"No one can find that out; it's a mystery," Senate Minority Leader Chuck Schumer (D-N.Y.) said Tuesday afternoon of the questioner. "It's interesting that our Republican colleagues, who want to rush this [nomination] through, are afraid to question Dr. Ford themselves and have to put a surrogate there."\

The back-and-forth over the GOP's female counsel was part of a day of bitter partisan sniping as both sides prepared for Thursday's blockbuster hearing. And it could get only more heated. As the committee pressed ahead with a planned vote on Kavanaugh, an attorney representing Deborah Ramirez charged that Republicans on the panel "have refused to meet all scheduled appointments" to discuss her allegation against the judge further.

"Ms. Ramirez is ready to swear to the FBI under penalty of perjury. Why won't the Senate Judiciary Committee welcome that?" Colorado-based attorney John Clune tweeted on Tuesday.

Appearing later on CNN, Clune accused Republican staffers of "playing games"during negotiations about whether and how Ramirez might come forward. A committee aide for the majority said Grassley had tried seven times in the previous 48 hours to follow up with Clune about what evidence Ramirez could provide.

President Donald Trump and White House press secretary Sarah Huckabee Sanders began the day by angrily lashing out at Feinstein and other Democrats over their handling of the Ford allegation. Schumer responded by attacking Kavanaugh's credibility, suggesting the federal appeals court judge may have lied during his confirmation hearings.

The stakes couldn't be higher for Kavanaugh, the future of the Supreme Court and both parties as they head into the midterm elections. Republicans, though, clearly have more to lose. A failure to get Kavanaugh's nomination through the Senate confirmation process would bring heavy criticism from Trump and the conservative base, and would leave Republicans scrambling to push through a different nominee during a lame-duck session, which would carry big political risks.

With that in mind, McConnell — described by one Republican as "fired up" — was already warning his colleagues that he would keep the Senate in all weekend in order to have a final confirmation vote on Kavanaugh by early next week. The new Supreme Court term starts Oct. 1.

"I'm confident we're going to win; I'm confident that he will be confirmed in the very near future," McConnell told reporters on Tuesday.
This news comes as USA Today reports that four friends of Dr. Blasey Ford have submitted sworn statements to the Senate Judiciary Committee attesting to the fact that she told them about the assault she suffered as a teenager several years before Judge Kavanaugh was named as the President's nominee to the Supreme Court. President Trump, meanwhile, took time out in between his activities at the United Nations to defend Judge Kavanaugh and attack his accusers:
President Trump assailed the latest woman to accuse Judge Brett M. Kavanaugh of sexual misconduct, saying on Tuesday that she "has nothing" because she was "messed up" at the time, even as a key Republican senator urged colleagues to take the accusations seriously.

With pressure rising in advance of a make-or-break hearing on Thursday, Mr. Trump lashed out in a more vociferous way than he has since his nominee came under fire for allegations of sexual assault, blaming Democrats for orchestrating a "con game" and targeting one of Judge Kavanaugh's accusers in scathing, personal terms.

"The second accuser has nothing," Mr. Trump said. "She thinks maybe it could have been him, maybe not. She admits that she was drunk. She admits time lapses. There were time lapses. This is a person, and this is a series of statements, that's going to take one of the most talented and one of the greatest intellects from a judicial standpoint in our country, going to keep him off the United States Supreme Court?"

(…)

In lashing out on Tuesday, Mr. Trump dispensed with the restraint that advisers have urged him to exercise and adopted the attack mode he prefers. He portrayed the allegations against Judge Kavanaugh as character assassination, and he challenged the credibility of Ms. Ramirez even more sharply than he did Dr. Blasey last week.

"She said she was totally inebriated and she was all messed up and she doesn't know it was him but it might have been him," Mr. Trump said while in New York for the annual session of the United Nations General Assembly. Then, speaking sarcastically, he added, "Oh, gee, let's not make him a Supreme Court judge because of that."

As the president of Colombia looked on, Mr. Trump accused the Democrats of smearing Judge Kavanaugh. "I think it's horrible what the Democrats have done. It's a con game they're playing; they're really con artists," he said. "They're playing a con game," he continued, "and they play it very well. They play it actually much better than the Republicans."

He went on to call it a con game several more times, even at one point spelling it out, "C-O-N."
Here are the President's Tweets on the matter:
The Democrats are working hard to destroy a wonderful man, and a man who has the potential to be one of our greatest Supreme Court Justices ever, with an array of False Accusations the likes of which have never been seen before!

— Donald J. Trump (@realDonaldTrump) September 25, 2018
Rush Limbaugh to Republicans: "You can kiss the MIDTERMS goodbye if you don't get highly qualified Kavanaugh approved."

— Donald J. Trump (@realDonaldTrump) September 25, 2018
The Democrats are playing a high level CON GAME in their vicious effort to destroy a fine person. It is called the politics of destruction. Behind the scene the Dems are laughing. Pray for Brett Kavanaugh and his family!

— Donald J. Trump (@realDonaldTrump) September 26, 2018
In addition to setting a committee vote and announcing the hiring of an Arizona sex crimes prosecutor to act in some as-yet-undetermined manner, the committee also set forth a schedule for how tomorrow's hearing will go. Unlike the first round of Kavanaugh's confirmation hearing, during which there were as many as three rounds of questioning over the course of two days, this time there will only be one round of questioning during which Senators will have five minutes each to question Kavanaugh and Blasey Ford. It's unclear if this will include any time that may be taken up by the outside counsel that Republicans are bringing in, or if the questioning by Senators will be in addition to the questioning by the outside counsel. This, combined with the fact that the Judiciary Committee has at least taken the preliminary steps toward scheduling a committee vote that would, if successful, make a final floor vote possible as early as the middle of next week, is yet another demonstration of the fact that Senate Republicans don't really care what Dr.Blasey Ford has to say. If they did, they could easily take the time to allow the impact of what happens tomorrow sink in, allow constituents to contact their Senators, especially those on the Judiciary Committee, and take a Committee vote sometime next week.
The quick schedule is a strong indication that Republicans remains largely uncertain about the uncertain fate of the Kavanaugh nomination notwithstanding their apparent unity and the confident statements of Senate Majority Leader McConnell and Senate Judiciary Committee Chairman Chuck Grassley. According to some reports, including one from Fox News Channel Capitol Hill correspondent Chad Pergram, that Republicans may be short of votes, with as many as eight Republicans still on the fence pending tomorrow's hearing. Perhaps the most important of these is Lisa Murkowski of Alaska, who has warned her Senate colleagues about rushing to a vote on Kavanaugh's nomination, has expressed support for both Dr. Ford and Deborah Ramirez, the accuser in the article that ran earlier this week in The New Yorker, and called for an F.B.I. investigation. Murkowski has also said she wants the Judiciary Committee to hear from Ramirez, something that seems unlikely to happen unless Friday's vote is further postponed. If Murkowski proves to be a holdout after tomorrow and convinces one other Senator to join her, and assuming no Democratic crossover votes, which seems unlikely at this point, then the nomination would fail a floor vote and would have to be withdrawn or suffer a defeat. Whether things get to that point, of course, is another issue.
As things stand, it seems clear that there should be more than enough time for Senators to not only conduct tomorrow's hearing but also consider the outcome of that hearing and the impact it might have on the vote. This would include not only giving Dr. Ford the time she needs to tell her story, and the time for Judge Kavanaugh to respond. but also for the committee to hear from other witnesses such as the four corroborating witnesses that Dr. Ford has produced statements from and people such as Mark Judge, who could easily be subpoenaed, and Deborah Ramirez. Additionally, while I was initially skeptical about the idea of an F.B.I. investigation of these matters, I now find myself reconsidering that position. At the very least, it's worth noting that such an investigation could have been begun, and likely completed, in the time that has elapsed since the initial report in The Washington Post that started this whole process some ten days ago. In that regard, it's worth remembering that there was an F.B.I. investigation in the Thomas-Hill matter before the Judiciary Committee held hearings. It took about four days. An investigation here might take a little bit longer. but that hardly seems like a big deal. We are dealing here with a lifetime appointment to the Supreme Court, a position that Kavanaugh could hold for the next 25-30 years. A delay of another week or so would be inconsequential. The only reason to rush this nomination is purely political.