Kavanaugh Hearing Up In The Air Amid Negotiations
Monday's hearing before the Senate Judiciary Committee regarding the charges made against Judge Brett Kavanaugh is still on as scheduled, but the details are still being negotiated.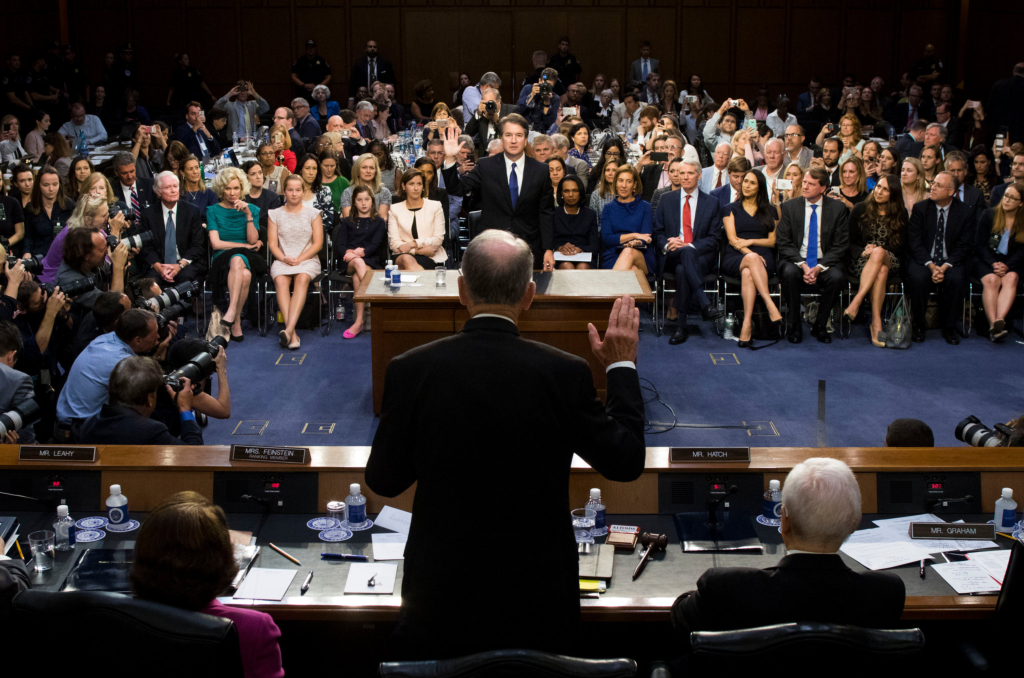 With the hours counting down to the Friday morning deadline set by Judiciary Committee Chairman Chuck Grassley for attorneys for Christine Blasey Ford to advise whether or not their client will appear at a hearing currently set for Monday on her charges against Supreme Court nominee Judge Brett Kavanaugh, the two sides appear to be negotiating over the terms of any such appearance with even the date of the hearing now appearing to be up in the air:
WASHINGTON — The woman who has accused Judge Brett M. Kavanaugh of sexual assault is prepared to testify before the Senate Judiciary Committee next week, so long as senators offer "terms that are fair and which ensure her safety," her lawyer told the committee on Thursday.

The accuser, Christine Blasey Ford, ruled out Monday as a possibility, but also appeared to leave the door open to testifying even if the F.B.I. does not investigate her accusations, as she had previously requested. The surprise offer was the latest twist in an on-again, off-again negotiation between Dr. Blasey and Senate Republicans, who have scheduled a hearing for Monday and set Friday as a deadline for Dr. Blasey to tell them whether she would attend.

"She wishes to testify, provided that we can agree on terms that are fair and which ensure her safety. A hearing on Monday is not possible, and the committee's insistence that it occur then is arbitrary in any event," wrote the lawyer, Debra S. Katz, adding, "Her strong preference continues to be for the Senate Judiciary Committee to allow for a full investigation prior to her testimony."

Dr. Blasey's accusations have rocked Washington, upending the confirmation proceeding for Judge Kavanaugh, President Trump's second nominee to the Supreme Court, only days before he was to receive a vote in the committee. A research psychologist in Northern California, Dr. Blasey — who is sometimes called by her married name, Ford — has accused Judge Kavanaugh of sexually assaulting her when the two were in high school in the early 1980s — an allegation he has vigorously denied.

Thursday's email jump-started talks between Dr. Blasey's lawyers and Democratic and Republican committee aides that continued into the evening. They centered mostly on logistical issues, such as timing and security for Dr. Blasey, and whether there might be additional witnesses; the discussions were cordial, according to several people familiar with them.

But there were a number of sticking points. Dr. Blasey's lawyers asked for the committee to subpoena other witnesses, and for Judge Kavanaugh to testify first, but both requests are viewed by Republicans as nonstarters. Republicans had proposed bringing in an outside counsel to do the questioning, but the lawyers objected, fearing that the hearing would take a prosecutorial tone and arguing that senators themselves should be engaged.

The lawyers suggested Thursday as a hearing date, which Mr. Grassley is considering and taking up with his colleagues. And there was one point of agreement: Both Democrats and Republicans agreed that they needed to take steps to ensure Dr. Blasey's security.

The talks came only a day after Republicans and Dr. Blasey appeared to reach a stalemate, with Republicans — backed by President Trump — demanding that Dr. Blasey testify on Monday or not at all, and Dr. Blasey resisting.

For his part, Judge Kavanaugh said he wants a hearing as soon as possible, so that "I can clear my name."

"Since the moment I first heard this allegation, I have categorically and unequivocally denied it," he wrote in a letter released by the White House. "I remain committed to defending my integrity."

Dr. Blasey's offer seemed to catch the White House off-guard. Trump advisers and people close to Judge Kavanaugh were betting that she was unlikely to testify, and her decision to do so left Mr. Trump less bullish on the judge's chances for confirmation than he was earlier this week.

The way forward — and what effect it might have on Judge Kavanaugh's chances for confirmation — remained unclear. On Wednesday, Republicans, sensing Judge Kavanaugh had enough support to be confirmed despite the allegations, set a committee meeting for Wednesday for a possible vote to move the nomination to the floor. That session is now in question.

George Hartmann, a spokesman for Senator Charles E. Grassley, Republican of Iowa and the chairman of the Senate Judiciary Committee, declined on Thursday to say whether Mr. Grassley would accept a date other than Monday.

"We're glad to hear back," Mr. Hartmann said, "but that's about the extent to which we can comment."
More from The Washington Post:
An attorney for Christine Blasey Ford, the woman who has accused Supreme Court nominee Brett M. Kavanaugh of sexually assaulting her when they were teenagers, said Thursday that her appearing at a hearing on Monday to detail her claims is "not possible" but that she could testify later in the week.

Debra Katz, Ford's lawyer, relayed the response to top staffers on the Senate Judiciary Committee on Thursday, requesting to set up a call with them to "discuss the conditions under which [Ford] would be prepared to testify next week."

"As you are aware, she's been receiving death threats which have been reported to the FBI and she and her family have been forced out of their home," Katz wrote to the committee. "She wishes to testify, provided that we can agree on terms that are fair and which ensure her safety. A hearing on Monday is not possible and the committee's insistence that it occur then is arbitrary in any event."

The chairman of the Judiciary Committee, Sen. Charles E. Grassley (R-Iowa), said through a spokesman late Thursday that he would be consulting with colleagues on how to proceed. Kavanaugh wrote to Grassley in a letter released by the White House that he looks forward to testifying.

"I continue to want a hearing as soon as possible, so that I can clear my name," Kavanaugh said in the letter. "Since the moment I first heard this allegation, I have categorically and unequivocally denied it. I remain committed to defending my integrity."

(…)

Democratic senators, pointing to the highly charged Anita Hill hearings in October 1991, have defended Ford's request to have the FBI do its own probe before she testifies. Back then, the FBI report into Hill's allegations of sexual harassment against now-Justice Clarence Thomas was finished on Sept. 26, 1991 — three days after its inquiry began, according to a Washington Post report at the time.

"Someone who is lying does not ask the FBI to investigate their claims," Sen. Kirsten Gillibrand (D-N.Y.) said Thursday at an event on Capitol Hill. "Who is not asking the FBI to investigate these claims? The White House. Judge Kavanaugh has not asked to have the FBI investigate these claims. Is that the reaction of an innocent person? It is not."

Gillibrand said Senate Republicans' ultimatum of a Monday hearing was "bullying."

Republicans have rejected the comparisons to the Hill proceedings. Grassley wrote in a Wednesday letter to Democrats on the Judiciary Committee that the FBI investigated Hill's accusations against Thomas when they were still not public. Because Ford's accusation is already public, Grassley argued that it was appropriate for the Senate to step in with its own investigation as lawmakers did when the Hill allegation first became public.

A senior Senate Democratic aide noted that reopening FBI background checks was fairly routine; 10 such probes into judicial nominees had been reopened in the past three months alone, the aide said. A Republican aide didn't dispute the figure but said those updates can be relatively minor, such as adding a nominee's tax records or educational information that had been inadvertently excluded.

Late Thursday afternoon, Republican and Democratic staffers on the Judiciary Committee spoke on the phone with Katz to begin negotiations for a potential hearing next week. The first concern Katz raised on the call, according to a senior Senate aide directly familiar with the conversation, was the issue of Ford's security — asking the staffers what the protocol is for ensuring that she is safe and whether reporters could be kept at a distance from her, as was done for Kavanaugh during his confirmation hearings.

The roughly 30-minute conversation also touched on the scope of the questions, and Katz raised concerns about the potential of an outside counsel coming in to question Ford, arguing that the scenario would be too much like a trial, according to the aide. Ford also does not want Kavanaugh in the hearing room when she testifies, Katz told the staffers, and requested that the nominee speak first.

Katz also raised the possibility of a subpoena for Mark Judge, the person who is alleged to have been in the room at the party, and other potential witnesses, and suggested that Thursday would be a good hearing date.

Republicans are sure to push back on Katz's requests. One Senate GOP official familiar with the call said Ford's request to have Kavanaugh testify first is a "non-starter," adding that "it only makes sense for the accused to respond to the charge."

The committee also does not plan to issue subpoenas, the GOP official said, who added that other potential witnesses have already made it clear they have no intention of testifying on this matter.

Republicans have so far stuck to the Monday timeline, as well as Grassley's decision to limit the hearing to two witnesses: Kavanaugh and Ford.

"What is happening with the Judiciary Committee, really, I would call it a railroad job," Sen. Mazie Hirono (D-Hawaii) said alongside Gillibrand on Thursday. "They are totally intent on getting Judge Kavanaugh on the Supreme Court come hell or high water. . . . You have to ask yourself why."
On their face, some of the conditions that Dr. Blasey Ford's attorneys are setting for their client's appearance seem reasonable while others seem to be coming out of left field:
First of all, they are saying that she would not be available to testify on Monday and have suggested next Thursday as a potential date for a hearing. While Republicans might complain that this will further delay Kavanaugh's confirmation, we're at the point already where he clearly won't be able to join the Court when it convenes for the new term. Delaying the hearing a few more days is not a big deal;
Second, they want Judge Kavanaugh to testify first. I understand what the strategy here is, Blasey Ford's lawyers want Kavanaugh's testimony denying that anything happened locked in before their client takes the stand. At the same time, though, this seems like an odd way to conduct a hearing like this. Blasey Ford is the one making the allegations here, while Kavanaugh is denying anything took place. In such a situation, Kavanaugh testifying first would likely be very short and would not be at all illuminating. Additionally, once Blasey Ford has testified and made her allegations, it would only seem fair to give the Judge an opportunity to rebut the allegations that have been made against him under oath;
Third, they don't want Kavanaugh in the hearing room when Dr. Blasey Ford is testifying. This seems like a reasonable request, and is generally consistent with how Congressional Committee hearings are run;
Fourth, they want the questioning to be conducted by the Senators, not outside counsel. This appears to be a reference to the idea that has been floating around Republican circles all week that they would bring in outside counsel, particularly a woman, to conduct the questioning of Dr. Ford on their behalf. The aim of such a strategy would be to avoid the appearance of Dr. Blasey Ford essentially being cross-examined, and badly at that, but a Republican side of the committee that consists entirely of men. Among the names that have been mentioned is that of former New Hampshire Senator Kelly Ayotte. Another idea would be to have the principal questioning of both Dr. Blasey Ford and Judge Kavanaugh conducted by the Majority and Minority Counsel for the Committee or, as Senator Susan Collins has suggested, to allow Kavanaugh and Blasey Ford have their own attorneys examine the other party. Honestly, I'm not sure why Blasey Ford's attorneys want questioning limited to the Senators given the fact that most of these questions will likely be pointless. Having either outside or Committee counsel conduct the questioning would seem to make the most sense, but it seems unlikely to happen;
Fifth, Blasey Ford's attorneys want the committee to subpoena Mark Judge, who she alleges was the other person in the room when the attack happened. Mr. Judge has said that he doesn't remember anything like what she describes happening, so it's unclear what questioning him will elicit of value;
Sixth and finally, they are asking for a "pool camera" only and for steps to be taken to ensure their client's safety. In general terms at least these seem like a reasonable request.
The fact that negotiations are going on suggests strongly that Blasey Ford will indeed appear before the committee even without the investigation by the F.B.I. that her attorneys first demanded earlier this week suggests strongly that there will be a hearing and that Judge Kavanaugh's nomination process will be unavoidably delayed. As of last night and this morning, Senate Republicans are sticking firm to their intention to go forward with a hearing on Monday, but absent a complete collapse in negotiations it seems unlikely that they will hold fast to this deadline. As more than one political analyst has noted, Republicans find themselves in something of a political bind due to these allegations, and because of that, it seems unlikely that they will seek to ram the nomination through if Blasey Ford says that she can't appear on Monday, which is apparently the case.
As it is, it's clear that Republicans know that the optics of this situation pose some serious political risks for them. While these charges are far more serious than those that Anita Hill brought against Clarence Thomas, the political dynamics are the same and the fact that they are being made more than two decades later in the wake of the #MeToo movement and less than seven weeks prior to the midterm elections makes the potential consequences far more serious in the short-term regardless of whether or not Kavanaugh's nomination is ultimately confirmed. This and the fact that there are no female Republicans on the GOP side of the Judiciary Committee is why some Republicans are floating the idea of bringing in an outside attorney, who just happens to be a woman, to conduct their questioning for them. Because of this, I find it unlikely that the Committee will refuse to accommodate most of Blasey Ford's requests. To do otherwise would be to send the message that they never really wanted her to testify. While that may be true, once they made the offer for a hearing they lost this portion of the argument. Generally speaking, the same is true of the rest of the requests, most of which seem reasonable as I noted above.
This is a fast-moving story, so stay tuned.