Ford/Kavanaugh Hearing Ends With Questions, Doubts, And Only One Option
After eight hours of testimony, the only impression a non-partisan mind could be left with from the testimony of Christine Blasey Ford and Brett Kavanaugh is that we need a full investigation of the charges against the Supreme Court nominee. Unfortunately, we're not going to get that.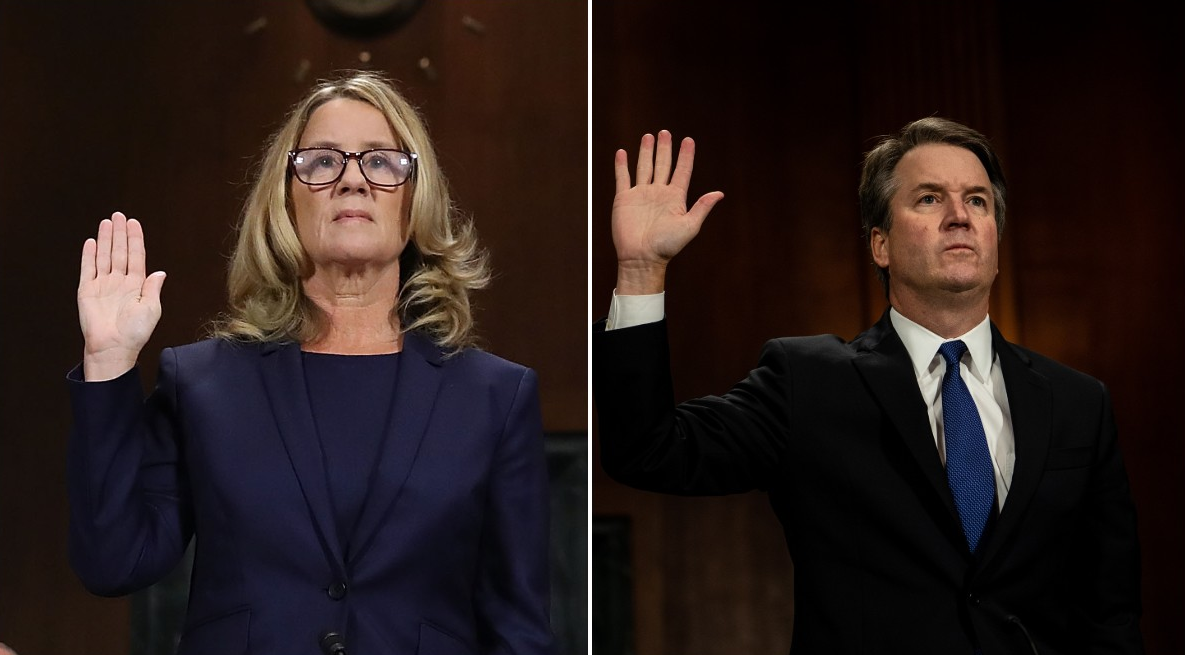 For eight hours yesterday, much of the nation watched as Christine Blasey Ford and Judge Brett Kavanaugh testified regarding the charges that Blasey Ford had leveled against the Supreme Court nominee that he and a friend had sexually assaulted her when she was fifteen years old. In their own way, each witness made their own case for the truth of their position, and outside of partisans on both sides of the aisle, at the end of the day America was left with the same she said/he said situation we were prior to the start of the hearings. Despite this, despite the fact that people who could have provided relevant testimony regarding the incident, despite the outstanding and completely unexplored charges of Debbie Ramirez and Julie Swetnick, the Senate Republican Caucus concluded the night still intent on going forward with a vote in the Senate Judiciary Committee this morning which could lead to a floor vote on the nomination as early as this weekend.
The New York Times called the day "an extraordinary, emotional day of testimony":
WASHINGTON — Judge Brett M. Kavanaugh and his accuser faced off Thursday in an extraordinary, emotional day of testimony that ricocheted from a woman's tremulous account of sexual assault to a man's angry, outraged denial, all of which played out for hours before a riveted nation and a riven Senate.

The two very different versions of the truth, unfolding in the heated atmosphere of gender divides, #MeToo and the Trump presidency, could not be reconciled. The testimony skittered from cringe-worthy sexual details to accusations and denials of drunken debauchery to one juvenile exchange over flatulence.

Washington has not seen anything like it in a generation. For people not used to watching government in action, it was a spectacle of tantrums, tears, preening and political ambition — what Senator Ted Cruz, Republican of Texas, called, "Sadly one of the most shameful chapters in the history of the United States Senate."

Senators must ultimately take sides, and their decisions in the coming days will determine not only the fate of Judge Kavanaugh, President Trump's second nominee to the Supreme Court, but also the ideological balance of the court for decades. In the end, the judge's future most likely rests with a handful of undecided Republican senators — Susan Collins of Maine, Lisa Murkowski of Alaska and Jeff Flake of Arizona — and one Democrat, Joe Manchin III of West Virginia.

At least Mr. Flake, who sits on the Judiciary Committee, will have to render a decision in short order: Republican senators emerged Thursday evening from a closed-door meeting, pledging to push ahead with a committee vote scheduled for Friday morning. Alone among the Republicans, the Arizona senator seemed to be wrestling with how to reconcile the competing accounts.

"There is doubt," he said. "We'll never move beyond that."

Mr. Trump watched the testimony of Judge Kavanaugh's accuser, Christine Blasey Ford, on Air Force One as he flew back from New York, where he had been attending the United Nations General Assembly. Immediately after the hearing adjourned, he praised Judge Kavanaugh's testimony on Twitter, saying that the judge had "showed America exactly why I nominated him."

"His testimony was powerful, honest, and riveting," the president tweeted. "Democrats' search and destroy strategy is disgraceful and this process has been a total sham and effort to delay, obstruct, and resist. The Senate must vote!"

On Thursday morning, with her voice cracking but her composure intact, Dr. Blasey told a rapt Senate panel about the terror she felt on a summer day more than 30 years ago, when, she said, a drunken young Mr. Kavanaugh pinned her to a bed, tried to rip off her clothes and clapped his hand over her mouth to muffle her cries for help.

"I believed he was going to rape me," she said, adding, "It was hard for me to breathe, and I thought that Brett was going to accidentally kill me."

A few hours later, Judge Kavanaugh delivered a blistering, scorched-earth defense. Speaking through tears at points, he denied that he assaulted Dr. Blasey — "I am innocent of this charge!" — and denounced a partisan "frenzy" bent on destroying his nomination, his family and his good name.

"This confirmation process has become a national disgrace," he said in opening remarks written only 24 hours before. "The Constitution gives the Senate an important role in the confirmation process, but you have replaced 'advice and consent' with 'search and destroy.'"

Republicans rallied to his defense, and at times all decorum was tossed aside. A furious Senator Lindsey Graham, Republican of South Carolina, practically jumped out of his seat as he denounced the proceedings as "the most unethical sham since I've been in politics."
The Washington Post's coverage strikes a similar theme:
The most consequential Supreme Court opening in a generation gave rise to the most bitter Senate hearing in memory Thursday, as California professor Christine Blasey Ford accused Judge Brett M. Kavanaugh of sexually assaulting her when both were teenagers and Kavanaugh angrily assailed Democrats for pushing what he said were false charges to "blow me up and take me down."

The day began with an emotional punch as a self-described "terrified" Ford, her voice shaking at times, described in stark detail being pinned on a bed by a drunken Kavanaugh at a high school gathering.

Hours later, the drama escalated as a seething Kavanaugh faced the Senate Judiciary Committee from the same chair and adamantly denied her charges.

"You may defeat me in the final vote, but you'll never get me to quit. Never," the red-faced and defiant nominee told Democrats.

The 53-year-old federal judge was often tearful and paused for gulps of water as he spoke about the toll that the allegations by Ford and two other women have taken on his wife, his children, his parents and his friends.

"This has destroyed my family and my good name," he said, adding: "This whole two-week effort has been a calculated and orchestrated political hit, fueled with apparent pent-up anger about President Trump and the 2016 election."

Kavanaugh was openly contemptuous of Democratic senators, often demanding that they answer the questions they asked of him. And Republicans, who had silently listened to Ford's testimony, rose to his defense with angry charges against the other party.

Sen. Lindsey O. Graham (R-S.C.) called his Democratic colleagues power-hungry and warned fellow GOP senators: "If you vote no, you're legitimizing the most despicable thing I've seen in my time in politics."

Senate Democrats argued that Ford's testimony was compelling and convincing, and pressed a hostile Kavanaugh for answers about his actions.

"This is a job interview for one of the most important positions of trust in this country," Sen. Mazie Hirono (D-Hawaii), adding: "There's certainly no entitlement for you to be confirmed to the Supreme Court."

The heated recriminations and countercharges that dominated Kavanaugh's appearance were a stark contrast to the morning, where committee members were rapt as Ford quietly unspooled her memories of being assaulted by Kavanaugh at a summer gathering in 1982.

Asked whether she was positive the person who assaulted her was Kavanaugh, she responded: "One hundred percent."

Later, Sen. John Neely Kennedy (R-La.) asked Kavanaugh whether he had any doubts that the accusations were untrue.

"Zero," he answered. "Hundred percent certain, Senator."

The warring accounts from Kavanaugh and his accuser — the only witnesses permitted to testify before the committee — gripped the country and intensified what will be one of the most fraught confirmation votes in history.

After the hearing, Republican senators were privately briefed by Rachel Mitchell, the career prosecutor tapped by the GOP to lead the questioning. Mitchell said that based on the evidence she heard, she would not have prosecuted Kavanaugh, according to a person familiar with her comments.

Senate Majority Whip John Cornyn (R-Tex.) said the Senate Judiciary Committee will vote on Kavanaugh's nomination as planned on Friday, with procedural votes on Saturday and Monday and a final confirmation vote on Tuesday.

"I'm optimistic we'll get to confirmation," Cornyn said.

As he left the Capitol on Thursday night, Senate Majority Leader Mitch McConnell (R-Ky.) said, "The committee's going to vote in the morning, and we're going to move forward."

However, three potential swing GOP senators — Arizona's Jeff Flake, Alaska's Lisa Murkowski and Maine's Susan Collins — remained silent about their plans.

When asked by reporters after the hearing whether he believes Ford, Flake responded: "I'm not answering those kinds of questions."

Murkowski said Thursday night that "I'm going to go home, have some dinner, and have a chance to think about all that's gone on today."
The day started out, of course, with the testimony of Dr. Blasey Ford, who recounted in an emotional opening statement the events of a summer day in 1982 when she says she appeared at what today might be called a pre-party gathering for an event taking place later that night that she could not attend because of her curfew. This pre-party apparently occurred after she and friends had spent the day swimming at the local country club pool, something she said she did virtually every day that summer. As she did in The Washington Post report that started off this saga and the letter that she sent in confidence to her Congresswoman and Senator Dianne Feinstein in July. She described how she went upstairs in a house that she had never been in before to use the restroom where she was intercepted by two men who she identified as Brett Kavanaugh and his friend Mark Judge. She described how they pushed her into a bedroom, locked the door, turned up the music, and how Kavanaugh pushed her onto the bed and attempted to disrobe her while placing his hand over her mouth while attempting to disrobe her. During this whole event, Blasey Ford says that Mark Judge was in the room laughing and apparently egging Kavanaugh on. Ultimately, she said, Judge jumped on the bed, causing Kavanaugh to move sufficiently to allow her to get off the bed, out of the room, and out the door from where she proceeded to go home. As she said in previous reports, Blasey Ford said she didn't have a clear memory of how she got to the party or how she got home. In a somewhat new piece of information, Blasey Ford related how she ran into Judge when he was working at a local grocery store about six to eight weeks after these events and said that when he saw her he seemed to avoid making eye contact with her despite the fact that they had been friendly in the past.
After watching Blasey Ford's testimony, I was left with the impression that Blasey Ford was being entirely truthful, that she was sexually assaulted when she was a young woman, and that she is certain that the two people who were involved in her assault were Brett Kavanaugh and Mark Judge. As expected, Republicans utilized the services of former sex crimes prosecutor Rachel Mitchell to ask their questions rather than questioning her themselves. While this did spare us from the inanity of Senators asking questions that went absolutely nowhere, the format of the hearing was such that whatever effort they might have wanted Mitchell to make to try to chip away at Blasey Ford's credibility was entirely muted. Specifically, the fact they used the same back-and-forth method of questioning that a traditional committee hearing woods meant that Mitchell was limited to five minutes per round of questioning, which as a litigator she no doubt found frustrating. As it was, though, Mitchell's questions mostly focused on odd things like Blasey Ford's fear of flying and the circumstances surrounding how she ended up coming forward as a witness, most of which didn't really go anywhere. Democrats, meanwhile, spent their time treating Blasey Ford with mostly kid gloves, asking questions that didn't really elucidate any facts but also didn't really provide us with the answers to any substantive questions regarding the charges against Kavanaugh.
By the time Blasey Ford's testimony was done, it seemed clear that she had done very well in relating the story of her assault, and that Republicans had done nothing to rebut the central facts that she testified to. Judging from the reaction on my Twitter feed, which is largely focused mostly on political people on both sides of the aisle, it seemed clear that Blasey Ford had come across very well, that she was believable and entirely credible, and that it was clear that she had experienced a traumatic event when she was a young woman which she firmly believes Brett Kavanaugh played a role in. This round of questioning, though, did nothing to elucidate any additional facts that might tend to corroborate her story. Nonetheless, it seemed clear even from the muted reaction of Republican Senators during breaks during and after her testimony that she had come across as credible and that, to a large degree, the fate of Kavanaugh's nomination would rest on how the rest of the proceeding went and what impact it would have on wavering Republicans and, of course, the President of the United States.
Then, Brett Kavanaugh took the stand.
In a display that was combative, emotional, and in many respects over-the-top, Kavanaugh began with a 45-minute opening statement in which, in a voice that was often just a few decibels below a yell, Kavanaugh decried the charges against him, forcefully denying the accusations and turning his ire on Democrats and "the left" for what he contended was a conspiracy to deny him a Supreme Court seat. It was, in many ways, a performance that one might expect from someone who had been wrongfully accused of something, but it was also the kind of 'fire and brimstone' partisan speech designed specifically to appeal to the President and to people on the right who may have wavered in the fact of Blasey Ford's entirely convincing testimony. At first, Republicans continued to utilize Mitchell to ask questions of Kavanaugh, and her questions were largely similar to the style that she had used with Blasey Ford, although in this case, it was clear that she was following instructions to bolster Kavanaugh's defense rather than poke holes with that. Notwithstanding that, as The Washington Post's Philip Bump notes, Mitchell did, perhaps inadvertently, stumble across an entry in the calendars that Kavanaugh for July 1st, 1982 that appeared to possibly corroborate a small gathering that would have matched the description that Blasey Ford had given of the party where her assault took place. That questioning was never followed up on, though, in part because, after that round of questioning Republicans ceased using Mitchell and took over the questioning themselves.
The remainder of the questioning of Kavanaugh ended up being utterly useless and quickly descended into opportunities for Republicans and Democrats to attack each other rather than gather any facts. Led by Senator Lindsey Graham, Republicans ignored the allegations against Kavanaugh and attacked Democrats in general and California Senator Dianne Feinstein and the manner in which she handled the letter and information that Blasey Ford had given to her, information that she asked the Senator to keep in confidence. Democrats, on the other hand, mostly used their time to emphasize their argument that the committee needs to slow the process down, delay the vote, and have this matter, and the charges by the other women, investigated by the F.B.I. At the end of the day, this part of Kavanaugh's testimony came across as a partisan crap-fest and a complete and utter waste of time.'
Not surprisingly, the President was pleased with Kavanaugh's testimony:
Judge Kavanaugh showed America exactly why I nominated him. His testimony was powerful, honest, and riveting. Democrats' search and destroy strategy is disgraceful and this process has been a total sham and effort to delay, obstruct, and resist. The Senate must vote!

— Donald J. Trump (@realDonaldTrump) September 27, 2018
Based on his testimony, my impression of Kavanaugh after the hearing was over, and most especially after his Trumpidian opening statement was diminished from where it had been when his initial confirmation hearing ended earlier this month. The sober-minded Judge who appeared then was gone and he was replaced by someone who seemed more appropriate for a political rally, or a stint in talk radio or on Fox News Channel. While this might have played well with the right wing and, most certainly did with the President, it reinforced the impression of him that many critics had of a self-entitled jerk who behaved in much the same way while he was in High School and college that many of his peers did, including a stint of heavy drinking that very well may have led him to do things that he might not clearly remember today. In all honesty, I'll say that while I found his denials during his interview with Fox News Channel at least somewhat believable, the extent to which he seemingly switched personalities before the committee and implied that all of these charges were part of some left-wing conspiracy that involved "revenge seeking" Clinton supporters made the rest of what he said substantially less believable and made him less credible as a witness.
As I said in the post I wrote yesterday before the hearing started, I am left after having watched and reacted in real time to the testimony of both Dr. Blasey Ford and Judge Kavanaugh in roughly the same position I was before it all started. Based on the information we have right now, I am simply unable to say with certainty whether or not Kavanaugh is definitively guilty of the charges that Blasey Ford leveled, except to say that Blasey Ford's testimony was compelling and it's difficult for me to say that she wasn't telling the truth. At the same time, there was nothing in Kavanaugh's testimony that directly called his credibility into question sufficiently to reject his denials out of hand. That being said, I tend to agree with James Joyner's characterization of Kavanaugh's testimony as making him come across as "an entitled jackass," and that at times he revealed a demeanor that was far too inappropriately partisan for a Supreme Court Justice.
If this were a court of law and I was on a jury to which the only evidence presented had been the testimony of these two witnesses, I would be forced to vote to acquit Kavanaugh or any similarly situated Defendant. There simply isn't sufficient evidence to convict Brett Kavanaugh beyond a reasonable doubt. As I've noted several times over the past two weeks, though, this is not a criminal trial and the "guilt beyond a reasonable doubt" standard does not apply to these proceedings. This is a high-stakes interview for a lifetime position on the most important court in the nation. If he's confirmed, Judge Kavanaugh is likely to serve for as long as the next thirty years. Additionally, Kavanaugh would be taking the place of a Justice who has been at the center of the left-right balance on the court, and the deciding vote in some of its most important cases, for at least the past decade or longer. In the end, the burden is on Judge Kavanaugh to establish that he has the qualifications, intellect, character, and demeanor that are appropriate for a Supreme Court Justice.
Given that, in addition to the fact that I have serious questions about Kavanaugh's judicial record on issues related to the 4th Amendment and Presidential powers, the extent of the outstanding questions that I have regarding these charges and what they say about Kavanaugh's fitness to be a Supreme Court Justice would incline me to vote against his nomination. In addition to this, Kavanaugh's testimony yesterday left me with the impression that, whether because of the way this confirmation has proceeding or because it is how he has been all along, Kavanaugh is likely to be a far more partisan Justice than he portrayed himself as during the two days of confirmation hearings earlier this month. More importantly, the fact that there are lines of questioning and investigation regarding these and other charges against Kavanaugh that will apparently go without being thoroughly investigated means that any vote at this point would be premature. Thus, I am left in the same position I was when the day started, with the feeling that the only appropriate thing to do would be to delay the vote, have these charges, as well as the others, thoroughly investigated by the only agency of the Federal Government charged with investigating things. Something that the American Bar Association, which had previously given Kavanaugh the highest possible rating, mirrored last night when it called for a delay in the vote so that these charges could be investigated by the FBI. The fact that Republicans are unwilling to take this step is telling.
UpdateJames Joyner has posted his impressions at the end of yesterday's mess: As noted above, . I largely agree with his conclusion that yesterday was "[a]n ugly day for the United States Senate and the United States of America."