Brett Kavanaugh Takes Refuge In The Friendly Confines Of Fox News Channel
In what appears to be a first, Judge Brett Kavanaugh took to the media to defend his nomination. Not surprisingly, he chose a friendly venue.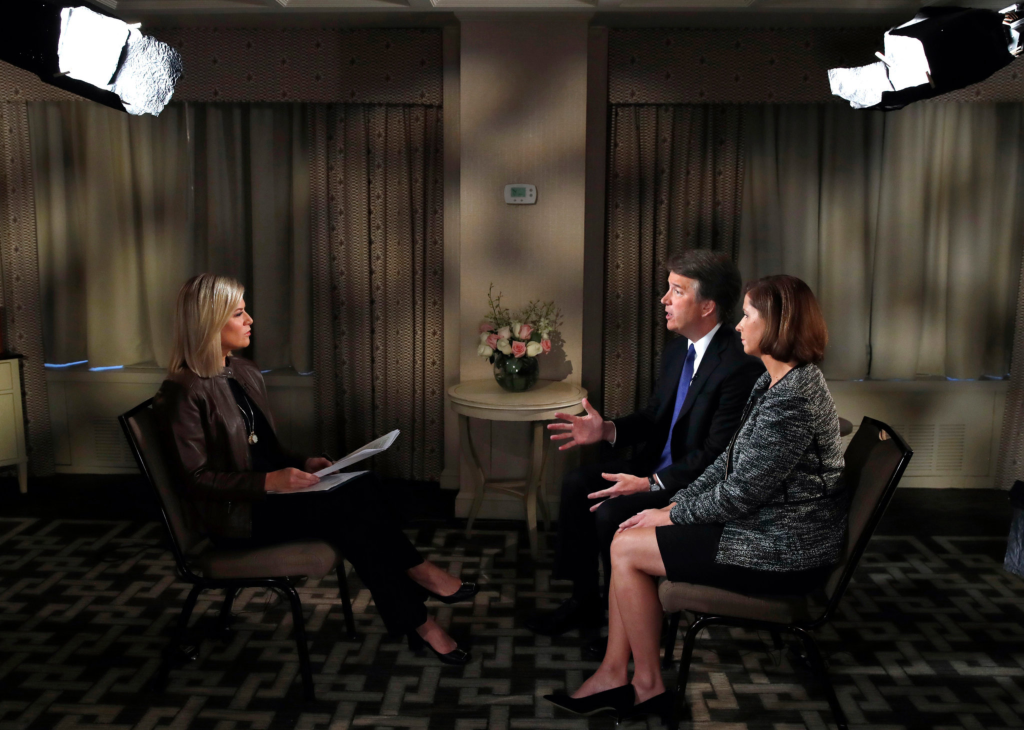 Besieged for the past week by accusations of sexual misconduct during both his years at Georgetown Prep and his time a Yale, and facing a hearing on Thursday that will at the very least go down in history alongside 1991's hearings during Justice Clarence Thomas's confirmation hearings concerning charges of sexual harassment by Law Professor Anita Hill, Judge Brett Kavanaugh took to the friendly confines of Fox News Channel to defend himself:
Even the toughest Supreme Court confirmation battles never quite came to this: a grim-faced nominee, stoic wife at his side, going on national television and describing when, approximately, he lost his virginity.

Judge Brett M. Kavanaugh's appearance on Fox News on Monday night, submitting to a tough round of questions from the anchor Martha MacCallum about allegations of sexual misconduct, was the first time in memory that a Supreme Court nominee submitted to a televised interview before the confirmation vote.

Justice Clarence Thomas, whose live testimony about Anita Hill was a major TV event, spoke publicly only during formal Senate hearings, and his famed People magazine cover story in 1991 was published a month after he was confirmed. Judge Merrick Garland, whose nomination was stymied by Republicans until President Barack Obama left office, never granted a TV interview. In 1937, Justice Hugo Black gave a radio address to denounce his past association with the Ku Klux Klan — after he was successfully appointed.

"They avoid the media like the plague," Christopher W. Schmidt, a legal historian at Chicago-Kent College of Law, said of nominees to the court. "This is generally the last thing they want to do. Which goes to emphasize just how utterly extraordinary what we're seeing unfold right now actually is."

The interview, recorded at a Washington hotel on Monday afternoon, was arranged by White House aides looking to salvage Judge Kavanaugh's confirmation, which has teetered in the wake of allegations of sexual impropriety that he has denied.

"I have never sexually assaulted anyone, not in high school, not ever," he said in Monday's interview.

The platform of Fox News offered Judge Kavanaugh a prime opportunity to make his case directly to President Trump and his supporters. Not only is Mr. Trump an avid watcher, but his deputy chief of staff, Bill Shine, was formerly a co-president of the channel. The president even plugged the interview in a tweet shortly before it aired.

But even as Judge Kavanaugh emphatically denied the accusations against him, his appearance had more than a whiff of a reality-show confessional, starkly at odds with the prestige of the job he is seeking. The judge grew robotic at times under Ms. MacCallum's scrutiny, reverting to talking points and reacting stiffly to her questions.

"I've always treated women with dignity and respect," Judge Kavanaugh said, repeating the phrase four times in the course of about 20 minutes. He said he was seeking a "fair process" 17 times. When Ms. MacCallum asked if he believed it was fair to judge adults on the actions of their teenage selves, Judge Kavanaugh looked thrown.

"What I'm here to do is tell you the truth," he said after a pause, "and this allegation from 36 years ago is not —"

Ms. MacCallum jumped in to repeat her question, prompting a halting reply. "I think everyone is judged on their whole life," Judge Kavanaugh said. "I'm a good person. I've led a good life. I've tried to do a lot of good for a lot of people. I am not perfect, I know that."
As The Washington Post reports, this interview was just part of the media blitz that Administration supporters and surrogates are undertaking in advance of Thursday's hearing:
Republicans launched a full-scale campaign Monday to install Brett M. Kavanaugh on the Supreme Court, dismissing new allegations of sexual misconduct as Democratic smears while the embattled nominee asserted he has no intention of bowing out.

President Trump vowed to support his choice "all the way," Senate Majority Leader Mitch McConnell (R-Ky.) guaranteed that Kavanaugh will receive a vote "in the near future," and the nominee coupled a letter to the Senate railing against "grotesque and obvious character assassination" with an emotional television interview, an unusual step for a judicial pick.

"I'm not going anywhere," Kavanaugh said in an interview with Fox News Channel, his wife, Ashley, by his side. He said he has "never sexually assaulted anyone, in high school or otherwise."

In a tweet late Monday evening, the president wrote: "The Democrats are working hard to destroy a wonderful man, and a man who has the potential to be one of our greatest Supreme Court Justices ever, with an array of False Accusations the likes of which have never been seen before!"

The GOP defiance and accusations of a Democratic and media effort to sink Kavanaugh underscored the urgency in the Republican Party to confirm the judge as the court begins its new term next week, and GOP leaders brace for the midterm elections.

Conservatives have elevated this Supreme Court nomination fight to a political litmus test, demanding that the GOP deliver Kavanaugh's confirmation or face a backlash at the polls, in which Republican congressional majorities are at stake.

Top Republican senators signaled an openness to the Senate Judiciary Committee voting on the nomination by the end of the week, reflecting the speed at which they want to confirm Kavanaugh, although it was unclear whether they had the votes.

"Friday would be possible," said Senate Majority Whip John Cornyn (R-Tex.), although he said he would defer to the committee's chairman, Sen. Charles E. Grassley (R-Iowa).

The firestorm over Kavanaugh's nomination dominated Congress, as protesters flocked to the U.S. Capitol complex and Democrats called for Republicans to slow down and enlist federal law enforcement to take a closer look at Kavanaugh's past before voting on a lifetime appointment to the nation's highest court.
You can watch the full interview below and read the transcript at the link:
The decision to have Kavanaugh appear for an interview while his nomination is still pending is certainly unusual, and apparently unprecedented. Outside of speeches to legal groups that may have been televised, a Supreme Court nominee sitting down for an interview while their nomination is still pending is something that simply hasn't been seen before. As noted, one did not see such a thing during the controversial Thomas-Hill hearings, and we certainly have not seen it during the seven confirmation processes that have followed in the 27 years that followed those explosive events. Of course, it's worth noting that, prior to the rise of cable news networks, sitting for an interview would have meant facing a journalist from one of the three major broadcast networks rather than someone from the friendlier confines of Fox News Channel. Indeed, had Fox News existed in 1991 it's possible that Justice (then Judge) Thomas would have sat down for a similar interview.  It would have been unusual, though, for Thomas to have subjected himself to an interview by the likes of Mike Wallace, Sam Donaldson, or any of the other "tough" reporters that were prominent in America back during the time that his nomination was pending. Indeed, before last night the idea of a Supreme Court nominee going on television to lobby for his confirmation was a line that nominees simply didn't cross. While this interview did occur under unusual circumstances that we haven't seen since the Thomas-Hill days, it's possible that we're witnessing the violation of yet another norm on the part of this Administration and the beginning of a new trend where nomination fights become even more political than they have been in the thirty-two years since the Bork hearings, which many people have marked as the beginning of the modern confirmation process for Supreme Court Justices.
As for the substance of the interview, neither Kavanaugh nor his wife said anything all that surprising, nor did they say anything that is likely to change public opinion substantially on either the nomination or the charges being put forward by Dr. Blasey Ford or Deborah Ramirez. We already knew that Judge Kavanaugh was denying that anything like what the women describe actually happened, and his responses on questions such as whether he might or might not have known Dr. Ford or whether he drank while underage was sufficiently vague that there's really nothing in what he said that can damage him. His claim not to have had sex until well after High School, notwithstanding the fact that it seems to go against much of what we have heard about the general zeitgeist at Georgetown Prep and other elite schools in the D.C. area in the 1980s, is both irrelevant to the claims at hand and something that each viewer can evaluate for themselves. Finally, the fact that his wife was by his side to do the Tammy Wynette routine a la Hillary Clinton in 1992 is, in the end, meaningless.
It's no mistake, of course, that Kavanaugh and the White House chose Fox News Channel for this interview rather than CNN, MSNBC, or any of the broadcast networks. While Martha McCallum is generally seen as coming from the "news" side of FNC along with other reporters such as Chris Wallace, John Roberts, and Shephard Smith, it goes without saying that he was going to get a far friendlier, less confrontational questioning than he would from the likes of Jake Tapper, Chuck Todd, or any of the other top-tier reporters at the other networks. There's a reason for that, of course, and even though McCallum's questions were not as obsequious as they would have been had they been posed by the likes of Sean Hannity and Laura Ingraham. The other important point, of course, is that it's clear that the interview was aimed primarily at the audience that Fox News caters to, just as the words we're hearing from the likes of Senate Majority Leader McConnell and others, which basically amount to saying that they intend to go forward and confirm Kavanaugh regardless of the outcome of Thursday's hearing and regardless of whether or not additional accusers come forward between now and the final vote. The entire purpose of the interview was to rally the Republican base, not just to protect the nomination but also for the fall elections. In that respect, it likely achieved its goal.