My Case Against Brett Kavanaugh
While I was originally content to let Brett Kavanaugh sail through to confirmation, I now feel compelled to oppose his nomination to be a Supreme Court Justice.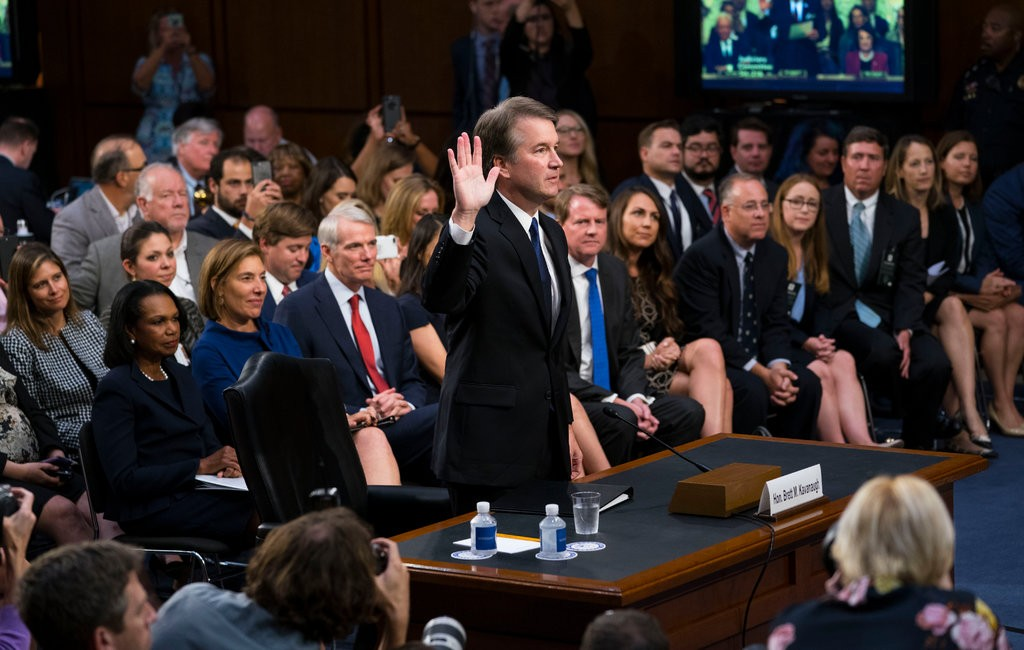 Benjamin Wittes of Lawfare explains in a post at The Atlantic why he opposes Brett Kavanaugh's nomination to the Supreme Court and his reasons are fairly close to my own:
A few days before the hearing, I detailed on this site the advice I would give to Kavanaugh if he asked me. He should, I argued, withdraw from consideration for elevation unless able to defend himself to a high degree of factual certainty without attacking Ford. He should remain a nominee, I argued, only if his defense would be sufficiently convincing that it would meet what we might term the "no asterisks" standard—that is, that it would plausibly convince even people who vociferously disagree with his jurisprudential views that he could serve credibly as a justice. His defense needed to make it possible for a reasonable pro-choice woman to find it a legitimate and acceptable prospect, if not an attractive or appealing one, that he might sit on a case reconsidering Roe v. Wade.

Kavanaugh, needless to say, did not take my advice. He stayed in, and he delivered on Thursday, by way of defense, a howl of rage. He went on the attack not against Ford—for that we can be grateful—but against Democrats on the Senate Judiciary Committee and beyond. His opening statement was an unprecedentedly partisan outburst of emotion from a would-be justice. I do not begrudge him the emotion, even the anger. He has been through a kind of hell that would leave any person gasping for air. But I cannot condone the partisanship—which was raw, undisguised, naked, and conspiratorial—from someone who asks for public faith as a dispassionate and impartial judicial actor. His performance was wholly inconsistent with the conduct we should expect from a member of the judiciary.'

Consider the judicial function as described by Kavanaugh himself at his first hearing. That Brett Kavanaugh described a "good judge [as] an umpire—a neutral and impartial arbiter who favors no litigant or policy." That Brett Kavanaugh reminded us that "the Supreme Court must never be viewed as a partisan institution. The justices on the Supreme Court do not sit on opposite sides of an aisle. They do not caucus in separate rooms."

A very different Brett Kavanaugh showed up to Thursday's hearing. This one accused the Democratic members of the committee of a "grotesque and coordinated character assassination," saying that they had "replaced advice and consent with search and destroy." After rightly criticizing "the behavior of several of the Democratic members of this committee at [his] hearing a few weeks ago [as] an embarrassment," this Brett Kavanaugh veered off into full-throated conspiracy in a fashion that made entirely clear that he knew which room he caucused in.

(…)

As Charlie Sykes, a thoughtful conservative commentator sympathetic to Kavanaugh, put it on The Weekly Standard's podcast Friday, "Even if you support Brett Kavanaugh … that was breathtaking as an abandonment of any pretense of having a judicial temperament." Sykes went on: "It's possible, I think, to have been angry, emotional, and passionate without crossing the lines that he crossed—assuming that there are any lines anymore."

Kavanaugh blew across lines that I believe a justice still needs to hold.

The Brett Kavanaugh who showed up to Thursday's hearing is a man I have never met, whom I have never even caught a glimpse of in 20 years of knowing the person who showed up to the first hearing. I dealt with Kavanaugh during the Starr investigation, which I covered for the Washington Post editorial page and about which I wrote a book. I dealt with him when he was in the White House counsel's office and working on judicial nominations and post-September 11 legal matte,rs. Since his confirmation to the D.C. Circuit, he has been a significant voice on a raft of issues I work on. In all of our interactions, he has been a consummate professional. The allegations against him shocked me very deeply, but not quite so deeply as did his presentation. It was not just an angry and aggressive version of the person I have known. It seemed like a different person altogether.

My cognitive dissonance at Kavanaugh's performance Thursday is not important. What is important is the dissonance between the Kavanaugh of Thursday's hearing and the judicial function. Can anyone seriously entertain the notion that a reasonable pro-choice woman would feel like her position could get a fair shake before a Justice Kavanaugh? Can anyone seriously entertain the notion that a reasonable Democrat, or a reasonable liberal of any kind, would after that performance consider him a fair arbiter in, say, a case about partisan gerrymandering, voter identification, or anything else with a strong partisan valence? Quite apart from the merits of Ford's allegations against him, Kavanaugh's display on Thursday—if I were a senator voting on confirmation—would preclude my support.
Wittes's reasons for opposing Kavanaugh come fairly close to my own.
Prior to the time when we started hearing about the allegations regarding Judge Kavanaugh's behavior at Georgetown Prep and Yale and, of course, the serious allegations that he had engaged in activity that clearly seems to meet the definition of sexual assault that was in place both in the early 1980s and today, I was essentially willing to let Kavanaugh slide into confirmation. Although I didn't fully lay them out here at OTB, I did have concerns about Kavanaugh's judicial record in specific areas such as the 4th Amendment, the PATRIOT Act, the right to privacy, specifically including the precedents set forth in Roe v. Wade and Planned Parenthood v. Casey, and the limitations on Presidential powers. Brittany Hunter touches on many of these concerns in an article posted at the blog of the Foundation for Economic Education, and I largely agree with the conclusions she reaches regarding the problems with the way Judge Kavanaugh has approached these issues in the past, and how he might approach them in the future should he become a Supreme Court Justice. Additionally, his previous writings on issues such as whether or not a sitting President can be indicted or even subpoenaed are concerning. However, as problematic as they are. Kavanaugh's views on these subject are, for better or worse, fairly conventional conservative judicial positions that we would have gotten from any of the other names on President Trump's short list. Indeed, there were some who suggested when he was named that, from an ideological point of view, Kavanaugh may be among the best that can be hoped for out of what we're likely to get from President Trump and, if you're on the liberal side of the aisle certainly, better than people further to the right such as Judges William Pryor and Amy Comey Barrett.
After Kavanaugh had testified before the Senate Judiciary Committee for three days, which I covered here, here and here, it seemed fairly clear that other than Kavanaugh's fairly standard conservative positions there really wasn't a reason for rejecting his nomination and that he was likely to sail through to confirmation. That, of course, came before the allegations against Kavanaugh started becoming public and eventually led us to the hearing that took place last Thursday. The first to come forward, of course, was Dr. Christine Blasey Ford, who alleged that a 17-year-old Kavanaugh and his friend Mark Judge had attempted to rape her at a party in the summer of 1982. Blasey Ford's allegations were quickly followed by similar allegations by Kavanaugh's Yale classmate Debbie Ramirez and by Julie Swetnick, a woman who says she traveled in the same social circles as Brett Kavanaugh and witnessed drunkenness and sexually aggressive behavior on the part of Kavanaugh and other men. Of all three, though, it was Blasey Ford's allegations that received the most attention and which are simultaneously the most serious and the most credible when it comes to judging the suitability of Brett Kavanaugh for elevation to a lifetime position on the highest court in the land.
It was, of course, the charges by Dr. Blasey Ford that brought us to the hearing that took place last Thursday, and it was ultimately that hearing that led me the position I'm setting forth here. As I said in my post the morning after the hearing, I found Dr. Blasey Ford's testimony, and her responses to questions from the Republican's hired gun Rachel Mitchell, to be largely credible. There were gaps in that testimony, of course, such as the fact that she could not recall how she got to the party or how she got home and the lack of any contemporaneous corroborating evidence or testimony from others who she said were at the gathering where her assault took place. There were also some gaps in her memory regarding more recent events indirectly related to her charges against Judge Kavanaugh such as the negotiations regarding her testimony before the committee and the polygraph that she took prior to going public, but for the most part I found these gaps to be inconsequential and her testimony regarding what happened to her and the fact that she was sure it was Judge Kavanaugh who had assaulted her seemed largely unassailable to me.
Judge Kavanaugh, on the other hand, did himself no favors in my eyes when he sat down at the witness table later Thursday afternoon, and it's largely based on his testimony on that day that it became clear to me that he should not be elevated to the Supreme Court. Kavanaugh began with a 45-minute opening statement in which, in a voice that was often just a few decibels below a yell, he decried the charges against him, forcefully denying the accusations and turning his ire on Democrats and "the left" for what he contended was a conspiracy to deny him a Supreme Court seat. At one point he claimed that the charges against him were part of a vendetta launched by supporters of former Secretary of State Hillary Clinton as "revenge" for the outcome of the election. At the time, many observers suggested that Kavanaugh was playing to an audience of one, Donald Trump, in response to reports that the President was not pleased with what he saw as a rather muted Kavanaugh during an interview with Fox News earlier last week.  It was also the kind of partisan attack that seemed more appropriate for conservative talk radio or Fox News Channel than a man who has spent the last 12 years as a Judge on the most important Circuit Court of Appeals in the country and who is seeking elevation to the Supreme Court, where he could serve for the next thirty years. As Wittes notes, and as others such as James Joyner (see here and here) have also argued, Kavanaugh's rhetoric and demeanor on Thursday made it apparent that he does not belong on the Court and that his tenure there, if he is confirmed, will forever be marked by the impressions that his decisions are based not on a sober analysis of the law but on partisanship.
As I said at the end of the day last Thursday, my opinion of Judge Kavanaugh after the hearing was over, and most especially after his Trumpidian opening statement was diminished from where it had been when his initial confirmation hearing ended earlier this month. The sober-minded Judge who appeared then was gone and he was replaced by someone who seemed more appropriate for a political rally, or a stint in talk radio or on Fox News Channel. While this might have played well with the right wing and, most certainly did with the President, it reinforced the impression of him that many critics had of a self-entitled jerk who behaved in much the same way while he was in High School and college that many of his peers did, including a stint of heavy drinking that very well may have led him to do things that he might not clearly remember today. While I found his denials during his interview with Fox News Channel at least somewhat believable, the extent to which he seemingly switched personalities before the committee and implied that all of these charges were part of some left-wing conspiracy that involved "revenge seeking" Clinton supporters made the rest of what he said substantially less believable, made him less credible as a witness, and made it clear that it would be inappropriate to elevate him to the Supreme Court. In other words, his testimony left me with the impression that, whether because of the way this confirmation has proceeded or because it is how he has been all along, Kavanaugh is likely to be a far more partisan Justice than he portrayed himself as during the three days of confirmation hearings early last month.
In addition to the inappropriate partisanship, the charges against Judge Kavanaugh, especially those made by Dr. Blasey Ford raise serious concerns about his fitness to be a Supreme Court Justice. Were this a court of law and I was sitting on a jury where Kavanaugh was facing charges related to the attack that Dr. Blasey Ford related in her testimony, I would feel obligated to acquit him or any Defendant facing the same situation. This is because, notwithstanding Blasey Ford's testimony, there simply isn't sufficient evidence to justify convicting him or any Defendant beyond a reasonable doubt. These proceedings, though, are not a criminal trial, and we are not in a court of law. This is at the same time both a political process playing itself out in the court of public opinion and a high-stakes job interview for a lifetime position on the most important court in the nation. If confirmed, Judge Kavanaugh is likely to serve for the majority of the next three decades during which he will be just one vote out of nine on a whole host of issues that will impact Americans in all aspects of their lives. Additionally, one cannot discount the fact that Kavanaugh would be taking the place of a Justice who has played a pivotal role in some of the most important cases of the past thirty years on a wide range of issues, not the least of them including a woman's right to an abortion, the rights of LGBT Americans, and the First Amendment. Because of that, it is essential that whoever is confirmed for this position have the intellect, experience, and temperament that is called for in a Supreme Court Justice. While I have no doubt that Kavanaugh possesses both the intellect and the experience needed for a Supreme Court Justice I cannot say the same thing about his temperament or his recognition of the duty of a Justice to remain as apolitical as possible. This partisanship, taken together with the fact that I have serious questions about Kavanaugh's judicial record and his views on some of the most important Constitutional issues the Supreme Court will be dealing with in the future and the outstanding questions that I have regarding the charges that have been made against him and what they say about Kavanaugh's fitness to be a Supreme Court Justice, I have no choice but to oppose his nomination and to urge those Senators who remain undecided about him to vote against him
Update: A group consisting of more than 650 law professors has signed an Op-Ed opposing Kavanaugh for much the same reasons as those I expressed:
Judicial temperament is one of the most important qualities of a judge. As the Congressional Research Service explains, a judge requires "a personality that is even-handed, unbiased, impartial, courteous yet firm, and dedicated to a process, not a result." The concern for judicial temperament dates back to our founding; in Federalist 78, titled "Judges as Guardians of the Constitution," Alexander Hamilton expressed the need for "the integrity and moderation of the judiciary."
We are law professors who teach, research and write about the judicial institutions of this country. Many of us appear in state and federal court, and our work means that we will continue to do so, including before the United States Supreme Court. We regret that we feel compelled to write to you, our Senators, to provide our views that at the Senate hearings on Sept. 27, Judge Brett Kavanaugh displayed a lack of judicial temperament that would be disqualifying for any court, and certainly for elevation to the highest court of this land.

The question at issue was of course painful for anyone. But Judge Kavanaugh exhibited a lack of commitment to judicious inquiry. Instead of being open to the necessary search for accuracy, Judge Kavanaugh was repeatedly aggressive with questioners. Even in his prepared remarks, Judge Kavanaugh described the hearing as partisan, referring to it as "a calculated and orchestrated political hit," rather than acknowledging the need for the Senate, faced with new information, to try to understand what had transpired. Instead of trying to sort out with reason and care the allegations that were raised, Judge Kavanaugh responded in an intemperate, inflammatory and partial manner, as he interrupted and, at times, was discourteous to senators.
All of this is unlikely to make a difference with a Republican Senate committed to confirming this man, but there comes a time when taking a stand is necessary. This is one of those times.