No Questions (Or Answers), But Plenty Of Fireworks At Kavanaugh Hearing
The first day of the Kavanaugh confirmation hearings was much ado about pretty much nothing, but then that can be used to describe a process whose outcome is pretty much foreordained.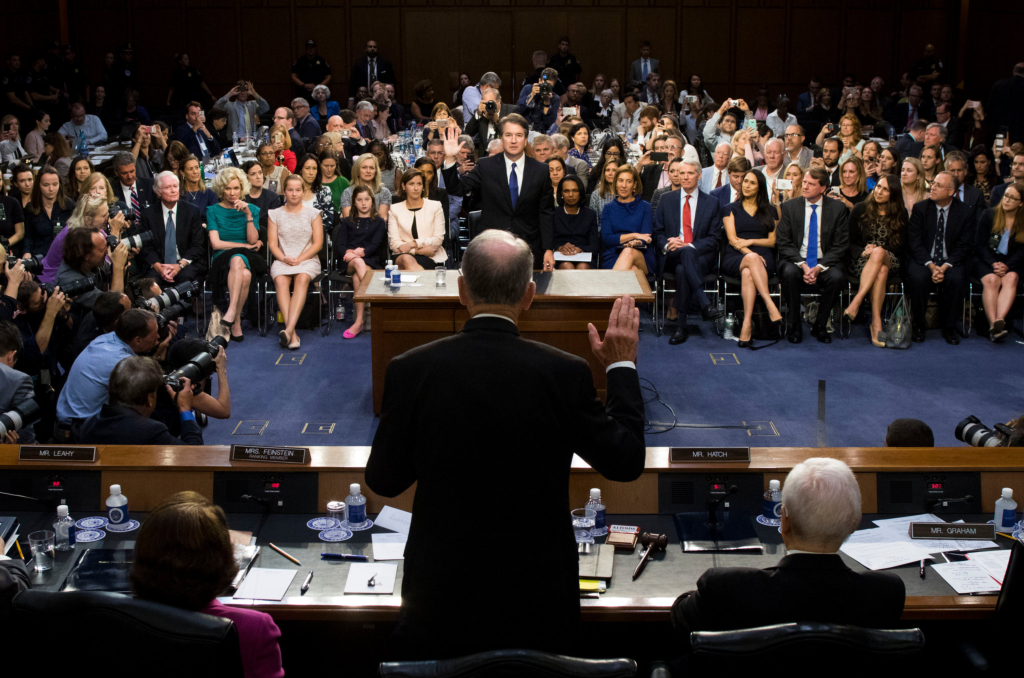 Yesterday's first day of the confirmation hearings for Judge Brett Kavanaugh didn't involve any questions actually directed at the Judge himself, instead we got opening speeches from each member of the Judiciary Committee, supporters of Kavanaugh introducing him to the Committee, and Kavanaugh himself, but that doesn't mean it wasn't a day without fireworks:
Senate Democrats tore into President Trump's Supreme Court nominee on Tuesday, painting Judge Brett M. Kavanaugh as a narrow-minded partisan as the opening day of his confirmation hearings verged on pandemonium. Dozens of screaming protesters were hauled out of the hearing room in handcuffs.

The verbal brawl began moments after the hearings began. Democrats, furious at being denied access to records related to Judge Kavanaugh, immediately interrupted the chairman of the Senate Judiciary Committee, Charles E. Grassley of Iowa, demanding time to consider tens of thousands of pages of documents released late Monday — the night before the hearing.

Judge Kavanaugh, who finally had the microphone hours later, portrayed himself as an impartial jurist and affable family man.

"I am not a pro-plaintiff or pro-defendant judge," Judge Kavanaugh told the committee. "I'm not a pro-prosecution or pro-defense judge. I am a pro-law judge."

But the hearings were dominated by Democratic theatrics and crackling protests. For more than an hour at the outset, irate Democrats and a frustrated Mr. Grassley parried back and forth. Senator Richard Blumenthal, Democrat of Connecticut, denounced the hearing as "a charade and a mockery" and repeatedly moved to adjourn, while Mr. Grassley ruled him out of order over and over again.

At one point, Senator John Cornyn, Republican of Texas, accused Democrats of engaging in "mob rule."

Protesters, most of them women, shouted down senators; by day's end, Capitol Police said a total of 70 people had been arrested, including nine outside the room.

It was a chaotic start to what would ordinarily be a staid, albeit deeply consequential, process. And barring an astounding revelation, the path remains clear for Judge Kavanaugh's ultimate confirmation — probably this month. If he is confirmed, he could shape American jurisprudence for decades to come, replacing the retired Justice Anthony M. Kennedy, a critical swing vote on divisive matters like same-sex marriage and abortion, with an unabashed conservative.

The session, which mostly settled down by the afternoon, also gave Americans their first extended glimpse of Judge Kavanaugh, 53, who brought his family — his wife and two daughters, his parents, an aunt and uncle and some cousins — along with him. He talked about going to ball games with his father and coaching his daughter in basketball, drawing bipartisan smiles when he gave a shoutout to each member of the team.

But that was about the extent of the comity; just days after members of the Senate had gathered together in a bipartisan show of civility at the funeral of Senator John McCain, the crowded hearing room in the Hart Senate Office Building seethed with antipathy.

Some of it reflected lingering bitterness over the treatment of Judge Merrick B. Garland, whose nomination to the Supreme Court in 2016 by President Barack Obama was not even considered by Senate Republicans.

In his opening statement, Judge Kavanaugh made a point of praising his colleagues on the United States Court of Appeals for the District of Columbia Circuit — and one in particular.

"I have served with 17 other judges, each of them a colleague and a friend, on a court now led by our superb chief judge, Merrick Garland," Judge Kavanaugh said

While Republicans cited Judge Kavanaugh's impressive résumé — Yale Law degree, Supreme Court clerkship — as a reason to confirm him, Democrats made clear that they are laying the groundwork to turn the nominee's biography against him.

Before joining the federal appeals court, Judge Kavanaugh had a long history of Republican political activism. He worked on the team, led by Ken Starr, that investigated former President Bill Clinton. He was in Florida during the presidential recount of 2000, advising George W. Bush, the governor at the time. (He also once represented Mr. Bush's brother Jeb.) Later, he joined the Bush White House.

"Judge Kavanaugh has been knee deep in partisan politics," said Senator Mazie K. Hirono, Democrat of Hawaii.

Senator Chris Coons, Democrat of Delaware, said the nominee had been involved in some of "of the most pitched and partisan battles of our lifetimes." Addressing Judge Kavanaugh directly, Mr. Coons added that it was "critical that this committee and the American people fully examine your record to understand what kind of justice you would be."

Democrats have been complaining for weeks that the document production process, supervised by a lawyer for former President Bush, is rigged. Only a small portion of documents relating to Judge Kavanaugh's time in the White House Counsel's Office have been made available to the committee — and many of those are being kept from the public.

And the committee has received no documents from Judge Kavanaugh's time as staff secretary to Mr. Bush, a role that he has said was "the most interesting and informative for me," as preparations for his work as a judge.

Republicans countered that Democrats were harping on access to documents because they could not quibble with Judge Kavanaugh's qualifications. And they took digs at their Democratic colleagues on the judiciary panel, several of whom — Amy Klobuchar of Minnesota, Cory Booker of New Jersey and Kamala D. Harris of California — are weighing presidential runs.

"This is not about documents," said Senator Ted Cruz, Republican of Texas. "It's not about qualification. It's not about record. What it is about is politics. It is about Democratic senators trying to re-litigate the 2016 election, and, just as importantly, working to begin litigating the 2020 presidential election."

Senator Patrick Leahy, Democrat of Vermont, said that Judge Kavanaugh's still-hidden White House records could be particularly illuminating on a question of pressing urgency: understanding his views on the scope of executive power — in particular, whether sitting presidents should be immune from the legal process, like subpoenas to testify in a criminal investigation.

As a lawyer working for Mr. Starr, Judge Kavanaugh urged his superiors to question Mr. Clinton in graphic detail. But his views on the topic have evolved considerably since then. In a speech he made at a law school after serving in the Bush White House and then becoming a judge, he said that the distraction of preparing for questions by criminal investigators would make a president do a worse job, so presidents should be excused from that burden until after they leave office.

Democrats insinuated that Mr. Trump nominated Judge Kavanaugh because he believed the judge would protect him from the investigation being conducted by Robert S. Mueller III, the special counsel.

"You've taken the unorthodox position that presidents should not be burdened with a criminal or civil investigation while in office," Mr. Leahy said. "Now we have a president who has declared in the last 24 hours that the Department of Justice shouldn't prosecute Republicans," Mr. Leahy said. "Now, it's — it's Alice in Wonderland. And I find it difficult to imagine that your views on this subject escape the attention of President Trump, who seems increasingly fixated on his own ballooning legal jeopardy."
More from The Washington Post:
After all the clamor and disruption of the past two years, in a deeply divided nation where political tribalism has infected ordinary friendships and poisoned neighborly relations, a hearing to vet a potential member of the nation's highest court is still somehow supposed to rise above, to remind Americans of ideals, of the rule of law and a common yearning to do what's right.

Tuesday's opening session of the Senate Judiciary Committee's hearing on President Trump's nomination of U.S. Appeals Court Judge Brett M. Kavanaugh to the Supreme Court featured name-calling. Shouts from the peanut gallery. People — almost all of them women — firmly escorted from the premises by the Capitol Police. And a world-class display of bickering across party lines.

The setting looked plenty stately on television, an expansive white marble backdrop, a dark wood dais, senators in their best suits, the nominee and his family all spiffed up.

"Confirmation etiquette," Sen. Sheldon Whitehouse (D-R.I.) called it. And then he pricked that sweetly floating balloon: "It's mostly a sham."

Through most of the day, the nominee sat silently in the center of the room, alone at a table below the senators and in front of more than 100 reporters and nearly that many citizens who had waited for hours in line for their few minutes of inspirational democracy in Hart Senate Office Building Room 216.

All around him, democracy happened. It wasn't pretty. The first seven hours of the Kavanaugh hearing broke down like this:

About three hours consisted of Democrats saying to their esteemed Republican colleagues that they did not provide the documents Democrats need to decide if Kavanaugh should get a lifetime appointment to the nation's top court, with the Republicans responding to their friends across the aisle that yes, we actually did.

The debate in the greatest deliberative body in the world proceeded more or less as follows:

Did not.

Did so.

There was also an hour or so, cumulatively, of Republican tributes to the nominee, along the lines of Arizona Sen. Jeff Flake's "Congratulations to you and Blessed Sacrament Bulldogs for winning the city championship," a reference to the accomplished jurist's coaching of a youth basketball team, and Utah Sen. Orrin G. Hatch's "You are a smart, decent, normal person."

This was balanced by about an hour's worth of detonations aimed at Kavanaugh's life and work. Democratic senators recalled the nominee's roles in the investigation into President Bill Clinton's extramarital affairs, the recount in the 2000 presidential election and the use of torture in the war against terrorism.

There was also about an hour of straight-out campaign speeches, given that there are at least four future and former presidential candidates on the committee. This led to the curious moment in which Sen. Cory Booker (D-N.J.), proud son of Newark, channeled the concerns of those who toil the land, telling Kavanaugh that "farm country is being threatened by the consolidation of huge corporations" and recalling the farmer who told the senator about the soaring suicide rate in the American heartland.

"This democracy is on trial," said Sen. Amy Klobuchar (Minn.), one of several Democrats to note that the nation is at a crossroads.

Through all this, the nominee's role was to be silent and appear sagelike. Kavanaugh had spent weeks cloistered in a similar room, dolled up to look like this one, sitting before faux-senators (and some real ones) grilling him just as the committee might. There were even pop-up protests during the practice sessions to bolster the nominee against being rattled by the real thing.

Practice made perfect. In the real thing, Kavanaugh's expressions ranged from stone-faced to slack-faced. His lips barely moved, even when he took the occasional tiny sip of water. (No gulping; these hearings are a bladder endurance test.) He allowed himself slight smiles at complimentary mentions of his wife and children. Otherwise, he was the Sphinx of Constitution Avenue NE.

Most of the hearing wasn't so much about picking a great legal mind to weigh vexing moral and political questions as it was another opportunity to consider how Trump has disrupted or damaged democracy, depending on your perspective.

Whitehouse told Kavanaugh that his nomination was actually a raw exercise of political power by a White House struggling to cope with legal jeopardy, a White House with "big expectations that you will protect the president."

Many Republicans seemed to agree that theories of the law were not the main issue here. Rather, as Sen. Ted Cruz (Tex.) put it, "this is an attempt by the Democrats to re-litigate the 2016 presidential election. . . . Every Democratic member of this committee is going to vote no." The hearing, Cruz said, quoting the Bard, "is a lot of sound and fury, signifying nothing."

That seemed a bit harsh to the dozens of protesters who skipped work or school to spend a day wearing colorful T-shirts, lining the bridges across the Hart Building's atrium, taking a stand in favor of abortion rights (purple shirts) and voting rights (yellow) and civil rights. That last group went well beyond T-shirts. About a dozen women dressed in red robes and white bonnets sought to recall "The Handmaid's Tale," the novel and TV show about an America gone totalitarian, a place where women are punished for experiencing sexual pleasure.

The robed women were organized by a group called Demand Justice, one of whose members, Diana Bowen, said senators should reject Kavanaugh because he might lead the court and nation toward a "Handmaid's Tale" kind of dystopian future.

She remained hopeful that the outcome of the hearings might not be a foregone conclusion. "Impossible things have happened before," she said.
The most notable thing about yesterday's opening day, and which is likely to carry over to the rest of the hearing, is the sharp contrast it drew to the rhetoric we heard out of Washington in the week after the death of Senator John McCain. From the moment McCain's death was announced all the way through Saturday's funeral service at the Washington National Cathedral, there were references to McCain's ability to form friendships and work across the aisle with Democrats such as Joe Biden, Ted Kennedy, and Joe Lieberman. More than one person who spoke about McCain's passing, including many sitting members of the Senate, spoke about the need for Washington to return to an era where the other side of the political aisle was seen as being made up of fellow Americans with a different point of view rather than a political enemy to be rolled over whenever the opportunity presented itself. The rhetoric was indeed quite inspiring, but it was obviously all just rhetoric, and yesterday's hearing revealed the reality of Washington for what it was.
The main point of contention yesterday between Republicans and Democrats on the Judiciary Committee was access to documents related to Kavanaugh's service in the Bush Administration prior to becoming a Judge on the Circuit Court of Appeals. The majority of that time was spent as President Bush's Staff Secretary, a position which, despite its seemingly innocuous name, is perhaps second only to the Chief of Staff in terms of its importance to the operation of a Presidential Administration. he person in this position is responsible for reviewing nearly every single piece of paper that gets sent to the President on a daily basis, including items that have some of the highest levels of classification in American government. The Staff Secretary is also responsible at times for preparing memoranda for the President advising him on the issues raised by particular documents, as well as recommended policy decisions. This potentially means that during his time in the position that Kavanaugh had weighed on a number of issues confronted by the Bush Administration including same-sex marriage, civil rights, and of course issues related to the detention and treatment of suspects detained as part of the War On Terror.
Democrats in the Senate, both on and off the Judiciary Committee have been complaining for weeks that they were being denied access to document that Kavanaugh drafted or had access to during his time in the Administration, and there were several requests prior to yesterday to delay the hearings until they had a chance to review those documents. Those requests were largely ignored, of course, and the committee wasn't given access to many of Kavanaugh's Bush-era documents until Monday night when some 42,000 pages of documents were released by the committee. Additionally, there are as many as 100,000 pages of documents being withheld under some form of Executive Privilege which it is unlikely anyone will see before a final floor vote on Kavanaugh's nomination.
As a matter of principle, the Democratic position is not an entirely unreasonable one. While one can legitimately argue about whether or not every single document Kavanaugh reviewed as Staff Secretary should be made available, it certainly seems as though some of those documents should be made public and that dropping 42,000 documents on the evening before a hearing starts (an evening that also happened to be the night of a Federal  holiday) seems like a rather pathetically egregious move. If Democrats and a Democratic Administration were doing this, Republicans would be as outraged as Democrats are now. It is, in other words, just another example of the same tired old Washington game.
Kathleen Parker disagrees with me:
If you missed Day One of Brett M. Kavanaugh's Supreme Court confirmation hearing, just try to imagine a mud-wrestling contest attended by banshees howling at the referee.

Between senators interrupting the all-wise-and-patient Judiciary Committee Chairman Charles E. Grassley (R-Iowa) and the shrieking protesters, the proceedings were too lowbrow to resort to the usual circus metaphor. It was a performance, all right, but it was embarrassing to watch.

The folderol was allegedly about a document dump from the Kavanaugh team that arrived in Democratic members' offices on Monday night, too late for staffers to read and analyze everything. These were the last of the nearly half-million pages provided to the Senate — or more than the total for the past five nominees combined, according to Ed Whelan, president of the conservative Ethics and Public Policy Center.

So what about those 42,000 pages? It is a rather large cache, you have to admit. And what about the last-minute dump? Isn't that an act of bad faith? Not necessarily.

First, the last-minute dump is a time-honored tradition in the nation's capital and a common tactic in litigation. Lawyers will do what lawyers do. As for the whining about needing more time, really? This is Washington, folks, where Starbucks is literally on all four corners of a downtown park. Teams of fast skimmers and a case or two of Red Bull could have produced a rash of salient bullet points by breakfast — if Democrats were really curious. Happens all the time. Indeed, Garrett Ventry, Grassley's communications adviser, tweeted Tuesday afternoon that the senator's legal documents team did review the full stack Monday. "We had 15 people working on it."

But this is a case of style over content. Tuesday's takeaway can be distilled to four points: (1) Democrats will do anything to postpone confirmation until after the midterm elections, when they hope to blue-wash the Senate; (2) at least two Democratic committee members (Harris and Cory Booker of New Jersey) are running for president in 2020 and needed to show their chops; (3) the Democratic Party base needed a backrub; (4) Democrats want to be able to say, "We tried."
While Parker does have a point that there's a certain amount of partisanship going on with these Democratic complaints, that doesn't mean they are entirely without merit. While it may be common in Congressional and Senate committee hearings, if this were to happen in litigation it would likely result in discovery sanctions being imposed on the party that failed to disclose documents in time. Additionally, as I noted above, if the roles were reversed Republicans would have acted in precisely the same manner. For Parker to deny that would be to deny reality.
Anyway, as indicated, the first hour or more of the hearing was taken up by Democratic efforts to shut down the hearing over the document issue via parliamentary procedure. Some observers suggested that Democrats should have done more, and there was at least some consideration of a mass walkout by the Committee's Democrats, but that idea was ultimately rejected. All of these efforts were rebuffed by Committee Chairman Chuck Grassley, of course, and the committee eventually settled into the tedious process of every member making an opening statement that often had nothing to do with the hearings themselves and everything to do with the political ambitions of the member who happens to be speaking at the time. After that, the nominee's "introducers" said a bunch of nice things about him and Kavanaugh made his own opening statement. It was, in other words, an utter waste of time.
The hearings will resume this morning with questions, but even that process is going to be largely predictable. Republicans will spend their time asking Judge Kavanaugh, who has an admittedly impressive resume and whose record as a Circuit Court Judge seems to be largely impeccable, while Democrats will try to pin him down on issues such as abortion, gun rights, Presidential powers and others. These are all important issues, of course, but given the precedent that Supreme Court nominees have generally followed since the nomination of Justice Ruth Bader Ginsburg in 1993, Kavanaugh will likely do his best to avoid being pinned down on specifics and demur from answering in areas that could come before him as a Judge. This questioning will last all day today, and probably into part of tomorrow. After that, the committee will hear from witnesses for and against the nomination and will then convene for a vote on Kavanaugh's nomination some time next week. The nomination will be approved by the Committee on a party line vote and will then proceed to the Senate floor, where it will likely get a final floor vote in the second half of September. At the end of all of it, Kavanaugh will be confirmed in time to join his soon-to-be fellow Justices on the nation's highest court on the First Monday in October when the new term begins. In other words, it's all kabuki theater.