Rahm Emanuel Surprises Chicago By Dropping Out Of 2019 Re-Election Bid
Chicago won't have Rahm Emanuel to kick around anymore.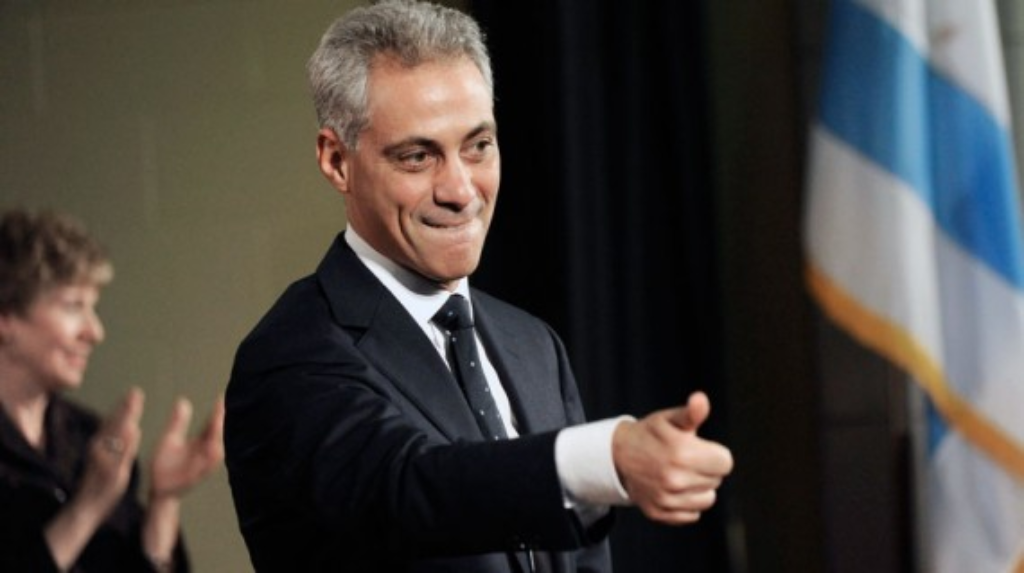 In an announcement that appears to come as a surprise to everyone who is anyone in Chicago politics, Rahm Emanuel is dropping his re-election bid:
Chicago Mayor Rahm Emanuel will not seek a third term, a surprise decision that comes amid escalating criticism of his response to allegations of misconduct by the city's police officers in recent years.

Emanuel made the announcement at a Tuesday morning news conference.

"As much as I love this job and will always love this city and its residents, I have decided not to seek reelection," he said. "This has been the job of a lifetime. But it is not a job for a lifetime."

Emanuel had announced last year that he would seek a third term in 2019. He had raised more than $10 million for his bid, according to the Chicago Tribune. But he has also faced sharp criticism over the city's response to the police shooting of a black teenager, Laquan McDonald, in 2014. Jury selection in the trial of the officer who shot McDonald is set to begin Wednesday.

Before winning election as Chicago's mayor in 2011, Emanuel was chief of staff to President Barack Obama. He also previously served three terms in Congress and, before that, was senior adviser to President Bill Clinton in the 1990s.
More from the Chicago Tribune:
In a stunning decision, Mayor Rahm Emanuel announced Tuesday morning that he will no longer seek a third term in office, signaling the end to what has been a tumultuous – and at times transformative – eight years in office.

Emanuel's decision marks a dramatic political reversal, as for the better part of the last year he had said he would run for a third term. The mayor, long a prolific fundraiser, had already reeled in more than $10 million toward a bid for a third term.

But he also has been saddled with unpopularity, particularly among African-American voters, for his handling of the Laquan McDonald police shooting controversy, which led to a federal civil rights investigation of the police department, accusations of a City Hallcover-up and weeks of street protests that called for Emanuel's resignation.

The mayor, though, weathered the storm and has overseen widespread changes within the Police Department, from naming a new superintendent to overhauling training and instituting the use of body cameras while equipping all officers with Tasers. Emanuel also is in the midst of negotiations with Illinois Attorney General Lisa Madigan over a consent decree that would place the authority of reforms in the Chicago Police Department with a federal judge.

Police issues aside, Emanuel also had drawn the ire of some voters for record property taxes he instituted to shore up the city's woefully underfunded police employee pensions and for closing 50 schools in 2013, a move he said was necessary because of significant under enrollment in schools on the city's South and West Sides. The Emanuel administration's ongoing struggle to tamp down recent spikes in gun violence – including a recent weekend in which 64 were shot, 12 of them fatally – also drew regular criticisms that he hadn't done enough to provide more job and economic opportunities on the South and West Sides.
Emanuel was already facing a large field of challengers for the Democratic nomination due both to the police issues noted above and other issues that have arisen in connection with his management of the nation's third most populated city over the past eight years. Just as he faced a tough re-election fight in 2015, it's likely that he would have faced a difficult fight for a third term next year notwithstanding his fundraising advantage. His announcement that he will not seek re-election will likely mean that the field of potential candidates for the position will expand even more and that there will be no small degree of uncertainty as the sorting out process to determine who his successor might be.
As for Emanuel himself, it's unclear where he goes from here. After winning re-election in 2015, there was some speculation that he might actually run for President in 2016. While that obviously never happened, one has to wonder if he might not be tempted to throw his hat into a Democratic ring in 2020 that already looks as though it is going to be quite crowded indeed. If nothing else, it would make for a much more entertaining campaign.