Revised Thoughts on the Kavanaugh Hearings
I've changed my mind on a couple of things and hardened my opinion on others.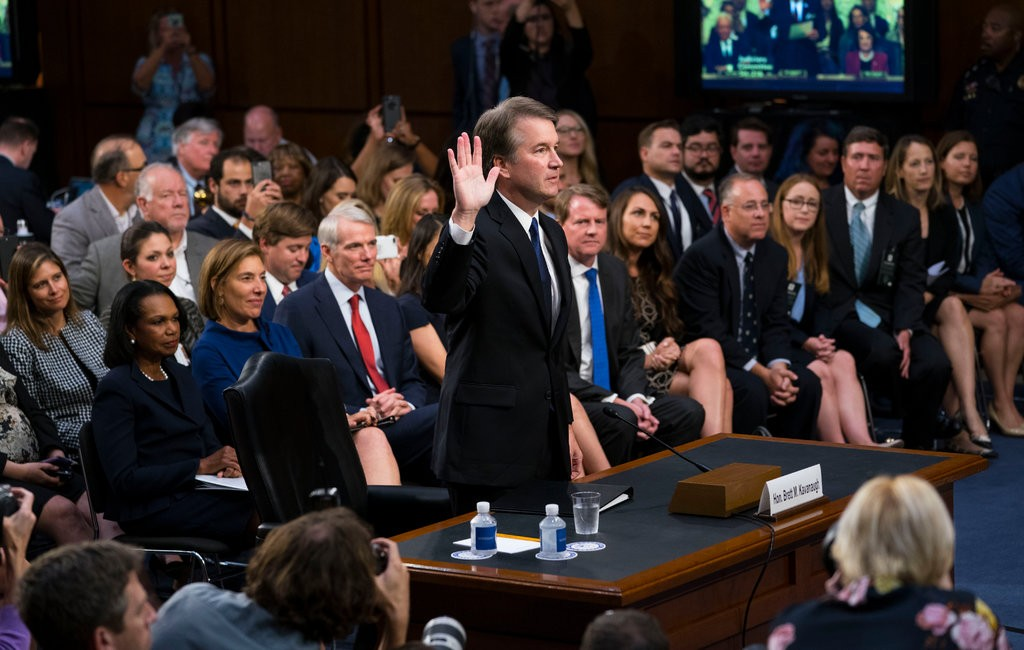 I've spent much of the day working on an unrelated writing project but have also intermittently engaged in discussions in the comments on my early morning first-reaction post and my Twitter feed, as well as watching the Judiciary Committee vote and its aftermath. I've changed my mind on a couple of things and hardened my opinion on others.
First and foremost, I think Brett Kavanaugh simply can't be seated on the Supreme Court absent some shocking development that exonerates him. My impression this morning, that he'll simply be viewed as illegitimate by a huge swath of the country who see him as a symbol of sexual assault, has been reinforced. The histrionic confrontation of Jeff Flake this morning, which is the sort of thing I could generally speaking do with less of in our politics, simply demonstrates how heartfelt this issue is. And, as Lindsey Graham observed while making the case for getting the vote over with, neither "the FBI, the CIA, or the French Foreign Legion" are likely going to be able to change anyone's mind about what happened that night back in 1982.
My own rapid evolution also reinforced my sense that we need time to let an investigation run. Yes, that's contradictory to the first point. But the outcome's likely inevitability doesn't make process unimportant. Democrats will be angry at losing on a party-line vote but will at least see the process as more fair if there is time for an investigation. And, if more information is found that damages Kavanaugh, Republicans will be less furious if he loses if due process is followed. (As I write this, it seems clear that we're going to get at least a one-week delay. That's better than nothing.) And this will give the voters more time to reflect on what's unfolded and contact their Senators.
I now think that Kavanaugh's obvious lies yesterday were disqualifying. As they were happening, I was prepared to cut him some slack because of the gravity of the charges and the sheer indignity of having to answer embarrassing questions about inscriptions in his high school yearbook in front of a national television audience as well as his wife and children. But, as Kavanaugh himself noted about unsavory questions being asked of Bill Clinton, they were necessary given the nature of the inquiry. While I don't know that being a drunken douchnozzle in high school makes it more likely that you were also a rapist, it's not an unreasonable thing to want to understand. As an officer of the court under oath, he had an obligation to be truthful and forthcoming. He was transparently the opposite.
Similarly, while in real time I considered Kavanaugh's belligerence towards Senate Democrats part and parcel of an ugly, political game, upon reflection they're simply unacceptable for a nominee for the highest court in the land facing what even President Trump has now acknowledged was credible testimony that he was an attempted rapist. I fully understand why that would make him angry and humiliated. But it was hardly a surprise. He'd had two weeks to reconcile himself to the situation and opted for a strategy of obnoxious partisanship. That's disqualifying.
I remain skeptical of Ford's account of what happened that night, including her newfound certainty as to what year it happened and her being "100 percent sure" Kavanaugh was her assailant. I'm old enough to remember the fiascos of the 1990s, when a lot of reputations were ruined and people actually went to jail based on testimony colored by memories supposedly "recovered' in psychotherapy. I don't think we're at anywhere near the "reasonable doubt" standard required to punish Kavanaugh under our criminal laws. But his willingness to brazenly lie about his drinking habits and the various teenage peccadillos documented in his yearbook—and my inability to tell the difference in his demeanor from his denials of more serious charges—moves the needle pretty close to the "preponderance of the evidence" standard used in civil court.
At the same time, I retain some sympathy for his claims that his life has been permanently damaged by these allegations. If he's in fact innocent of the worst of them, that's a shame. He had, as best I can tell, a rather sterling professional reputation with some people whose views I very much respect vouching for him before this all unfolded. He'll never recover that. And he's likely right that he'll be less welcomed in the halls of elite academic institutions or even coaching his daughters' sports teams now that he's widely suspected of being a serial sex offender. As much as I despise "bro culture," that's an awfully high price to pay if he indeed matured into an upstanding citizen and lived his life that way for the last three decades or more. Then again, he had a golden opportunity to reflect on how far he's come and own up to and express remorse for who he'd been. His failure to do that—instead lashing out at the injustice of it all—is on him.