Kavanaugh/Ford Hearings Begin Amid New Accusations And Questions
Just hours before hearings that will likely determine the fate of Brett Kavanaugh's nomination to the Supreme Court, new accusations and revelations are coming to light.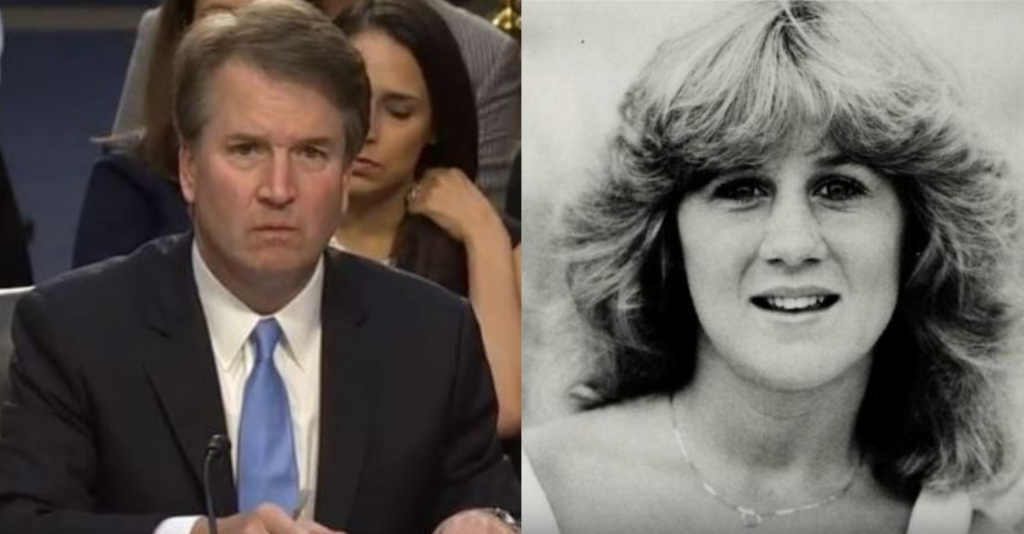 Hours before a hearing that will likely decide the fate of Brett Kavanaugh's nomination to the Supreme Court and have any impact on the impending midterm elections, new accusations and questions are being raised about both the Judge and the women who have accused him of misconduct:
Judge Brett M. Kavanaugh faced a whirlwind of new accusations on Wednesday that threatened to derail his nomination to the Supreme Court as key Republican senators wavered in their support and President Trump, in a rambling and combative news conference, acknowledged that he might be persuaded by the testimony of one of the judge's female accusers.

On the eve of an extraordinary hearing of the Senate Judiciary Committee at which both Judge Kavanaugh and Christine Blasey Ford, a California professor who has accused him of assaulting her when they were both teenagers, will testify, Mr. Trump said that "some very evil" Democrats had plotted to destroy Judge Kavanaugh's reputation. And he lamented what he called "a very dangerous period in our country" in which men are presumed guilty.

But even as he described the charges against Judge Kavanaugh as "false accusations," Mr. Trump seemed, for the first time, to acknowledge the mounting challenges facing his nominee. Asked why he repeatedly sides with men over their female accusers, the president said hearing stories from Dr. Blasey might change his mind.

"I'm going to see what happens tomorrow," Mr. Trump said during an hourlong news conference in New York, where he was attending the United Nations General Assembly. "I'm going to be watching, you know, believe it or not. It's possible they will be convincing."

But the president admitted that his skepticism about Judge Kavanaugh's accusers is rooted in his own anger about having himself been the target of what he considers false accusations of sexual misconduct.

"So when I see it, I view it differently than someone sitting home watching television where they say, 'Oh, Judge Kavanaugh this or that,'" Mr. Trump said in a rare moment of televised self-reflection. "It's happened to me many times."

At Thursday's hearing, Judge Kavanaugh will appear after Dr. Blasey and is expected to say in his opening statement that the allegations against him are "last-minute smears" and "grotesque and obvious character assassination," according to testimony he released Wednesday.

Those denials include another accusation that surfaced this week, this one from a student at Yale when Judge Kavanaugh was also there. The student, Deborah Ramirez, said in an interview with The New Yorker that he had exposed himself to her at a dormitory party. She has not been asked to testify by the Judiciary Committee.

Yet even as he prepared his defense, Judge Kavanaugh and his allies found themselves fending off more charges of sexual misconduct from other women on Wednesday, with perhaps the most explosive accusations coming from a woman represented by Michael Avenatti, the firebrand lawyer who already represents Stephanie Clifford, the pornographic film actress who has said she had an affair with Mr. Trump.

A second new accusation was made in an anonymous letter sent to Senator Cory Gardner, Republican of Colorado, by a woman who said her daughter witnessed Judge Kavanaugh drunkenly push her friend, a woman he was dating, up against a wall "very aggressively and sexually" after they left a bar one night in 1998.

Her daughter and other witnesses were "shocked," she said. "Her friend, traumatized, called my daughter yesterday, September 21, 2018, wondering what to do about it," the woman wrote. "They decided to remain anonymous."

Staff lawyers for the Judiciary Committee have twice questioned Judge Kavanaugh by phone about the accusations — on Sept. 17 and on Tuesday — to prepare him for the Thursday hearing. Late Wednesday, as they were preparing to grill him by phone a third time, the committee released transcripts of the earlier calls that revealed new charges under investigation and Judge Kavanaugh's at times heated denials.

"This is crazytown," he said at one point.

In the call Wednesday night, Judge Kavanaugh denied the new charges leveled by Mr. Avenatti's client, Julie Swetnick, who said that in the 1980s, she witnessed Judge Kavanaugh and a friend, Mark Judge, try to get teenage girls "inebriated and disoriented so they could then be 'gang raped.'"

Judge Kavanaugh said publicly he did not know Ms. Swetnick and called her claims "ridiculous and from the 'Twilight Zone.'" Mr. Judge denied the accusations through a lawyer.

In another example of the frenzy surrounding Judge Kavanaugh's nomination, the transcripts showed that committee staff also questioned him about a constituent of Senator Sheldon Whitehouse, Democrat of Rhode Island, who charged — and then recanted Wednesday night — that Judge Kavanaugh had raped a woman on a boat in 1985 in Newport, R.I.

In the interview with the committee, Judge Kavanaugh fiercely said that the episode never took place.

Democrats seized on the latest accusations to call on Judge Kavanaugh to withdraw, and they pummeled Republicans with requests for outside investigations of the accusations. Republicans, fuming over what they view as increasingly craven partisan attacks, vowed to push ahead with a committee vote scheduled for Friday.

But even before Thursday's hearings, it was clear that Judge Kavanaugh's confirmation was in jeopardy. Senator Susan Collins, Republican of Maine and a key swing vote, told colleagues in a private meeting that she was troubled by the latest accusations. Holding a printout of Ms. Swetnick's declaration, she asked why the Judiciary Committee was not issuing a subpoena for Mr. Judge, who has appeared in two separate accusations, according to an official familiar with the meeting.

Ms. Collins joined two other Republican senators, Jeff Flake of Arizona and Lisa Murkowski of Alaska, in expressing reservations about the Kavanaugh nomination, more than enough to sink it.
It was just yesterday, of course, that we learned the name of a third accuser, Julie Swetnick, who claims to have been present at parties in the Suburban Maryland area in the early 1980s during which she witnessed Kavanaugh, his friend Mark Judge, and other boys getting exceedingly drunk and participating in what she described as "gang rapes" of young women who were either drunk or drugged. She also described a similar incident in which she was victimized in a similar manner, although she does not say definitively that either Kavanaugh or Judge was involved in that incident because she had apparently been drugged in some manner and could not remember the identity of the boys who victimized them. Swetnick, of course, joins both Blasey Ford and Deborah Ramirez in having implicated Kavanaugh in some kind of impropriety, although the nature of the charges, and the extent to which they are credible on their face, differs in each case.
In addition, two new charges were made public although in both cases the women involved remain anonymous. The first new report came from a woman who says that her daughter witnessed an incident in 1998 involving Kavanaugh pushing a woman up against a wall while they were with leaving a bar in Washington, D.C. in what is described as an aggressive and sexual manner. This accusation was contained in a vaguely written letter sent to Colorado Senator Cory Gardner, and while the report says that staffers for the Senate Judiciary Committee were trying to follow-up on the allegation, but it's hard to see what kind of follow-up can come from what amounts to a case of double hearsay in which the parties involved are anonymous. The second new report does not directly involve a woman claiming that Kavanaugh assaulted her but from a college girlfriend of Kavanaugh friend Mark Judge who says Judge told her about incidents in high school in which the two men engaged in "group sex" with a drunk woman and women. While this report, from a woman named Elizabeth Rasor, doesn't directly implicate Kavanaugh in an assault but it does contradict Kavanaugh's own claims about his behavior in High School in college. Another statement, from a former college roommate, tends to rebut Kavanaugh's claims about his behavior in college and describe incidents of heavy drinking and other behavior that Kavanaugh has denied engaging in. It's important to note, though, that this person does not claim to possess any direct knowledge of sexual impropriety on Kavanaugh's part.
These new charges come amid reports that two anonymous men have reportedly told Senate staffers that they were the person who committed the attack on Dr. Christine Blasey Ford, not Judge Kavanaugh:

Senate Judiciary Committee staff interviewed two men who said they believed that they, and not US Supreme Court nominee Brett Kavanaugh, had "the encounter" with the woman who accused Kavanaugh of sexually assaulting her when they were teenagers, according to new information released Wednesday night by the committee.

The revelation — which came on the eve of much-anticipated public testimony from Kavanaugh and the woman who has accused him of assault, Christine Blasey Ford — included few details. The committee didn't identify the men, offer details about what they said, state whether committee staff found their accounts credible, or indicate whether there would be any further follow-up.

The committee released a timeline describing how committee Chair Chuck Grassley and his staff had responded to misconduct allegations against Kavanaugh, starting with Ford's account of being attacked at a party in the summer of 1982. On Sept. 24, the committee said that staff interviewed "a man who believes he, not Judge Kavanaugh, had the encounter with Dr. Ford in 1982 that is the basis of his complaint."

Committee staff interviewed the man again the next day, on Sept. 25, according to the timeline. "He described his recollection of their interaction in some detail," according to the committee.

On Sept. 26, the committee received "a more in-depth written statement" from the man they had previously interviewed. Committee staff also spoke by phone "with another man who believes he, not Judge Kavanuagh, had the encounter with Dr. Ford in 1982 that is the basis of her allegation. He explained his recollection of the details of the encounter."

A spokesperson for Grassley did not immediately return a request for comment. Lawyers for Ford also did not immediately return a request for comment.
While Republicans and those supporting Judge Kavanaugh's nomination are likely to latch on to these reports as vindicating Judge Kavanaugh in some respect, it's worth noting that false confessions such as this are not unusual in high-profile cases. Police investigators regularly deal with such things in cases like this, and they often come from people who are mentally ill, seeking attention or motivated by the desire for the "fame" associated with being part of a high-profile case. This is one reason why it is typically police procedure to hold back some key details of a crime from the media because it helps them in sorting out these cases of false, attention-seeking, confessions or statements from supposed witnesses from those that might actually have merit. During the Son of Sam killings in New York City, for example, police dealt with several false confessions before finally arresting the David Berkowitz, the person who actually committed the crimes. More recently, in the 1990s a man named John Mark Karr falsely confessed to having killed Jon Benet Ramsey in her home, a claim that was firmly rebutted when it was determined that the DNA recovered from the scene did not match Karr's DNA and that none of the facts in the case supported his confession. In this case, I suppose it's possible that this could all be a case of mistaken identity, but the certainty with which Dr. Blasey Ford identifies both Kavanaugh and Judge and the fact that these supposed confessions are anonymous is certainly enough reason to doubt their veracity for now.
In any case, all of this comes just hours before Dr. Blasey Ford and Judge Kavanaugh are set to testify before the Senate Judiciary Committee regarding Blasey Ford's allegations against the nominee. In that regard, the Committee has released the opening statements that Dr. Blasey Ford and Judge Kavanaugh will deliver before their respective questioning begins. After those opening statements, the two witnesses will be subjected to questioning from the 11 Republicans and 10 Democrats on the Committee, each of whom will be given five minutes to ask questions of the respective witnesses. While the format is unclear, it appears that the questioning on behalf of the Republican side of the Committee will be primarily conducted by Rachel Mitchell, an experienced sex crimes prosecutor from Arizona. Democratic members of the Senate are expected to conduct their own questioning. Additionally, as I noted yesterday, Republicans have already scheduled a vote in the committee on Kavanaugh's nomination for tomorrow morning, a process that, if successful, could lead to a final floor vote by the middle of next week that will likely succeed or fail depending upon whether or not the Republican Caucus in the Senate stays united.
As for my opinion, I tend to agree with James Joyner's position that the new allegations, as well as the questions that surround those made previously, make it utterly absurd for the Judiciary Committee to proceed to a vote tomorrow. First of all, such a vote would be taking place just hours after today's hearings end, making it almost impossible for the Senators involved to fairly evaluate the claims made by Dr. Blasey Ford or Kavanaugh's defense to those claims. Second, the fact that the Committee will not be hearing from relevant witnesses such as Mark Judge or from other accusers such as Deborah Ramirez or Julie Swetnick means that the hearing will be incomplete at best and an utter farce at worst. Finally, the fact that they are pushing forward so quickly with a vote is an obvious signs that most of the Republicans in the Senate really don't care what Dr. Blasey Ford, or any of these other women, have to say and that the entire purpose of the hearing is to provide a political fig leaf leading up to the elections in November. Whether it will work or not is, of course, another question.
As for where to watch the hearings, they will no doubt be covered gavel-to-gavel by all three cable news networks and by the three major broadcast networks. C-Span will have it's own coverage, of course. As for live-streaming, that will likely be available via C-Span and at the website of the Senate Judiciary Committee. There's also likely to be plenty of ongoing commentary about the affair on social media, most especially on Twitter, where I'll likely be chiming in with comments from time to time during the course of the day. Where we end up after all of this is over, other than being utterly exhausted by yet another day in the Trumpidian news cycle, is anybody's guess.