Kavanaugh Nomination At An Impasse Over Hearing On Sexual Assault Charges
The status of Judge Brett Kavanaugh's confirmation remains up in the air, as does the question of whether or not Christine Blasey Ford will appear for a hearing on Monday morning.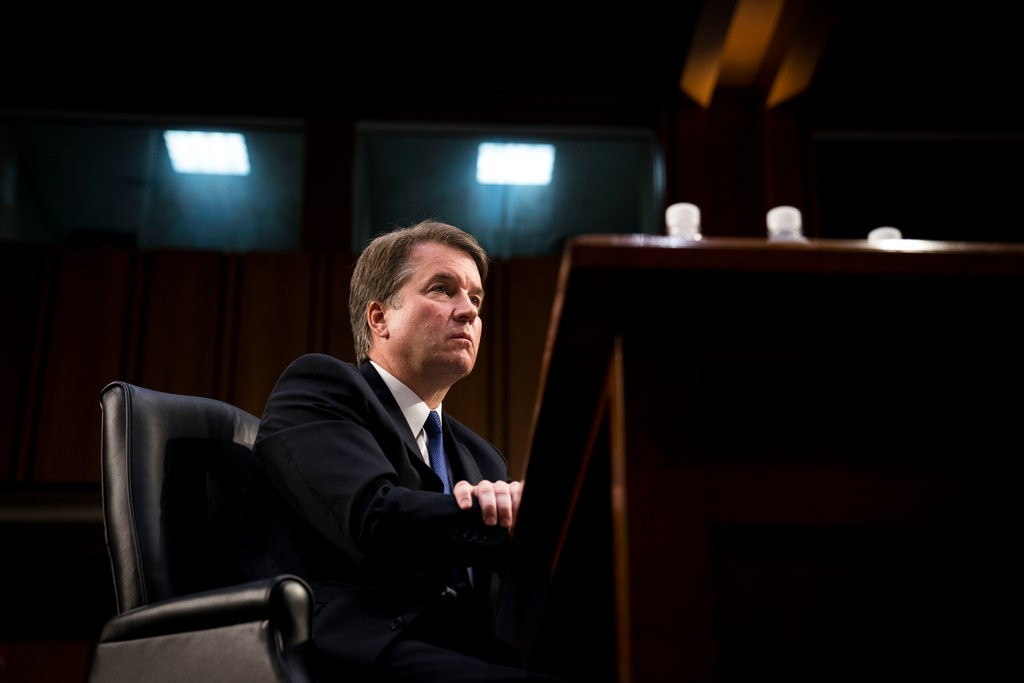 The status of Judge Brett Kavanaugh's nomination to the Supreme Court, and the accusations that have been made against him by Dr. Christine Blasey Ford regarding an incident that took place thirty-six years ago, remains at an impasse and it's entirely unclear if there will actually be a hearing to address the charges that Dr. Blasey Ford has made:
WASHINGTON — The confrontation between Judge Brett M. Kavanaugh and his accuser devolved into a polarizing stalemate on Wednesday as Democrats and Republicans advanced competing narratives to convince voters that the other side has been unfair in the Supreme Court confirmation battle.

Christine Blasey Ford, the professor who alleged that Judge Kavanaugh sexually assaulted her when they were teenagers, said a Senate hearing set for Monday to hear her allegation would not be fair and Democrats insisted that an F.B.I. investigation take place first. Backed by President Trump, Senate Republicans rejected any F.B.I. inquiry, and said that Monday was her chance to be heard.

Dr. Blasey's resistance to appearing before the Senate Judiciary Committee on Monday seemed to galvanize Republicans and drew wavering Republican senators back into Judge Kavanaugh's camp. Barring new information or an agreement by Dr. Blasey to testify after all, Judge Kavanaugh may now have enough momentum to be confirmed as early as next week. Republicans set a committee meeting for Wednesday for a possible vote to move the nomination to the floor.

Hanging over the impasse were the midterm elections, now less than seven weeks away. Republicans were determined to confirm Judge Kavanaugh before then, knowing that if Democrats managed to win control of the Senate, it would be exponentially harder to approve any nominees sent by Mr. Trump. Conversely, for Democrats, a delay in voting on Judge Kavanaugh would increase the chances of blocking his confirmation and enhance the influence Democrats would have over who eventually fills the vacant seat.

In a statement, Lisa J. Banks, a lawyer for Dr. Blasey, said on Wednesday that her client was still willing to work with the Judiciary Committee, but was not convinced that a hearing featuring just her and Judge Kavanaugh would be adequate.

"The committee's stated plan to move forward with a hearing that has only two witnesses is not a fair or good faith investigation; there are multiple witnesses whose names have appeared publicly and should be included in any proceeding," Ms. Banks said. "The rush to a hearing is unnecessary, and contrary to the committee discovering the truth."

Senator Charles E. Grassley, Republican of Iowa and the committee chairman, said he was flexible on how to handle the questioning of Dr. Blasey but not on the date. He offered to hold a public hearing or to conduct the interview behind closed doors, whichever she preferred. He said she could be questioned by staff members rather than senators, and that he would even send lawyers to California to interview her, if she liked.

But he rejected Dr. Blasey's request that the F.B.I. investigate her charges before any hearing and made clear that he would not postpone it past Monday. "It would be a disservice to Dr. Ford, Judge Kavanaugh, this committee and the American people to delay this hearing any further," he wrote in a letter to committee Democrats.

The mood at the White House improved on Wednesday, and Mr. Trump referred to Judge Kavanaugh as "Justice Kavanaugh" three times during a seven-minute exchange with reporters. He again avoided directly attacking Dr. Blasey, but said he found her charges hard to believe.

"I think it's a very unfair thing what's going on," the president said.

Still, he seemed to leave open the possibility that he might have to find another nominee if Dr. Blasey proved persuasive.

"Look, if she shows up and makes a credible showing, that will be very interesting and we'll have to make a decision," Mr. Trump said. "But I can only say this: He is such an outstanding man. Very hard for me to imagine that anything happened."

Democrats acknowledged that Republicans seemed to have reassured the members of their conference uneasy over the allegation and could confirm Judge Kavanaugh on the strength of their razor-thin 51-to-49 majority.

"Clearly, the Senate Republicans have decided to tough it out, and they are worried about one constituency at this point," Senator Richard J. Durbin, Democrat of Illinois, said in an interview. "It is not the American public; it is the six or seven Senate Republicans who objected last week to a hurry-up hearing. They think they have them back in their corner."

Still, the emergence of Dr. Blasey's allegation may have cost Republicans the chance of winning support from any of the red-state Democrats they were hoping to enlist. Senator Claire McCaskill, a Democrat facing a competitive re-election in Missouri, announced Wednesday that she will vote against confirmation of Justice Kavanaugh.

Ms. McCaskill said she was concerned about the accusation against the judge, but based her decision on campaign finance law. "He has revealed his bias against limits on campaign donations, which places him completely out of the mainstream of this nation," she said in a statement.

(…)

While Dr. Blasey and Democrats have called for an F.B.I. investigation before a hearing, it is unlikely the bureau would open a criminal investigation of Judge Kavanaugh because Dr. Blasey's accusations do not involve a potential federal crime. Sexual assault would typically be a state crime, and the passage of more than three decades would make any prosecution problematic, according to legal experts.

Democrats pointed out on Wednesday that the F.B.I. was asked to investigate Anita F. Hill's sexual harassment claims against Clarence Thomas when he was nominated for the Supreme Court in 1991. But Mr. Grassley said that happened when Ms. Hill's allegations were still confidential and pointed out that she testified at a hearing only five days after her charges became public, much as Dr. Blasey is being asked to do.

The F.B.I. does conduct background checks on Supreme Court nominees and passes along information to officials running the confirmation process, but it does not make judgments on the credibility of the claims, according to Justice Department guidelines.

"The F.B.I.'s role in such matters is to provide information for the use of the decision makers," according to background check guidelines issued in 2010 during the Obama administration.
More from The Washington Post, which reports that Senate Republicans appear united in their intention to move forward with the Kavanaugh nomination if, as threatened, Dr. Blasey Ford does not appear for the scheduled hearing on Monday:
Senate Republicans strongly signaled on Wednesday that they will forge ahead with embattled Supreme Court nominee Brett M. Kavanaugh's confirmation as his accuser called the rush for a public hearing next week unfair.

GOP senators who fretted earlier this week about the prospects for President Trump's pick are now largely pushing for a vote on Kavanaugh, who is accused of sexually assaulting now-professor Christine Blasey Ford when they were teenagers, amid signs that she may decline to testify before the Senate Judiciary Committee. And Trump is more convinced he should stand by Kavanaugh than he was two days ago, people close to the White House say.

Publicly, Trump has become more vocal in defending Kavanaugh, telling reporters on Wednesday that it was "very hard for me to imagine anything happened" with Ford, who detailed her allegation extensively with The Washington Post in a report published Sunday.

Ford, through her lawyers, has requested that the FBI conduct an investigation into the alleged incident before she speaks to the committee, and Senate Democrats have lined up behind her. But Republicans have not budged from their view that the FBI does not need to intervene, or from their plan to hear testimony from Kavanaugh and Ford on Monday.

Ford's attorneys have not officially declined the committee's invitation. But they reiterated Wednesday that while Ford is willing to cooperate with the Judiciary Committee, there needs to be a "full, nonpartisan investigation." Her lawyers also said that having just two witnesses — Kavanaugh and Ford — was neither fair nor in good faith when, they said, there are multiple witnesses who should testify.

"Dr. Ford was reluctantly thrust into the public spotlight only two days ago," attorney Lisa Banks said. "She is currently unable to go home, and is receiving ongoing threats to her and her family's safety. Fairness and respect for her situation dictate that she should have time to deal with this."

But Republicans were increasingly determined to confirm Kavanaugh before the Nov. 6 midterm elections, which would check off a major conservative goal and finish a nomination battle that has been bitterly contentious from the start.

"Requiring an FBI investigation of a 36-year-old allegation (without specific references to time or location) before Professor Ford will appear before the Judiciary Committee is not about finding the truth, but delaying the process till after the midterm elections," tweeted Sen. Lindsey O. Graham (R-S.C.), a member of the committee who pushed for a vote "as soon as possible."

Anger grew Wednesday among Democrats, who have not forgotten about the GOP's treatment of Merrick Garland, President Barack Obama's third Supreme Court nominee, who was summarily blocked by Republicans two years ago.

"It's pretty mind-bending hypocrisy that Republicans are all of a sudden interested in expediting Supreme Court nominations," Sen. Chris Murphy (D-Conn.) said. "Listen, I get why they're nervous. They were already in trouble electorally, and the way they're handling this matter doesn't help for November's purposes."

(…)

Judiciary Committee Chairman Charles E. Grassley (R-Iowa) has asked Ford's attorneys to respond by Friday at 10 a.m. on whether she plans to appear before his panel. His staff has tried to set up interviews with Ford, as well as with Mark Judge — a Kavanaugh friend who is alleged to have witnessed the incident — and two other potential witnesses, according to a letter Grassley sent Wednesday to Democrats on the committee.

"I have reopened the hearing because I believe that anyone who comes forward with allegations of sexual assault has a right to be heard, and because it is the committee's responsibility to fully evaluate the fitness of a nominee to the Supreme Court," Grassley wrote to Banks and Debra Katz, another lawyer for Ford. "I therefore want to give Dr. Ford an opportunity to tell her story to the Senate and, if she chooses, to the American people."

Grassley is also willing to send his staff to California to speak to Ford if she prefers, committee spokesman Garrett Ventry said. Ford is a psychology professor at Palo Alto University, which is northwest of San Jose in northern California.
Grassley's letter to Blasey Ford's attorneys, which I have embedded below, also set a deadline that is fast approaching for Kavanaugh's accuser and her attorneys to decide whether or not she will participate in the hearing notwithstanding the fact that they are demanding an investigation by the Federal Bureau of Investigation. That deadline is 10:00 am Eastern time on Friday for Blasey Ford, or her attorneys to provide Senators with certain documents including their client's biography and a summary of her expected testimony, which would basically amount to whatever opening statement she would give to the Committee on Monday. This deadline is set pursuant to the prevailing rules of the Committee. While it's probable that Grassley may agree to receive the documents a few hours later tomorrow, it's also clear that if nothing is provided then it is entirely likely that the Monday hearing will be canceled and the Committee will move forward toward a vote on the nomination later next week, probably as early as next Wednesday.
This is a position that the Republican Caucus appears to be united on notwithstanding the fact that many of the Republicans who had initially called for a hearing after Blasey Ford came forward. This list includes Senators such as Bob Corker, Susan Collins, and Lindsey Graham, all of whom have said that the Senate should move forward with the nomination if Blasey Ford does not appear on Monday. Most importantly, Arizona Senator Jeff Flake, who sits on the Judiciary Committee and previously said that he would not vote for the nomination without a further committee investigation of the charges, has said that he would most likely vote to approve the nomination in committee if Blasey Ford declines to appear before the committee as scheduled. Given this, and given the fact that neither the White House nor the Judiciary Committee appear to be likely to support the call for an investigation by the F.B.I., the ball is clearly in Blasey Ford's court. Either she shows up on Monday or she doesn't.. If it's the second option, and absent the unlikelihood that this matter does get referred to the Bureau for an investigation that seems to be entirely pointless, then Kavanaugh will be confirmed, although it's likely to occur on a strict party-line vote since these latest allegations make it far more difficult for red-state Democrats such as Joe Manchin, Joe Donnelly, and Heidi Heitkamp, all of whom voted for the nomination of Neil Gorsuch last year, to break with their party notwithstanding the price they may pay for it in November.
As I said yesterday, I honestly don't see what an F.B.I. investigation can accomplish in this case that a hearing will not other than to delay the proceedings and Judge Kavanaugh's confirmation, which is, it's fair to say, something that Senate Democrats are no doubt in favor of in any case. Dr. Blasey Ford has made an allegation about what she says happened to her at a party in the summer of 1982, although she cannot state with certainty exactly when or where it happened nor can she name anyone other than Kavanaugh himself and Kavanaugh's friend Mark Judge, who was present in the room. Both Kavanaugh and Judge have said that they have no recollection of any such incident, and Kavanaugh himself has specifically denied that he ever attacked Blasey Ford as she alleged and appears to have also said that he has no recollection of having been at a party such as the one Blasey Ford described, although it's obviously hard to be certain about that given the fact that Blasey Ford herself has been so unclear in the details of what allegedly happened. Given this, it's entirely unclear what the Bureau can investigate beyond talking to the three people involved, which the Senate Judiciary Committee can do on its own. In any case, we'll likely know by tomorrow morning where this stands. Either there will be a hearing or there won't and, if it's the second, then Republicans will move forward toward confirmation.
Here is Senator Grassley's letter:
Chuck Grassley Letter by on Scribd