Republicans Don't Seem To Care What Christine Blasey Ford Has To Say
Based on their own rhetoric, it seems clear that Republicans don't really care what Christine Blasey Ford has to say regarding what happened to her in 1982.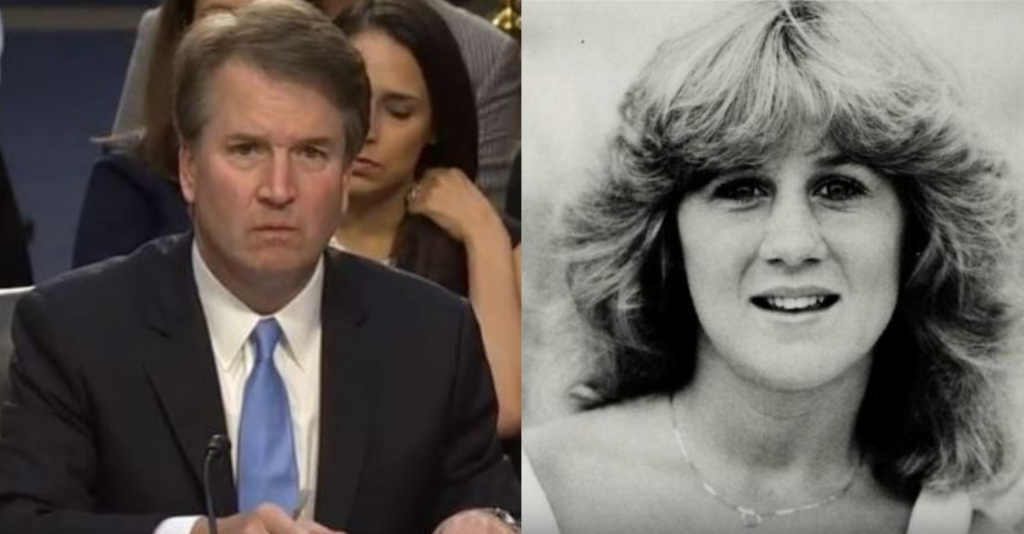 Like many Republicans, Lindsey Graham has already made up his mind on the accusations being made against Judge Brett Kavanaugh by Dr. Christine Blasey Ford, and I suspect he will be joined by pretty much every Republican in the Senate:
Sen. Lindsey Graham said Sunday the testimony of Brett Kavanaugh's accuser won't change his mind, no matter what she says.

"You can't bring it in a criminal court, you would never sue civilly, you couldn't even get a warrant," Graham said on "Fox News Sunday" with Chris Wallace. "What am I supposed to do? Go ahead and ruin this guy's life based on an accusation? I don't know when it happened, I don't know where it happened, and everybody named in regard to being there said it didn't happen."'

Kavanaugh's accuser, Christine Blasey Ford, has said Kavanaugh assaulted her at a party when they were both in high school. Therapist's notes from 2012 reference an attempted assault by students "from an elitist boys' school" who went on to become "highly respected and high-ranking members of society in Washington." The notes did not name Kavanaugh (a graduate of Georgetown Prep), and other students have said they don't remember the party Ford described.

The Senate Judiciary Committee on Saturday tentatively agreed to a hearing with Ford this week after exchanges with her lawyer, but Graham said it won't change his vote — absent additional information.

"Unless there's something more, no I'm not going to ruin Judge Kavanaugh's life over this," Graham said. "But she should come forward, she should have her say, she will be respectfully treated."
Senator Graham isn't alone, Senate Majority Leader Mitch McConnell made clear in a speech to the so-called "Values Voter Summit" that he intends to get Judge Kavanaugh approved regardless of what Dr. Blasey Ford has to say:
WASHINGTON - Supporters of Christine Blasey Ford criticized Majority Leader Mitch McConnell online Friday after he said - despite Ford's allegation that Judge Brett Kavanaugh sexually assaulted her when she was a teenager - Kavanaugh would be on the Supreme Court soon.

"In the very near future, Judge Kavanaugh will be on the United States Supreme Court," McConnell said to applause from religious conservatives at the Value Voters Summit Friday. "So my friends, keep the faith, don't get rattled by all of this. We're going to plow right through it and do our job."

Ford has alleged that in the early 1980s Kavanaugh and a friend took her into a room where he pinned her to a bed, groped her, tried to remove her clothes and put his hands over her mouth to muffle her when they were both teenagers at a house party in the suburbs of Washington, D.C.

Kavanaugh has vehemently denied the allegation.

Senate Republicans have stood behind Kavanaugh but also have not attacked Ford. Both Kavanaugh and Ford have said they will testify in front of Congress, but Ford's lawyers are still negotiating the terms of her appearance.

Ford's supporters said McConnell's comments Friday morning proved that he was not serious about hearing the California professor's side of the story and was just doing it for appearances.

McConnell isn't the only Republican to take heat for his comments about the allegation. President Trump spent most of the week saying Ford deserved to be heard but Friday morning he questioned why Ford hadn't reported the incident at the time and instead waited decades to come forward.

Sen. Dean Heller of Nevada, the most vulnerable GOP senator up for re-election in November, called the allegation a "hiccup" Wednesday. On Thursday, he clarified that "hiccup" was referring to the way Democrats had handled Ford's allegation.
Here's the video of McConnell's remarks:
Mitch McConnell: "You've watched the fight. You've watched the tactics, But here's what I want to tell you: In the very near future, Judge Kavanaugh will be on the United States Supreme Court… Don't get rattled by all of this. We're gonna plow right through it and do our job." pic.twitter.com/nmVJVHvrVV

— CNN (@CNN) September 21, 2018
Amber Phillips comments:
There is no other way to read McConnell's comment other than that the Ford allegation doesn't matter to him, at least not when he's so close to fulfilling his goal of firming up the Supreme Court's 5-to-4 conservative majority weeks before an election.

Put another way: A woman accused a Supreme Court nominee of drunkenly pinning her to a bed, groping her and covering her mouth when she screamed when they were in high school decades ago. She provided therapist notes from well before Kavanaugh was such a public figure. She took a polygraph test. She is willing to undergo an FBI investigation and testify under oath before the Senate. These are all moves that outside experts say make her story credible, and yet here is the most powerful politician in the Senate appearing to brush all of that aside because he wants to "do [his] job."

Not that this is a surprise — we've been questioning whether Republicans were taking Ford's accusations seriously since they came out. It's just a surprise to hear it put so plainly by the politician with the most control over the process.
Graham, McConnell, and Heller aren't alone among Senate Republicans. With a handful of exceptions who will likely end up playing along with the party in the end anyway, every Republican on the Judiciary Committee, and nearly every Republican in the Senate has made it clear that they intend on voting for Judge Kavanaugh regardless of what Dr. Blasey Ford has to say on Thursday, and several reacted to her initial claims by rejecting them out of hand, claiming she was part of some nefarious Democratic plot to undo Kavanaugh's nomination at the last minute. Others claimed falsely that she was motivated by a personal vendetta against Judge Kavanaugh based on what turned out to be a false interpretation (see here, here, and here) of the docket in a foreclosure proceeding that her parents were involved in twenty years ago, or participated in other bizarre efforts to undermine Dr. Blasey Ford. Initially, these Republicans rejected Blasey Ford's claims and insisted that the Judiciary Committee and the Senate just go forward and vote on the nomination. It was only once they realized that not allowing her to testify would be a political liability that they gave in on the idea of even holding a perfunctory hearing like the one that will happen on Thursday.
None of this should come as a shock, of course. For decades, Republicans have generally been far more single-mindedly focused on the Judiciary in general and the Supreme Court specifically than their Democratic counterparts. The makeup of the Judiciary Branch has long been an issue that has helped to drive Republican voters to the polls in both Presidential elections and off-year elections, and it has been an issue that candidates and advocacy groups have used to stir up fundraising and voter enthusiasm. Since the election of President Trump, many conservatives who might otherwise have been thought to be deeply opposed to someone with his background, have cited the selection and confirmation of judges for the U.S. District Court, the Courts of Appeal, and, of course, the Supreme Court as the reason they are standing by this President. Amid all of this, there has been a rapid speeding up of judicial confirmations by the Senate, and the extent to which Trump is already starting to remake the Federal Judiciary in ways that will have implications for years to come. This will be especially true if the Senate is able to get Brett Kavanaugh, or a similarly conservative nominee confirmed.
Taking this into account, and adding into it the possibility that Republicans could lose control of the Senate in November, it's easy to see why Republicans are eager to push forward with confirmation even of a nominee as tainted as Brett Kavanaugh is, and even if that means basically just paying lip service to a woman who is claiming that said nominee sexually assaulted her when she was just 15 years old.