Hearing On Charges Against Brett Kavanaugh Set For Thursday
Some details still need to be worked out, but it looks as though Dr. Christine Blasey Ford will be testifying before the Senate Judiciary Committee on Thursday.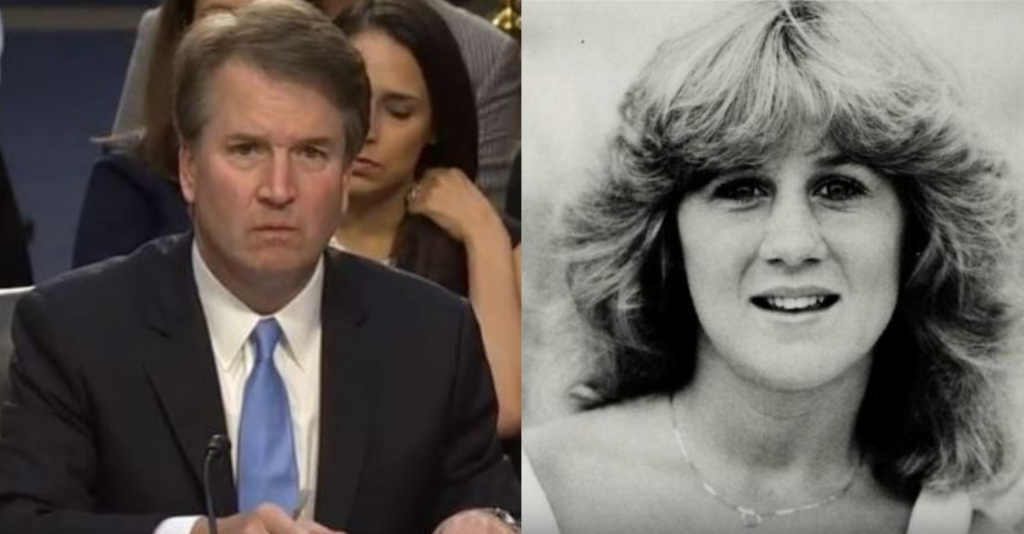 A tentative deal has been reached between the Republican majority on the Senate Judiciary Committee and the attorneys for Dr. Christine Blasey Ford, the woman who has accused Judge Brett Kavanaugh of assaulting her at a party in 1982, and it looks like the showdown will happen on Thursday:
WASHINGTON — The Senate Judiciary Committee and lawyers for the woman who has accused Judge Brett M. Kavanaugh of sexually assaulting her decades ago reached a tentative agreement on Saturday for her to publicly testify on Thursday, an apparent breakthrough that could alter the course of a bitter confirmation fight.

After a brief call late on Saturday, the woman's lawyers and aides to Senator Charles E. Grassley of Iowa, the Republican chairman of the Judiciary Committee, planned to talk again Sunday morning to continue the halting negotiations over the conditions of the testimony, according to three people familiar with the call. Aides to Senator Dianne Feinstein of California, the committee's top Democrat, were also involved.

But in a possible setback for the woman, Christine Blasey Ford, Republicans on the committee received a statement on Saturday that seemed to eliminate any chance of corroboration of Dr. Blasey's account by anyone who attended the high school party where she says she was assaulted.

A woman named Leland Keyser — who is believed to have been identified by Dr. Blasey as one of the five people at the party — told the committee through a lawyer that she "does not know Mr. Kavanaugh and she has no recollection of ever being at a party or gathering where he was present, with, or without, Dr. Ford." Two men said to have been at the party, Mark Judge and Patrick Smyth, have also told the committee that they have no recollection of the events.

Still, even without corroboration, any testimony by Dr. Blasey would set up a potentially explosive showdown, and it could greatly complicate matters for Judge Kavanaugh, who just last week — before Dr. Blasey came forward with her account of the assault — seemed destined for confirmation to the Supreme Court.

While the negotiations over Dr. Blasey's testimony seemed to gain momentum, they could still falter over the details, which include who will question her. But in tentatively agreeing to a Thursday hearing, Republicans made a significant concession that suggested they were working to ensure that the session occurred after several days of uncertainty.

If no final deal is made, Mr. Grassley will be left to decide on Sunday whether to move ahead with a committee vote on Judge Kavanaugh's nomination that is scheduled for Monday, or give Dr. Blasey more time. Judge Kavanaugh, who has vigorously denied the allegations, has repeatedly expressed his desire to testify.

Mr. Grassley had set 2:30 p.m. Saturday as a final deadline for Dr. Blasey to agree or decline to appear. In a letter to the committee sent to meet that deadline, lawyers for Dr. Blasey, 51, a research psychologist in Northern California, said they were hopeful that an agreement could be reached on the details.

Dr. Blasey "accepts the committee's request to provide her firsthand knowledge of Brett Kavanaugh's sexual misconduct next week," they wrote. The lawyers called details of Mr. Grassley's earlier proposal, including a Wednesday hearing date, "fundamentally inconsistent with the committee's promise of a fair, impartial investigation into her allegations."

The tentative deal reached hours later came as White House officials and Republicans on Capitol Hill were growing increasingly frustrated at what they said was a ploy to delay the Monday vote. After the Judiciary Committee revealed Ms. Keyser's statement, the White House swung into the offensive against Dr. Blasey.

"One week ago, Dr. Christine Ford claimed she was assaulted at a house party attended by four others," said Kerri Kupec, a White House spokeswoman. "Since then, all four of these individuals have provided statements to the Senate Judiciary Committee denying any knowledge of the incident or even having attended such a party."

(…)

The tentative agreement was the latest turn in an on-again-off-again negotiation that began cordially, with Dr. Blasey voicing an openness to testifying, but quickly turned acrimonious. There have been several sticking points, including who would question her at a hearing — Republicans want to hire an outside counsel; Dr. Blasey would prefer to be questioned by senators — and how many news media cameras would be present. The lawyers have also asked for the committee to subpoena testimony from Mr. Judge, who Dr. Blasey has said witnessed the assault.

Senator Mitch McConnell, Republican of Kentucky and the majority leader, has said that he has enough votes to confirm Judge Kavanaugh, but with at least two Republicans in the Senate undecided and with the party holding only a 51-to-49 majority, it is hardly assured. It is increasingly unlikely that Judge Kavanaugh will have the support of even a single Senate Democrat.

Privately, Republican senators were working to resolve differences among themselves about how to proceed. Some favored cutting off negotiations over the hearing and moving swiftly to a vote, while others pushed to accommodate Dr. Blasey's wishes.

One of those who has favored accommodation, Senator Jeff Flake, Republican of Arizona, said on Twitter on Saturday afternoon that he saw progress. "This is good," he wrote.

Among the many considerations, according to one official close to the discussions, was how Republican voters would react to any move to push past the allegations. President Trump suggested at a rally on Friday night that he believes that the public, including many women, want to "fight for" Judge Kavanaugh.
More from The Washington Post:
Christine Blasey Ford, the woman who has accused Supreme Court nominee Brett M. Kavanaugh of sexually assaulting her when they were teenagers, moved closer Saturday to reaching an agreement with Republicans for her to testify at a Senate hearing Thursday.

Ford's representatives and Senate negotiators zeroed in on an arrangement for her to tell her story in a Thursday hearing before the Senate Judiciary Committee, according to people familiar with the situation. The talks were expected to continue Sunday.

The emerging accord marked the most concrete signs of progress yet in high-stakes negotiations that reached an impasse at the start of the weekend. Still, the Senate has made no public announcement of a hearing, and those close to the situation cautioned that they still needed to resolve some disagreements.

The sudden advance in the discussions came after Ford's attorneys, Debra Katz and Lisa Banks, emailed staff for Senate Judiciary Chairman Charles E. Grassley (R-Iowa) earlier Saturday to inform them Ford was prepared to appear before his panel.

"Dr. Ford accepts the Committee's request to provide her firsthand knowledge of Brett Kavanaugh's sexual misconduct next week," they said, stopping short of accepting Grassley's initial offer of a Wednesday hearing and complaining that the terms of his offer were "inconsistent with the Committee's promise of a fair, impartial investigation into her allegations."

The parties were expected to continue hashing out hearing details through the weekend. Sen. Jeff Flake (R-Ariz.), a key swing Republican vote on the panel, said Saturday that he would not mind if the hearing took place on Thursday, going against the hard line Grassley initially drew in the talks.

(…)

Several Republicans have accused Ford of delaying the hearing unnecessarily. Senate Majority Whip John Cornyn (R-Tex.) tweeted "#Rope-a-dope," referencing a boxing strategy of trying to tire out opponents by making them consistently go on offense.

"We have heard about different dates, conditions, and ever-changing schedules, but today we appear no closer to a fair hearing," White House spokeswoman Kerri Kupec said late Saturday. "But one thing has remained consistent: Brett Kavanaugh remains ready, willing and eager to testify as soon as possible."

Last week, Grassley set plans in motion for the Judiciary Committee to vote on Kavanaugh's nomination Monday if Ford rejected or ignored committee Republicans' demand for a Wednesday hearing. After Katz asked for more time to reply, Grassley had extended his deadline for a decision to Saturday afternoon.

The email from Ford's lawyers — sent to reporters shortly before the 2:30 p.m. cutoff Grassley had set — does not specify which day Ford would agree to appear. The parties have agreed to continue discussions about hearing specifics on Sunday, according to people familiar with the conversations.

As the talks have progressed, Ford has expanded her legal team. Michael R. Bromwich, a former Justice Department inspector general who has been representing former FBI deputy director Andrew McCabe, announced Saturday that he was resigning from his law firm, Robbins Russell, to work with Ford.

In an email to the firm's staff — sent two minutes after Ford responded to Grassley's invitation to testify — Bromwich said he was resigning because of objections within the firm to his representing Ford while employed there.
None of what has been made public about the negotiations between the Judiciary Committee and the attorneys for Dr. Blasey Ford over the past couple days has been made public, but it does not appear that the parties have resolved some of the outstanding issues surrounding the hearing and its format. On the minor level, it appears to be unclear whether Dr. Blasey Ford or Judge Kavanaugh will testify first. As I noted on Friday, her attorneys were insisting at least at the start of these negotiations that their client testify after Judge Kavanaugh. As I noted at the time, though, given the nature of the proceedings it seems logical that it would be the person making the charges, in this case, Dr. Blasey Ford who would go first with the nominee testifying in response. To proceed otherwise would be entirely unproductive and unhelpful to any search for the truth, to the extent that this hearing can be characterized as a search for the truth. Additionally, it's unclear whether the questioning of Dr. Blasey Ford would be conducted by the Senators or by outside counsel. Republicans have at least talked about the idea of hiring an outside attorney, preferably a woman, or using female staffers, to question Dr. Blasey Ford to avoid the obvious political dilemma faced by a panel of eleven men questioning a woman. From my perspective, this is an easy one. It is the Senators who must vote on the nomination, both in committee and on the Senate floor. Therefore, it should be the Senators who answer the question. If the fact that there are no women on the Republican side of the Committee, that's their problem to deal with not a justifiable reason to hide behind a third-party who has no vote in the Senate.
As this was unfolding, and as James Joyner noted this morning, a person who Dr. Blasey Ford said may have been at the party in question came forward to say that they had no specific recollection of the party that Dr. Ford described in her interview last Sunday in The Washington Post.  Leland Ingham Keyser, who said she is or was at the time a friend of Dr. Blasey Ford said she doesn't remember being at the party described and doesn't remember a specific party like the one Ford describes. This follows statements from another potential witness named Patrick J. Smyth who said that he did not remember being at such a part. This follows the statements from Judge Kavanaugh and Kavanaugh friend Mark Judge who said pretty much the same thing. As I said in a comment to James's post, it's not surprising that people who may or may not have been a party 36 years ago don't remember it, especially if nothing memorable from their perspective happened.  This is why I said last week that an FBI investigation would have been pointless. If Dr. Ford was attacked, it's easy to understand why she'd remember the event. It would be unusual for someone for whom this was just another party in the summer of 1982 to remember even being at the party much less who else was there or what might have happened in a room they were never in.
In any case, while some details remain to be hashed out, it does appear that we'll have a hearing featuring Dr. Blasey Ford and Judge Kavanaugh on Thursday. What happens between now and then is anyone's guess.