Second Impartial Named Witness Denies Knowledge of Kavanaugh Accusation
Christine Blasey Ford put "two teenagers" at the party where she alleges a rape attempt occurred. Neither remembers any such party.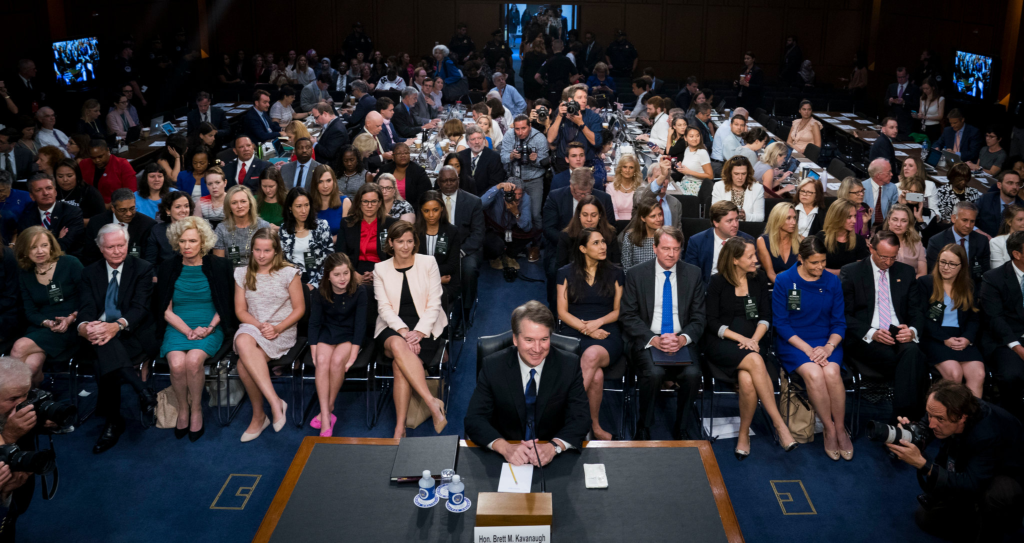 Last Sunday, Christine Blasey Ford, the author of a confidential letter to the Senate accusing Supreme Court nominee Brett Kavanaugh of an attempted rape back in 1982, came forward in a Washington Post story wherein she went public with the charges. In that interview, she named four people as witnesses: Kavanaugh and his friend Mark Judge, both of whom she alleged took part in the alleged crime and whose denials are therefore unsurprising, and  "two other teenagers who she said were at the party." Both of those former teenagers have now denied any knowledge of the incident.
Earlier this week, CNN reported that Patrick J. Smyth, a classmate of Kavanaugh and Judge, had signed a sworn statement to the Senate Judiciary Committee:
"I understand that I have been identified by Dr. Christine Blasey Ford as the person she remembers as 'PJ' who supposedly was present at the party she described in her statements to the Washington Post," Smyth says in his statement to the Senate Judiciary Committee. "I am issuing this statement today to make it clear to all involved that I have no knowledge of the party in question; nor do I have any knowledge of the allegations of improper conduct she has leveled against Brett Kavanaugh."

"Personally speaking, I have known Brett Kavanaugh since high school and I know him to be a person of great integrity, a great friend, and I have never witnessed any improper conduct by Brett Kavanaugh towards women. To safeguard my own privacy and anonymity, I respectfully request that the Committee accept this statement in response to any inquiry the Committee may have."
Given Smyth's relationship with Kavanaugh, that denial hardly made a ripple. The second is more interesting.
CNN ("Committee contacts Ford's friend about party; 'she has no recollection' of it, lawyer says"):
CNN has learned that the committee has reached out to a longtime friend of Ford named Leland Ingham Keyser.

"I understand that you have been identified as an individual who was in attendance at a party that occurred circa 1982 described in a recent Washington Post article," a committee staffer wrote Keyser earlier this week.

On Saturday night, her lawyer, Howard Walsh, released a statement to CNN and the Senate Judiciary Committee.

"Simply put," Walsh said, "Ms. Keyser does not know Mr. Kavanaugh and she has no recollection of ever being at a party or gathering where he was present, with, or without, Dr. Ford."

The lawyer acknowledged to CNN that Keyser is a lifelong friend of Ford's.

Ford's lawyer Debra Katz said in response to Keyser's attorney's statement that it makes sense that Keyser wouldn't remember, because Ford has said she did not share her allegations "publicly or with anyone for years."

"It's not surprising that Ms Keyser has no recollection of the evening as they did not discuss it," Katz said in a statement. "It's also unremarkable that Ms. Keyser does not remember attending a specific gathering 30 years ago at which nothing of consequence happened to her. Dr. Ford of course will never forget this gathering because of what happened to her there."

Keyser is the latest person alleged to be at the party to say she has no recollection of it.
That someone who was not in the room has no knowledge of an alleged rape attempt that may or may not have taken place in 1982 is hardly dispositive. But she doesn't even remember there being a party Ford and Kavanaugh both attended. Keyser is not only a "lifelong friend" of Ford but also the ex-wife and current producer of longtime Democratic operative Bob Beckel (who turned a stint at the manager of Walter Mondale's 1984 presidential campaign into a career as a pundit). She certainly has no reason to side with Kavanaugh over Ford here.
There's no reason to think Ford, who is a successful professional, would make up this story and go through the life-changing firestorm that would inevitably follow. She clearly thinks the version of events she is telling is true.
But Ford doesn't remember who hosted the party. Or how she got there. Or got home. Or even what year it took place. And the two neutral parties she says were at the event have zero recollection of it.
According to the second-hand account we have now from her interview with the Post, "she came to understand the incident as a trauma with lasting impact on her life" only "after going through psychotherapy" many years later. By her own account, she suffered "post-traumatic stress disorder."
I believe something awful happened to her at a party sometime during her high school years. That she hid it from her parents and subsequently tried to repress it and move on is perfectly consistent with how victims of sexual assault behave—and especially during an era where female victims were routinely shamed for somehow bringing it on themselves. But that doesn't mean that her post-therapy reconstruction of events is reliable. Or that Kavanaugh was the perpetrator of the awful thing that happened.
Maybe her testimony before the Judiciary Committee Thursday will clear up some of the confusion. Or other witnesses will come forward between now and then.