Kavanaugh's Defenders Aren't Helping
Prominent supporters of the embattled Supreme Court nominee, including the President, are doing him no favors.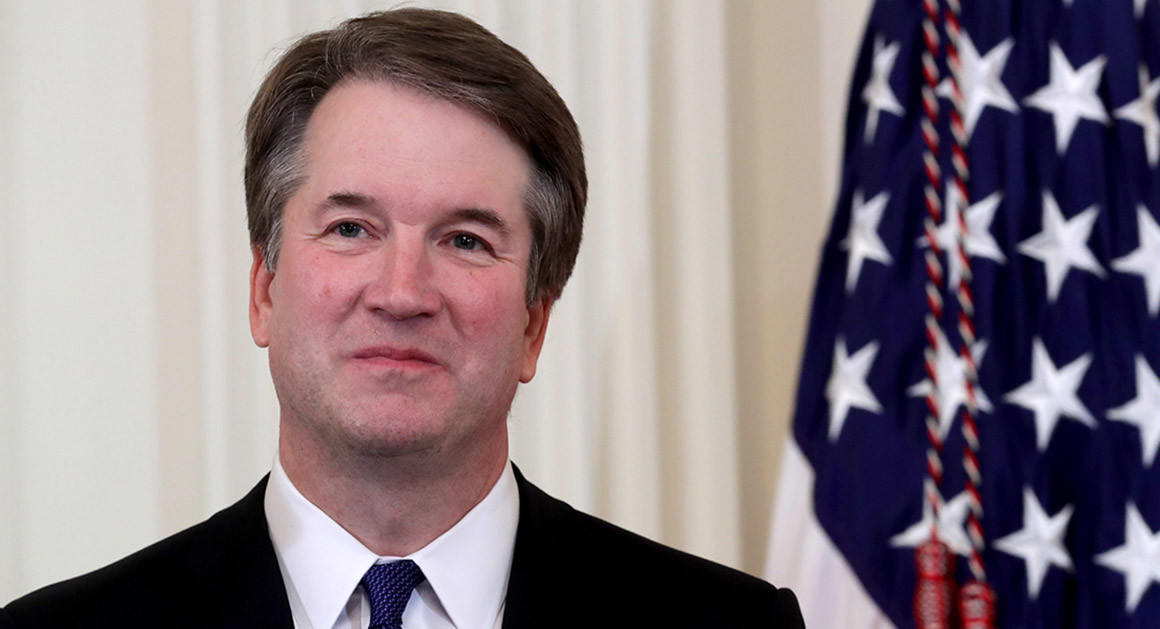 As detailed in recent posts, I'm sympathetic to the plight of Supreme Court nominee Brett Kavanaugh. A week away from reaching the pinnacle of his profession, an 11th-hour accusation of an attempted rape some 35 years earlier has him in the position of trying to prove a negative. But high-placed Republicans are doing him no favor in attacks on his accuser.
As Doug Mataconis noted yesterday, President Trump himself got into the action on Twitter. Among other things, he declared, "I have no doubt that, if the attack on Dr. Ford was as bad as she says, charges would have been immediately filed with local Law Enforcement Authorities by either her or her loving parents." Not only is that an incredibly stupid thing to write in light of what we've learned about the pressures stopping women—let alone teenage girls—from reporting sex crimes but it increases the pressure on Senators from swing states, and especially female Senators, to withhold their support from Kavanaugh. Indeed, Maine's Susan Collins has already been forced to issue a statement declaring "I was appalled by the president's tweet." Collins explained, "First of all, we know that allegations of sexual assault – I'm not saying that's what happened in this case – but we know allegations of sexual assault are one of the most unreported crimes that exist. So I thought that the president's tweet was completely inappropriate and wrong."
Alas, Trump's position is almost sane compared to some others.
HUD Secretary Ben Carson blamed the accusation on a socialist plot to take over America.
"If you really understand the big picture of what's going on, then what's going on with Kavanaugh will make perfectly good sense to you," Carson said at the annual Values Voter Summit in Washington. "There've been people in this country for a very long time, going all the way back to the Fabians, people who've wanted to fundamentally change this country."

[…]

"They don't like what America is and what it represents, and they want to change us to another system. In order to do that, there are three things they must control: the education system, the media, and the courts. The first two of those they have," Carson said. "The other they thought they had, but it was snatched out from under their noses in November of 2016."

Now, Carson continued, these forces "are like wet hornets, just completely lost control off the deep end, and the further they get away from being able to control the courts the more desperate they become," he said. "They don't see themselves as being able to control the courts for another generation, so what is left? Chaos and destruction."
The Republican legal analyst and commentator Ed Whelan had a bizarre Twitter thread Thursday attempting to pin the crime on a Kavanaugh classmate who slightly resembles the judge. We've learned that a Republican PR firm helped him craft that brilliant strategy:
It turns out that the Keystone Cops detective work by conservative legal activist Ed Whelan — which set Washington abuzz with the promise of exonerating Brett Kavanaugh, only to be met by mockery and then partially retracted — was not his handiwork alone.

CRC Public Relations, the prominent Alexandria, Virginia-based P.R. firm, guided Whelan through his roller-coaster week of Twitter pronouncements that ended in embarrassment and a potential setback for Kavanaugh's hopes of landing on the high court, according to three sources familiar with their dealings.

After suggesting on Twitter on Tuesday that he had obtained information that would exculpate Kavanaugh from the sexual assault allegation made by Christine Blasey Ford, Whelan worked over the next 48 hours with CRC and its president, Greg Mueller, to stoke the anticipation. A longtime friend of Kavanaugh's, Whelan teased his reveal — even as he refused to discuss it with other colleagues and close friends, a half dozen of them said. At the same time, he told them he was absolutely confident the information he had obtained would exculpate the judge.

The hype ping-ponged from Republicans on Capitol Hill to Kavanaugh's team in the White House, evidence of an extraordinarily successful public relations campaign that ultimately backfired when Whelan's theory — complete with architectural drawings and an alleged Kavanaugh doppelgänger — landed with a thud on Twitter Thursday evening.

The coordinated effort was a testament to the far-reaching but frenzied attempt among conservatives to save Kavanaugh, which appeared to have spun out of the White House's control. Indeed, Whelan told associates that he had kept his friend Kavanaugh and those working with him in the White House in the dark about his plans.
Not only did the campaign backfire on Whelan, potentially putting his law license in jeopardy and setting him up to be sued for defamation, but his relationship with Kavanaugh further complicates his friend's efforts to clear his reputation.
Meanwhile, Ken Cramer, the Republican nominee for the North Dakota US Senate seat running against Democratic incumbent Heidi Heitkamp, argued that, even if true, the accusation was no big deal.
"If to the degree there was any legitimacy to Anita Hill's claims, and she tried and didn't prevail — Clarence Thomas did and America did — this case is even more absurd because these people were teenagers when this supposed alleged incident took place," Cramer said on the Jarrod Thomas Show on 1310 KNOX, a local North Dakota radio station. "Teenagers. Not a boss-supervisor-subordinate situation, as the Clarence Thomas-Anita Hill situation was claimed to be. These are teenagers who evidently were drunk, according to her own statement. They were drunk. Nothing evidently happened in it all, even by her own accusation. Again, it was supposedly an attempt or something that never went anywhere."
That defense might have been effective 30 years ago. But they're astoundingly stupid in the wake of the #MeToo movement. And even moreso several days into the story, when people have had ample time to craft their message.
Meanwhile, Chuck Grassley, the 85-year-old chairman of the Senate Judiciary Committee charged with managing the whole thing, is issuing moronic tweets in broken English:
"Five times now we hv granted extension for Dr Ford to decide if she wants to proceed w her desire stated one wk ago that she wants to tell senate her story Dr Ford if u changed ur mind say so so we can move on I want to hear ur testimony. Come to us or we to u"

"Judge Kavanaugh I just granted another extension to Dr Ford to decide if she wants to proceed w the statement she made last week to testify to the senate She shld decide so we can move on I want to hear her. I hope u understand. It's not my normal approach to b indecisive"

"With all the extensions we give Dr Ford to decide if she still wants to testify to the Senate I feel like I'm playing 2nd trombone in the judiciary orchestra and Schumer is the conductor"
Not only is he (or whoever he has managing his Twitter account) seemingly unaware that he's not limited to 130 characters anymore, but it's completely unfathomable what he thinks this whining is going to accomplish. Are we supposed to feel sorry for him? Either delay the hearing or hold it. You're an octogenarian who's been in the Senate since 1981 and were just re-elected to your umpteenth six-year term in 2016. You don't have to run again until 2022, at which time you'll be 89! In the meantime, you look like a petulant child, not an honest broker capable of being trusted to run a dignified hearing on an incredibly sensitive matter.
What the hell's wrong with these people?