Ben Carson Made False Claims About Being Offered West Point Scholarship
Ben Carson's campaign now admits that he fabricated a key portion of his biography.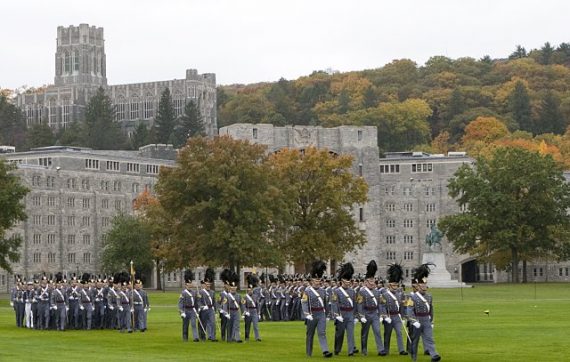 In the wake of a week in which Ben Carson's odd relationship with the truth has been a major theme on the campaign trail even while he continues rising in the polls of the race for the Republican nomination, Politico is out with a report that seems likely to cause the Carson claim even more problems:
Republican presidential candidate Ben Carson on Friday conceded that he never applied nor was granted admission to West Point and attempted to recast his previous claims of a full scholarship to the military academy — despite numerous public and written statements to the contrary over the last few decades.

West Point has occupied a central place in Carson's personal story for years. According to a tale told in his book, "Gifted Hands," the then-17 year old was introduced in 1969 to Gen. William Westmoreland, who had just ended his command of U.S. forces in Vietnam, and the two dined together. That meeting, according to Carson's telling, was followed by the offer of a "full scholarship" to the military academy.

West Point, however, has no record of Carson applying, much less being extended admission.

"In 1969, those who would have completed the entire process would have received their acceptance letters from the Army Adjutant General," said Theresa Brinkerhoff, a spokeswoman for the academy. She said West Point has no records that indicate Carson even began the application process. "If he chose to pursue (the application process) then we would have records indicating such," she said.

When presented with this evidence, Carson's campaign conceded the story was false.

"Dr. Carson was the top ROTC student in the City of Detroit," campaign manager Barry Bennett wrote in an email to POLITICO. "In that role he was invited to meet General Westmoreland. He believes it was at a banquet. He can't remember with specificity their brief conversation but it centered around Dr. Carson's performance as ROTC City Executive Officer."

"He was introduced to folks from West Point by his ROTC Supervisors," Bennett went on. "They told him they could help him get an appointment based on his grades and performance in ROTC. He considered it but in the end did not seek admission."

(…)

In his popular book "Gifted Hands," Carson says he excelled in his ROTC program at Detroit's Southwestern High School, earning the respect of his superiors – just a couple years after anger problems led him to try to murder a friend. He attained the rank of second lieutenant by his senior year of high school and became the student leader of the city's ROTC programs.

In May of his senior year, he was chosen to march in the city's Memorial Day parade.

"I felt so proud, my chest bursting with ribbons and braids of every kind. To make it more wonderful, we had important visitors that day. Two soldiers who had won the Congressional Medal of Honor in Viet Nam were present," he wrote. "More exciting to me, General William Westmoreland (very prominent in the Viet Nam war) attended with an impressive entourage. Afterward, Sgt. Hunt" – his high school ROTC director – "introduced me to General Westmoreland, and I had dinner with him and the Congressional Medal winners. Later I was offered a full scholarship to West Point."

But, according to records of Westmoreland's schedule that were provided by the U.S. Army, the general did not visit Detroit around Memorial Day in 1969 or have dinner with Carson. In fact, the general's records suggest he was in Washington that day and played tennis at 6:45 p.m.

(…)
Carson's later retelling of the events in this period of his life downplays his meeting with Westmoreland and that event's link to a West Point acceptance. In his January 2015 book "You Have a Brain" – a book geared toward teenagers – Carson again recalls his rapid rise through his high school's ROTC program to become the top student officer in the city.

"That position allowed me the chance to meet four-star general William Westmoreland, who had commanded all American forces in Vietnam before being promoted to Army Chief of Staff at the Pentagon in Washington, D.C.," he wrote. "I also represented the Junior ROTC at a dinner for Congressional Medal of Honor winners, marched at the front of Detroit's Memorial Day parade as head of an ROTC contingent, and was offered a full scholarship to West Point."

Carson has said he turned down the supposed offer of admission because he knew he wanted to be a doctor and attending West Point would have required four years of military service after graduation.

(Note: See Update #2 below regarding a change that was made to the original Politico story)
Based on the recitation of events in Carson's book as set forth in the Politico articles, it seems likely that what really happened is that Carson met with some officials from the Army as a representative of his( school's ROTC program. Perhaps the timing set forth in the book is inaccurate and he did indeed meet Westmoreland, perhaps it was actually someone else. In any case, it's not too much of a stretch to believe that someone from the Army would have encouraged Carson to apply to West Point based on his ROTC record. Obviously, though, this encouragement would not have included either a guarantee of admission or a scholarship offer; Carson would have been required to go through the same application process as all other prospective Cadets at the time, a process that isn't all that dissimilar from the one followed today. There's no record at all that Carson did this. Instead, Carson chose to go to Yale, where he received his undergraduate degree, from which he went on to medical school at the University of Michigan and a residency at Johns Hopkins University, where he eventually become the Chief of Pediatric Neurosurgery and famous enough in his field that he was the subject of a movie in which he was played by Cuba Gooding Jr.
Notwithstanding whatever else one might think about Dr. Carson, that's a fairly impressive resume, even more so considering his start as an African-American in inner city Detroit. Standing by itself, it makes for an impressive and even inspirational story. Despite that, along with the claims about a violent past that are now being thrown into doubt, Carson felt it necessary to embellish his past by making a claim that one would think he would have known would be easily verifiable (after all, if the U.S. military is good at one thing, it is keeping meticulous records). Given the fact that the first book in which he made this claim was published well before Carson became a political figure or seemed at all interested in running for office, it seems difficult to believe that he made the story up to advance his political fortunes although that certainly remains a possibility. In the context of his Presidential run, of course, a claim like this certainly is a biographical item that conservatives who tend to think very positively of the military would be impressed with to some degree. The fact that it's now being exposed as a fabrication at a time when he is riding high in the polls.
The major question, of course, is what impact this admission by the Carson campaign will have on his campaign going forward, if it has any impact at all. As with those people who strongly support Donald Trump, the core group of people who have rallied around Ben Carson during the course of this campaign have been seemingly immune to any criticism about their candidate, including revelations regarding his history of bizarre statements and his obvious fabrications. As I noted this morning, the reaction one notes from many of these people seems to be that these criticism of Carson constitute attacks by a biased media and attacks on Carson because of his faith. This piece of news, though, has the potential to have a different impact. Among conservatives generally, and certainly those hardcore conservatives most likely to support Carson, there has long been a strong sense of appreciation, one may even call it reverence, for the military and those who have served in uniform. Among other things, this has meant that those who have made false claims about their service such as claiming false military honors have been roundly condemned rather than defended, This could happen in Carson's case, especially given the fact that this news is being dropped just days before the next Presidential debate at which Carson is likely to face questions about his other representations from reporters and from his fellow candidates. Donald Trump, for example, spent the better part of this morning attacking Carson regarding inconsistencies regarding misrepresentations by Carson about other aspects of his youth so it's likely the Trump camp will pick up this ball and run with it. Additionally, candidates like Marco Rubio and Ted Cruz, who likely see Carson as the more vulnerable of the top two Republican candidates, may well take up the attack as well.
In some sense, what's happening to Carson here is reminiscent of last year's revelations that John Walsh, who had been appointed to fill out the term of Montana Senator Max Baucus and was running for re-election that November, had plagiarized portions of a paper submitted as part of a class at the Army War College. Walsh ended up having his degree from the Army War College revoked and dropping out of the race for Baucus's seat, which ultimately led to Republican Senator Steve Daines easily winning the General Election that November. Whether this single revelation will have that kind of impact on Carson remains to be seen, but when taken in conjunction with other claims and representations Dr. Carson has made it certainly does raise questions about his character that I suspect at least some conservatives are going to be troubled by. Whether the consequences he suffers end up being similar to what happened to Daines, and what happened to Herman Cain four years ago when allegations of sexual misconduct led him to drop out of a race he had been leading for a time, is something we'll just have to wait to see.
Update: Alex Griswold at Mediaite pushes back somewhat on the idea that Carson's campaign admitted fabrications:
What it seems to me is that the Carson campaign is readily admitting that the account Carson published in his autobiography (in which he claims to have been "offered a full scholarship") was inaccurate. That alone is troubling, and Politico was right to pursue the story.

But at no point does the campaign admit that Carson "fabricated" anything. There's a huge, huge difference between admitting you got something wrong and admitting that you made something up entirely. Carson's appeared to have admitted to one, but not the other. That's why when Mediaite covered the story, we went with a more neutral headline: Ben Carson Admits He Never Actually Received Scholarship From West Point.

But Politico overreached and chose a headline and lede that said that Carson admitted to lying. You're entirely at liberty to think that it was possible, probable, or even almost certainly true that Carson lied about the West Point scholarship. You're entirely at liberty to believe that he was simply confused or mistaken. But to say in a straight news story that Carson admitted to "fabricating" the story is editorializing and inserting opinions into what ought to be a straight recitation of the facts.

More to the point, if Politico's headline is accurate and the Carson campaign really admitted that he fabricated anything, why are they going around angrily denouncing Politico's claim that they admitted he fabricated anything? Usually when someone does some soul-searching and admits to fabricating something, they stick by it and do an Oprah tour or something.
When you look at what Carson said in his first book, as well as subsequent statements, including a Facebook post from August of this year, it's clear that at the very least Carson was misrepresenting the West Point story:
Carson has been consistent in claiming (erroneously) that West Point offered him a scholarship and claiming (correctly) that he never applied. So to state as fact in the lede that Carson "fabricated… his admission" to West Point is unambiguously false. Right from the first sentence, Politico's piece was inaccurate.

But he was definitely wrong about being offered a scholarship, and his campaign admits as much. Some would argue that if you admit being wrong about something as eventful as that, it stands to reason that it was a knowing falsehood. Maybe Politico can't be blamed for taking a journalistic shortcut.

Now I happen to think that, taken in combination with the CNN story, Carson probably did intentionally exaggerate parts of his biography.
Fabrication, exaggeration. Call it whatever you wish, I suppose, and already I'm seeing many conservatives, including people who have been critical of Carson, spending more time attacking Politico than Carson over this story. However, as I stated above, taken together with everything else that Carson has said, as well as all the negatives about him, it is eminently clear that he does not deserve to be taken seriously as a candidate for President of the United States.
In any case, I have changed the headline to the post to reflect the above observations.
Update #2: Politico has updated the Carson story to reflect the fact that previous claims that Carson had claimed he had been accepted to the Academy were not an accurate representation of what he said in his books. The main changes to the portion I excerpted are in the first two paragraphs of the story, and I have included the updated text in the original post. Here is the original text as it first appeared in Politico for comparison:
Ben Carson's campaign on Friday admitted, in a response to an inquiry from POLITICO, that a central point in his inspirational personal story was fabricated: his application and acceptance into the U.S. Military Academy at West Point.

The academy has occupied a central place in Carson's tale for years. According to a story told in Carson's book, "Gifted Hands," the then-17 year old was introduced in 1969 to Gen. William Westmoreland, who had just ended his command of U.S. forces in Vietnam, and the two dined together. That meeting, according to Carson's telling, was followed by a "full scholarship" to the military academy.
The article still makes clear that Carson misrepresented what happened by 1969, and has spent years implying that he had turned down an offer to attend West Point that was, in fact, never made.