Montana Senator John Walsh Caught In Plagiarism Scandal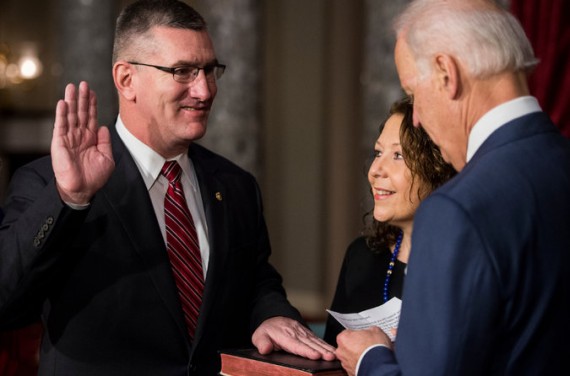 Montana Senator John Walsh, who was appointed by the state's Governor after Max Baucus resigned to become Ambassador to China and is now running for re-election in a race in which the Republican candidate is heavily favored, is finding himself in the middle of a campaign controversy related to one of the biggest parts of his resume:
WASHINGTON — Democrats were thrilled when John Walsh of Montana was appointed to the United States Senate in February. A decorated veteran of the Iraq war and former adjutant general of his state's National Guard, Mr. Walsh offered the Democratic Party something it frequently lacks: a seasoned military man.
On the campaign trail this year, Mr. Walsh, 53, has made his military service a main selling point. Still wearing his hair close-cropped, he notes he was targeted for killing by Iraqi militants and says his time in uniform informs his views on a range of issues.

But one of the highest-profile credentials of Mr. Walsh's 33-year military career appears to have been improperly attained. An examination of the final paper required for Mr. Walsh's master's degree from the United States Army War College indicates the senator appropriated at least a quarter of his thesis on American Middle East policy from other authors' works, with no attribution.

Mr. Walsh completed the paper, what the War College calls a "strategy research project," to earn his degree in 2007, when he was 46. The sources of the material he presents as his own include academic papers, policy journal essays and books that are almost all available online.

Most strikingly, the six recommendations Mr. Walsh laid out at the conclusion of his 14-page paper, titled "The Case for Democracy as a Long Term National Strategy," are taken nearly word-for-word without attribution from a Carnegie Endowment for International Peace document on the same topic.

In his third recommendation, for example, Mr. Walsh writes: "Democracy promoters need to engage as much as possible in a dialogue with a wide cross section of influential elites: mainstream academics, journalists, moderate Islamists, and members of the professional associations who play a political role in some Arab countries, rather than only the narrow world of westernized democracy and human rights advocates."

The same sentence appears on the sixth page of a 2002 Carnegie paper written by four scholars at the research institute. In all, Mr. Walsh's recommendations section runs to more than 800 words, nearly all of it taken verbatim from the Carnegie paper, without any footnote to it.

In addition, significant portions of the language in Mr. Walsh's paper can be found in a 1998 essay by a scholar at the Belfer Center for Science and International Affairs, at Harvard.

For example, Mr. Walsh writes: "The United States will have an interest in promoting democracy because further democratization enhances the lives of citizens of other countries and contributes to a more peaceful international system. To the extent that Americans care about citizens of other countries and international peace, they will see benefits from the continued spread of democracy."

The Harvard paper, written in 1998 by Sean M. Lynn-Jones, a scholar at the Belfer Center, includes the same two sentences.

Mr. Walsh does not footnote or cite Mr. Lynn-Jones's essay anywhere in his paper.

Both the Carnegie and Harvard papers are easily accessible on the Internet.

In an interview outside his Capitol Hill office on Tuesday, after he was presented with multiple examples of identical passages from his paper and the Carnegie and Harvard essays, Mr. Walsh said he did not believe he had done anything wrong.

"I didn't do anything intentional here," he said, adding that he did not recall using the Carnegie and Harvard sources.

Asked directly if he had plagiarized, he responded: "I don't believe I did, no."
Yesterday, though, Walsh came up with a new explanation:
Sen. John Walsh, D-Mont., says he was being treated for post-traumatic stress disorder when he used unattributed material in a research paper for his master's degree.

The senator also said he was dealing with the suicide of a fellow veteran at the time he wrote his paper.

"I don't want to blame my mistake on PTSD, but I do want to say it may have been a factor," Walsh told the Associated Press in an interview. He talked to the AP after The New York Times published a report about the senator's apparent plagiarism.

"My head was not in a place very conducive to a classroom and an academic environment," the senator told AP.
Not to discount in any respect Senator Walsh's service in Iraq and the very real issue of PTSD related injuries, but this strikes me as utterly absurd. The report in The New York Times report makes clear that this could not have been anything other than deliberate copying from other sources. Blaming it on PTSD or his service in Iraq is lazy, and in some ways an insult to the men and women who have served in Iraq and Afghanistan and are dealing with the consequences of those wars on a daily basis in their own lives in ways that are far more serious than being accused of plagiarism in an academic paper.
Given the fact that Walsh is facing an election in November, of course, the big question is what impact a story like this could have on the race. Even before these revelations, the general consensus has been that Montana is one of the Senate races where the GOP is likely to win a previously Democratic seat. Currently, RealClearPolitics has Republican nominee Steve Daines with a 12.5 point lead in the poll average. One imagines that a story like this isn't going to help Walsh in his home state and, indeed, the morning papers in Big Sky Country aren't exactly providing positive coverage for him:
Montana's front pages aren't kind to Senator Walsh this morning. pic.twitter.com/TMNKnPpzMK

— Gabriel Debenedetti (@gdebenedetti) July 24, 2014
Perhaps this will all blow over, but given the fact that Walsh was an underdog to begin with this can hardly help.