Former Congressman Joe Walsh Launches Primary Challenge Against Trump
Joe Walsh, a former Tea Party stalwart who served in Congress nine years ago, has thrown his hat in the ring against President Trump for the 2020 GOP Presidential Nomination.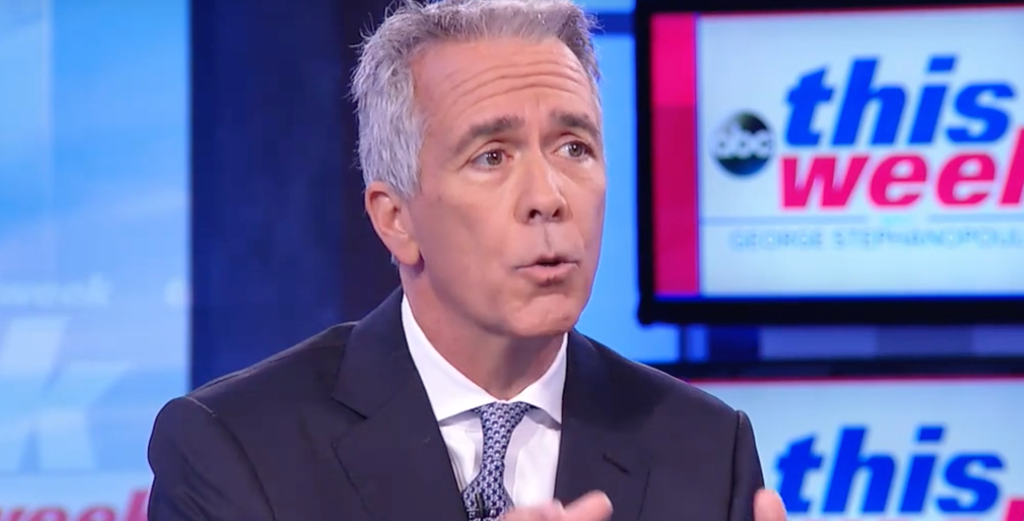 Joe Walsh, whose controversial career as a conservative Illinois Congressman came to a quick end some seven years ago, has become the latest Republican to challenge President Trump for the Republican nomination:
Joe Walsh, the conservative radio show host and former Republican lawmaker from Illinois who rode the 2010 Tea Party wave to serve one-term in Congress, announced on Sunday that he is running for president, challenging President Trump for the Republican nomination.

Mr. Walsh announced his candidacy in an interview with George Stephanopoulos on ABC's "This Week," while Mr. Trump was in Biarritz, France, for the G7, where he admitted he had "second thoughts" about ratcheting up tariffs and threats against China last week — moves that rattled global stock markets — before his spokeswoman said his statement was being misinterpreted.

"We've got a guy in the White House who is unfit, completely unfit, to be president and it stuns me that nobody stepped up," Mr. Walsh said in announcing his candidacy, claiming that "everyone" in the Republican Party believes Mr. Trump is not fit for the job.

Mr. Walsh's decision to announce his candidacy on television, aides said, is a preview of a television-centric strategy designed to rattle a television-focused president with a rare challenge from within the party. Mr. Walsh, a former supporter and acerbic Clinton critic, in 2016 wrote on Twitter: "On November 9th, if Trump loses, I'm grabbing my musket. You in?

Despite Mr. Walsh's claim that many Republicans share his belief that Mr. Trump is unfit to serve, most polls show the president's approval rating among Republican voters is consistently in the high 80s. Mr. Walsh stands virtually no chance of wresting the Republican presidential nomination away from Mr. Trump. But he framed his long shot primary challenge as a moral imperative to offer an alternative to Mr. Trump, and said that he is jumping in because "somebody needs to step up."
Mr. Trump's campaign has been working for over a year to make it virtually impossible for challengers to amass delegates, by tightening its stranglehold on state parties. The Trump campaign on Sunday simply shrugged off Mr. Walsh's announcement. "Whatever," Tim Murtaugh, a campaign spokesman, said in a text message.
Former Illinois congressman and current talk radio host Joe Walsh announced Sunday he will challenge President Donald Trump for the 2020 Republican presidential nomination.

"I'm running because he's unfit," Walsh told George Stephanopoulos, host of ABC's "This Week." "Somebody needs to step up, and there needs to be an alternative."

Walsh is the second Republican to announce a challenge to Trump. The first is former Massachusetts Gov. Bill Weld, who announced his long-shot White House bid in April. Walsh is also considered a long shot.

Weld said on NBC's "Meet the Press" he is "thrilled" about Walsh's entry and is looking forward to more candidates potentially joining in the race.

Walsh had been working toward an announcement in recent days, claiming the party wants an alternative to Trump. On Sunday, he said he stepped up to run because the GOP "wants Trump gone" and "believes he's unfit."

"They don't have an alternative," he said. "I'll tell you what, George — and look, I'm running because he's unfit. Somebody needs to step up and there needs to be an alternative. The country is sick of this guy's tantrum. He's — he's a child."

Once a defender of the president on his conservative talk show, Walsh responded to a question about how his listeners are responding to his recent critiques of Trump. He told Stephanopoulos Trump's "supporters, I think, are tired of this." He said he also hears support for the president because "it's difficult to be a critic of the president in conservative talk radio."
Here's the campaign's launch video:
Walsh, who attended Grinnell College, the University of Iowa, where he received his B.A. degree, and the University of Chicago, where he received a Master's degree in Public Policy, worked in a variety of public policy position for several free-market-oriented in the Midwest before running for Congress in 2010 in Illinois' 8th Congressional District in 2010 amid the Tea Party wave election that returned control of the House of Representatives to the GOP for the first time since 2006. Walsh won that election, defeating incumbent Democratic Congresswoman Melissa Bean. During his time in Congress, Walsh was known for taking many hardline Tea Party positions and for being a harsh critic of President Obama, including playing a role in spreading the birther myth and the false allegation that the former President was a Muslim. Due in no small part to this, as well as several personal issues such as a very public child support dispute with his estranged wife, Walsh was defeated in his bid for re-election by Iraq War veteran Tammy Duckworth, who went on to become the junior Senator from Illinois in 2016 when she defeated Republican Mark Kirk.
After leaving Congress, Walsh began a career as a talk radio host in Chicago, hosting a show on which he repeated much of the same firebrand conservative Tea Party rhetoric that he had during the 2010-2012 time period. In the past year or so, though, Walsh became more and more of a vocal critic of the President on his show and on social media. More recently, as he clearly pondered a challenge to the President, Walsh made several public appearances during which he apologized for much of his previous rhetoric and what he stated was his role in creating the conditions that made Donald Trump possible. He also became closely aligned with other anti-Trump conservatives such as Bill Kristol and Charlie Sykes, a conservative talk radio host out of Milwaukee who is also the founder of The Bulwark, an anti-Trump conservative blog that has featured pieces from many top conservative pundits who became disillusioned with, or never supported, the President.
Walsh, of course, is not the only Republican challenger to the President. Former Massachusetts Governor Bill Weld, who was also the Libertarian Party nominee for Vice-President in 2016, entered the race back in April, and former South Carolina Governor and Congressman Mark Sanford has been exploring the possibility of entering the race. Former Ohio Governor John Kasich also appears to be considering entering the race even though he appeared to rule it out in early June, while Maryland Governor Larry Hogan, who had looked into the idea of running against the President ruled such a run out earlier this summer.
Obviously, none of these challenges poses any serious risk to the President, whose job approval among Republicans hovers between 88% and 95% depending on which poll you're looking at. Nonetheless, intra-party challenges to incumbent Presidents do have a tendency of coinciding with one-term Presidencies, but that may be an example of correlation rather than causation. Whatever the case may be, though, the presence of people like Walsh and Weld, as well as potentially Sanford and Kasich, does mean that Republicans will have alternative candidate(s) to vote for in their respective state primaries, potentially allowing them to send a message to the President, and the country, that not every Republican is a Trumpaloon, a sycophant, a sellout, or a coward. Whether they take the opportunity to do so will be up to them.
Update: Trump appeared on Morning Joe to discuss his campaign: