Larry Hogan Rules Out Primary Challenge Against Trump
Maryland Governor Larry Hogan has ruled out what would essentially be a quixotic primary challenge against President Trump.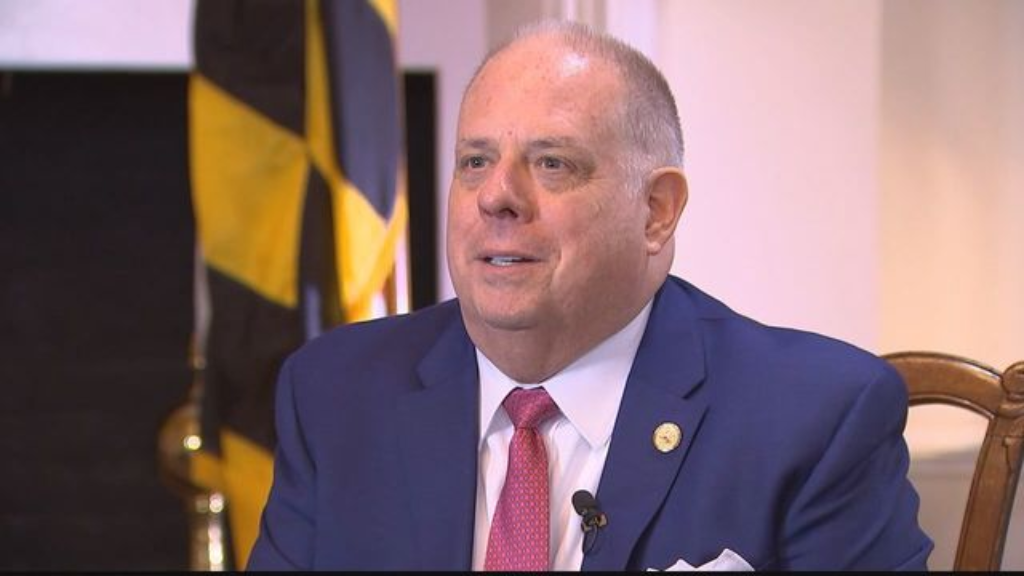 The Washington Post reports that Maryland Governor Larry Hogan, who has been among the most popular Governors in the country over the course of the past year, has decided against challenging President Trump for the Republican nomination for President:
Maryland Gov. Larry Hogan, who was considering an insurgent White House bid that would have championed traditional GOP values, will not challenge President Trump for the Republican Party's 2020 nomination.


"I'm not going to be a candidate for president in 2020," Hogan said in an interview.


Hogan's choice dashes the political hopes of Trump's leading GOP critics, who have wooed the popular Maryland governor for months and connected him with key players in early voting states. The decision also comes as other top Republicans are shying away from jumping into the presidential fray.


While Hogan acknowledged that Trump's enduring popularity with most Republicans would have been difficult to overcome, he said his decision was driven by his desire to govern without being pulled into an unpredictable political maelstrom that would keep him away from Annapolis.


"I have a commitment to the 6 million people of Maryland and a lot of work to do, things we haven't completed," Hogan said. Another factor he cited was his ongoing role at the National Governors Association, a bipartisan group of the nation's governors, which he will begin to chair in July.


Despite bowing out of the 2020 discussion, Hogan said he is not retreating from the national political scene and will continue to engage in the debates that are raging in the Republican Party over its future.


"We need to have a bigger tent and find a way to get things done," Hogan said. "We need some civility and bipartisanship. Our politics are broken. Washington is broken. But we have a story to tell."


Next week, Hogan will launch An America United, an advocacy organization that he said would attempt to "transcend partisanship" and rally both parties around such issues as infrastructure. He also will continue to stay close to mainstream GOP leaders and donors, starting with a visit next weekend to the E2 Summit in Utah, which is hosted annually by Sen. Mitt Romney (R-Utah).

Hogan, 63, made his decision following conversations with his family over the past week in Ocean City, where his wife, Yumi, and their three daughters privately shared their views on a long-shot campaign as they took his grandchildren to get "french fries and ice cream on the boardwalk," the governor said


"We got up every morning, walked on the beach and saw the sunrise, watched some sunsets. We were really just thinking. I would say there were mixed reviews" about the possibility, Hogan said. "The kids were pretty excited about it. My wife thinks it was the right decision not to."


Hogan added, "Her big push was, 'You just got reelected to a second term as governor. You made a commitment to the people of Maryland and that's where your focus should be.' She said there is plenty of time to think about the future but right now my attention should be on my day job. "

Hogan also thought of his father, the late Maryland congressman Lawrence J. Hogan Sr., as he moved closer to a final decision in recent weeks. The older Hogan famously was the first GOP member of the House Judiciary Committee to call for President Richard M. Nixon's impeachment in 1974 — and Hogan weighed whether his father would have encouraged him to take on Trump.

"I think my dad would be very proud of me, in terms of what we have been able to accomplish as governor of Maryland. But I think he probably would be, if he were here, on the side of lobbying me to run,"

Hogan said. "He wasn't here to work me over, but I was thinking about him."


Hogan dismissed the suggestion that his new advocacy group, with its national agenda and emphasis on bipartisanship, could be a precursor to an independent presidential campaign against Trump.


"No, no, no — it's not," Hogan said. "It's not about a third-party run or anything like that. I'm not hedging my bets."
I have noted before, specifically here and here, that there was at least some speculation that Hogan would throw his hat into the ring against Trump. At the very least, there were plenty of signs to support such a hypothesis. Hogan has never been an enthusiastic backer of the President's and, in fact, was one of the few Republican officeholders who did not endorse or campaign with Trump during the primary or General Election campaigns. He has also been quoted many times in the past saying things that were obviously meant to be critical of the President and the direction in which he was dragging the party and the country. The fact that he was overwhelmingly re-elected in a state dominated by Democrats and that he has been an effective Governor even while having to deal with the reality of a state legislature dominated by Democrats has also been cited as points in his favor. In many respects, then, Hogan was a quieter, more measured version of Chris Christie, who enjoyed his own time in the spotlight during the 2012 campaign for President but later saw his star dramatically reduced in the wake of the so-called Bridgegate scandal.
The difference between those trying to get Christie to run in 2011 and the people who had been whispering in Hogan's ear over the past several months, of course, is that this time they were asking Hogan to engage in what would basically be a quixotic campaign that would have had no chance of succeeding. As I've noted in the past, intra-party challenges to a sitting President are essentially doomed from the start. While several candidates have made the effort in the modern era — most notably Ronald Reagan in 1976, Ted Kennedy in 1980, and Pat Buchanan in 1992 — but none of them have succeeded. Given the fact that this President is overwhelmingly popular among Republicans, there's essentially no chance that Hogan or anyone else would have a chance against Trump absent a massive change in circumstances that seems unlikely.
This doesn't mean that Trump will be without an intra-party challenge, though. Former two-term Massachusetts Governor Bill Weld, who most recently was the Libertarian Party nominee for Vice-President, entered the race for the GOP nomination back in April. He doesn't have a chance of winning, of course, and Trump will most likely refuse to debate him, but his presence on the ballot will at least give principled Republicans a means to register their displeasure with this President, should they choose to do so.