Maryland Removes Police Protections over Hogan's Veto
The Free State may have gotten just a little freer.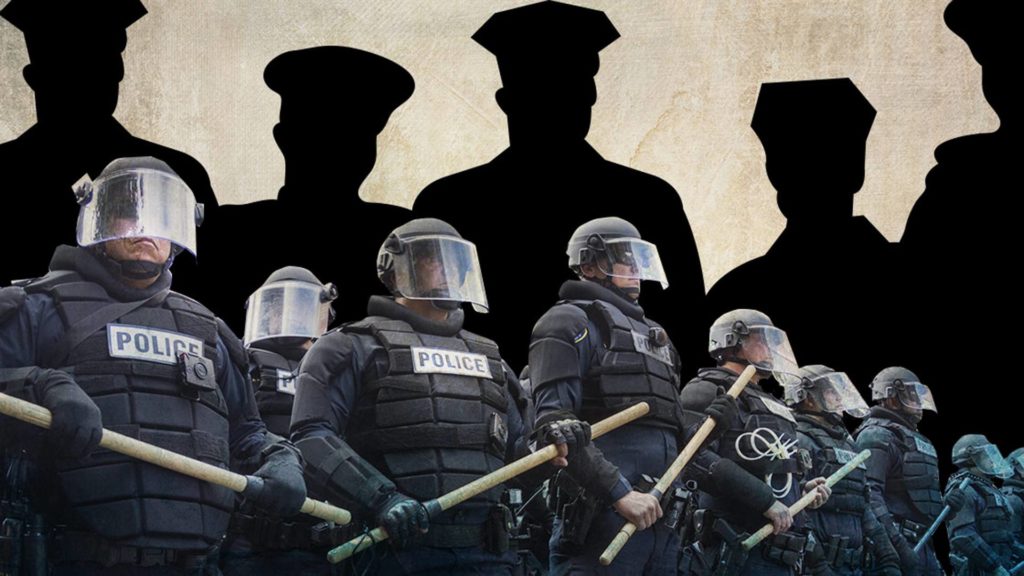 WaPo ("Maryland enacts landmark police overhaul, first state to repeal police bill of rights"):
Maryland enacted historic police accountability measures Saturday, becoming the first state to repeal its powerful Law Enforcement Officers' Bill of Rights and setting new rules for when police may use force and how they are investigated and disciplined.

The Democratic-majority legislature dealt Republican Gov. Larry Hogan a sharp rebuke, overriding his vetoes of measures that raise the bar for officers to use force; give civilians a role in police discipline for the first time; restrict no-knock warrants; mandate body cameras; and open some allegations of police wrongdoing for public review.

Each bill had been hailed by criminal justice advocates as having the potential to make policing in the state fairer and more transparent. Democrats, who hold large majorities in the legislature, made enacting them a top priority after months of protests over the police-involved deaths of unarmed Black men and women.

[…]

The changes do not go as far as some social justice advocates had hoped: Discipline will now largely be decided by civilian panels, for example, but police chiefs maintain a role. Some activists wanted the panels to act independently of police.

Still, the legislation imposes one of the strictest police use-of-force standards in the nation, according to experts; requires officers to prioritize de-escalation tactics; and imposes a criminal penalty for those found to have used excessive force.

[…]

Hogan, who is weighing a presidential bid in 2024, has built a varied record on criminal justice issues — championing drug treatment rather than jail time for nonviolent offenses but aggressively seeking tougher penalties for violent crimes. He has refused to free many prisoners approved for release by the state's parole board and has consistently sided with police unions in matters regarding officer protections and accountability.

In his veto letter Friday night, Hogan wrote that the three policing bills would "erode police morale, community relationships and public confidence."

"This will result in great damage to police recruitment and retention, posing significant risks to public safety throughout our state," the letter said.

Also on Saturday, the General Assembly overturned an earlier Hogan veto of a bill that would abolish life sentences without parole for juveniles. The legislation allows prisoners who were juveniles when they were convicted to appeal to a judge for release after they have served 20 years.
Baltimore Sun ("Maryland legislators pass landmark police reform package into law, overriding Gov. Hogan's vetoes"):
Brushing aside vetoes from Gov. Larry Hogan, Maryland legislators on Saturday passed a landmark police reform package into law that supporters hailed as a major step toward transforming policing in the state.

Hogan, a Republican, contended that central provisions of the sweeping four-part Maryland Police Accountability Act go too far and will treat police officers unfairly. He vetoed three bills Friday evening containing those sections.

[…]

The legislation will overhaul the disciplinary process for officers accused of misconduct, allow public scrutiny of complaints and internal affairs files, and create a new legal standard requiring that police use only "necessary" and "proportional" force. Officers who use excessive force will face additional criminal penalties, including up to 10 years in prison. Also, police will be limited on when they can obtain so-called "no-knock" warrants or raid homes at night.

[…]

House of Delegates Speaker Adrienne A. Jones, a Baltimore County Democrat, sponsored key portions of the package.

"Now, for the first time in our nation's history, the rights of officers will not be held above the rights of individuals, and policing in Maryland will be transparent and citizen-centered," she said.

Hogan said Friday in his veto message that the police reform effort was "overtaken by political agendas that do not serve the public safety interests of the citizens of Maryland" and that the bills he vetoed would "further erode police morale, community relationships and public confidence."

Republican lawmakers echoed those concerns and raised worries that provisions would leave officers fearful that split-second decisions under dangerous circumstances might cost them their jobs or send them to prison. Maryland Fraternal Order of Police President Clyde Boatwright warned that the legislation would have "a significant impact on the hiring and retention of law enforcement officers in our state."

Sen. Jill P. Carter, a Baltimore Democrat who fought for years to pass policing legislation, responded Saturday on the Senate floor to Hogan's comments. What corrodes community trust in police, Carter said, is years of frustration over abuses that go unpunished, protests that go unheard and a broken system that carries on unchanged.

Carter cited scores of people killed by law enforcement in Maryland over the past two decades and notorious instances of corruption that went unchecked for years. Baltimore residents filed numerous complaints about since-convicted officers on the Baltimore Police Department's infamous Gun Trace Task Force, Carter said, but members of the force continued to abuse the public with impunity.
I don't live in Maryland and haven't followed the ins and outs of this bill, so don't have a strong opinion on many of its provisions. But the overall tenor of it strikes me as reasonable. Police officers are empowered to use deadly force against citizens as a condition of their employment but they are supposed to be trained professionals with excellent judgment and forbearance. Too many in the community, and certainly those that are poor and non-white, see the police as more a threat to the public safety than the criminals themselves.
When an officer kills someone, there should be a thorough incident review that's transparent to the public. For good officers, that's a great benefit as it will clear their reputation and that of the larger force. For bad officers, it should lead to their prompt removal from the force, a signal that misconduct won't be tolerated.
While there are extreme cases where a no-knock warrant is necessary, most police forces have already moved away from them, rightly seeing them as escalatory. In the DC area, all of the local forces have moved in that direction—with the notable exception of Prince George's County, Maryland, which is notoriously awful (but pledged in February to undertake multiple reforms).
Holding police criminally liable for misjudgment gives me some pause, although I strongly suspect enough protections are built into the law to make only the most egregious cases result in charges. But everyone who makes it through initial training isn't cut out to be a cop. Those who lack the nerves and judgment to do it without being a menace to the community simply have to be removed.