Baltimore Under Siege
Just over a week after a death at the hands of police that remains incredibly suspicious, Baltimore is the sight of violent riots.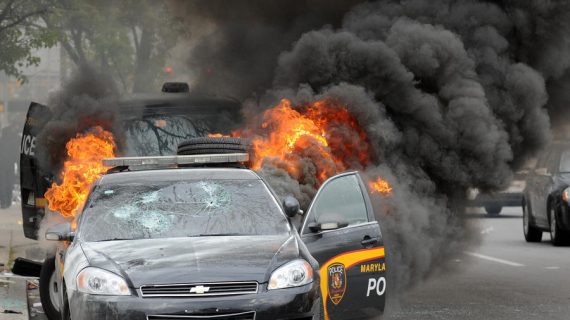 Just under ten days ago, a 25 year old man in Baltimore died after being taken into custody by police for reasons that still haven't been made clear. What has been even less clear to date have been the circumstances of his death, which resulted from a broken neck and possibly other injuries that he sustained some time after being taken into custody but after he was out of the view of the cameras that recorded his initial encounter with police. There have been protests in Baltimore virtually from the day that Gray's death became public and, on Saturday they became violent enough that fans who were at Camden Yards to watch the Orioles play the Red Sox were kept in their seats for some period of time while police dealt with violent protests outside the stadium. Today, Gray was laid to rest but tensions began to rise when rumors began to spread of plans for attacks on police officers by gang members and, this afternoon protests broke out that quickly turned into a riot that has already caused significant property damage to one area of the city:
BALTIMORE — Police officers in riot gear clashed with rock-throwing youths on Monday in a neighborhood in Northwest Baltimore, hours after Freddie Gray, the 25-year-old black man who has become the nation's latest symbol of police brutality, was laid to rest amid emotional calls for justice and peace.

At least seven officers were injured and one was "unresponsive," Capt. J. Eric Kowalczyk of the Baltimore police told reporters.

The violence broke out in the Mondawmin neighborhood, near the New Shiloh Baptist Church, where friends, neighbors, activists and government officials from the local level to the White House — as well as civil rights leaders like the Jesse Jackson and Dick Gregory — had gathered in the morning to eulogize Mr. Gray.

"We are continuing to deploy resources across the city to respond to reports of violence," the police said on Twitter. "The safety of our community is our top priority."

Groups of angry young people surrounded a police cruiser and smashed it in; another cruiser could be seen burning. Several businesses, including a drugstore, a liquor store and a check-cashing store, were looted. Others pelted the police with items picked up at nearby vacant lots — rocks, bricks, boards and chunks of concrete. Some arrests were made.

At least one small fire could be seen in streets filled with debris. Police officers in riot gear could also be seen outside Camden Yards, the baseball field in downtown Baltimore, where the Orioles were scheduled to play the Chicago White Sox. The Maryland State Police said that an additional 40 troopers were joining the 42 troopers already deployed in Baltimore.

Police said earlier in the day that they had received a "credible threat" of violence against law enforcement officers, and Captain Kowalczyk told reporters here that authorities would take "appropriate measures" to keep officers and the neighborhood safe. Warned by the police of possible violence, the University of Maryland campus in downtown Baltimore closed early as did Mondawmin Mall.

"You're going to see tear gas, you're going to see pepper balls, we're going to use appropriate methods to make sure we an preserve the safety of that community," Captain Kowalczyk said during a televised news conference. "Our officers are working as quickly and as orderly as they can to being about order in the area of Mondawmin."

A flier circulated on social media called for a period of violence Monday afternoon to begin at the Mondawmin Mall and move downtown toward City Hall.
More from The Baltimore Sun:
Violence and looting overtook much of West Baltimore on Monday, seriously injuring several police officers and leaving a store and several vehicles in flames.

At least seven police officers were injured in a clash that began near Mondawmin Mall and spread toward downtown. One officer was unresponsive and others suffered broken bones, police spokesman Capt. Eric Kowalczyk said.

Smoke filled the air as police responded with shields and a tactical vehicle. Demonstrators pelted officers with rocks, bricks and bottles and assaulted a photojournalist, and officers fired back with tear gas and pepper balls.

Demonstrators set a police vehicle ablaze at North and Pennsylvania avenues. Nearby, they looted a CVS drug store, which store officials said had already closed, before it caught fire. Rioters cut the fire hose as firefighters battled the blaze.

The unrest spread toward downtown, with looting along Howard and Centre streets as afternoon turned to evening. Another group of people was destroying property around North and Fulton avenues, police said.

Kowalczyk called the demonstrators "lawless individuals with no regard for the safety of people that live in that community" and said they would be identified and arrested. Police said via Twitter many of the rioters were juveniles and urged parents to bring their children home.

Gov. Larry Hogan signed an executive order declaring a state of emergency and activating the Maryland National Guard. He was set to speak at Maryland Emergency Management Agency headquarters at 8:30 p.m.

"Today's looting and acts of violence in Baltimore will not be tolerated," he said in a statement. "I strongly condemn the actions of the offenders who are engaged in direct attacks against innocent civilians, businesses and law enforcement officers. There is a significant difference between protesting and violence and those committing these acts will be prosecuted under the fullest extent of

Earlier Monday afternoon, the threat prompted police to urge downtown businesses and institutions to close, including the University of Maryland, Baltimore, Lexington Market, a city courthouse and businesses including T. Rowe Price and Venable LLP.

Two city recreation centers in West Baltimore, the Robert C. Marshall Recreation Center in Upton and Lillian Jones Recreation Center in Sandtown-Winchester, closed early. All Pratt Library branches closed early.

Public officials condemned the riots.

"For us to come out of the burial and into this, it's absolutely inexcusable," said the Rev. Jamal H. Bryant, who hours earlier delivered Gray's eulogy. "Violence is not the answer for justice."

Bryant said a group of men from the Nation of Islam planned to build a "human wall" to stop the mob from coming downtown. "Violence is not the answer," he said.

the law."

The incident stemmed from a flier that circulated widely among city school students via social media about a "purge" to take place at 3 p.m., starting at Mondawmin Mall and ending downtown. Such memes have been known to circulate regularly among city school students, based on the film "The Purge," about what would happen if all laws were suspended.

The flier included an image of protesters smashing the windshield of a police car Saturday during a march spurred by the death of Freddie Gray, a 25-year-old man who suffered a spinal cord injury earlier this month after being arrested by city police.

Kowalczyk would not speculate on whether the incident was related to Gray's death.

While officials had expected additional protests on the same day Gray was mourned and buried, the scale of the unrest took them by surprise, U.S. Rep. Elijah Cummings told CNN.

"We never expected anything like this," he said.

Mayor Stephanie Rawlings-Blake activated the city's emergency operation center just before 6 p.m. to coordinate response to the riots.

Police were preparing for rioting to make its way downtown, with officers in helmets and carrying shields stationed at Lexington Market and the Inner Harbor. Maryland State Police sent 40 troopers to the city, said Keiffer Mitchell, a top aide to Gov. Larry Hogan. Several other jurisdictions, including Baltimore and Howard counties, sent officers to assist.

All but one gate to Oriole Park at Camden Yards was closed, with a game set to begin at 7:05 p.m. But team officials postponed the game less than an hour before first pitch was scheduled.
As was the case during the riots that occurred in Ferguson, Missouri last August, it seems fairly clear that the rioting and violence that we are seeing in Baltimore today, and that we saw on Saturday night near Camden Yards, is largely the work of people using the protests as cover for their own nefarious goals. Some of the reports regarding the planned protests for today have suggested that the city's gangs have actually banded together to use today's protest as a cover to attack police officers, for example. More importantly, the community leaders who have been part of the peaceful protests that have been going on since Gray's death on April 19th, along with Gray's family members, have been quick to denounce the violence and ask for it to come to an end. It likely won't, of course, and the fact that it has gotten out of hand so quickly likely means that law enforcement will find itself forced to use a heavy hand to restore order, something which may prove difficult to keep under control as we approach nightfall in Baltimore. More than likely, though, it will take more than one night to bring order to this situation.
There is, quite obviously, no excuse for violence and looting such as what we're seeing unfold in Baltimore tonight, and the willful destruction of property is utterly senseless. One of the first businesses to be looted in this neighborhood, for example, one of the first businesses attacked by rioters was a CVS that one could tell even from the aerial shots being broadcast on CNN was a relatively new business, likely only a few years old at the most. Over the course of less than twenty minutes, one could see the entire store being trashed, windows busted out, and merchandise being carried out by people who obviously didn't care very much what what happening to the neighborhood. Less than an hour later, that building was on fire, and when the fire department came out to try to put out the fire, with a CNN reporter standing right there, two people who had their faces covered came up and cut the firehouse's connection to the hydrant. That's just one example of what's been happening in that city.
None of this is to excuse what happened to Freddie Gray, of course. Based on the information that has come out so far, it seems quite apparent that the officers involved in his arrest, all of whom are currently suspended, acted at the very least with reckless disregard for his life, and possibly worse. Additionally, the Baltimore Police Department itself apparently has a long history of abuses and bad relations with the community that are no doubt fueling much of what we are seeing unfold now. All of that needs to be addressed. However, none of that justifies, rioting, looting, and actions that place the lives of others in danger. I suspect that the people in Baltimore who actually care about what happened to Freddie Gray, and actually care about their neighborhoods know this. Unfortunately, they are being overshadowed by a bunch of thugs right now.
Photo via The Baltimore Sun