Charges Dropped Against Remaining Officers In Freddie Gray Case
After four straight losses, prosecutors in Baltimore are throwing in the towel in the Freddie Gray case.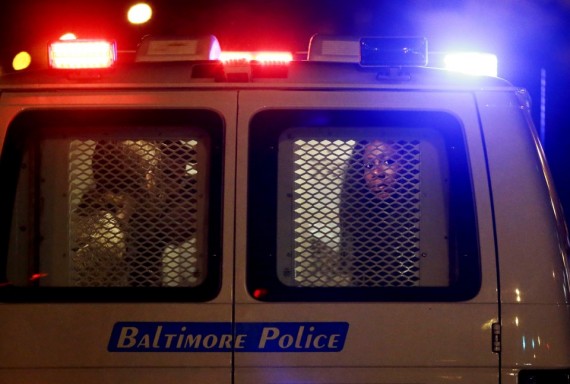 After failing to obtain convictions in four consecutive cases, Baltimore prosecutors announced today that they were dropping all charges against the remaining officers associated with the incidents that led to the death of Freddie Gray:
The state's attorney in Baltimore on Wednesday dropped all remaining charges against three city police officers awaiting trial in the death of Freddie Gray, ending one of the most closely watched — and unsuccessful — police prosecutions in the nation.

The decision brought to a close a sweeping prosecution that began with criminal charges against six police officers last May, announced with the city still in the grips of violent protest after the death of Mr. Gray, who was found unresponsive and not breathing after he rode unsecured in a police transport wagon after his arrest on a bright morning in April 2015. Mr. Gray later died of a spinal cord injury.

But prosecutors were unable to secure a single conviction during the first four trials, the first of which, for Officer William G. Porter, began in December and ended in a mistrial that led to months of delays. Officer Edward M. Nero, who participated in the initial arrest, was acquitted in May; Officer Caesar R. Goodson Jr., the driver of the vehicle in which Mr. Gray was transported, was acquitted in June; and another officer present early in the arrest, Lt. Brian Rice, was acquitted earlier this month.

The extraordinary turn of events put in sharp relief the wrenching national debate over race and policing. But in Baltimore, a majority black city, that debate is playing out with great nuance. The Freddie Gray case featured a black victim, but it also had a black judge who once worked as a civil rights lawyer investigating police misconduct and a black prosecutor. And three of the six officers are also black, as is the defense lawyer who spoke on their behalf Wednesday.

At the end, there were no convictions, and there were more questions than answers, with still no clarity on how Mr. Gray died.

On Wednesday, the state's attorney, Marilyn J. Mosby — released from the gag order that had kept her from commenting — fiercely defended the prosecutions. "We do not believe Freddie Gray killed himself," she said.

Ms. Mosby also said the prosecutions had led to changes to police practices and pushed the Baltimore Police Department, long plagued by accusations of racial bias and under investigation by the Department of Justice, "one step closer to equality."

Ms. Mosby's move caused ripples on the presidential campaign trial, as Donald J. Trump, who has cast himself as the law-and-order candidate, sharply criticized her.

"I think she ought to prosecute herself," Mr. Trump told reporters traveling with him. He added, "I think it was disgraceful what she did and the way she did it and the news conference that she had where they were guilty before anybody knew the facts."

Critics of Ms. Mosby have long raised questions about whether she overcharged the officers. She insisted Wednesday that she had not.

Instead, appearing before television cameras in front of a mural in the West Baltimore neighborhood where Mr. Gray grew up, was arrested and died, she was every bit as passionate as she was when she first announced the prosecutions. And she issued an urgent call for criminal justice reform.

Ms. Mosby said the decision to drop the charges had been "agonizing." But she said had had no choice given the realities of the case — including the lack of an independent investigatory agency to help prosecutors and the officers' right to opt for bench trials. The judge, Barry G. Williams Jr., made clear he did not agree with prosecutors's theory of the case.

"Without real substantive reforms to the current criminal justice system, we could try this case 100 times and cases just like it, and we would still end up with the same result," Ms. Mosby said.

As Ms. Mosby defended herself and her prosecution team, a starkly differing version of events emerged from the president of the police union — who branded Ms. Mosby's criticisms of police as "outrageous" — and a lawyer for one of the officers, four of whom are back on the job.

"Baltimore, it's time to heal," the lawyer, Ivan J. Bates, who represented Sgt. Alicia D. White, told reporters, speaking on behalf of all the other lawyers and defendants. He extended condolences to the Gray family and said, "None of these officers woke up wanting to do anything negative to anyone."

Mr. Bates said Judge Williams, who investigated police misconduct as a civil rights lawyer with the Justice Department, had followed the evidence — even if Ms. Mosby did not like where it led.

"You can get a conviction against the police, whether a bench trial or a jury trial, if you do an investigation," the lawyer said. But, he said, if "you quickly want to automatically say that the officers are guilty because they're the police, then you perpetrate that fear that's already there and that's dividing our country."

(…)

Mayor Stephanie Rawlings-Blake — who decided not to seek re-election in the aftermath of last spring's unrest — asked residents to be patient as they absorbed the news. On Tuesday night, in Philadelphia, the mayor called the roll that resulted in the nomination of Hillary Clinton for president, part of her duties as secretary of the Democratic National Committee.

"The eyes of the nation, indeed the world, have been on Baltimore for a very long time," she said in a statement from Philadelphia, "and I thank the citizens of our city for their patience during these trials."

To Black Lives Matter activists, the outcome was a clear disappointment — though perhaps not a surprise. DeRay Mckesson, a leader of the movement who later ran unsuccessfully for mayor of Baltimore, echoed Ms. Mosby's call for criminal justice reform, saying "someone should be held responsible" for Mr. Gray's death.

"The dismissals are a reminder that the laws, practices and policies justify the actions of the police at all costs," Mr. Mckesson said in a text message. "Freddie Gray should be alive today and someone should be held responsible for his death."
More from The Baltimore Sun:
Prosecutors dropped all remaining charges against three Baltimore police officers accused in the arrest and death of Freddie Gray in a downtown courtroom on Wednesday morning, concluding one of the most high-profile criminal cases in Baltimore history.

The startling move was an apparent acknowledgment of the unlikelihood of a conviction following the acquittals of three other officers on similar and more serious charges by Circuit Judge Barry G. Williams, who was expected to preside over the remaining trials as well.

It also means the office of Baltimore State's Attorney Marilyn J. Mosby will secure no convictions in the case after more than a year of dogged fighting, against increasingly heavy odds, to hold someone criminally accountable in Gray's death.

Officer William Porter's trial ended with a hung jury and a mistrial in December, before Williams acquitted Officers Edward Nero and Caesar Goodson and Lt. Brian Rice at bench trials in May, June, and July, respectively.

In a hearing Wednesday meant to start the trial of Officer Garrett Miller, Chief Deputy State's Attorney Michael Schatzow told Williams that the state was dropping all charges against Miller, Porter and Sgt. Alicia White.

Porter had been scheduled to be retried in September, and White had been scheduled to be tried in October.

"All of our clients are thrilled with what happened today," said Catherine Flynn, Miller's attorney, outside the courthouse.

The officers still face possible administrative discipline. Internal investigations, with the help of outside police agencies, are underway.

At a news conference in West Baltimore, near where Gray was arrested, Mosby defended her decision to bring the charges against the officers, and said that "as a mother," the decision to drop them was "agonizing."

But, given Williams' acquittal of Nero, Goodson and Rice and the likelihood that the remaining officers would also choose bench trials before him, Mosby said she had to acknowledge the "dismal likelihood" that her office would be able to secure a conviction.

"After much thought and prayer it has become clear that without being able to work with an independent investigatory agency from the very start, without having a say in the election of whether cases proceed in front of a judge or jury, without communal oversight of police in this community, without substantive reforms to the current criminal justice system, we could try this case 100 times and cases just like it and we would still end up with the same result," she said.

She said there is an "inherent bias" whenever "police police themselves." She said the charges she brought were not an indictment of the entire Baltimore Police Department, but she also broadly condemned the actions and testimony of some officers involved in Gray's arrest or in the department's investigation of the incident — alleging "consistent bias" at "every stage."

She said she is not "anti-police," but "anti-police brutality." She also noted the "countless sacrifices" of her prosecutors in the case, including Schatzow and Deputy State's Attorney Janice Bledsoe, and said her office will continue to "fight for a fair and equitable justice system for all."

Gray's stepfather, Richard Shipley, said family members "stand behind Marilyn and her prosecuting team, and my family is proud to have them represent us." He said the prosecutors did the "best to their ability."
Given the way that the previous four cases have turned out, with one hung jury and three consecutive acquittals in cases that were tried before a Judge, it was somewhat inevitable that we would reach this point. As a matter of law, the prosecution likely still had a sufficient legal basis upon which to argue that they had sufficient evidence for a fact-finder to find the remaining Defendants guilty beyond a reasonable doubt, but the losses in four straight trials in which basically the same evidence was used made that reed far thinner than it was when the process started and charges were first brought. So, while prosecutors most likely would not have been violating their ethical duties if they continued to pursue the remaining cases, they would have been walking a very thin line to say the least and, arguably, merely wasting taxpayer resources on trials where the outcome seemed to be foreordained. Given all of that, they can't really be blamed for wishing to cut their losses at this point and move on from a case that proved to be far less promising than it appeared to be at the beginning when the evidence seemed to show rather clearly that Gray was allowed to suffer from his injuries without medical treatment for an extended period of time, especially considering the fact that those injuries appeared to be directly attributable to the fact that he was unsecured inside a police van as it drove through the streets of Baltimore at an allegedly high rate of speed. As it turned out, the cases were far more complicated than that and, as a result, we ended up where we are today.
Going forward, it's possible that there could be Federal charges against all or some of these officers, but the status of any such investigation is unclear at this point. Proceeding with such charges, of course, would require at least some evidence of either racial bias on the part of the police officers involved in the case or an intent to deprive Gray of his civil rights. If such charges are brought, the cases could end up being fundamentally different for a number of reasons, including the fact that the defendants would be unable to waive the jury in the trials as easily as they did in the state court since Federal rules require that the prosecution consent to any jury trial waiver in a criminal case. Given what has happened in each of the cases tried before a Judge at the start level, it seems unlikely that Federal prosecutors would agree to such a waiver. Any such charges are purely hypothetical, though. For the moment, the six Baltimore cops involved in the death of Freddie Gray are free men and women, although they do face potential administrative punishment that could mean they never actually work in the streets as police officers ever again. That would seem to be the least we can ask for.