Larry Hogan, Republican Iconoclast, Edges Closer To A Run Against Trump
Maryland Governor Larry Hogan continues to sound like someone seriously considering running against Donald Trump.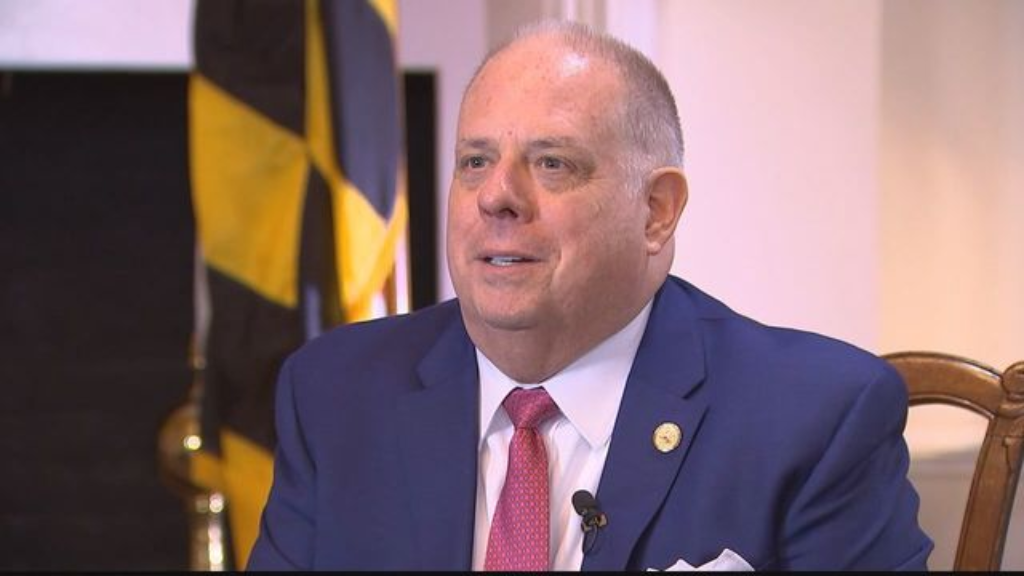 Maryland Governor Larry Hogan. who has been mentioned in the past as a potential primary challenger to the President for the Republican nomination is warning his fellow Republicans that they need to look beyond the party's base if they are going to have a future:
Gov. Larry Hogan of Maryland, a moderate Republican who is considering a primary challenge to President Trump, said on Saturday that Mr. Trump's victory in 2016 was an "anomaly" and urged his party to work on appealing to voters outside its "shrinking base."

Mr. Hogan said in an interview that he was not actively preparing to run against Mr. Trump and acknowledged that the president remained popular with his fellow Republicans. But in an interview during the National Governors Association conference in Washington, Mr. Hogan said he was open to running and listening to entreaties from Mr. Trump's Republican critics.

Mr. Hogan, 62, said that while many Republican voters feel a sense of loyalty to a president from their party, he was not convinced that Mr. Trump had a "lock" on the Republican coalition. Citing his own performance in the midterm elections, when he won re-election handily in a racially diverse blue state, Mr. Hogan suggested he was the kind of leader who could broaden the party's appeal.

"I think there are a lot of Republicans that are concerned about the future and that want us to continue to be a bigger tent and to reach a wider audience and to not alienate people and not to be as divisive," Mr. Hogan said.

But Mr. Hogan also indicated that he diverges from much of the Republican base on important matters besides his unfavorable view of Mr. Trump. He criticized Republicans in Congress for having tried to repeal the Affordable Care Act without proposing a suitable alternative and declined to express a personal assessment of whether the Senate had been right to confirm Justice Brett M. Kavanaugh to the Supreme Court.

And asked whether he believed Roe v. Wade, which made abortion legal nationwide, had been correctly decided by the court, Mr. Hogan replied in the affirmative: "I think so."
These comments came just days after Hogan criticized the Republican National Committee for making moves to shield the President from being challenged:
Republican Gov. Larry Hogan said Thursday he expects to make a springtime trip to New Hampshire as he weighs a 2020 challenge to Donald Trump — and accused the Republican National Committee of going to extraordinary lengths to shield the president from a potentially draining primary.

"Typically they try to be fair arbiters of a process and I've never seen anything like it and I've been involved in the Republican Party for most of my life. It's unprecedented. And in my opinion it's not the way we should be going about our politics," Hogan, a popular two-term Maryland governor, said in an interview with POLITICO. "It's very undemocratic and to say, 'We're in some cases not going to allow a debate, we may not have a primary…'"

"And the question is, what are they afraid of?" he added. "Because on the one hand you look at polls, 70 percent of Republicans support the president in a primary. Why are they so concerned? Why the puffing out the chest — 'We've put together the greatest team ever assembled, we're going to raise all this money early, we're going to hire all these people early, we're going to take over the RNC…'"

During its annual winter meeting earlier this year, the RNC passed a resolution giving the president its "undivided support" ahead of the 2020 election. Trump has also rolled out a 2020 campaign organization that incorporates the RNC and his campaign into a single entity, with the reelection campaign and committee merging their field and fundraising programs into a joint entity known as Trump Victory. Traditionally, a presidential reelection committee has worked side-by-side with the national party committee but not overtaken it.

The arrangement, Hogan suggested, stemmed from worry on the part of senior Republicans that the president could be vulnerable to a primary challenge.

"I'm not a pundit and I can't put myself inside the heads of the people making the decisions, but perhaps the way things look today are not the way they think things look a few months from now or next week or six months from now," he added. "Maybe they're concerned that they will drop in the polls and that they could be at some point down the road be subject to a threat in a primary."

The RNC pushed back on Hogan in a statement released Friday morning.

"President Trump doesn't need any assistance to protect him from primary challengers. He has an unprecedented level of support among Republican voters. The unanimous resolution in support of the president's reelection at our winter meeting showed just that," said Cassie Smedile, a committee spokeswoman. "Any effort to challenge President Trump in a primary is bound to go absolutely nowhere, as Governor Hogan acknowledges."

Party officials have noted that it isn't out of the ordinary for the RNC to support an incumbent president, and point out that the committee passed a similar resolution backing then-President George W. Bush during his first term.
From the perspective of Republicans who are opposed to Trump, whether they've admitted it publicly or not, there's a lot about Hogan to like. He's managed to succeed politically in a state that has been traditionally Democratic for decades. In fact, he is the first Republican re-elected to a second term as Governor since Theodore McKeldin, who served as Governor from 1951 to 1959. Additionally, although he has served with a legislature dominated by Democrats he has managed to be rather successful in getting an agenda through the legislature and getting mandatory measures such as the state budget passed with relatively little difficulty. Furthermore, he managed to do all of this during a first term during which he was forced to deal with a cancer diagnosis that came shortly after taking office for his first term. Rather than stepping aside during treatment, Hogan continued to serve and did so quite effectively to the point where he easily beat his Democratic opponent in November's election, which he won by a wider margin than he did in 2014 notwithstanding the fact that voter turnout in November was far higher than it had been in 2014. In this respect, I suppose, Hogan is much like former New Jersey Governor Chris Christie with the exception that, until now, Hogan has not received much media attention and that Hogan does not have the same bombastic style that Christie did. Instead, much like his fellow Republican-In-A-Blue-State Massachusetts Governor Charlie Baker, who also won election to a second term in 2018 by a convincing margin, Hogan seems to prefer a more consensus-seeking approach to politics that doesn't emphasize differences or involve victimization of one's political enemies. In other words, not just Never Trump but the anti-Trump.
On policy, while Hogan is a conservative he is not nearly as far to the right as the rest of his party. He has said, for example, that while he is personally opposed to abortion he did not support increased restrictions on a woman's right to have the procedure beyond what's already on the books. As Governor, during which time he has had to work together with a Democratic-controlled state legislature to get things done, Hogan has focused on staying true to his position of being fiscally conservative while at the same time focusing on job creation and economic development and his policies in this area have proven to be in line with long-standard Republican positions on these issues. In his remarks in the past, Hogan has conceded that, on the whole, Republicans in Washington have done many of the same things he would do as President, but he has cited international trade as one area when he disagrees with the President. Mr. Hogan said he had no timeline for deciding on a presidential campaign, but noted that winning candidates in the past have waited until "late summer or early fall" to launch their candidacies.
So far, Hogan is remaining mum on the likelihood of an intra-party challenge to the President like the one that former Massachusetts Governor Bill Weld launched earlier this month, and he's also stated that he's unlikely to run if the support for the President within the Republican Party, presently hovering between 85% and 88%, changes significantly. That being said, there are some signs that Hogan is at least dipping his toe in the water. His team of advisers, for example, has apparently been in talks for Hogan to appear at Politics & Eggs, a forum hosted by St. Anselm College in New Hampshire that has a long tradition of drawing Presidential candidates and hopefuls seeking to test the New Hampshire waters. Hogan has also said that he's likely to visit New Hampshire this spring. Additionally, Hogan will be in Iowa later this month to preside over the meeting of the National Governor's Association, where he serves as Vice-Chairman at the moment. Hogan has said that he would likely set aside time to meet with voters around the same time while he's in the Hawkeye State to meet with voters and party activists. Hogan has also said he's heard from several top Republican voters and elected officials and talked with them about the 2020 race. All that being said, Hogan has made clear that he has not decided on whether or not he will run against Trump.
As I have said before, it's unlikely that Hogan, or Weld, would succeed in a challenge to Trump in the sense that they really would not have a realistic chance of winning the nomination. There are, however, differing definitions of "success" for these types of challenges that fall short of winning. One good reason for such challenges would be to send a signal, to Trump himself and Republicans more generally, that there is opposition to the Trumpidian agenda within the rank-and-file of the Republican Party. If nothing else, this would hopefully send a signal to office holders that future success in the GOP doesn't necessarily equate with trying to out-Trump Trump, but in returning the party to its roots on issues such as immigration, international trade, and foreign policy, all three of which it has gone off the rails on over the course of the last fifteen to twenty years.  This would be important in the event Trump loses in 2020, at which point, the GOP will have to decide for itself what direction it wants to take in the years that follow. If Trump is re-elected the party would need to face that same issue after 2025, of course, but at that point the forces of Trumpism will have become so embedded within the GOP that ridding the party of those influences will be exceedingly difficult. Finally, as I've noted before, when incumbents have faced strong intra-party challenges in the past, it has seemed to weaken them for the General Election. It happened to Gerald Ford in 1976, to Jimmy Carter in 1980, and to George H.W. Bush in 1992. Challenging Trump in the primaries, then, could be seen as the first step toward getting him out of office so that the GOP can rebuild seems like an exceedingly good idea.