Republicans Start Running Away From Trump
Donald Trump's latest outbursts are causing Republicans to move away from him faster than you can say "electoral disaster."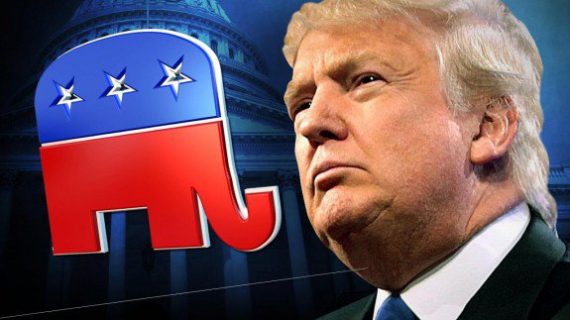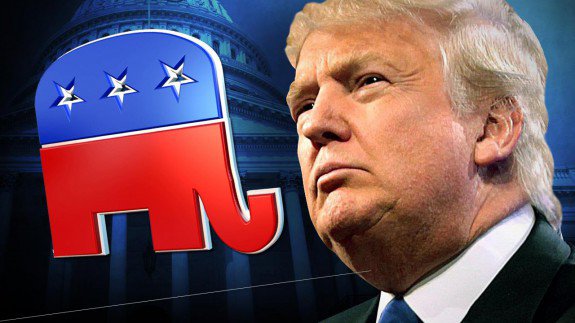 Larry Hogan, Maryland's Republican Governor, announced today that he will not be voting for Donald Trump in the General Election:
Gov. Larry Hogan (R) said emphatically Wednesday that he does not plan to vote for Donald Trump, his party's presumptive — and divisive — presidential nominee.

Although the first-term governor has repeatedly said he does not support Trump, he had never before stated whether he would vote for him in the general election.

During a visit to Prince George's County on Wednesday, Hogan answered the question directly.

"No, I don't plan to," Hogan said when asked whether he would cast a ballot for Trump. "I guess when I get behind the curtain I'll have to figure it out. Maybe write someone in. I'm not sure."

Hogan was elected in 2014 with support from Democrats and independents. He is extremely popular across party lines in Maryland, where Republicans backed Trump in the April presidential primary by large margins.

The governor last year endorsed GOP contender Chris Christie, the governor of New Jersey and a close friend. After Christie left the race and endorsed Trump, Hogan pronounced himself "disgusted with national politics" and said he would not pick another candidate to publicly support.
Trump has been under a new round of criticism from Republican leaders over the past two weeks starting with his comments about the Federal Judge presiding over the Trump University lawsuits being unfair to him because of the Judge's Mexican ancestry and Trump's advocacy of a wall between the United States and Mexico. That criticism has only increased in the wake of Trump's comments in the wake of the apparent terrorist attack in Orlando in which he renewed his call to bar Muslims from immigrating to the United States and insinuated that President Obama is somehow sympathetic to the cause of Islamic terrorism. Across Capitol Hill, those remarks have caused many Republicans to outright walk away from reporters when asked if they still support Trump, or to simply refuse to answer the question while others appeared to side with President Obama and Hillary Clinton, who have strongly condemned Trump in strikingly similar speeches that were clearly most likely coordinated:
Top Republicans joined with President Obama and other Democrats Tuesday in sharply condemning Donald Trump's reaction to the nightclub massacre in Orlando, decrying his anti-Muslim rhetoric and his questioning of Obama's allegiances as divisive and out of step with America's values.

Trump — who just a week ago signaled an intent to snap his campaign into a more measured tone for the general election — showed no sign of backing down from his suggestions that Obama was somehow connected to or sympathetic with terrorists, telling the Associated Pressthat the president "continues to prioritize our enemy" over Americans.

In separate appearances, both Obama and his potential successor, likely Democratic nominee Hillary Clinton, blasted Trump's proposal to ban foreign Muslims from the United States as dangerous and contrary to the nation's traditions.

A visibly angry Obama also dismissed Trump's repeated demands for him to use the term "radical Islam" when speaking about the Orlando shootings and other attacks. "Calling a threat by a different name does not make it go away," Obama said. "This is a political distraction."

Clinton described Trump's response to Orlando as rife with "conspiracy theories" and "pathological self-congratulations."

The remarkable bipartisan outcry over Trump's positions — coming at a moment of national mourning after the deadliest mass shooting in U.S. history — set off a new wave of alarm within the GOP over whether the real estate mogul's promised pivot to the general election would ever materialize. The rift also highlighted the enduring tensions between establishment figures who want to be more inclusive and the bulk of the party, which backs Trump's proposed Muslim ban and has rallied around him as the presumptive nominee.

Some of Trump's most ardent backers defended his response to the Orlando attack, saying drastic measures were needed to keep the nation safe. But most Republicans on Capitol Hill tried to distance themselves from Trump's comments following the terrorist attack on a gay nightclub in Orlando that killed at least 49 people. Senate Majority Leader Mitch McConnell (Ky.) refused to respond to questions about Trump at his weekly news conference.

House Speaker Paul D. Ryan (Wis.) denounced Trump for trying to rally support for his anti-Muslim policies, while others castigated Trump for the accusations he has lobbed at Obama.

"I do not think a Muslim ban is in our country's interest," Ryan told reporters. "I do not think it is reflective of our principles, not just as a party but as a country." He called for "a security test, not a religious test" for immigrants.

Senate Foreign Relations Committee Chairman Bob Corker (R-Tenn.), who has praised Trump at times for his willingness to shake up politics and recently met with the mogul, expressed serious unease Tuesday with how Trump responded to a national tragedy.

"Traditionally, it is a time when people rally around our country, and it's obviously not what's occurred, and it's very disappointing," Corker said.

Sen. Lindsey O. Graham (R-S.C.), a leading national security hawk, said he had "run out of adjectives" for Trump. "I don't think he has the judgment or the temperament, the experience to deal with what we are facing," said Graham, who does not currently support the mogul.

Graham, like other Republicans, took issue with Trump's apparent suggestions in Monday interviews that Obama may identify with the radical Muslim terrorists. Obama "either is not tough, not smart, or he's got something else in mind," Trump told Fox News.

Trump expanded on that Tuesday, saying in an emailed response to questions from the Associated Press: "President Obama claims to know our enemy, and yet he continues to prioritize our enemy over our allies and, for that matter, the American people."

Graham said that Trump "seems to be suggesting that the president is one of 'them.' I find that highly offensive. I find that whole line of reasoning way off base. My problems with President Obama are his policy choices."

Sen. Ron Johnson (R-Wis.), who faces a challenging reelection bid, also called Trump's insinuations about Obama "offensive."

(…)

Rep. Adam Kinzinger (R-Ill.), an Air National Guard major and leading House GOP voice on national security issues, broke sharply with Trump.

"I guess I appreciate Mr. Trump's fieriness in talking about it, but you don't do it by alienating the very people that we need, and those are moderate Muslims," he said. "We have to use the folks that frankly are not radicalized, which is the vast majority of Muslims, to win this war."
Given all of this, it's hardly surprising to see a Republican like Hogan separating himself from Trump as much as possible. As the Governor of a state that will assuredly go for Hillary Clinton in the fall so any association between him and Trump could be a potential problem for Hogan's anticipated re-election bid in 2018. By announcing that he will not be supporting Trump, and denouncing Trump's rhetoric, Hogan no doubt hopes to immunize himself as much as possible from any negative blow back that might still exist in two years that could threaten his re-election chances. It's possible, I suppose, that this announcement could result in Hogan being challenged from the right in two years but that seems as if it might not be so likely if Trump loses in the fall, especially if he loses so big that it causes damage to the GOP down ballot. In that case, Trump supporters and those Republicans who have opportunistically jumped on the Trump bandwagon are likely to be still licking their wounds from 2016. In any case, Hogan would likely be safe against any real challenge from that corner of the GOP under those circumstances, so disassociating himself from Trump makes perfect political sense in addition to being the right thing to do.
If Trump's numbers continue to decline as they appear to be in recent polling, it's likely that we'll see similar announcements from other potentially vulnerable Republicans. Massachusetts Governor Charlie Baker, for example, announced months ago that he would not support Trump if he were to become the party's nominee. Other Republicans, such as Senators John McCain, Rob Portman, Mark Kirk, and others have announced that they will not be attending the Republican National Convention last month and have at least implied that they most likely would neither endorse Trump nor vote for him in the fall. Additionally, there have been some hints that some top Republicans on Capitol Hill who have backed Trump could revoke that support. House Speaker Paul Ryan, for example, endorsed Trump two weeks ago and has largely spent every day since distancing himself from the real estate mogul for one reason or another. All of this a month prior to the Republican National Convention. If things continue as they have been going, and there's no reason to believe Trump will change, then we can expect a lot more of this in the coming days, weeks and months.