Donald Trump Insinuates President Obama Identifies With Terrorists
Donald Trump has insinuated that President Obama is not fighting the War On Terror aggressively because he somehow identifies with terrorists.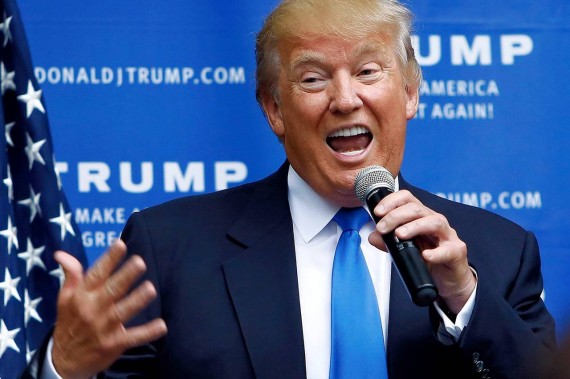 In addition to doubling down on his Muslim immigration ban, Trump started out the day by insinuating that President Obama was somehow complicit in the attack on Saturday night or that he sympathizes with Islamic terrorists:
Donald Trump seemed to repeatedly accuse President Obama on Monday of identifying with radicalized Muslims who have carried out terrorist attacks in the United States and being complicit in the mass shooting at a gay nightclub in Orlando over the weekend, the worst the country has ever seen.

"Look, we're led by a man that either is not tough, not smart, or he's got something else in mind," Trump said in a lengthy interview on Fox News early Monday morning. "And the something else in mind — you know, people can't believe it. People cannot, they cannot believe that President Obama is acting the way he acts and can't even mention the words 'radical Islamic terrorism.' There's something going on. It's inconceivable. There's something going on."

In that same interview, Trump was asked to explain why he called for Obama to resign in light of the shooting and he answered, in part: "He doesn't get it or he gets it better than anybody understands — it's one or the other, and either one is unacceptable."

For months, Trump has slyly suggested that the president is not Christian and has questioned his compassion toward Muslims. Years ago, Trump was a major force in calls for the president to release his birth certificate and prove that he was born in the United States. On the campaign trail, Trump has repeatedly stated as fact conspiracy theories about the president, his rivals and Muslims, often refusing to back down from his assertions even when they are proven to be false.

During an appearance on the "Today" show later Monday morning, Savannah Guthrie pushed Trump to explain what he meant in the earlier interview.

"Well there are a lot of people that think maybe he doesn't want to get it," Trump said. "A lot of people think maybe he doesn't want to know about it. I happen to think that he just doesn't know what he's doing, but there are many people that think maybe he doesn't want to get it. He doesn't want to see what's really happening. And that could be."

Guthrie asked Trump why that would be, and the presumptive Republican presidential nominee responded: "Because Savannah, Savannah, why isn't he addressing the issue? He's not addressing the issue. He's not calling it what it is. This is radical Islamic terrorism. This isn't fighting Germany; this isn't fighting Japan, where they wear uniforms."

Trump's spokeswoman and campaign manager have yet to respond to a request for a fuller explanation of Trump's comments about the president.
Part of what's going on here, of course, is Trump attacking Obama for failing to use the world "radical Islamic terrorism" when talking about attacks like this, something which has been a conservative trope for some time now. As I noted back in November in the wake of the attack in Paris, though, there quite literally is no logic behind the argument that the failure to utter these magic words somehow makes a difference in the War On Terror is quite absurd. This isn't a game of "Open Sesame" where uttering a magic incantation causes a magic door to open or something, and words are hardly the same as proper tactics. Additionally, as even the Bush Administration recognized as far back as the immediate wake of the September 11th attacks that framing the battle that we are currently involved in as one between the West and all of Islam is both inaccurate and, ultimately, a disaster in the making. This is, after all, precisely the argument that groups like ISIS and al Qaeda make when they are recruiting among the civilian population, that the West is out to destroy Islam as a whole rather than merely targeting those people willing to commit violence in its name. It also happens to be an inaccurate statement of what our strategy has been since September 11, 2001. Islam is not our enemy. People who use Islam to justify violence and then commit violence against America and the West are the enemy. If you blame the entire religion for the actions of a few, then you are essentially a bigot.
Beyond a complaint about rhetoric, though, Trump's comments from yesterday show him returning to a dark corner of American politics that reminds one of his days as the effective head of the birther movement. By insinuating that there's "something going on" with the President's supposedly deficient response to the attack in Orlando specifically and he War On Terror in general, Trump seems to be clearly communicating the idea that the President is somehow part of "the other," that he isn't a "real American," and even that he wants the radical Islamists to win their fight with the West notwithstanding the fact he's been bombing them with drones and increasing America's troop presence in places such as Afghanistan, Syria, and Iraq. Trump doesn't come right out and say this, of course, and instead leaves it to the audience to connect the dots inherent in what he's saying, and it's rather clear where he's leading that audience. It's the old argument that Obama is some kind of "secret Muslim" notwithstanding the fact that he has been known to smoke cigarettes and drink alcoholic beverages, and that he supports same-sex marriage and greater equality for gay, lesbian, and transgender individuals. The level of paranoia and conspiracy mongering that has to go through someone's mind for ideas like this to make even the remotest amount of sense is really quite astounding, and it's yet another reason why Trump's qualifications to be President ought to be challenged, openly and starkly, so that voters are clear on exactly who it is the GOP is asking them to elect.